Web hosting is the actual server space where your website files are stored, and a domain name is the address visitors need in order to view these files as your website. Your domain name, in a manner of speaking, is the street address for your website. When you combine the website files with the hosting server and a proper domain name, you have all the ingredients necessary for a website to be visible online. And that, in a nutshell, is web hosting.
If you're thinking of starting a blog, or ecommerce store or just a website for your business, you will need Web Hosting. What is Web Hosting you ask? Well, basically, web hosting is where your website actually lives. In order to have a website live on the internet, you will need both web hosting and a domain name.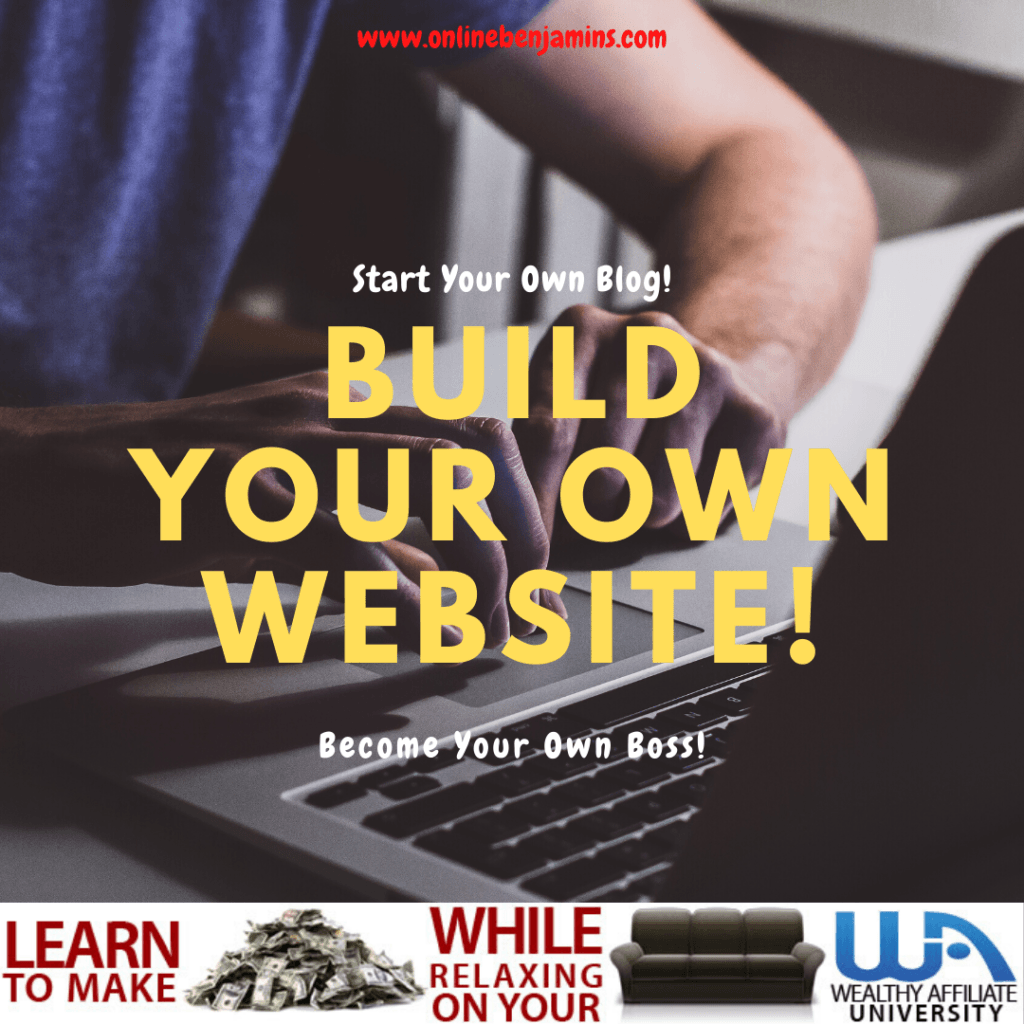 BlueHost Web hosting is one of a number of Web Hosting companies, in a previous article we reviewed one of the oldest "HostGator", you can check them out HERE. BlueHost has been around for years and years and stood the test of time. And they are still around at the top of the charts when it comes to customer popularity and service and are the number one recommended hosting service by WordPress.org.
BlueHost Web Hosting
---
BlueHost web hosting currently hosts over 2 Million Websites Worldwide. They are also one of the top recommended WordPress providers by WordPress.org. They offer everything from shared hosting to dedicated servers and a multitude of web building, design, and marketing services. BlueHost is one of my 3 Best Web Hosting Services that I recommed, you can read about my recommendations HERE:
Shared Server Hosting aka "Shared Hosting" is the most common and affordable form of website hosting. Multiple users will share the resources of a secured server or group of secured servers to put their websites online. Affordability is the #1 benefit of Shared web Hosting. BlueHost offers several affordable shared hosting services so you can find the shared hosting package that's best for your website needs.
BlueHost web hosting has website domain name purchasing as well on site. Your domain name is how visitors find you online. It is the first step in getting your website started. It is like establishing your website's street address on the internet. They sell a wide array of domain extensions. Including but not limited to: .com, .club, .co, .space, .us, .website, .org, .net, .me, .biz, .info, .host, .online, .site, .co.uk, and .org.uk. and more.

You simply enter the domain name you wish to use in the search box and then click Search. If your domain name is available you will be taken to a page to review and purchase it. If your domain is not available, BlueHost provides suggested variations and other extensions for you to choose from.
Their domain name service will save your preferred name and keep it secure for you. They offer auto-renewal services to keep your domain from expiring accidentally, thereby ensuring that your website domain names are always protected.
BlueHost provides special hosting options for WordPress and WooCommerce websites. Their WordPress websites come complete with site analytics, traffic management, security, and backups all together in a complete WordPress bundle. WordPress hosting plans at BlueHost provide everything needed to build your website.
If your business is ecommerce or online store, BlueHost has everything you need from a hosting service to sell online. They have tools such as shopping carts, inventory management, PayPal payment processing and more to equip your website for doing business on the web.
BlueHost Hosting Plans
---
There's no one-size-fits-all solution for web hosting. So they've got specific plans to fit your specific needs. BlueHost hosting plans include FREE Domain Name for 1st Year, FREE SSL Certificate, 1-Click WordPress Install and 24/7 Support.
Their WordPress Hosting Plans are designed for performance and reliability. Each hosting plan includes a free domain for one year, instant WordPress installation, automated updates and backups, unlimited bandwidth, and 24/7 WordPress expert support.
WP Pro, is a more advanced BlueHost WordPress hosting plan that is faster than shared hosting and optimized to host more complex websites. This is great for Online shops, ecommerce and high traffic WordPress websites.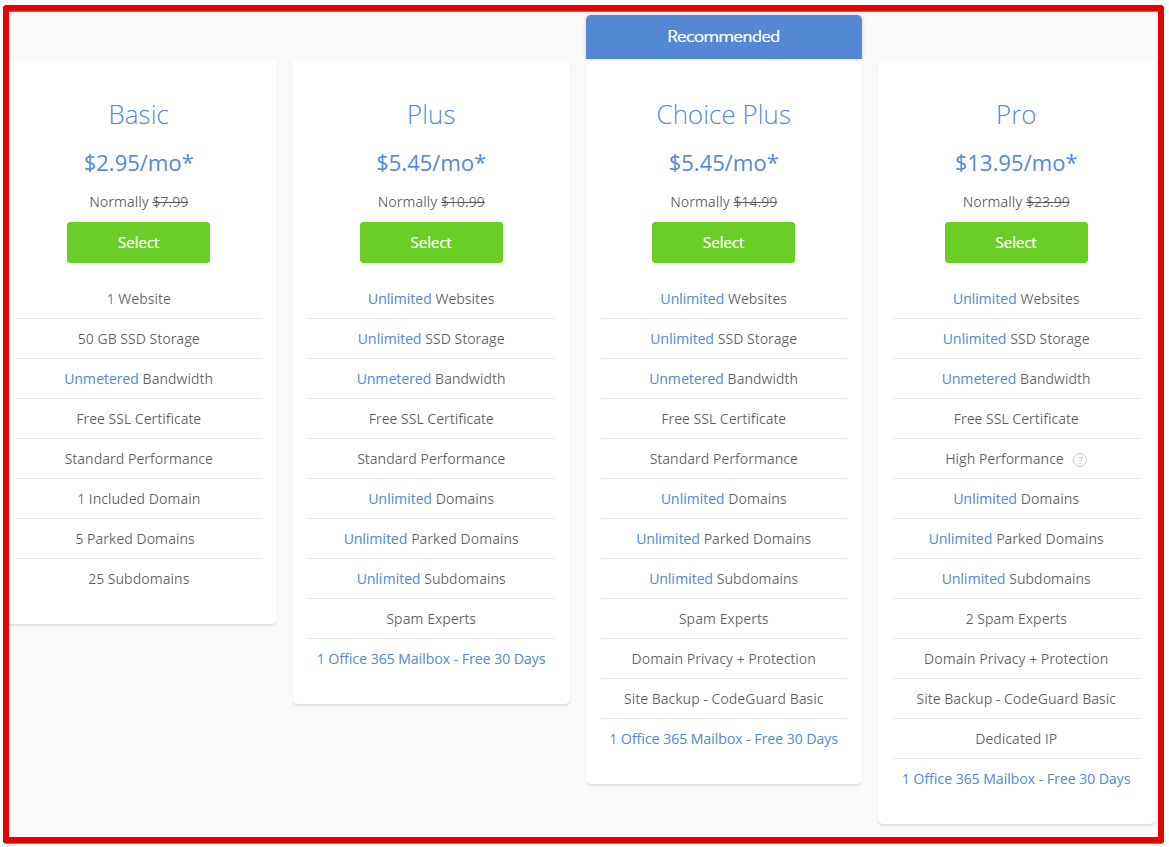 Why WordPress and BlueHost?
BlueHost web hosting has been the number one recommended web hosting service by WordPress.org since 2005. WordPress powers over 25% of the internet. It is trusted by millions of website users and developers worldwide. Building a website can be daunting, but WordPress provides the resources you need to build good stable websites. WordPress websites offer the freedom to move your website to any hosting provider or platform, whether you need Shared, Cloud, VPS, or Dedicated hosting.
In addition, there are literally thousands of free themes and plugins for WordPress websites. Themes help simplify the design process while plugins can add powerful features with just a few clicks. WordPress puts the power of the internet at your finger tips and allowing you to create a professional looking and working website without needing to hire a web developer.
All BlueHost Web Hosting Plans Include:
---
Domains:
Their domain manager makes it easy to track, update, transfer, purchase, and administer all of your domains in one place. The Plus and Business Pro accounts also support unlimited add-on and parked domains, sub domains, and even domestic and international domains.
Scalability:
Start with what you need and move to more powerful plan options as your website grows. You can upgrade in just a few clicks.
SSL Certificates:
Powered by Let's Encrypt, each SSL Certificate provided helps secure the connection between websites and your visitors. This helps keep personal information, e-commerce transactions, and other sensitive data safeguarded.

Marketing Credits:
Receive $100 for Microsoft Advertising and $100 for Google Ads when you spend your first $25 on a new Microsoft Advertising and Google Ads account.
Google "My Business" verification:
List your local business online to quickly connect with customers in your area. Allow them to see your location and your hours of operation on Google Maps.
Advanced Plans Add-Ons:
---
In the Business Plus and Business Pro plans Microsoft Word, Excel, PowerPoint, Outlook, and more, are available and you can access these tools anywhere you have an internet connection. With their Business Pro plan, you can also download these applications directly to your devices to keep working offline
Multi-Server Management:
If you need more than one account, you can easily add shared, VPS, or even dedicated services to your account. Log in once and manage all of your shared web hosting services in one place.
Access Control:
They offer the ability to create unique passwords restricting access to different areas of your account. You can generate separate passwords for billing and ownership information, for cPanel and dedicated server access, and a master password for the entire account.
Content Delivery Network:
BlueHost's CloudFlare is built directly into your account. This is an advanced content delivery network, that automatically increases the performance of your site. You can add CloudFlare on any of your websites for free.
BlueHost Support
---
24/7 Expert Support there to help when you need it, with anything related to your Office 365 or hosting account. Blue Flash is the expert help desk at BlueHost. Their experts will help you get your site up and running and looking professional quickly and efficiently. These experts are just part of the reason BlueHost is the recommended home for your WordPress website. Their help center also includes guides, video tutorials and more to help with your website building.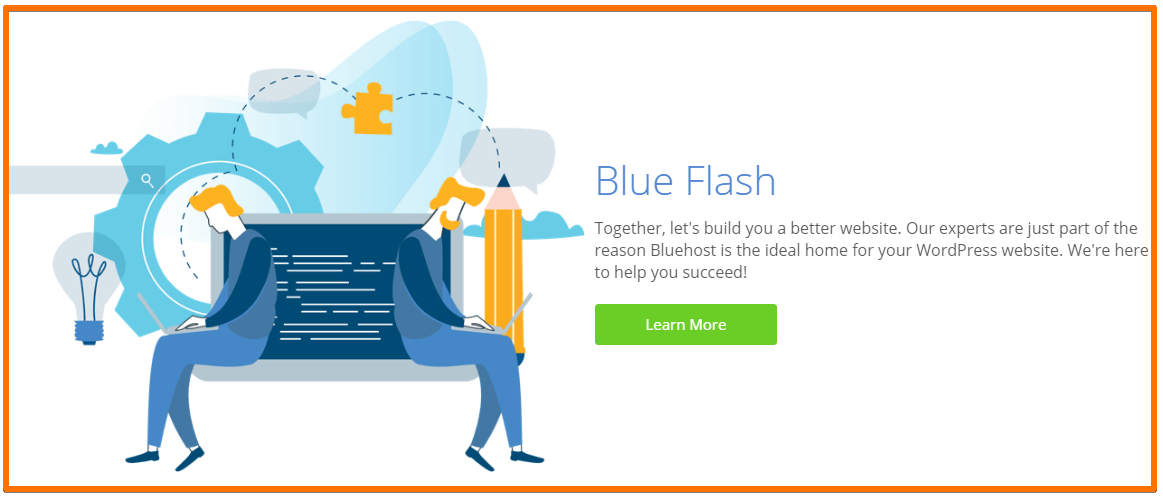 BlueHost has just recently outsourced its customer service, and as typically happens when changes are made, has had some difficulties and complaints during this transition. You can read about some of them at www.trustpilot.com. They have made special efforts of late to correct the problems and are making improvements daily.
BlueHost Blue Sky – WordPress Experts
---
BlueHost Blue Sky Puts WordPress Experts By Your Side to help you learn how to build, grow, and maintain your new WordPress website. If you're getting started with WordPress they can help with the basics, such as selecting a theme, making simple edits or setting up a contact form. If your WordPress site is up and running, they can help you reach its full potential.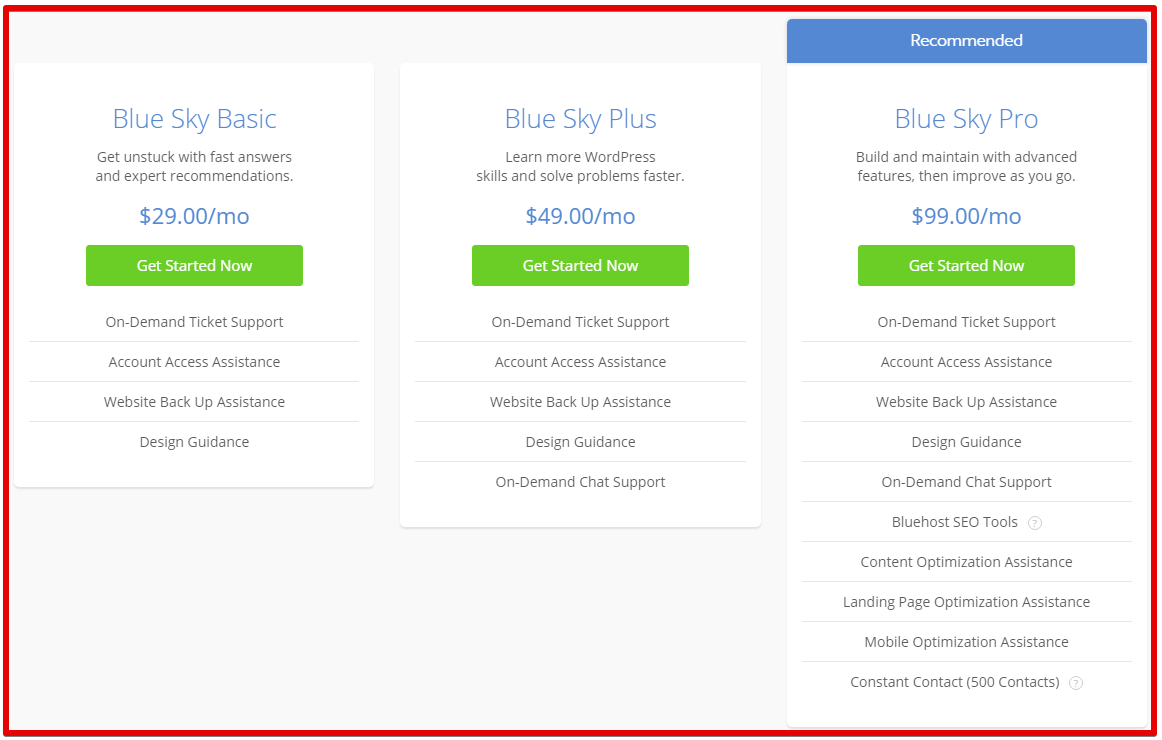 Blue Sky has several ways to interact with their WordPress experts. For simple questions, Blue Sky Lite will provide email support. If you need more help, Blue Sky Pro provides WordPress expert support by phone, along with additional tools. They offer quick answers via live chat, email, and over the phone depending on your plan.
Blue Sky Pro provides premium WordPress support. Their support team will help you build your site and optimize it for mobile, SEO, and landing page performance. The experts at BlueHost web hosting have years of experience building and hosting WordPress websites one of the many reasons BlueHost has been recommended by WordPress.org since 2005.
Additional Services:
marketing assistance and design
BlueHost's professional designers will build you a new, mobile-friendly website. They will keep your website optimized with keywords for top search engines. Helping it get found on local listing publishers like Google, Yelp, Yahoo, etc. In addition, Facebook, Twitter, and website blog articles are posted on your behalf. Their SEO Services will improve your site's visibility on search engines such as Google, Yahoo, and Bing.
They will help optimize your website with the most effective keywords for exposure. Create custom content for your site to improve search relevance. You will have access weekly reports for your SEO keywords across search engines, and be able to review website analytics to see how many visitors your site is getting.
Pay-Per-Click Services
BlueHost offers PPC services to help you target potential customers. BlueHost experts will create various campaigns to market your website. You can choose exactly where and when your ads are displayed, and control your monthly budget for efficiency and data across campaigns. Then optimize and scale your ads to drive traffic to your site.
BlueHost Final Verdict
---
If you are interested in starting a WordPress website, BlueHost web hosting would be a great option for your web hosting services needs. They have been the recommended Hosting Service by WordPress.org since 2005 and host over 2 million websites worldwide.
They have a variety of plans to fit most any web hosting need and have a multitude of website building services for every skill level. Some of these additional services come with added costs however. They also offer dedicated hosting, marketing and design services as well for an additional charge.
You can check out those at their website www.bluehost.com, or click the link below. All the services at BlueHost web hosting come with their 30 day money back guarantee, so there is really no risk to giving them a try. Overall, I would give them a recommended rating.
If you are new to websites and web design or online marketing in general, a platform like Wealthy Affiliate, with all of their additional training and support, may be more beneficial for you. I have a complete review of the Wealthy Affiliate program that you can read HERE:
Hi,
Thanks for stopping by and congratulations for taking the first steps to building your own online business. I've been in business both offline and online since 1997. I would consider it an honor to help you build your business. Father of 3, life long outdoorsman with an education in Genetics and Economics. This site is about cutting through the BS and finding the real opportunities in the online world. I look forward to working with you.