What the heck is Bitcoin or Dogecoin or Crypto Currency? It seems to be all the rage of late. Dogecoin setting new record highs, Bitcoin has gone through the roof. But what the heck is it anyway? Well, basically it's a form of electronic currency not tied to any government controlled central bank. Now if you want to know more about cryptocurrencies and how they work, I suggest you read more here.
Crypto is exploding, and forecast to continue growing at over 30% PER YEAR for at least the next 6 years. Getting in NOW as an affiliate is the best choice you'll ever make for easy commissions. Today, we are going to look at a software app that will allow us to make money from the current crypto currency craze. And, without having to buy any coins ourselves.
Glynn Kosky and his team have created another done for you app that builds cryptocurrency affiliate sites where you can promote the most popular crypto currency trading platforms in the world and even get paid in crypto currency if you want. The App is called Crypto Commissions, and it's very similar to his energize app I review here. So, lets take a look inside and see if it lives up to all their hype. 😉 Then, just for fun, we'll compare it with my number 1 recommended affiliate marketing platform, Wealthy Affiliate.
---
---
What is Crypto Commissions?
---
Actually, Crypto Commissions is another in a long line of "done for you" affiliate marketing site builder apps. It basically allows you to build a sub domain website on their servers using some premade templates and pre loaded content. They will provide you with contact information for the various crypto currency trading platform where you can apply and get your affiliate links to add to your site.
Now, if you've read any of my previous reviews of these types of software apps, you know I am not a big fan. They have some very serious, in my opinion, limitations that I will get into later. But, for now, lets take a look at what Glynn and his team have to say about Crypto Commission. Remember, they are trying to sell you a product, so beware of the hype. 🙂
---
The World's 1st Crypto & Bitcoin Traffic Solution…
---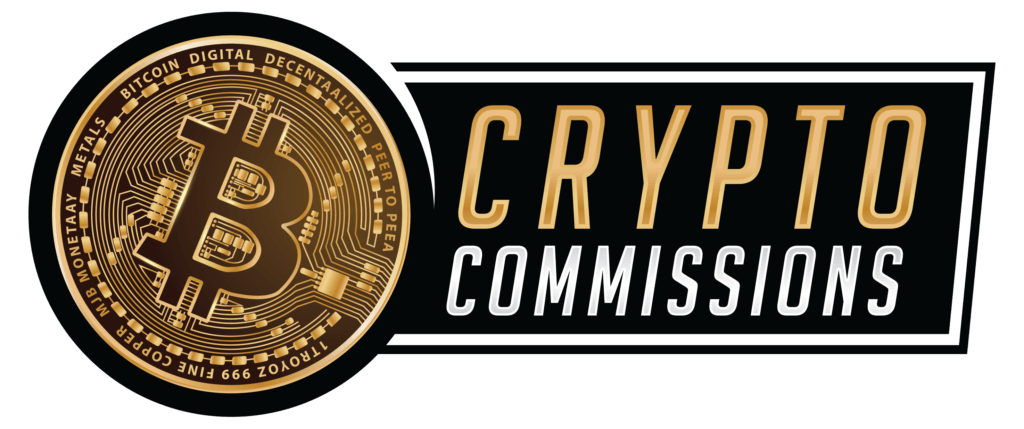 Product: Crypto Commissions
Website: cryptocommissions.net
Price: $17 initial plus six upsells to $197
Owners: Glynn Kosky
Niche: crypto currency affiliate marketing
Overall Rating: 70 out of 100

CryptoCommissions is your red carpet pass to the FRONT of this lucrative new niche. With everything optimized, proven and done-for-you … there isn't an easier answer anywhere else. 100% Done-For-You CRYPTOCURRENCY Affiliate Sites With FREE Buyer Traffic From 100 Million Visitors! ZERO Tech Skills, Upfront Costs Or Experience Required…
Pretty bold claims, if you ask me, but remember they are trying to sell you the app.
You're getting a system developed by a 7-figure super affiliate who's been in the crypto game for years already. 1st-to-market timing plus PROVEN track record. OK, not really first to the market, I've already reviewed two other Crypto Currency affiliate apps in the last month. This app gives you DFY monetized sites in the hottest niche on the planet INCLUDING built-in free traffic (no details as where this will come from) For a commission-ready solution that can be live in 60 seconds flat! The Single BEST Affiliate Solution For Today & Tomorrow?
Developed by a 7 figure affiliate marketer
Optimized for real world results
100% DFY pre-monetized affiliate sites
1st ever standalone app to make your own CUSTOM crypto sites
Beginner friendly training plus advanced profit strategies
Lightning fast hosting included
One time fee … when you hurry!
Free 100 MILLION crypto-targeted traffic built-in

( Really? Where? How?…no answer)

Evergreen & ongoing income streams
Integrated list building and scaling
180-Day Money-Back Guarantee…

(Glynn is a stand up guy and been in business for years, he will honor his guarantee)

AutoPilot Crypto Buyer Traffic In 30 Seconds…

(Again, Where, How?)

Earn free crypto and bitcoin
Recurring payouts
Premium 'insider-only' content on your sites pulls visitors back again and again

(everybody using the same "insider content")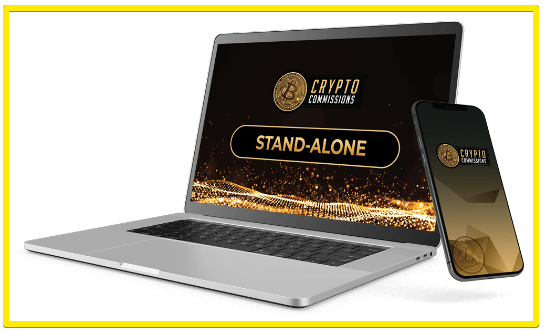 On top of all that …INTEGRATED LIST BUILDING
Easily grow lists of targeted crypto BUYERS

(If you can get them to your site)

Be one of THE 1ST marketers to have your own "crypto list"
Scale as big as you want with your own private traffic source in today's hottest niche
Simply put …These DFY sites are digital money-making machines.
---
---
---
How Does Crypto Commissions Work?
---
Well, again we are told it just takes 3 steps to operate the Crypto Commissions App. The marketing genius that came up with the "3 step" system must have found something because everybody tries to boil their system down to 3 steps. But how does it really work?
You're Just 3 Steps Away From Floods Of Crypto Buyer Traffic!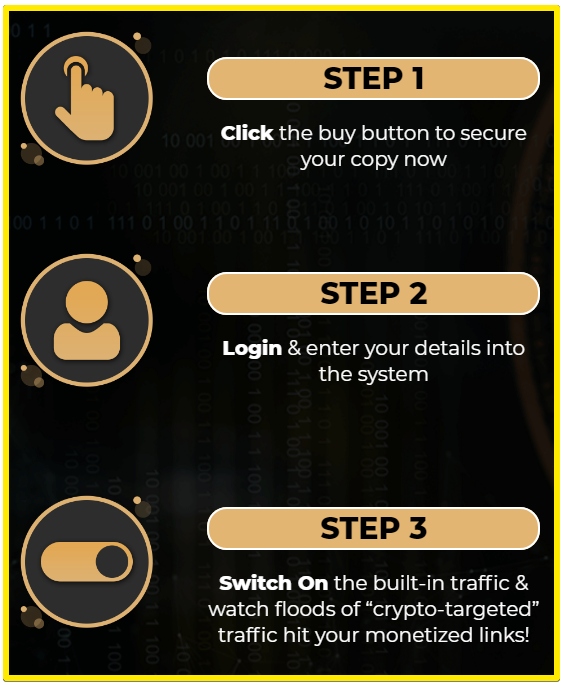 Let me try to clear it up for you. They have a website with a page builder software. When you sign up, you are given access to the site and the page builder where you can use their provided templates to build a "sub" domain website off of their site. They have pre loaded articles "content" on the subject of crypto currency that load on your site.
The ads and banners are already in the system and available for you to use. Simply go to the crypto currency trading platforms, get your affiliate link and then add them in the appropriate places on your site. Sounds easy right? Well more on that later, but here is more of what Glen and his team have to say about Crypto Commissions.
Everything You Need For Unstoppable Success… INCLUDED! DONE FOR YOU Fully Optimized Crypto Affiliate Sites
---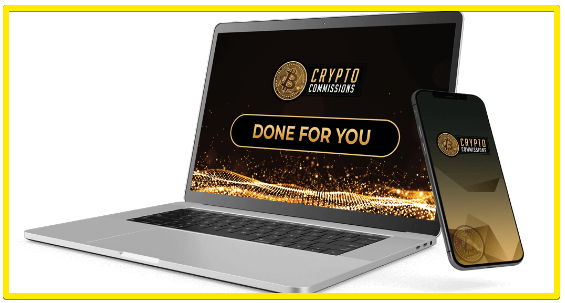 – Pre-monetized DFY crypto sites … ready to go in 60 seconds flat!
– Pre-loaded with content, affiliate offers, stunning graphics & design.
– Powerful technology automates everything for a truly set & forget solution.
– Your very own authority sites in the explosive crypto niche, zero experience or updating required!
---
BUILT-IN Crypto-Targeted FREE Traffic
– Forget paid ads or wasted time … your CryptoCommission sites come with multi-source BUYER traffic built in!
– Including laser-targeted Google traffic plus multiple viral sources at your fingertips.

EXCEPT THEY DON'T GIVE ANY DETAILS ABOUT WHERE THIS "LASER-TARGETED" TRAFFIC IS GOING TO COME FROM.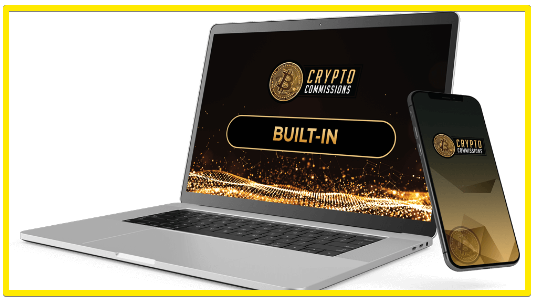 CUTTING EDGE Viral Cryptocurrency Content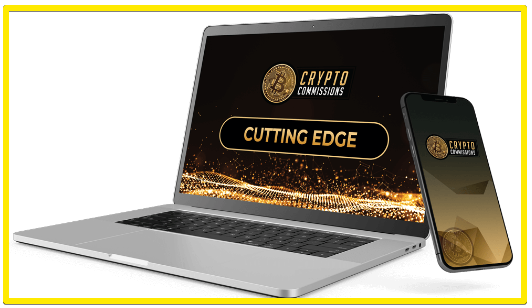 – You'll be an INSTANT authority in the crypto niche without the research or homework!
– Your sites are loaded with hot crypto topics & content to keep visitors coming back for more …

OK, BUT SO WILL EVERYBODY ELSE THAT BUYS THE APP, RESULTING IN WHAT GOOGLE CALLS DUPLICATE CONTENT WHICH MEANS VERY HARD TO RANK AND REDUCED TRAFFIC

– And of course each piece of content is pre-monetized with YOUR links!
EFFORTLESS Scaling & Customization
– Your DFY sites are built to take advantage of the huge growth in the crypto niche … to maximize your results!
– Effortlessly customize colors, backgrounds & logos to match your brand
– Easily change banners & affiliate offers
– Add your own crypto articles to scale your site & free traffic!

THIS WOULD BE KEY IF YOU WANT TO OUT RANK YOUR FELLOW APP PURCHASERS AND HAVE ANY CHANCE OF RANKING IN GOOGLE OR GETTING "FREE" TRAFFIC TO YOUR SITE.

STAND-ALONE Crypto Site-Builder App INCLUDED

THE PAGE BUILDER AND TEMPLATES ARE QUITE GOOD, EASY TO USE AND PROFESSIONALLY DONE.

– On top of the DFY sites, you also get our 1st-ever "Crypto-Site Builder" app to create your own sites from scratch!

OK SO, NOW WE ARE NO LONGER DFY. AND IF YOU ARE GOING TO BUILD YOUR OWN SITE FROM SCRATCH, BETTER TO HAVE YOU OWN WEBHOSTING SO YOUR WORK IS YOURS AND TRANSFERABLE IF YOU DECIDE TO MOVE ELSEWHERE. NOT SO WITH THESE APPS.

– Perfect to diversify, scale & grow your business as this market continues to explode!
TOP-CONVERTING Commission Offers With Automatic Approval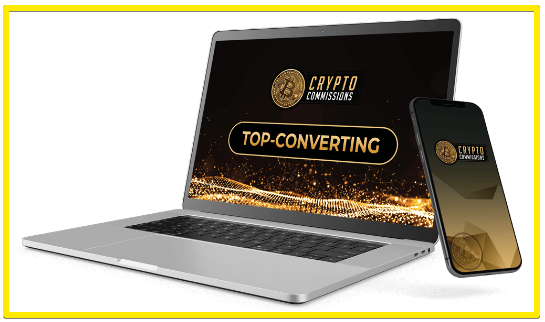 – We've loaded your site with the latest top-converting crypto-offers.

YOU WILL STILL NEED TO GO TO EACH SITE AND APPLY.

– Maximize your results with diverse income streams …
– Including RECURRING offers for the ultimate laptop lifestyle!
CLOUD-BASED PREMIUM HOSTING INCLUDED
You get the same enterprise-level hosting we use on our money sites …
Optimized for conversions at no extra cost to you.
Nothing to install, download or slow you down!
Login, update & track results from anywhere.
100% BEGINNER FRIENDLY
the interface is incredibly user-friendly.
be up and running fast with zero tech skills or experience
THE BEST TRAINING IN THE INDUSTRY
Users of our products consistently rave about the quality of our training …
We go the extra mile to give you every possible advantage!
The $10k Per Month Affiliate System and FREE Training
A Proven Business Plan
Hi, I'm Rex McMahon, Affiliate Marketer and Entrepreneur.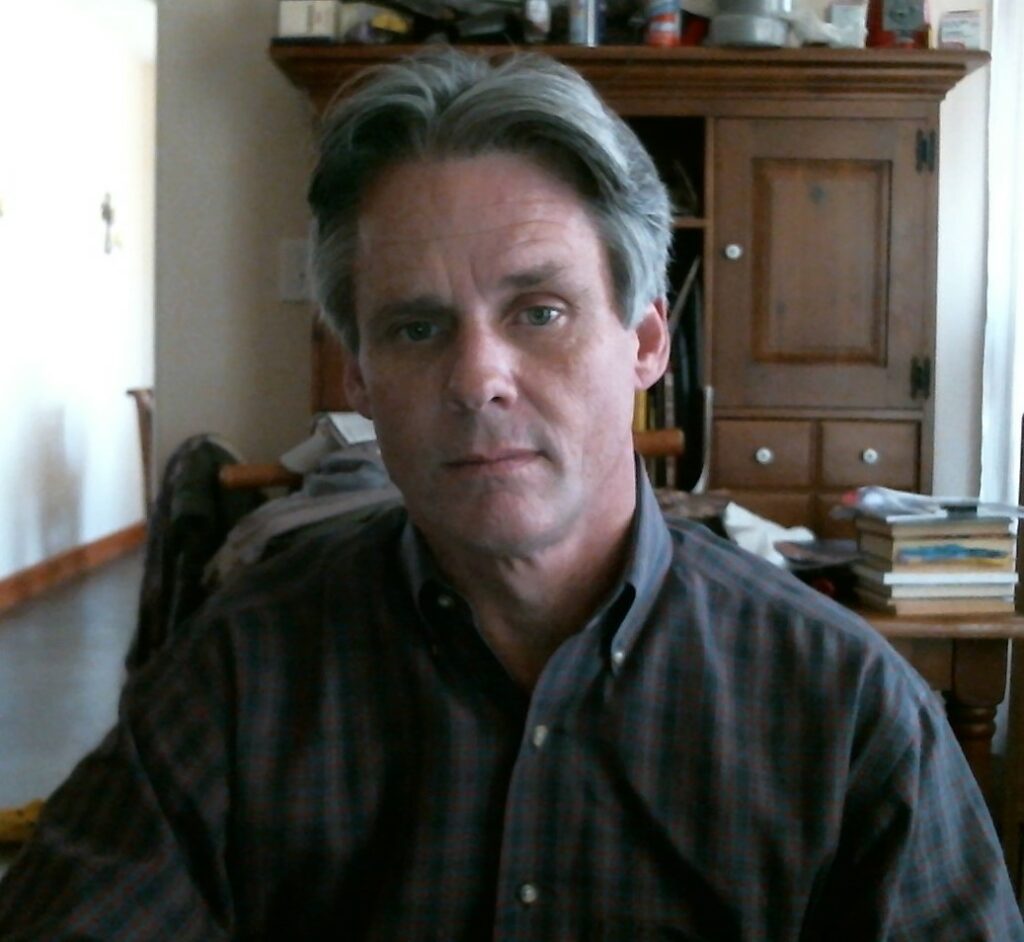 Join me and over 75,000 Others and Follow The Super-Simple Four Step System we Use To Sell Products Online Each and Every Day Like Clockwork! Best of all, It's FREE and it Works!
---
Built-In Lead Generation
Now you can start collecting your own list of crypto customers!
These people are investors. Regular buyers. Always looking for the latest offers.
Be one of the 1st marketers with your own crypto list & scale to levels never before possible.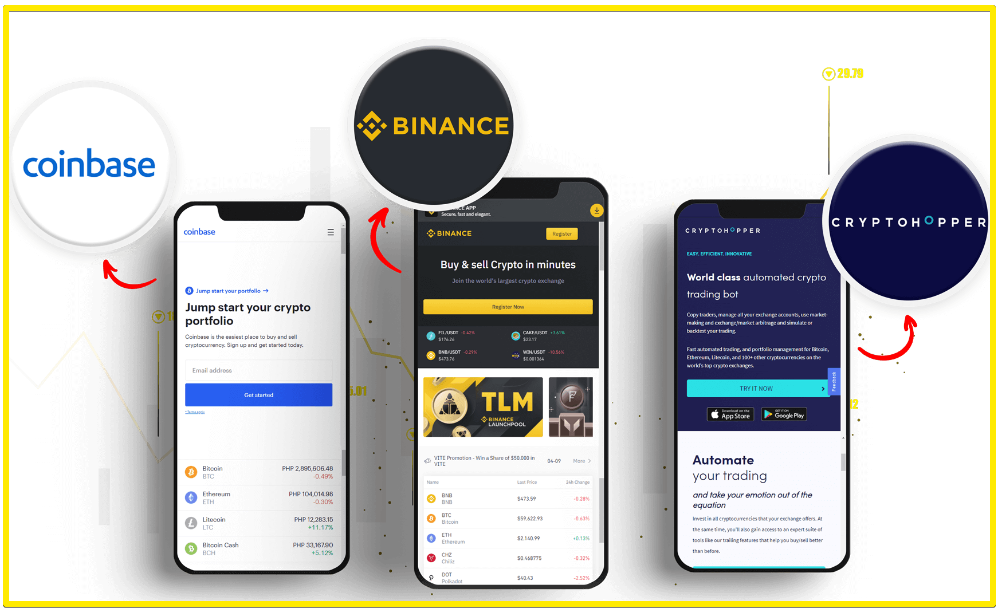 Commissions In Cash Or Crypto
use this app and system to generate commissions in regular currency AND crypto!
DFY High-Ticket Offer Included!
Skyrocket your results with our built-in HIGH TICKET offer …
Visitors to your site will be invited to attend a free crypto training webinar – then have the option to buy advanced training …
Where the selling's done for you!
Lots of hype and bold claims I know, but they are trying to sell you a product so not unexpected. The product is very easy to use and does produce very attractive pages. The following is the pricing for Crypto Commissions. Like all of these products, a very low entry price with a number of up sells. Remember, low price to hook you and then lure you into the up sells where they really make their money.
---
Pricing for Crypto Commissions is:
---
$17 for initial offer. Six upsells from $47 up to $197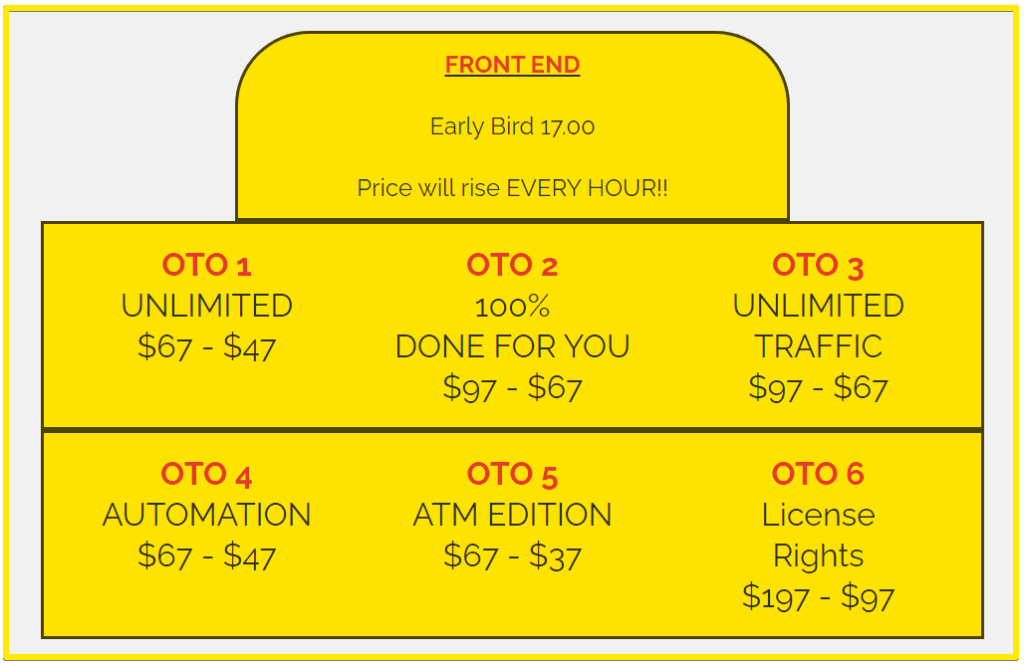 ---
Who is Crypto Commissions for?
---
Let's be honest, Crypto Commissions is for those of us who don't know anything about Crypto currency and not willing or able to take the time to learn, but have seen the massive growth and are interested in getting a piece of the action. Built for beginners, it is a very easy to use platform and the resulting sites look very professional.
Anyone who just wants a quick and easy way to establish themselves in the crypto currency market place could use Crypto Commissions. Advanced marketers, with experience and cash for paid ads like Facebook and google, could quickly be up and generating leads and possibly commissions with this app. Again if they don't currently have a presence in the crypto markets nor the desire to learn and build their own site.
---
Can You Make Money with Crypto Commissions?
---
I always get this question, and my answer is usually the same, Yes…IF. Glen Kosky and his team are very experienced and successful online marketers, they know what they are doing and how to sell products. But, don't get over whelmed by all the sales hype. Making money online in the crypto currency market or anywhere else will take work. Plug and Play, Done for You, all sounds good, but it will still take work.
You will have to generate traffic to your sites. All the affiliate programs in the world won't make you a dime if nobody sees you site and clicks on your affiliate links. In order to make any significant income with this app or any of the others we've review previously, you will most likely have to resort to paid advertising. Sub domain sites don't typically rank in google and the duplicate content issue will further exaggerate that problem.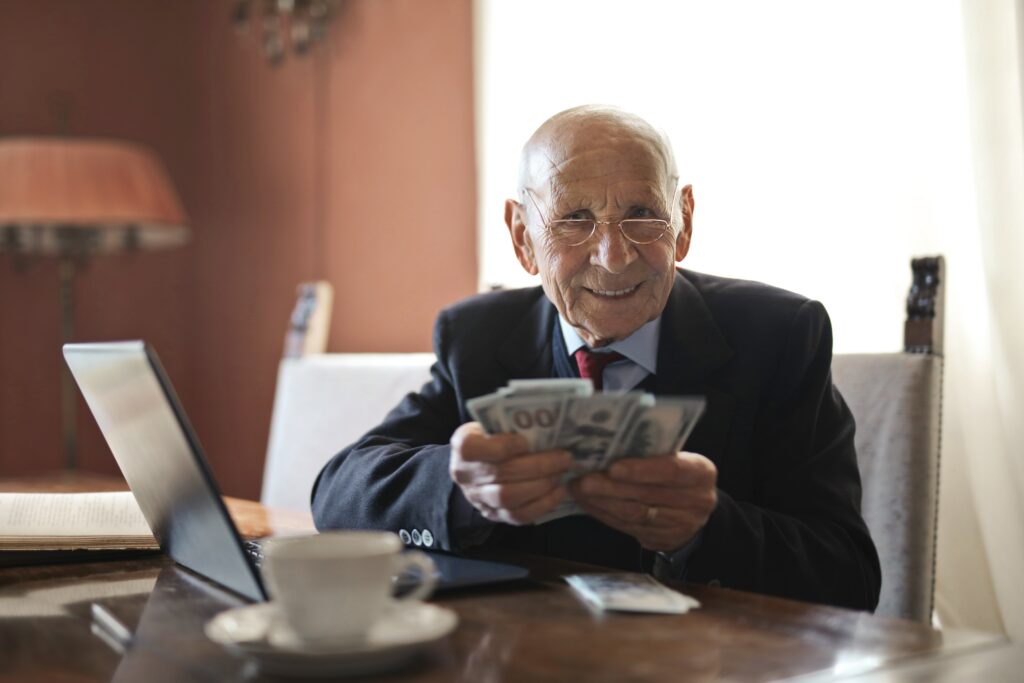 ---
Crypto Commissions the Pros and Cons
---
In the table below, I have tried to list what are, in my opinion, the pros and cons of the Crypto Commissions app. I always encourage you to check them out for yourself as only you can determine what is best for you and your online business.
| Crypto Commissions Pros | Crypto Commissions Cons |
| --- | --- |
| Beginner freindly – no tech skills needed | Built on a sub domain – difficult to rank on Google |
| No monthy recurring costs for hosting | Your site is non transferable, if you leave you lose it |
| High ticket affiliate offers included | risk of duplicate content |
| Can earn free crypto & bitcoin | Six upsells to get full access to all features |
| | Will need to run paid ads to generate significant sales |
You need to be aware that they are selling you an app. There is a lot of hype in their sales pages and some "too good to be true" claims. These sites, like those of CryptoMate and TraderMate and on and on, will be very hard to rank in Google and get any kind of search traffic. Simply because, everybody will be using and reusing the same pre loaded content.
As a rule, sub domain sites don't rank well in google period. So, in order to drive traffic to your site in a hope to generate some sales, you will need to resort to paid advertising which will take additional funds and can get quite expensive as you learn to write converting ads. So, as always, "buyer beware!"
If your purchase the Crypto Commissions app, you will receive the following as Bonuses:
FREE Bonus #1: $1,000 Daily Commission System – Worth $1,997


FREE Bonus #2: Your 1st Sale In 60 Seconds – Worth $497
FREE Bonus #3: Bitcoin 100X Newbie Guide – Worth $297
FREE Bonus #4: $5,000,000 Online Blueprint – Worth $997
Auto Crypto Suite – Worth $3,997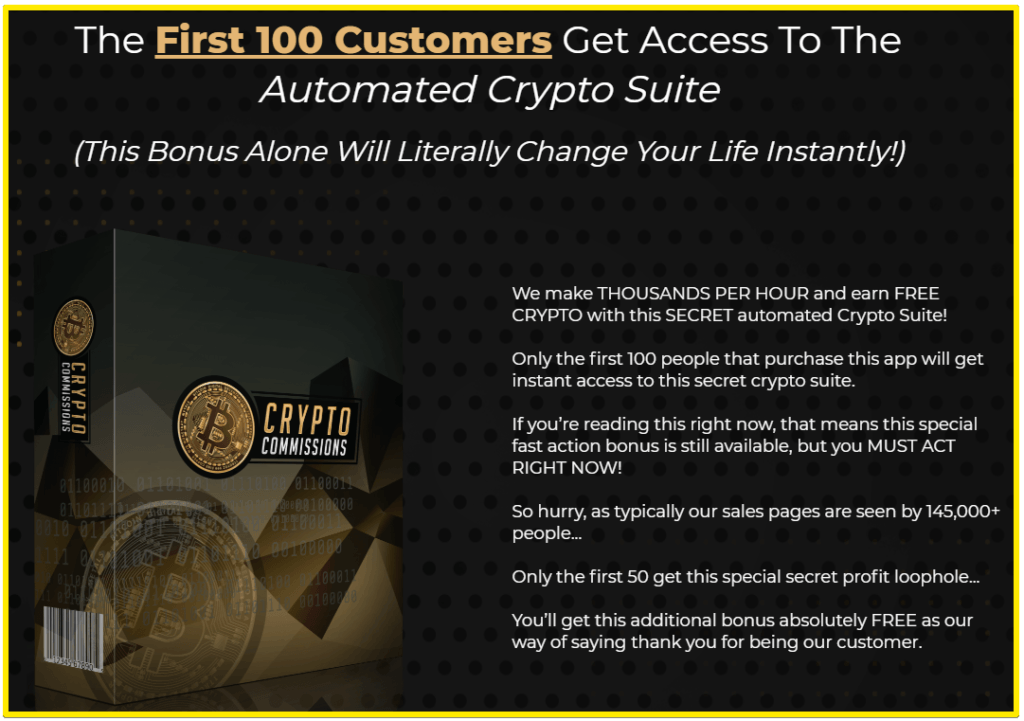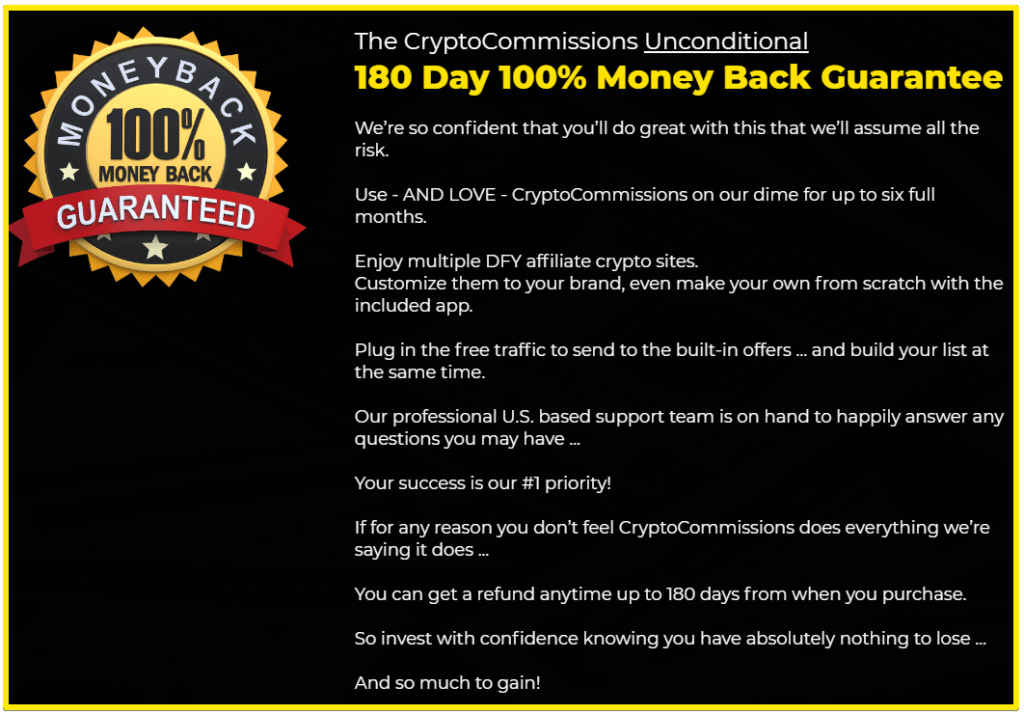 180-Day Money Back Guarantee – PRICELESS!
---
---
Crypto Commissions vs Wealthy Affiliate
---
Crypto Commissions is a drag and drop page builder app with pre made templates and content. Wealthy Affiliate is a training and hosting platform where you will build your own websites from the ground up. In any niche you want, including Crypto Currencies. You can learn anything and everything about online marketing and business at the wealthy Affiliate from website design, email marketing, social media marketing, YouTube and much more.
Best of all, at Wealthy Affiliate, all of your work, designs and websites belong to you. If at anytime you want to leave Wealthy affiliate you simply mover you websites to another hosting service like blue host or host gator. They belong to you. You can move them change them or …even sell them. At Wealthy Affiliate you will get the training, tools and support you need to build a real, long term, profitable online business from home, or anywhere you can get an internet connection.
The chart below will give you a side by side visual comparison between Crypto Commissions and the Wealthy Affiliate Platform. Then you can decide what would be the best option for you and your business goals.
---
Crypto Commissions: The Final Verdict
---
Glen Kosky and his team have produced a very beginner friendly crypto currency affiliate site app. The page builder, templates and content are very well done and professional looking. That being said, I don't recommend the app simply because it will be difficult to get traffic to you site because of it being a sub domain for one, and because of the high likely hood of there being duplicate content among all the other users of the app.
---
---
On a platform like Wealthy Affiliate you will learn how to build your own sites, customize them however you want, create and optimize your unique SEO ready and rank able content. You can so much more and build a real, long-term, profitable online business for years to come. If you would like to check out Crypto Commissions, just click the green button below and for a free 7-day trial of Wealthy Affiliate you can click the blue button below.
I'm Looking forward to working with you,


my.wealthyaffiliate.com/rex10
Facebook: Online Benjamins
Twitter: @onlinebenjamin1
Instagram: dotcomdinero
Rex
P.S. Again, Wealthy Affiliate is COMPLETELY FREE to get started. No catch, no obligation, no bait and switch. I will personally be in touch with you upon joining to offer my support and guidance to help you get up and running online.
P.P.S. If you have any questions or are unsure of anything, I am here and I promise I will get back to you on all of your questions and comments. Just leave them below in the comment section. Follow me on Twitter: @onlinebenjamin1, Instagram: dotcomdinero, and Facebook: Online Benjamins
Hi,
Thanks for stopping by and congratulations for taking the first steps to building your own online business. I've been in business both offline and online since 1997. I would consider it an honor to help you build your business. Father of 3, life long outdoorsman with an education in Genetics and Economics. This site is about cutting through the BS and finding the real opportunities in the online world. I look forward to working with you.