What exactly is Loophole 2 Profits? Well, in short, it is a cloud based app that builds what will look like an ecommerce store that promotes popular products listed on Amazon. Now we've all heard of Amazon. They do nearly 400 billion in sales, they are the big dogs on the block when it comes to ecommerce. Now, you could set up a store on Amazon yourself. Source products, purchase inventory, repack it, send it out to Amazon warehouses, deal with returns and account suspensions and hopefully make money.
The Loophole 2 Profits App was designed to piggyback off of Amazon, if you will. By building an ecommerce site and list popular (high selling) products from Amazon on these sites and when someone clicks on the product on your site, they are taken to the listing on Amazon through your affiliate link and if the purchase something, you make a commission. Sounds simple enough right? Well, lets take a look inside Loophole 2 Profits and see what it's all about and then we'll compare it to my #1 recommended Affiliate marketing platform to see how it compares.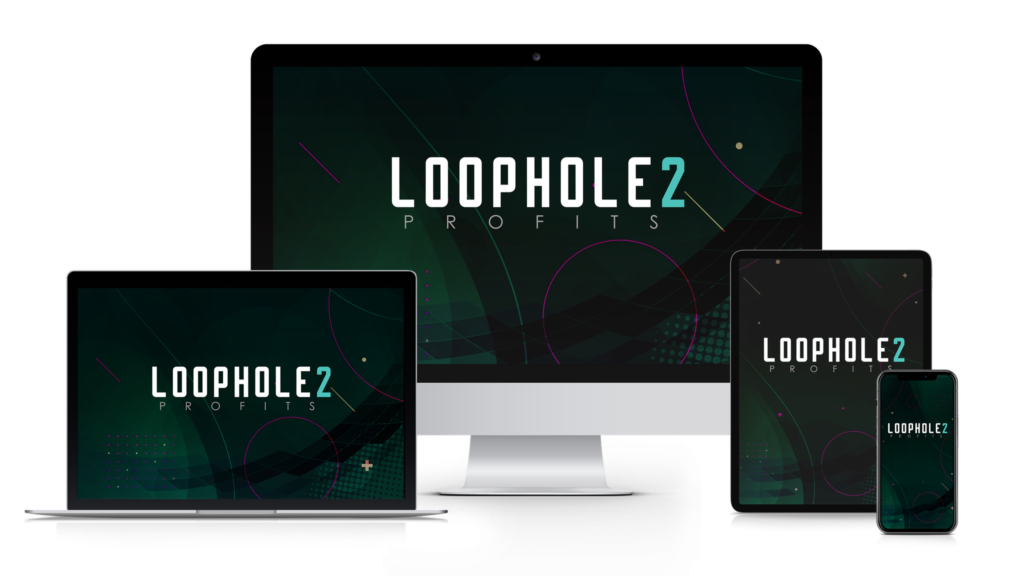 QUICK SHOT:
Loophole 2 Profits is a cloud based Amazon affiliate site app. It will create what looks like an ecommerce site that is populated with and linked to popular products selling on Amazon. When a person clicks on a product on your site, they are taken to the product listing on Amazon, and if they purchase, you earn a commission. These sites are hard to rank and therefore get very limited traffic. Priced at $13 plus 5 up sells to $197. I rate it at 66 out of 100: NOT RECOMMENDED
What is Loophole 2 Profits?
---

PRODUCT NAME: Loophole 2 Profits
WEBSITE: https://loophole2profits.com
PRICE: $13.10 plus 5 up sells to $197.00
OWNER: Brendan Mace
OVERALL RATING: 66 out of 100 – Not Recommended
What is Loophole 2 Profits?
Loophole 2 Profits is the latest "make money online" app developed by Brendan Mace. Brendan is both and experienced online marketer and product developer. In this app, Brendan and his team, have created a drag and drop, done for you ecommerce type app. In actuality, it is an Amazon affiliate site that looks like and ecommerce store.
Their theory is that Making money online is actually simple. You just need to find where the money "hangs out" and then grab your slice of the pie. In this case, we are targeting one of the most profitable companies in the world Amazon. And they claim they are using "a clever "Loophole" to take a nice delicious bite WITHOUT anybody even knowing that we are doing it. It's all 100% anonymous. And it's all 100% legal. But because VERY FEW people even know this exists, the opportunity is AWESOME".
Well, let's take a look at their "sales page" and see what all the hype is about.
The exact loophole we've used to siphon sales from a MULTI-BILLION DOLLAR online company. This LOOPHOLE makes it easy for anybody to get started in as little as 10 minutes from now… Because you're not creating anything from scratch… You're going straight to the source, and letting a MULTI-BILLION DOLLAR company do the work for you…

Meaning… You can 100% do this… And we've even got a "double your money" guarantee to back that up. MEANING YOU ARE SIMPLY COPYING LISTINGS ON AMAZON TO YOUR SITE. This LOOPHOLE takes about 5-10 minutes to set up. Once you've got it running, you can leave it in the background. FOREVER!!! SURE, BUT WILL YOU ACTUALLY MAKE ANY MONEY?
Imagine setting up ONE campaign, and leaving it running 24/7/365 What would you do with your time? Because, this doesn't have any ongoing maintenance. Our users are doing what they want, because they've already automated everything.
The $10k Per Month Affiliate System and FREE Training
A Proven Business Plan
Hi, I'm Rex McMahon, Affiliate Marketer and Entrepreneur.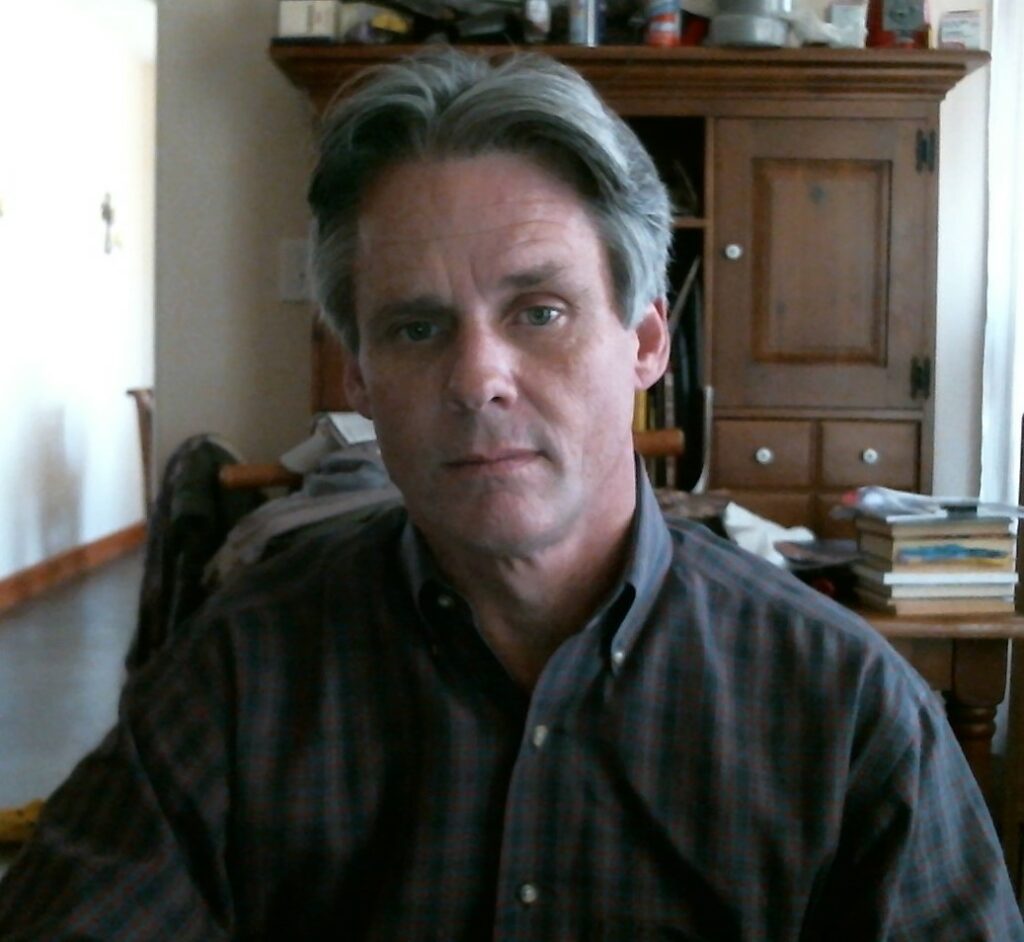 Join me and over 75,000 Others and Follow The Super-Simple Four Step System we Use To Sell Products Online Each and Every Day Like Clockwork! Best of all, It's FREE and it Works!
How Does Loophole 2 Profits Work?
---
YES, this is the easy way to build an Amazon business. Because it's LEGALLY siphoning sales from Amazon, a MULTI-BILLION DOLLAR COMPANY, for your benefit. OK, so basically the app grabs some popular products from Amazon and lists them on the app to appear like an ecommerce store. SOUNDS GOOD, BUT HOW DO YOU GET PEOPLE TO YOUR SITE AND THEN GET THEM TO CLICK ON YOUR AFFILIATELINKS? According to the Loophole 2 Profits website; MAKE UP TO $173 PER DAY!! – NOW THAT'S AN ODD NUMBER. WHERE DID THEY COME UP WITH THAT?

Here are the key features of this product:

(MY COMMENTS IN RED)
Loophole 2 Profits Cloud Based App: Securely hosted in the cloud, you'll never have to worry about downloading, installing or updating anything
Fully integrated with Amazon Associates: Loophole 2 Profits with find and add as many top quality Amazon Products as you want with just a click of your mouse.
Up to 10% Commission from Amazon: Unlimited Commission rate up to 10%. 90 Days Cookie Affiliate Code. All you need is a FREE Amazon Associates account.

MOST AMAZON PRODUCTS PAY 4% COMMISSION OR LESS.

Legal Pages and GDPR Terms Automated: This feature will add to your affiliate Amazon store, legal pages and GDPR compliant Instantly.
Step-by-step training: Although the push-button software is easy-to-use, the creators are also including their step-by-step video training to make sure you get up and running and making money right away.
Amazon Affiliate Stores made easy: They've intentionally made Loophole 2 Profits super easy. Just 'point and click' your mouse, and Loophole 2 Profits will do all the work for you.
No Limits On Amazon Stores: Create as many Amazon Affiliate stores as you want for maximum income and more.
No Limits On Views for more traffic: Your brand new Amazon Affiliate Stores can handle unlimited traffic.
Email Subscribers system: Email Subscribers System Included. You can export e-mail lists in ".csv" files, from subscribers who opt-in their e-mail in your store's newsletter for promotions, deals or discounts.
Choose from 3 Premium Store Templates: Stores are stunning, look professional, and are proven to convert visitors into buyers… which means you make money.

EVERYBODY'S STORE WILL START TO LOOK THE SAME

Unlimited Custom Sub-Domains & Hosting on the FAST servers: Because speed is a very important factor for every online-marketer today, Loophole 2 Profits solves this BIG problem. Save time, money, and headaches by using the included store hosting and sub domain that they give you at no cost.

AGAIN THESE SITES WON'T RANK IN GOOGLE.

Permanent Updates: I think that our valuable customers don't need to be stressed out with annoying updates, or have to deal with by themselves. The creators permanently provide updates on automation and you won't even have to lift a finger, or to deal with any part of the process.

NO WAY TO VERIFY THAT

Built-in Real Time Analytics, Track every aspect of your store: Which means your stores make you more commissions and your business is scaling every day without you having to do any of the work!

HUGE RED FLAG!!

Self Updating Artificial Intelligence: The intelligent bots will work for you 24/7 and will update your store, every single day with TOP Products and Best Deals from Amazon. No more hard work, no more painful steps and no more expensive hosting and domains fees.
You see the big problem with most Amazon store builders is that they do an alright job creating a store, but when it comes to traffic, you're on your own. With Loophole 2 Profits, they've included a push button Facebook viral traffic feature, that starts getting you traffic the second your brand new store goes live. OK, I CALL BS. THERE IS NO MAGIC PUSH BUTTON TRAFFIC FEATURE ON FACEBOOK OR ANYWHERE ELSE.
This is incredibly powerful, because without traffic, your store is DEAD in the water. THAT IS AT LEAST A TRUE STATEMENT. With Loophole 2 Profits, you'll have all the free social traffic you need to start making money right away. And the traffic you get isn't just free… it's ultra-targeted so people actually buy stuff and you make money. FREE TRAFFIC ON SOCIAL MEDIA TAKES TIME AND EFFORT. YOU CAN'T JUST SPAM YOUR LINKS ON SOCIAL MEDIA AND EXPECT TO MAKE MONEY.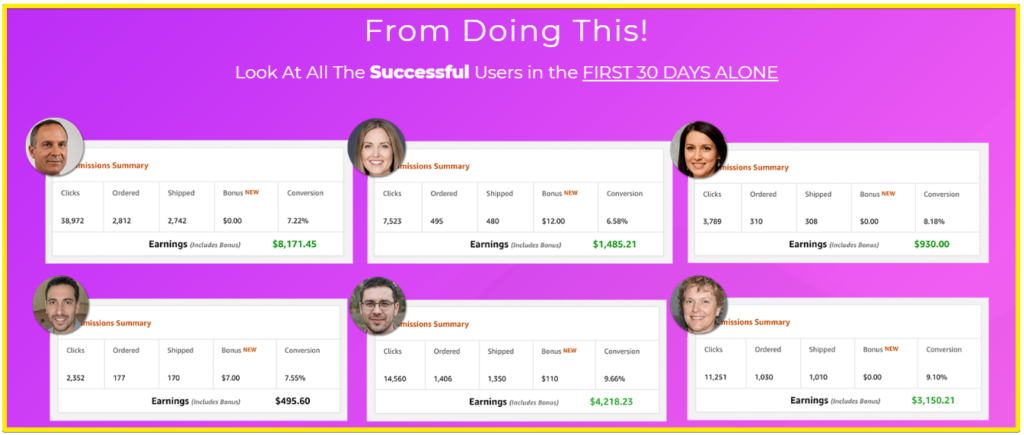 What do you get when you buy Loophole 2 Profits?
A Fast Cloud Based Platform That Creates Viral Affiliate Amazon Stores
3 Beautiful and Professional Themes to Choose From
Push Button Viral Traffic Technology that help you to get free traffic
Revolutionary Technology Fully Integrated with AMAZON
Intelligence Bots Technology that Adds Hundreds of Affiliate Products from Amazon automatically
Mobile Responsive Design Feature
Lead generation system that help you to build a customer list
Loophole 2 Profits allows you to set up profitable Amazon stores in seconds and then create viral posts that will automatically get sent out to Facebook to promote your store. But get this… As soon as someone clicks that link and visits your store they'll be able to find the exact product they want… not just the product you "think" they want.
You think that might help you sell a few bits 'n' bobs? You bet it will! And that's not all… Because your posts are designed to go viral Which means you'll be sucking up free traffic from Facebook and selling products to people on autopilot…
And this built in "Viral Technology" will allow you to populate the exact products that your marketplace, fans and followers on Facebook want. It's a new revolutionary technology that has blown the amazon affiliate market wide open. REMEMBER, THIS IS FROM A SALES PAGE. IT IS WAY OVER HYPED, THEY ALWAYS ARE, SO BUYER BEWARE. IF THERE WAS AN AI TECHNOLOGY FOR VIRAL FACEBOOK POSTS, WE WOULD ALL BE MILLIONAIRES. 😉
Loophole 2 Profits Support and Training:
They offer 24/7 ongoing premium support, with their on site technical support tab, you're always just a message away from having your problem solved. The app comes complete with step-by-step, over the shoulder, in-depth video training. The videos are on demand, so you can watch as many times as you want and when you want.
Loophole 2 Profits Pricing:
The Loophole 2 Profits app sells for a one time fee of $13.10 up front. There are five "up sells" with in the app that range in price from $47 to $197. They are optional, of course, but they will be made available in follow emails etc.
Loophole 2 Profits PRO $13.10 – Basic version with three available site templates.
Loophole 2 Profits PREMIUM Version $47.00 – Get a few more templates to choose from.
Done For You – Loophole 2 Profits $197.00 – They will set your site up for you.
Unlimited Leads – Loophole 2 Profits $167.00 – Capture site visitor emails etc for follow up
Unlimited Traffic Program – Loophole 2 Profits $197.00 – Automatic social media posting
License Rights to EVERYTHING $167.00 – Gives you the right to sell the product as your own and keep all the profits.
Loophole 2 Profits has a full 365-day guarantee. Use it for a full year, and if it doesn't work for you, they will refund your full purchase price. If you prove that you tried the system and didn't have positive results, they will add another $500 to your refund.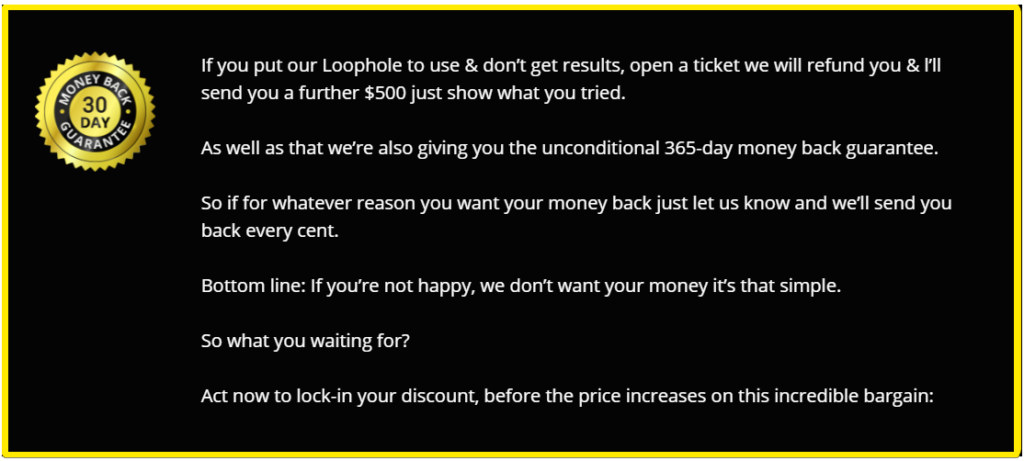 Who is Loophole 2 Profits for?
---
Loophole 2 Profits was developed as a beginner friendly, done for you amazon affiliate app. If you are brand new and reluctant to get too deep into building your own official Amazon store, perhaps this app is for you. Most advanced marketers have already built their own online assets to do their Amazon affiliate marketing.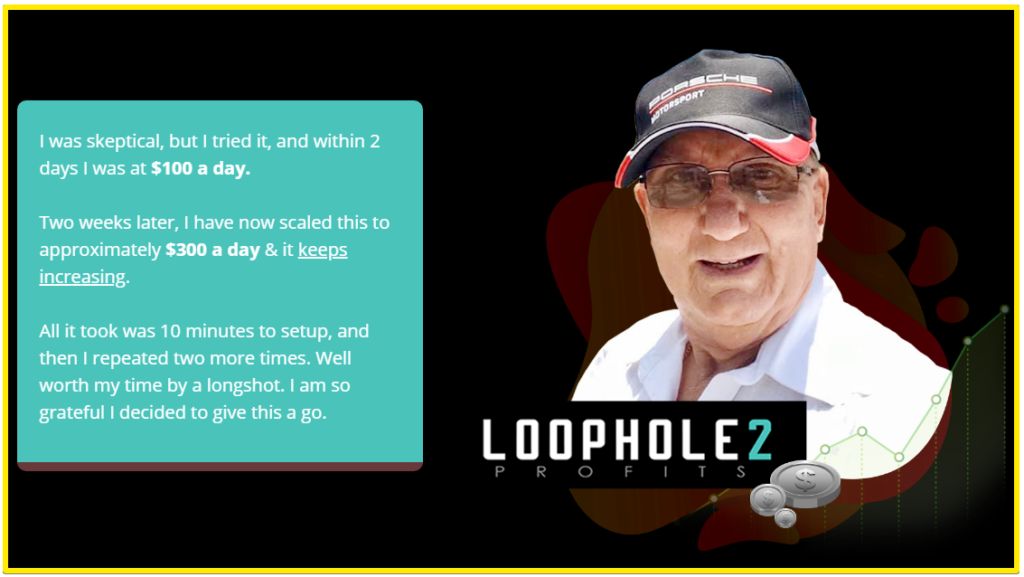 If you're serious about building and online business, I recommend that you take a look at a more thorough platform such as the Wealthy Affiliate. You will get a complete education in online marketing, affiliate marketing, ecommerce and website building and design. You will then have the tools, training and support you need to build a successful online business.
Can You Make Money with Loophole 2 Profits?
---
There are very few programs out there that are complete scams, most will make some money if you put in the time and effort. The problem is most, including Loophole 2 Profits, are over-hyped and never live up to their sales pages. They don't give you the whole story, and they try to up sell you more products. But, you can make money, you just won't get rich for $13. It ain't happenin.
To make any real money with Loophole 2 Profits, you will need to invest additional funds in paid ads like google ads, bing ads, and Facebook ads in order to get enough traffic to your site to ever generate any significant revenue.
And, paid ads can get expensive as you learn what works and what doesn't. So, buyer beware. Just check out the video review below.
Loophole 2 Profits the Pros and Cons
---
In the table below I have listed some of what, are in my opinion, the Pros and Cons of the Loophole 2 Profits App. If you think you might have an interest in Loophole 2 Profits, just click the button below and check it out for yourself. I always recommend you do that as it is ultimately your business and your money.
| Loophole 2 Profits Pros | Loophole 2 Profits Cons |
| --- | --- |
| Easy for beginners to use | Sites are non-transferable |
| No web hosting fees | Need additional ad funds to fully utilize |
| On demand video training | Amazon commissions are very low |
| | 5 upsells to initial offer |
If you purchase the Loophole 2 Profits app, they are adding the following bonuses as their thanks for your business. These will be yours to keep, even if you decide the app is not for you.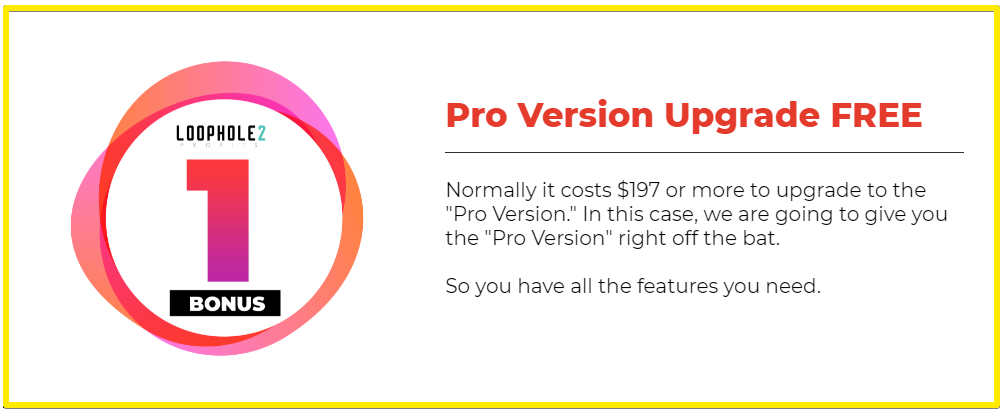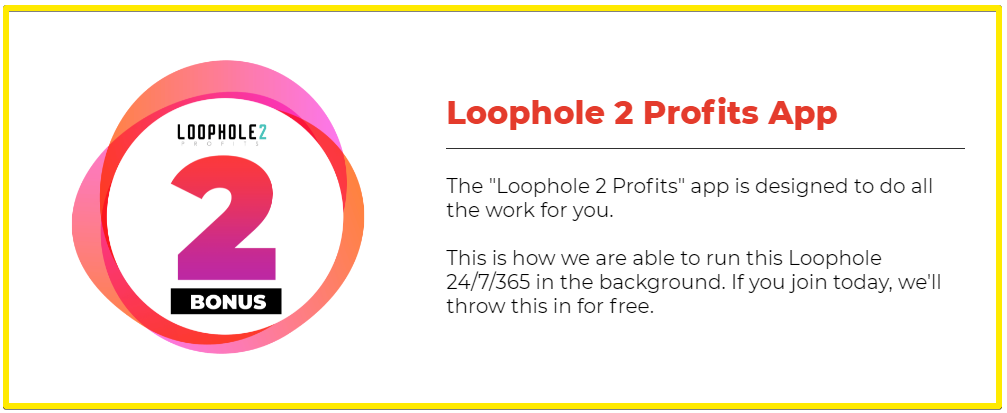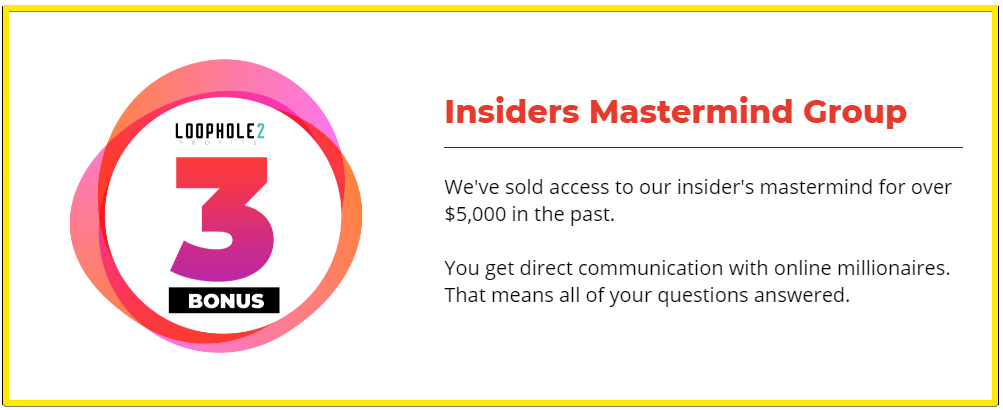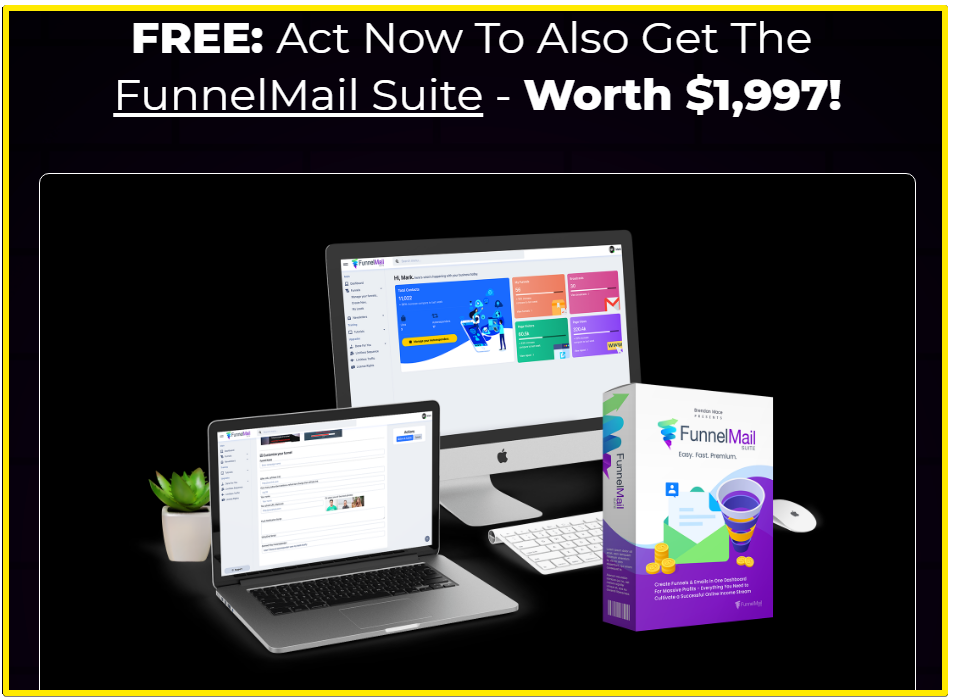 Loophole 2 Profits vs Wealthy Affiliate
---
Loophole 2 Profits and Wealthy Affiliate are two vastly different platforms. While Loophole 2 Profits is a drag and drop, cloud based app, limited to building Amazon affiliate ecommerce type stores: Wealthy Affiliate is a full online marketing training platform. Wealthy Affiliate includes tools, training and support to build fully functioning websites for everything from blogging, affiliate marketing, ecommerce and more.
At Weatlhy Affiliate you will build real, long-term, and profitable online businesses that belong to you. Loophole 2 Profits on the other hand, you have a sub domain on their servers and if you ever want to leave, you will lose all of your work and your site. The table below will give you a side by side comparison between Wealthy Affiliate and Loophole 2 Profits.
Loophole 2 Profits: The Final Verdict
---
In the final analysis, Loophole 2 Profits is just another in a long line of these type of cloud based apps that promise the moon but are unable to produce. You will have to spend money to drive traffic to your site in the hopes someone will click on your affiliate links. Remember, they could search Amazon and find the products themselves. These sub domain app sites don't rank on google so you won't get any "free" search traffic.
I recommend that if you are serious about wanting to start an online business, that you take a look at the Wealthy Affiliate platform. You can learn how to build a real online business and generate traffic and passive income from it for years to come. And, it will be yours. If you decide to leave Wealthy Affiliate you simply move your website assets to another hosting service and keep making money.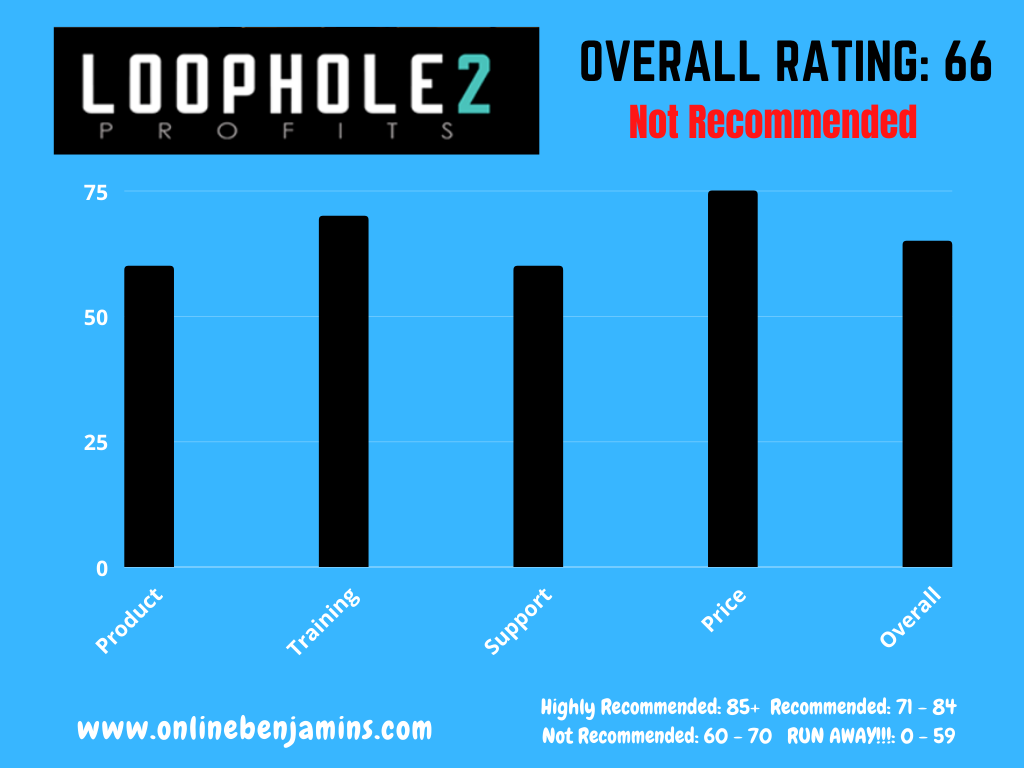 But in the end, it is your business and your money so if you would like to check out Loophole 2 Profits, just click the blue button below. Or, click the green button below to try the Wealthy Affiliate platform FREE for 7 days and see if it's for you or not.
I'm Looking forward to working with you,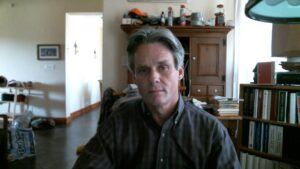 Rex
P.S. Again, Wealthy Affiliate is COMPLETELY FREE to get started. No catch, no obligation, no bait and switch. I will personally be in touch with you upon joining to offer my support and guidance to help you get up and running online.
P.P.S. If you have any questions or are unsure of anything, I am here and I promise I will get back to you on all of your questions and comments. Just leave them below in the comment section. Follow me on Twitter: @onlinebenjamin1, Instagram: dotcomdinero, and Facebook: Online Benjamins
Loophole 2 Profits
$13.10 PLUS UP SELLS