Tradermate is a web based app that claims to build done for you Stock trading and investment affilliate marketing websites. Tradermate is from the creators of Cryptomate that I recently reviewed that purported to build done for you cryptocurrency affiliate marketing websites. With the stock market at all time highs and an aging population hoping to make the most out of their 401k's, Stock trading platforms and apps are all the rage now. You probably heard of the Robinhood App and the GameStop fiasco.
Tradermate is designed to take advantage of that attention by building Stock trading and financial services information websites that will promote affiliate offers for some of the biggest trading companies in the world. Now, as you know I am not a big fan of these so called done-for-you products. But we will check it out here and let you decide what you think. Then, we will compare it to my #1 recommended Affiiate Marketing Platform, Wealthy Affiliate.
---
What is Tradermate?
---
Product: Tradermate
Website: https://tradermate.live/pro
Price: $14 initial offer plus 6 up sells
Owners: Dan Green
Niche: Stock Trading Affiiate Marketing
Overall Rating: 50 out of 100 – NOT RECOMMENDED

Tradermate is a Web Based Software That Creates FULLY AUTOMATED "100% Done For You" TRADING Affiliate Sites!!

The software uploads blog content to you site to make it and Instant Authority Trading Affiliate Site All About Stocks, Forex, Trading, Gold + MORE! They have identified 20 different, high paying, trading affiliate programs for you to choose from to monetize your sites, all you need to do is click the links to apply, grab your affiliate ids and paste them into the software.
They claim that you need Just 1 click to create a FULLY AUTOMATED TRADING affiliate site! With some of the affiliate programs paying as much as $2300+ commission PER sale. And you can Become a superstar affiliate for top online trading platforms! Remember, they are selling you something, so watch for all the hype.
The sales page claims that Tradermate includes everything you need to succeed online as a marketer in the high paying trading niche… Hosting, A Website, Content, Lifetime Revenue Sharing Monetization AND even an Autoresponder service all in one app! Well, let's take a look under the hood and see what all this hype is really about.
---
How Does Tradermate Work?
---
Once again, it's the magic 3 step formula. I'm sure some marketing genius has figured out that if it takes more than 3 steps we won't buy it. And With Tradermate its no different, You just login to the web based software, give your site a name, and choose a trading niche to specialize your site on, for example Stocks or Forex, and then click a button!
STEP 1 – Log in to the web based software and give your site a name.
STEP 2 – Choose a trading niche to specialize your site in. We offer all the most popular trading styles like stocks, forex, gold and crypto
STEP 3 – Click a button and that's it you are done. You now have your own stunning website about your chosen trading style, filled with great content, pre-monetized for you with done for you ads for ultra-high paying trading affiliate offers, AND complete with fully automated email marketing! OK, fine, but all you have really done is built a landing page on their web server.
---
Your site remains a sub-domain of their website. It will always remain there. You can't transfer it to another service, if you ever decide to quit Tradermate, all of your work will stay with them. To their credit, the sites are designed well and look very nice. One of the reasons I am not a fan of this type of product. Let's take a look at what they tout as the features of Tradermate.
---
Tradermate Claims to feature:
EASY "Newbie Friendly" Setup. Choose a trading niche for your site and go!
Literally all you need to do is choose what type of trading you want your site to be about, say stocks or forex for example and click a button!
We get 100% automatic site monetization with ads for ULTRA high paying trading affiliate programs!
With the click of a button our site comes pre-montized with ads for well-known trading platforms like eToro and plus500 as well as ultra-high payout trading offers on Clickbank ( you will still have to actually apply for the offers yourself, Tradermate simply gives you the list with their links.)
We can make hundreds or even thousands of dollars for just ONE conversion from these amazing affiliate offers!
Get daily high quality content for your site on total autopilot
You'll get high quality content posted to your site for you in a fully automated blog all about your chosen trading style. You'll never have to make a blog post again! All the content created for you will be all about the news from your chosen niche, complete with images, videos everything your visitors will love! THEY COPY OTHER PEOPLES VIDEOS INTO BLOG POSTS! This is what is known as a "Black Hat" SEO tactic, what we used to call plagiarism.
Source 100% original content from YouTube AUTOMATICALLY!
All the content on your Tradermate sites is sourced from YouTube channels related to your chosen niche. It is auto-transcribed by our software and then spun to be totally original content for you. its ITS CALLED COPYING NOT ORIGINAL!!
Fully integrated autoresponder service just like aweber or getresponse!
Just like having aweber or getresponse for your site, but with no monthly fees! Unlimited subscribers, unlimited lists, send unlimited emails, automations, segments… all fully integrated with done for you optin forms. HERE AGAIN, ALL OF YOUR EMAIL ADDRESSES AND LISTS WILL BE ON THEIR WEB SERVERS. iF YOU LEAVE YOU LOSE THEM.
100% automated email marketing campaigns.
We even provide 100% automated email marketing so you never need to write an email again. When someone subscribers our system will send them automated email marketing campaigns every few days, for any affiliate offers you have selected, all with your affiliate link auto-embedded in the emails for you.
No manual work needed. It's the simplest software to use ever.
With Tradermate there is no complicated setup. No need to create an app, no need to sign up for any other services, it really is as simple as choosing a trading style for your site, entering your affiliate ids and clicking a button!
24/7 100% automation!
Once you click the button to set up your site, that's it you are done! The software will work for you every single day forever creating content, growing your lists, generating ultra-high paying trading affiliate commissions AND ranking on Google for search traffic. All on 100% AUTOPILOT! THERE IS NO SUCH THING!
ALL FULLY HOSTED
No need to pay any hosting costs. Tradermate sites are all fully hosted for you. So any commissions we make are PURE PROFIT!
Where does this Tradermate "Original Content" come from???
The truth is that these days, when it comes to ranking on Google… more than ever, "original content is king" Google is WAY smarter than that in 2020. When it comes to ranking your site and getting that sweet Google search traffic "Regular Original Content" Is What You Need.
Don't just take it from me. Listen to what Google themselves say about how they reward site owners who create regular original content for their sites.

Creating original content for your site "is what helps build your site's reputation with both users and Google." And that "Creating compelling and useful content will likely influence your website more than any other factors." It's clear that according to Google themselves, creating regular original content for your site is the single biggest factor in ranking highly in Google search.
Here's how Tradermate claims to produce your daily "Original Content" for you sites. They have found a bunch of YouTube channels that post videos about stock trading and investing, and added them into Tradermate. They will also let you remove their channels and/or add your own channels in too. All you do is copy and paste a link to a channel to add it into the system.
Then EACH DAY Tradermate AUTO TRANSCRIBES those YouTube videos from the selected channels into blog post content for you! How "original" is that? Tradermate literally takes someone elses' videos and turns them into written blog posts and then posts them to these "done for you" sites as your "original content". Doesn't sound very "original" to me, or very legitimate. It's a big red flag for me. With all the other members sites using these videos as well, it will end up being labeled as duplicate content by Google eventually.
Another "Red Flag"is this claim: "A 100% "Done for You" Web Based Software That Lets Us get ULTRA HIGH PAYING Trading Affiliate Commissions With NO HARD WORK!" Anytime someone makes a claim like this, be afraid and grab your wallet. It doesn't exist. To make money online, like anywhere else takes work. And, at only $14, nobody is going to sell you the secrets to get rich for only $14.

The Tradermate app comes complete with step by step video instructions that you can access from the dashboard. If you have any support issues or questions, the support team is also accessed from the app dashboard and response time will vary dependent on time of day and number of other inquiries in the system.
Tradermate Pricing $14 front end with 6 up sells from $37 to $197
---
---
Who is Tradermate for?
---
Of course, not being a fan, I don't recommend Tradermate for anyone. However, if you want a quick and easy way to get into the Stock trading and financial services market place, this app will get you up and running. Like Cryptomate we reviewed before, you will be limited to the templates and markets provided. Everybody else that buys the app will be too. Eventually, you will run into duplicate content as more and more people sign on. So, buyer beware!!
If you just do not want to do any work, or learn any skills, and are not looking for a long term online business, then an app like Tradermate might be for you. If you really want to build a profitable and long term online business, I recommend you take a look the #1 recommended platform "Wealthy Affiliate". You can try it completely free for 7 days below.
The $10k Per Month Affiliate System and FREE Training
A Proven Business Plan
Hi, I'm Rex McMahon, Affiliate Marketer and Entrepreneur.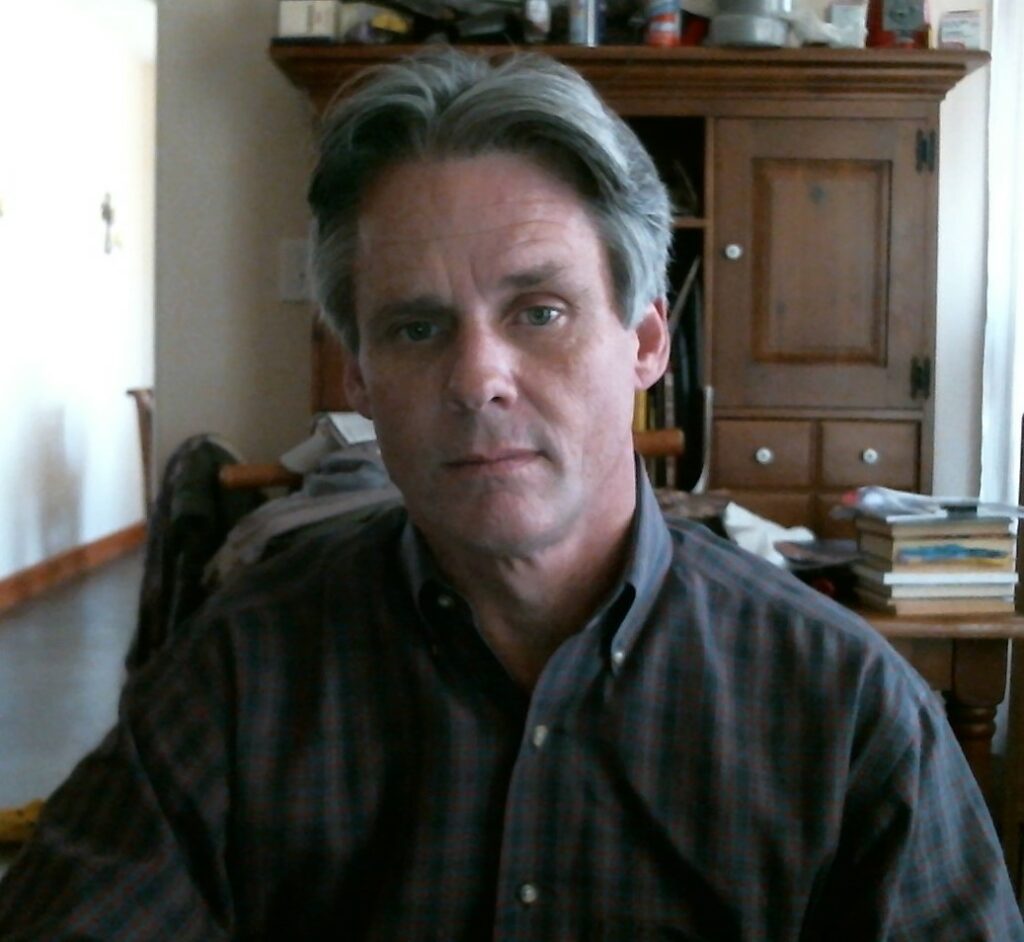 Join me and over 75,000 Others and Follow The Super-Simple Four Step System we Use To Sell Products Online Each and Every Day Like Clockwork! Best of all, It's FREE and it Works!
---
Can You Make Money with Tradermate?
---
Yes, you can. But, don't count on quitting your day job just yet. You will need to get traffic to your landing page (site) with content being spun (copied) from others videos and placed as blog articles on your site, you will eventually be flagged as duplicate content. Everybody in the stock trading niche, for example, will have the same posts placed on their site each day. If you think you would like to give Tradermate a try, they do have a 30 day money back guarantee.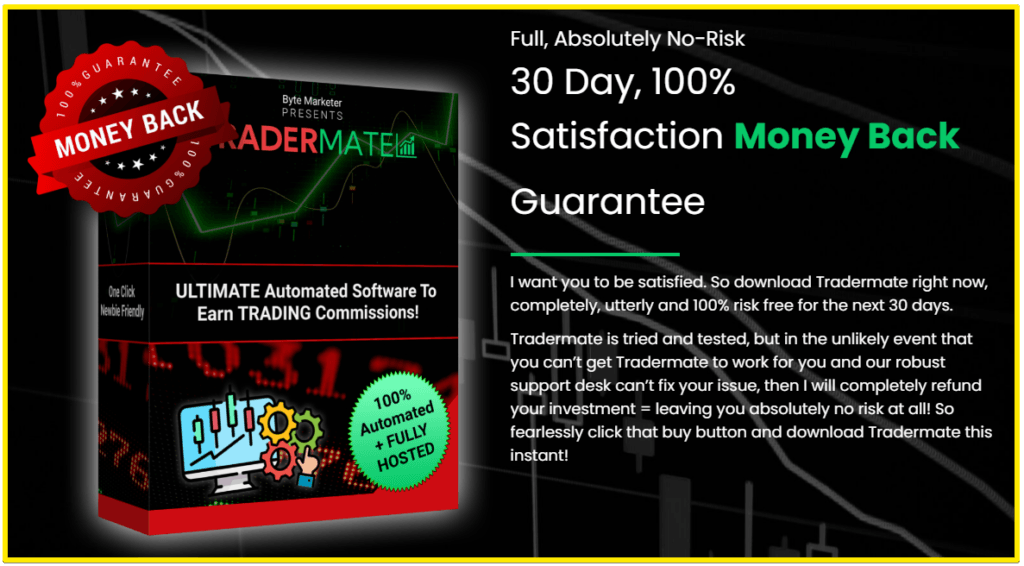 Long term, you will be faced with having either to use paid ads to drive traffic to your site, or start writing your own "original content" for you site. Of course, then it's not done for you anymore now is it? You would be better off starting with a platform like Wealthy Affiliate and building your own unique website that you own and can move or transfer anywhere at anytime. Plus you will learn how to build a real, long term online business. But it will take work, and it won't be one click and your done.
---
Tradermate the Pros and Cons
---
The following table lists what, in my opinion, are the pros and cons of the Tradermate app. As always, if you think you might have an interest in Tradermate, you should check it out for yourself.

| TRADERMATE PROS | TRADERMATE CONS |
| --- | --- |
| premade websites with hosting included | non transferable work stays with Tradermate |
| easy 3 step process to start | will run into duplicate content issues |
| no financial market experience req. | uses "Black Hat" SEO tactics |
| content generator for blog posts | will eventually need to run paid ads |
| | |
Tradermate does offer the following Bonuses for those who take advantage of their limited time offer.
---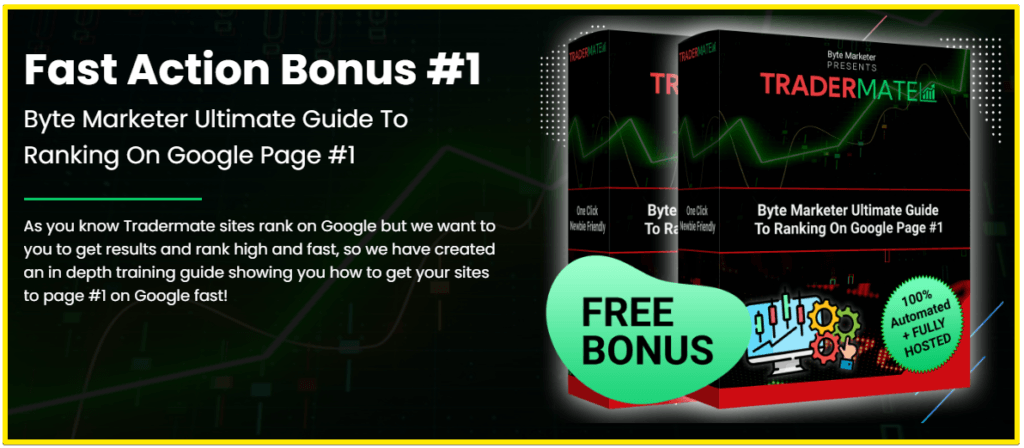 ---
Tradermate vs Wealthy Affiliate
---
The table below will give you a comparison between Tradermate and Wealthy Affiliate so you can see and evaluate the differences yourself. They are vastly different platforms obviously, but you can do everything Tradermate does and much more at Wealthy Affiliate. And, you will have a real online business and an actual website asset that you own and control.
---
Tradermate: The Final Verdict
---
In the final analysis, I do not recommend Tradermate with a 50 out of 100 rating as you can see below. The product uses copied content, in my opinion, which is a "Black Hat" SEO tactic and frowned upon and penalized by Google if they identify it as such. All of you work and site remain a sub domain of their platform. You cannot take it with you it you ever decide to leave.
---
---
The other wild card is, how long will they continue to support the platform. If something happens and they go out of business, you will be out of business too. All of your work and email lists etc, will be gone. If you are seriously interested in building an online business around Stock Trading and Financial Services, check out the free trial of Wealthy Affiliate. They are straight up with you that it takes work and they don't use any "Black Hat" tactics. And, as a member of Wealthy Affiliate, I'll be there to help you, HOW COOL IS THAT!
I'm Looking forward to working with you,


wealthyaffiliate.com/rex10
Facebook: Online Benjamins
Twitter: @onlinebenjamin1
Instagram: dotcomdinero
Rex
P.S. Again, Wealthy Affiliate is COMPLETELY FREE to get started. No catch, no obligation, no bait and switch. I will personally be in touch with you upon joining to offer my support and guidance to help you get up and running online.
P.P.S. If you have any questions or are unsure of anything, I am here and I promise I will get back to you on all of your questions and comments. Just leave them below in the comment section. Follow me on Twitter: @onlinebenjamin1, Instagram: dotcomdinero, and Facebook: Online Benjamins
Hi,
Thanks for stopping by and congratulations for taking the first steps to building your own online business. I've been in business both offline and online since 1997. I would consider it an honor to help you build your business. Father of 3, life long outdoorsman with an education in Genetics and Economics. This site is about cutting through the BS and finding the real opportunities in the online world. I look forward to working with you.