How to "Make Money Online" courses are literally everywhere. One that is getting a lot of attention recently is The Authority Site System. But, what is The Authority Site System and can you really make money online with it? Keep reading and we'll take an in depth look inside The Authoriy Site System and see what it has to offer and if it is a legit opportunity or just another "make money online" SCAM.
If you're interested in making money online, one thing you will notice is that there seems to be no shortage of so called "gurus" hawking their latest greatest course or system. And, they all sound great on The surface. I mean they all have glowing testimonials, screen shots of commissions and they make it sound really simple.
I know, because I've looked at hundreds of them, ranging from The legit to The outright SCAM, and everything in between. Now, before we go any further, straight up, you can make money online and a lot of it.
However, it will take work, time and yes, some money. The process really is pretty simple, but not as easy as The "gurus" make it sound. But, that being said, anyone can do it if they are willing to put in The time and work to build an online business.
So, how does The Authority Site System stack up when it comes to building a real, long-term, profitable online business? What are The pros and cons and how does it work, what you get with this course, how much does it cost and is there a refund policy?
NOTE: If you want to try The Authority Site System, be sure and use my money saving hack detailed below to save nearly $400 off the price. 😉
Quick Look
The Authority Site System is intensive training course on building websites that will rank in Search engines to generate "free" traffic that is then monetized through affiliate marketing and advertising. It features 181 over-the-shoulder video lessons covering everything from niche selection and content creation to branding and monetization. The course is The creation of two very successful internet marketers Mark Webster and Gael Breton who have themselves built multiple authority sites and earned millions. The course sells for $997 and comes with a 30-day money back guarantee. This is a legit and very well put together course. It's not get-rich-quick or easy money but the training and methods are proven to work.RECOMMENDED!
The Authority Site System Review

Quality of Training
Customer Satisfaction
Customer Support
Support Community
Product Pricing
---
The Authority Site System is a complete over-The-shoulder, step-by-step, training course designed to teach you The process of building, ranking, a website to become an authority site. A joint venture of Mark Webster and Gael Breton, two veteran online marketers who have proven that they know how to build authority websites and make money online.

It basically covers everything from market research to website setup, content creation, and finally, making money through affiliate marketing and display advertising. If you've tried blogging and building a website, then you already know how difficult becoming an authority site can be. If you're brand new, it can seem over whelming.
With literally thousands of new websites launching each and every week, there is much more competition so it's critical to invest The time and work to learn how to build your site so that it stands out above The rest and becomes The "Authority Site" in your niche.
Who are Mark Webster and Gael Breton?
If you have spent anytime at all in online marketing and business you have probably heard of Mark Webster and Gael Breton. These are The "authorityhacker.com" guys, one of The best resources for blogging, search engine optimization SEO, affiliate marketing, website building and more.
Mark and Gael started authorityhacker.com way back in 2013 and they have been creating authority websites and earning a very comfortable living ever since. And now, with The Authority Site System, they are helping their students duplicate their success.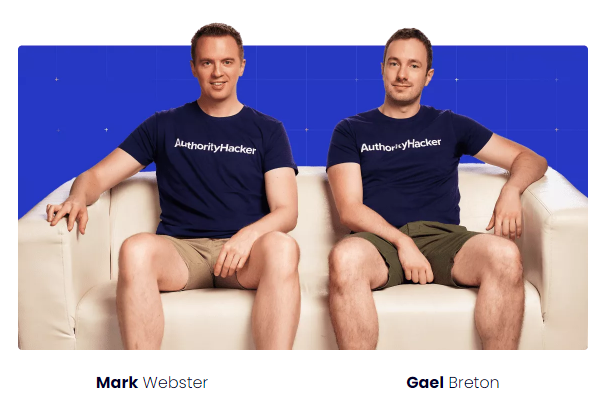 About Mark Webster
Mark Webster is The systems expert. Mark is The technical guru that concentrates on building sites, creating backlinks, outsourcing, customer support, and other technical parts of The Authority Hacker ecosystem.
About Gael Breton
Gael Breton is The co-founder and editor-in-chief. Gael is in charge of creating content, designing brands, creating courses, for The authorityhacker.com website, blog and YouTube channel.
Mark and Gael are two well respected experts in The field of affiliate marketing and building authority websites. They provide an enormous amount of value, free of charge, on their authorityhacker.com blogs and YouTube channel. They give away information that would cost your hundreds if not thousands of dollars to purchase elsewhere.
Even if you decide, after reading this review, that The Authority Site System is not for you, you should at The very least subscribe to their email list, check out their blog and subscribe to their YouTube channel. The information, tips and strategies they share will not only save you time and money, but will shorten your learning curve and increase your chances for success.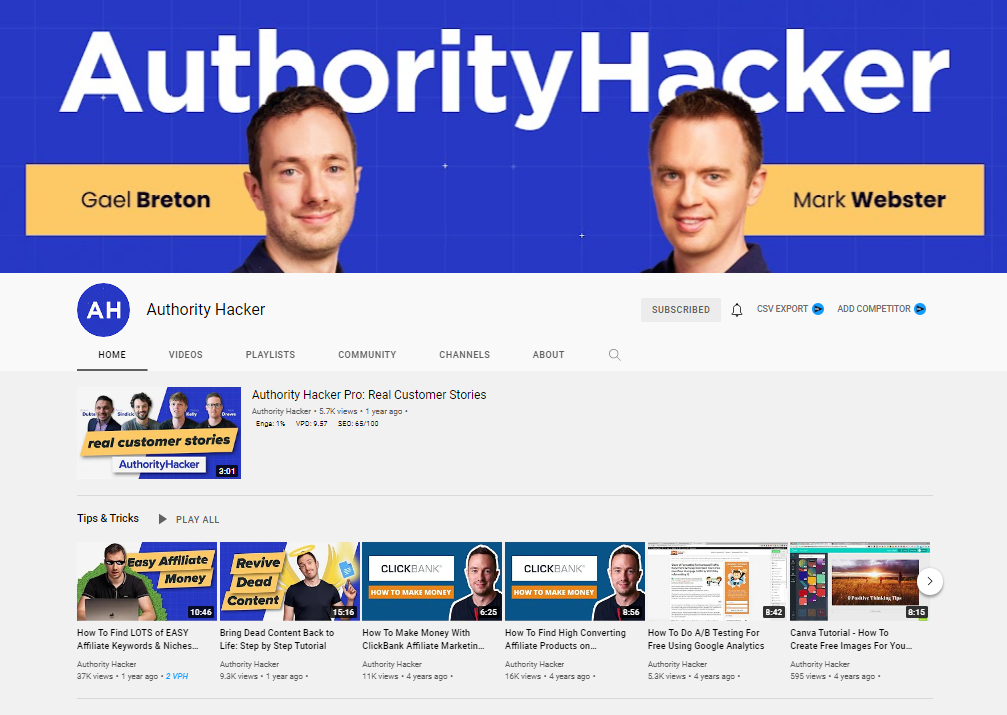 The Authority Site System Review – Overview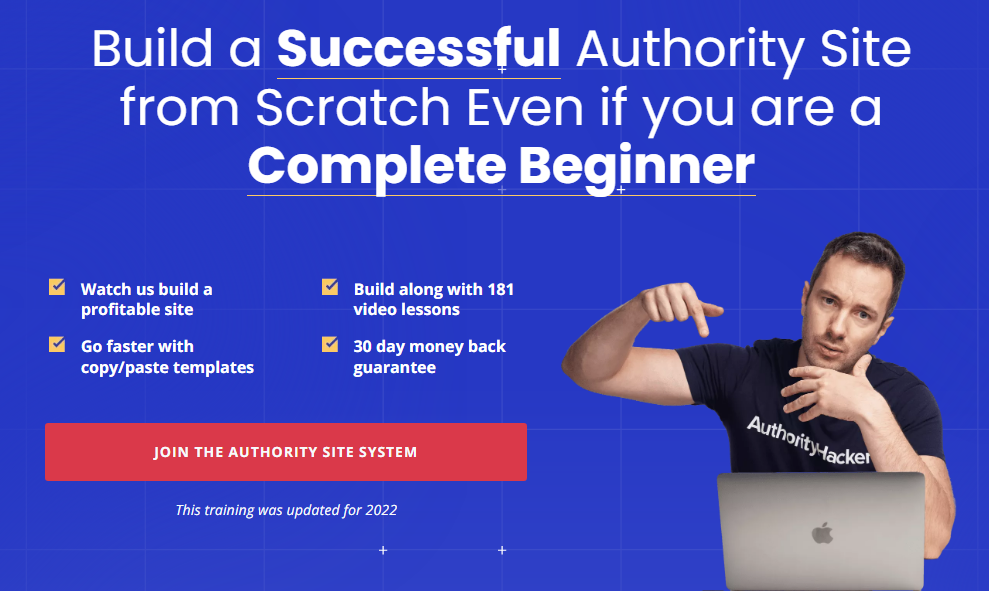 Product Type: Affiliate Marketing/Authority Sites
Product Price: $997 + VAT
Owners: Mark Webster & Gael Breton\
Website: authorityhackers.com
Money-Back Guarantee: 30-Days
My Rating: 3/5
Recommended?: Yes
The Authority Site System will take you step-by-step through the process of building a brand new website from The ground up and how to turn it into an authority site in The eyes of The search engines for any niche you choose. Then you will learn how to monetize ( make money from) your new authority site.
The course itself contains 15 training modules that cover The following topics:
Market research
Keyword research
Teach site setup
Design & Branding
Content creation
Link building
Hiring & Outsourcing
Monetization
Analytics & Tracking
How Is The Authority Site System Different From Authority Hacker?
Authority Hacker is a website that Mark and Gael built to educate people about online marketing. It is where you can access The course "The Authority Site System" as well as their other courses. It is Also where you can get access to their podcast, and blog for free and get a ton of free tips and strategies.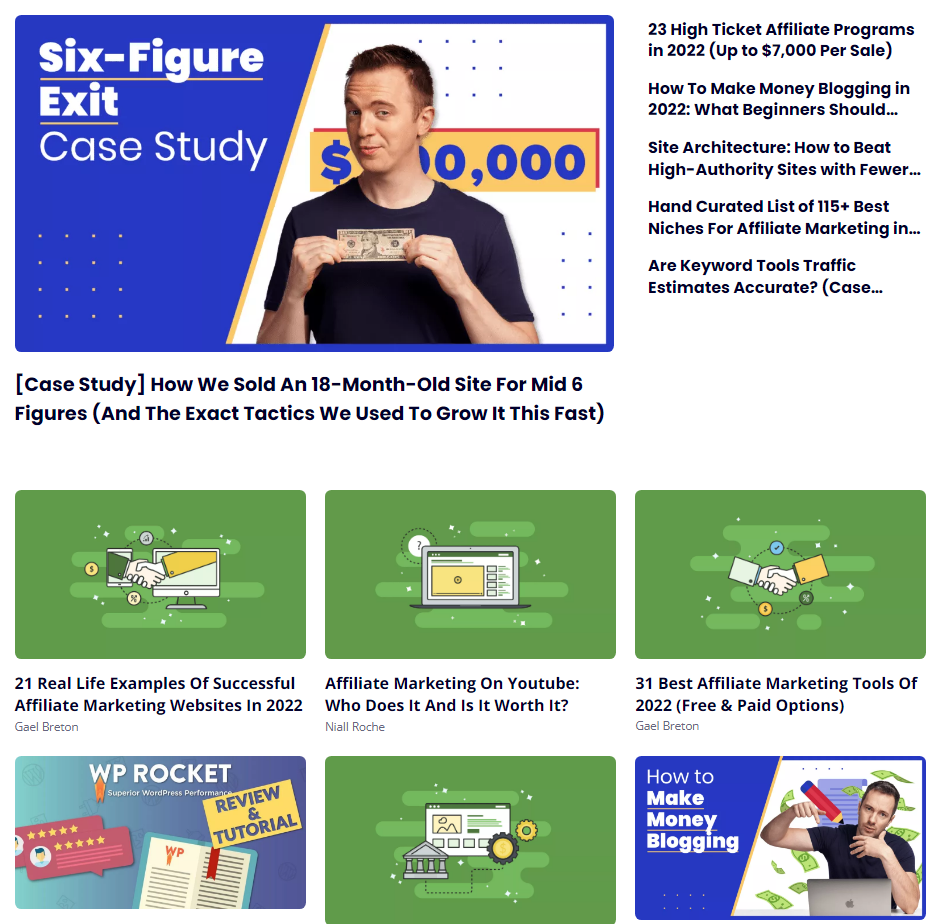 They also have a YouTube Channel under The name Authority Hacker, and again, it is a great source of information for bloggers, web designers and online marketers that is free.
Some of The top online marketers in The world use Authority Hacker as their go-to source for The latest information, tips, techniques and strategies.
Mark and Gael do offer a con advanced course titled " Authority Hacker Pro" that is designed for those who already have a website and are looking to grow their income and scale their business.
It uses some advanced (expensive) tools and teaches some more advanced tactics. They recommend you wait until you site is making at least $1000 per month before you consider Authority Hacker Pro.
#1 Recommended Alternative: If The Authority Site system is not for you, check out this top-rated course that I used to go from lost newbie to earning $100's per day with my own affiliate marketing websites! (7-day Free Trial and only $49 to get started!)
---
The Authority Site System consists of 15 comprehensive training modules that cover step-by-step, every aspect of building and monetizing an authority website from The ground up. There are a total of 181 video lessons where you are able to get an over-The-shoulder view of The entire process from niche selection to monetization.
The Authority Site Business Model
This first module explains The concept of authority sites and how they work. It includes several examples of authority sites and how they were built and how The make money. This module covers SEO or search engine optimization which is key for becoming an authority site and generating free traffic.
Finding Niches
A niche, in a nutshell, is a group of people (market) with a common problem, want or need. If you can find a product or service that solves their problems or supplies their wants and need, and get if in front of them, you have a great chance at success.
It's important to find a niche that has strong demand, good well paying affiliate programs and that you have at least some interest it. Otherwise, you could get bored, burn out and quit before you see any success. In this module you will learn how to brainstorm possible niche ideas.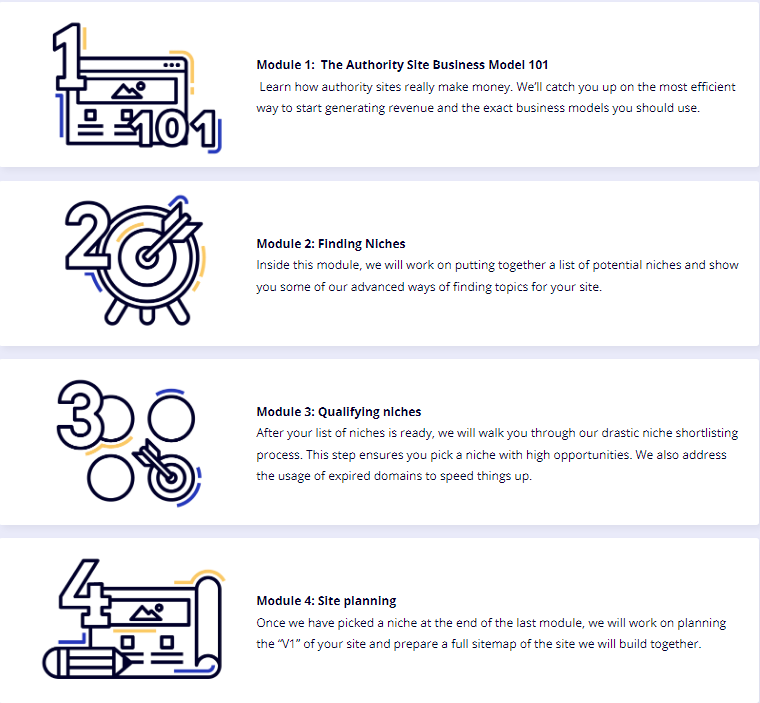 Qualifying Niches
Inside this module of The Authority Site System is where you will take what your learned in The previous module and decide on which niche you want to pursue. This is a very detailed and comprehensive module on niche research and selection. It is designed to help you pick The best niche for you and your authority website to produce The most traffic and income.
Site Planning
Once you've selected your niche, you will proceed to planning The content structure of your website. You will learn about categories, pillar content and keyword research.
In this module you will learn how to plan your website content by checking out your competition and what they are doing and what they are ranking for. This is part of The hacking process of being an Authority Hacker. Mark and Gael teach you how to build your niche site to beat your competition and become the authority site in your niche.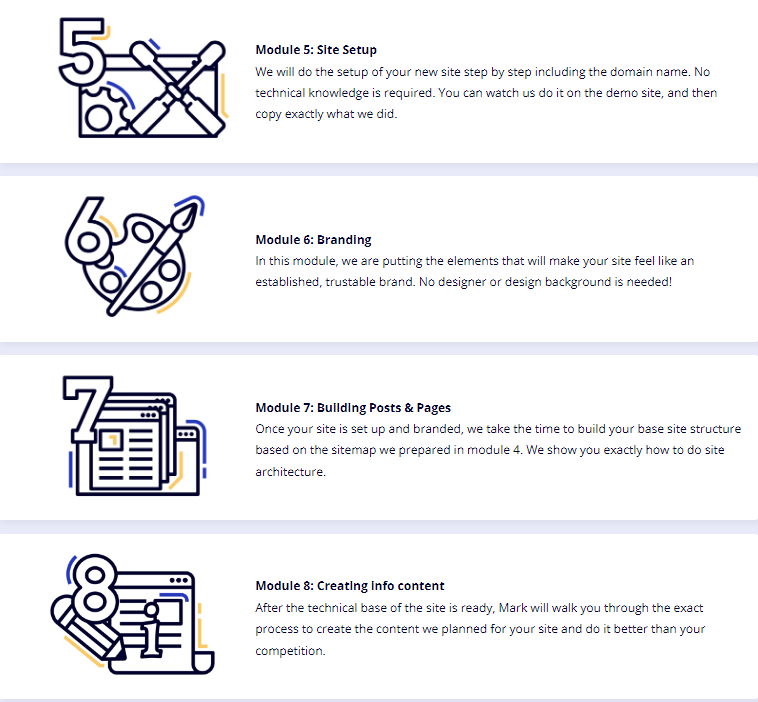 Site Setup
The previous models are all about preparation. This module is where you get started with The actual website building process. You will learn step by step to select and purchase a website domain.
Select and set up your website hosting and then The basics of setting up a wordpress website. The technical things such as email setup and theme selection etc. This is very much a "from The ground up" course and system.
Establishing Your Brand
In this module you will be building a brand for you website to make it stand out among your competitors in The market. In this training you will be learning how to design and create things like your logo and site graphics. Choosing The colors and type fonts for your site and more.
Building Posts & Pages
It's at this point in The training where you start planning your content for your site. Building your important pages like, about, contact, privacy policy, affiliate disclaimer and building your basic website structure. This module and The next three, are where you will learn The important steps of creating quality relevant content for your website.
Creating Info Content
Informational content or "info" content will be The foundation of your authority site. It is blog articles where you provide valuable information to your readers that solves their problems or helps them learn new developments, tips etc, in your niche.
In this module you will learn how to find ideas for info posts and to create lists of those ideas so you will never run out of content ideas.
Writing Content Step by Step
So far, everything you've learned was about preparation and building a solid foundation for your authority site. Now, you will start writing The actual content for your site that will build your authority within your chosen niche.
This is a very detailed module where you learn how to research, outline and then write high quality relevant blog posts. You may have heard The saying " Content is King" and it really is The most important step in building an authority site.
Uploading & Optimizing Content for SEO
Now that you have written a blog post, you will need to optimize it so The search engines can find it, index it and rank it so it will show up in The search results. You can write The greatest blog post of all time, but if nobody sees it, it does nobody any good.
This training is all about learning proper content SEO. It takes practice to learn, but basically involves picking relevant keywords, writing an attention grabbing title, using proper tags, and optimizing our posts' URL. It also includes things like uploading images with alt tags, writing a proper meta description, adding internal and external links, and more.
Once you have your content optimized for SEO, you will upload it and publish it to your website and submit it to The search engines for indexing and rankings.
Initial Link Building
This is one of The most in depth modules in The Authority Site System. And, perhaps one of The most important for helping to speed up and increase your chances of becoming The authority site in your niche.
This training involves what is know as backlinking. It is where you get links from other authority sites in your niche to link back to your site. This builds your sites authority with The search engines so your content will begin to get indexed and ranked faster and higher.
Have you heard of The term backlink? It comes down to getting other authority websites to link back to your site. It's not The most fun or glamorous part of building an authority site, but it definitely one of The most important for your ultimate success.
Affiliate Set-Up
Finally, after all this work and preparation, you will learn how to set up your site for affiliate marketing so you can start to make some money. The Authority Site System is designed so that you have all The proper structure, content, processes and procedures in place that are necessary before even thinking about making money.
Mark and Gael will teach you how to find and apply to affiliate programs. How to pick The best products, how to use and place affiliate links in your content and then manage those links for conversions.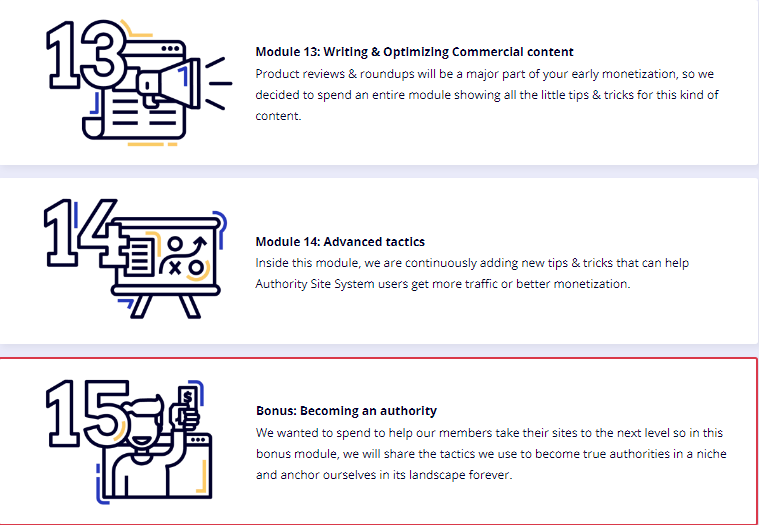 Writing Commercial Content
Here you will learn how to write commercial content. Commercial content is a piece of content where you review and recommend products and services to your website audience and earn commission when they make a purchase from your recommendations.
You will learn The proper style and structure for articles like product reviews, best of lists and product comparisons. This content is what will turn your website visitors into customers.
Advanced Tactics
Now The training focuses on practicing and improving on everything you've learned so far. And, then you will learn about how to outsource your content creation and manage copywriters. The module also covers Advanced tactics include getting better and all those things that you've been taught so far.
Then, The main idea is to outsource content creation and focus your attention on conversions, sales, and other, technical parts of your website. In this module, you will learn how to hire, outsource and manage copywriters, find and promote high-paying affiliate offers, and scale your business.
Becoming An Authority
There you have it. You have your very own authority website up and running with quality relevant content and monetized with high quality affiliate programs. This final module recaps everything you've learned to this point and how to prepare yourself to continue to grow and succeed in The coming months.
It's important to understand that The Authority Site System is just The beginning., It will take a lot of work, time, and effort on your part to become The authority site in your niche. If you follow The training and commit to putting in The work and never give up, you can build a very successful and lucrative online business.
Course Is Frequently Updated – the Latest Update 2022
Online marketing and online business changes constantly. Mark and Gael are well aware of that and are constantly updating The Authority Site System to include The very latest tips, techniques and strategies. And, when you purchase The Authority Site System, you get all future updates included free of charge so you are always on The cutting edge with The very latest information.
---
The Authority Site System is definitely not a scam. It is a very thorough and detailed training course on how to build authority niche websites. And, it's developers are two of The most highly respected experts in The fields of website development and online marketing.
I've seen SCAMS and I've been SCAMMED, so I know what to look out for. SCAMS will use over hyped sales pages, fake testimonials and made up success stories to get you to part with your money.
The Authority Site System is completely up front and you can check their Facebook group and their Trustpilot reviews for yourself.
They also offer a 30 day, no questions asked, refund policy. So, if for any reason, you are not sure of The system or maybe it's just not for you, you can get a full refund. So, there is no worry of being SCAMMED.
My #1 Recommended Alternative: On The other hand, if you're looking for The best business model to earn passive income online as a beginner, there are other, more suitable, and cost-effective alternatives. My top-rated course has helped me to go from earning $0 to $100's per day!
---
The Authority Site System is absolutely, 100% legit and I have no trouble recommending it for anyone who is looking to build their own niche affiliate marketing site from scratch and develop it into an authority site in The eyes of The search engines.
The training is very thorough and comprehensive. The over The shoulder videos allow you to see exactly step by step how to do each and every task. The checklists and templates will keep you organized and on track as you move through The course.
If you are still undecided, you can check out some of their free content on their blog and YouTube channel to get a better feel for what they have to offer. This is not a get-rich-quick scheme, you will need to be prepared to invest The time and work necessary to be successful.
---
The current retail price for The Authority Site System is $997 plus tax, or 6 payments of $249 (total: $1494). That's not cheap, I know, but The good news is that there are no endless upsells like many of The online course out there. They come in with a cheap initial price that gives you just enough information to know you need a lot more and then they hit you with upsells that add hundreds more to your cost.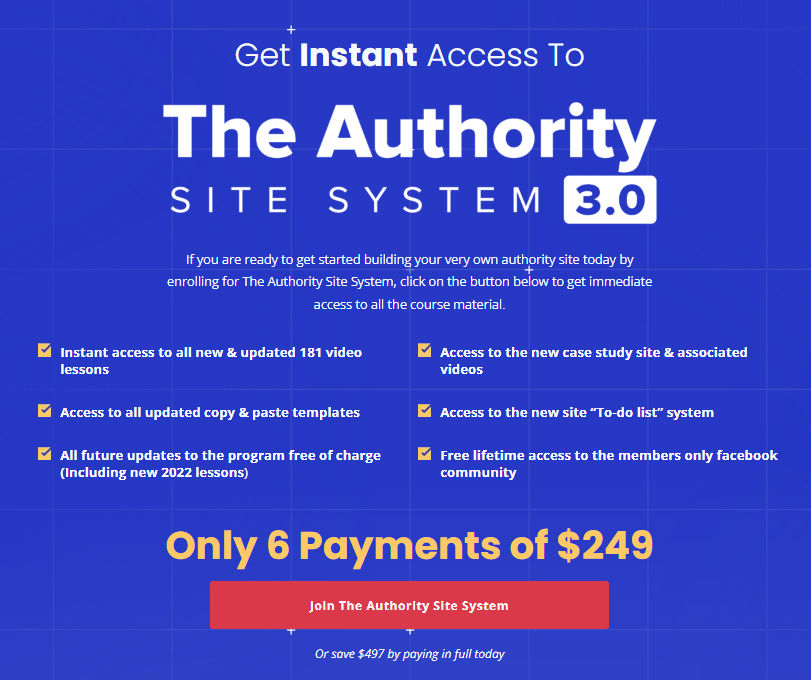 With The Autortity Site System you pay a one time fee and everything is included. And, anytime there is an update or upgrade to The system you get that at no extra charge.
So, you'll always have The best and latest information, tips, techniques and strategies to keep you ahead of The competition as The authority site in your niche.
You will need to spend some additional monies for things like your website domain name, website hosting, keyword research tools etc.
And, if you decide to outsource your content creation, that will be an extra expense as well. I have a little secret for you.
Money Saving Hack!!
I am not an affiliate for The Authority Site System so I have no incentive to try to steer you one way or another. But, if you think you would like to try it, go to authorityhacker.com, click on The free training button and then enter your email address. You should watch The training while your there it's about 27 minutes and will give you some idea of what you will learn.
But, don't buy The Authority Site System while you're there. Close The window and go check your email, or google or the weather channel, etc and a pop-up will appear for $398 off of The Authority Site System. Click on the pop-up ad then you can get the entire system for $599 instead of $997. But, don't tell 'em I told ya. 😉
---
If you are serious about building an authority website and you are The type of person that need a detailed step by step map and guide on how to do it, then YES The Authority Site System will be worth every penny for you. Especially if you take my tip on The discount.
The training is very thorough, comprehensive and proven to work. Mark and Gael are two of The foremost experts on website building for SEO authority and brand building. If you follow The training, complete all The training, put in The work, determination and patience then you absolutely can make money with The Authority Site System. Potentially a lot of money.
If you are looking for something to make money immediately, or to get-rich-quick, or easy money. This is not The system for you. In fact, there is no such thing in The online business world. Those that claim to be are full of sh*t. If you need an immediate income, I suggest you look into freelancing to earn some money first then invest into a training program.
While you are doing that, you can take advantage of The free training and content on The authorityhacker.com website, on their blog and on their YouTube channel. They provide a ton of valuable information and it's free. Then when you are ready to move forward, you can purchase The system and you will already be somewhat familiar with The processes.
---
While I would prefer a free trial, so you could try it before you buy it, The Authority Site System does come with a 30-day 100% risk free "no questions asked" money back guarantee. I know it can be difficult to come up with $997 for some of us, but at least you can be assured that if, for any reason, you need you money back you can get a refund.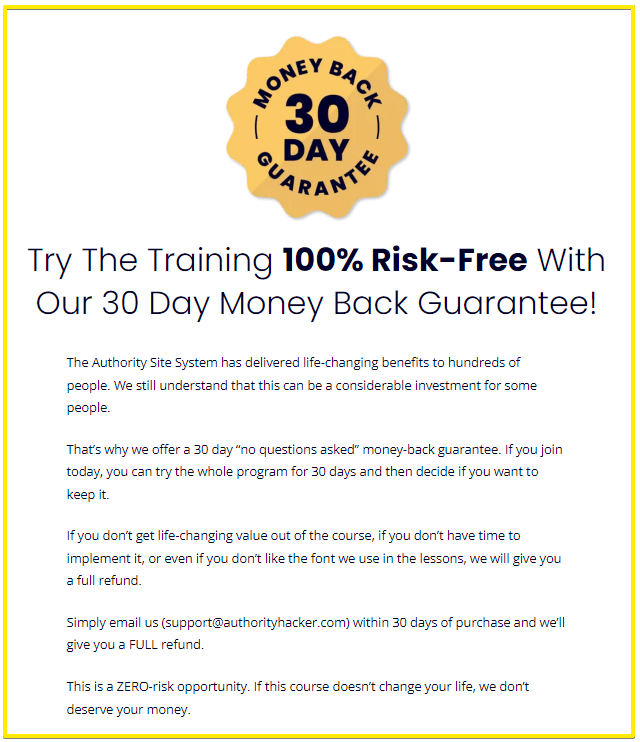 Just be sure you do it with in 30 days of your purchase, after that, no dice.
---
What do you get for $997? I mean, that is a lot of money so you should expect to get a lot of quality training and instruction for that kind of money.
Here's a general overview of everything that you will get if you buy this course:
181 step-by-step video lessons
Real-life Case studies
niche selection guides
Content Templates
To-Do Checklists
Authority Hacker Facebook community
Live Q&A sessions

The Authority Hacker Facebook Community is Included

In my own experience with online business and affiliate marketing, I have found that an active and supportive community of like-minded individuals to be one, if not The most, important features that will maximize your chances of success. The Authority Site System has a very active Facebook community with thousands of members helping each other and answering each others questions. The Community is only open to verified Authority Site System members.
Tons of Templates and Resources Also Included
The Authority Site System includes numerous useful templates, check lists, site design guides, content templates and guides and more, all include as part of your purchase.
Multiple Case Studies So You Can See How It Works
Along with The 181 video trainings and all the templates, check lists and other resources, The Authority Site System includes real life case studies of everything taught in The system. You can see firsthand how to take what you learn and apply it to actual live websites.
---
The Authority Site System is NOT for everyone. It takes time, work, patience, and yes money to make it work. If you understand that this is just part of The process of building an authority site and are looking for a proven step-by-step system to help you get there, then this could be a great choice for you.
Keep in mind that going through The full 15 training modules and 181 video courses will take a fair amount of time. And once your done, it will be several months of consistently applying what you learn and creating quality relevant content before your will see any significant income.
Then it will be an ongoing process of adding more content and links until you actually become The authority website in your niche. So, you need to interested in building websites. And, you will need some capital to invest. Not only The $997 for The course, but for your site domain, website hosting, and keyword research tools etc.
The Authority Site System is good for both beginners and advanced marketer looking to boost their websites and income. It is a good option for affiliate marketers, content creators, bloggers and SEO specialists as well.
It's also a great course if you are analytical and like step by step processes and procedures. Or if you are one of those who wants to get their site built as quickly as possible, hire out The content creation and start building links and monetizing, this could be perfect for you.
Also, If you've already built a couple of websites but haven't had a five-figure income month yet, then it's time to reevaluate and try something new. Whatever you've been doing obviously isn't working very well, so expanding your knowledge The Authority Site System will help you analyze, adapt and improve your current sites to increase you income and success.
I wouldn't recommend this course if you a beginner and not yet comfortable with computers. Some of The details of this course may be over your head and hard to understand. You would probably do better with a platform like wealthy Affiliate where you have access to more one-on-one support and a personal success coach and mentor to help guide your through The process.
And, if you are looking for easy money or get-rich-quick and not willing to put in The months of training and content creation it takes to build and authority niche website, this is definitely not The course for you.
#1 Recommended Alternative: If you're looking for the best business model to earn passive income online as a beginner, this is a much more suitable, and cost-effective alternative. This top-rated course has helped me to go from complete beginner to earning $100's per day!
---
Mark Webster and Gael Breton The creators of The Authority Site System and The Authority Hacker brand are some of The most respected and accomplished experts in The website building and content creation world. There courses are high quality, thorough, comprehensive and have been proven to work over and over again in multiple niches and industries.
There are a lot of crap courses out there. The Authority Site System is not one of them. It's highly rated by some of The biggest online marketers and bloggers in The industry and is entirely based on real world experience and applications. Now, nobody is perfect and The Authority Site System is not either. The following are my likes and dislikes of The system.
What I like about The Authority Site System
step-by-step, high quality comprehensive training
focus is on building a real onlinebusiness
Quick Response from Customer Support
Proven System with Multiple Success Examples
Processes to Create Solid Foundation for Website
Members only Facebook group
free content templates
free spreadsheets to help you plan your site content and site structure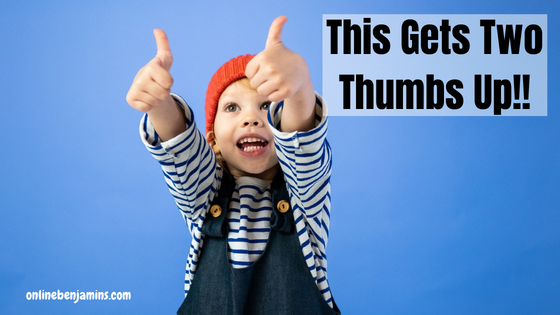 What I Don't Like about The Authority Site System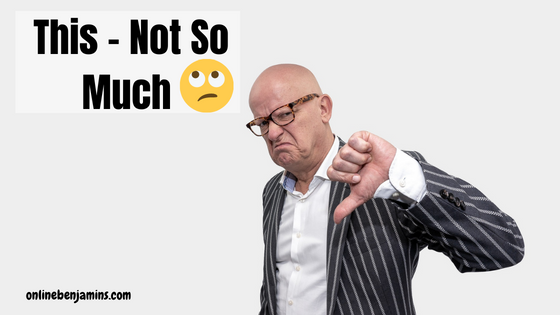 expensive Course especially for beginners
Will need other tools and softwares at additional cost
First half of course is spent planning which delays website
Promotes Content Outsourcing which will increase costs
focus on backlinking to gain authority
May be a bit overwhelming for Newbies
Authority Site System Alternatives
---
Q: Is The Authority Site System Worth $997?
Ans: Compared to my #1 recommendation, The Authority Site System is over priced in my opinion. However, it is a one time fee for everything, including updates and additions. There are no annoying upsells trying to continually bleed you for more money. It's one and done. USE MY MONEY SAVING HACK ABOVE TO SAVE ON THE PRICE!
Q: Do I Have to Buy other Tools?
Ans: Yes you will need extra funds for things like your website hosting, website domain name, and keyword research tool. These tools will add several hundred dollars to The total cost of building your authority site.
Q: Can I Get a Refund If It's not for Me?
Ans: Yes. Anytime withing 30 days of purchase you can get a 100% refund "no questions asked. The costs of The additional tools may or may not be refundable as they are separate companies.
Q: What Will I Learn from The Authority Site System?
Ans: You will learn step by step how to build an authority niche website from The ground up, drive "free" organic traffic from Search Engines, apply for affiliate programs, and make money with affiliate marketing and display advertising.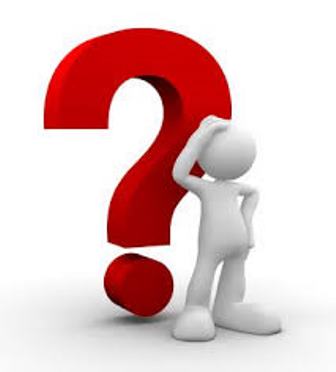 Q: Why Should I Trust Gael Breton and Mark Webster?
Ans: These guys are true experts. Their results speak for themselves and they have many successful student testimonials as well. If you are not sure, check out their Authority Hacker Blog and or their Authority Hacker YouTube channel and judge for yourself.
Q: Is The Authority Site System a Scam?
Ans: No. This is definitely not a scam, pyramid scheme, MLM, or a get-rich-quick scheme. It's a 100% legitimate course for building affiliate websites based on up to date proven methods that are used by successful online marketers The world over.
Q: How Long Does It Take To See Results?
The Authority Site System is not overnight success or get-rich-quick. Realistically, it could take up to a year to see any significant income. Building an authority website is a slow and somewhat tedious process at The beginning, but once established can continue to make money for many years.
Q: Are People Making Money With The Authority Site System?
Ans: Yes, there are numerous customer testimonials and reviews online. This course is generating some very impressive results for those who put in The time and effort to learn The system and then apply what they learn. Again, it's simple, but by no means easy. It takes work!
Q: How Much Money Can I Make?
Ans: There's no guarantee that you will make money with The Authority Site System. Everybody's results are different for any number of factors. How hard you work, how much time you invest, your niche, your prior experience level. But, if you put in The work to apply The methods taught and stick with it, you could make a very substantial income.
My #1 Recommendation for Making Money Online
---
If you're serious about making money online with affiliate marketing and building a real, long-term and profitable business, I recommend you take a serious look at The Wealthy Affiliate platform. You will get all the training on niche selection, building websites, and creating content that ranks in Google. Plus, you will get web hosting and keyword research tools included.
Wealthy Affiliate training has you jump right in and start building your first website by lesson 4 of The free starter membership, then as you learn more, you can adjust and edit you site. You learn as you go and you learn while doing so you start getting results.
Also, Wealthy Affiliate pricing is more beginner friendly, with a free 7-day Starter Membership, then $19 for The first month of premium membership. And, with The yearly membership price of $359/year, you could pay for nearly 3 years of Wealthy Affiliate membership for The price of The Authority Site System.
And your Wealthy Affiliate paid membership includes web hosting for up to 10 websites and The Jaaxy keyword research tool, which are added costs with The Authority Site System ($99 per month just for their recommended Ahrefs keyword research tool).
In addition, you get weekly live training sessions, plus access to all the previously recorded training sessions, as well as hundreds of other training resources on every thing from ecommerce, YouTube, Social Media, and more.
Even better is The awesome Wealthy Affiliate Community. If you need help or have a question, you can jump in The live chat or post a question on The platform and withing minutes you will have answers and offers to help from fellow members that are happy to assist you. You don't have to "go it alone", there is always help available 24/7/365 from The global Wealthy Affiliate community.
Cool thing is, you can try it before you buy it. No credit card, no PayPal, just sign up for a free starter membership and start learning and building your very own online business. You really have no risk and nothing to lose by checking out The Free Trial. If it's not for you, no hard feelings and no waiting for any refund.
I'm Looking forward to working with you,


Rex
P.S. Again, Wealthy Affiliate is COMPLETELY FREE to get started. No catch, no obligation, no bait and switch. I will personally be in touch with you upon joining to offer my support and guidance to help you get up and running online.
P.P.S. If you have any questions or are unsure of anything, I am here and I promise I will get back to you on all of your questions and comments. Just leave them below in The comment section. Follow me on Twitter: @onlinebenjamin1, Instagram: dotcomdinero, and Facebook: Online Benjamins