Every day, in the "make money online" world, there seems to be a new software being released that is supposed to be the greatest and surest way to may tons and tons of money. Well, most of the time, that is a bunch of hype to put it mildly. I recently came across the new ProfitSite software by Michael McKay.
---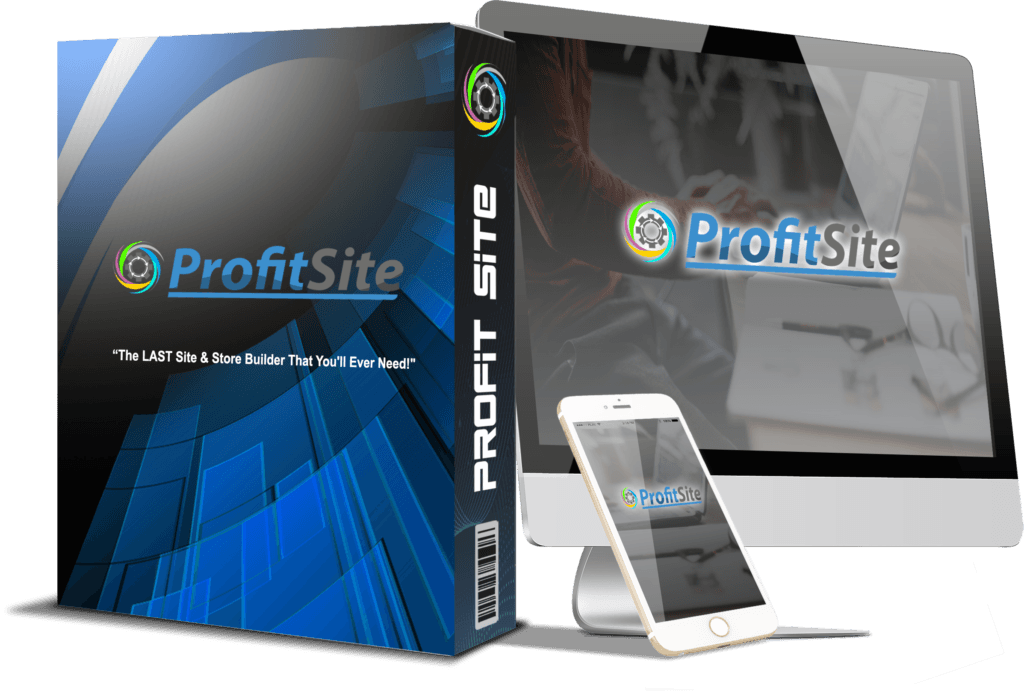 Product: ProfitSite
Website: getprofitsite.com
Price: $16.93 for a limited time, plus several upsells
Owner: Mike McKay
Overall Rating: 74 out of 100
---
Let's take a look at this new product and see what it has to offer and then compare it to my #1 recommended product for anyone wanting to make money online, Wealthy Affiliate. Whether from a hobby or passion, or as an affiliate marketer or drop shipper, you can learn it all on the Wealthy Affiliate Platform.
---
What is ProfitSite?
---
But, back to ProfitSite. What exactly is it, and how does it work? ProfitSite is a New cloud based Drag & Drop website Creator With Built-In Hosting. It has templates for you to use that you can customize for your desired applications and it has products already on the platform that you can promote and sell if you want.
ProfitSite is sold as a one stop shop for website and landing page building and design. For a limited time they are offering lifetime web hosting with your purchase at the initial offer price of $16.93, after that, people who sign up will be charged $47 per month.
If you go to their website, keep in mind that the sales pages are pretty hyped up by design. The need to get you fired up to buy their product. So just take all the claims, testimonials and income amounts with a grain of salt. Not everything that is shiny is gold. As Always, buyer beware!
One of the benefits of this type of software is it eliminates the need to purchase funnel builders, landing page builders, e commence platforms or web hosting services. That can be a big money saver for someone just starting out on a limited budget.
---

---
The following are some Features they list for ProfitSite:
Create & Host Unlimited Websites On their Cloud Hosting Servers For A Low One Time Fee
Dozens Of Done-For-You Niche Templates Built-In
Drag & Drop Site Creator & Editor
You can Create Sites For Yourself, Or Sell Them To Local Businesses For Massive Profits Right Away
No Coding, No Development – 100% Newbie Friendly!
Nothing To Download, Install Or Customize – Get Started In Seconds
Get Faster Loading Websites
Unlimited Free End-To-End SSL Encryption Protects You And Your Websites
Pay Once, Use Forever Hosting On Unlimited Sites
Sell Anything With their Built-In Shops: Software, Affiliate Offers, Physical Products, Readymade Sites & Services
All-In-One Dashboard Takes Care Of EVERYTHING (Hosting, Site Creation, Shopping Cart, Payments, Product Delivery)
---
How Does ProfitSite Work?
---
ProfitSite is an all-in-one dashboard for hosting, site creation, shopping cart, payments, delivery, autoresponder, traffic, client sub-accounts, done-for-you templates and hundreds of ready-made products to sell preloaded in the system. It is powered by a compression algorithm that takes your website files and stores them safely while making sure they take up as little physical space on our servers as possible. Thus reducing web hosting cost.
So whenever you create a website with ProfitSite or add a product to your online stores, it gets encrypted and compressed and hosted securely without anyone being able to access it except for you, your clients and your visitors.
ProfitSite Software Video Demo:
---
---
Is Support & Training Included?
ProfitSite has a training portal with video, over the shoulder, training to walk you through the software step by step. They also include in their initial offering price access to their 24/7 support desk. The training is limited to use of the system and if you want to learn more about online marketing in general, you will need additional training from elsewhere.
Pricing:

For a limited time, ProfitSite is being made available for a one-time fee of just 16.73. Yes, of course there are several up sells involving done for you sites and stores etc. If you were to purchase all the related products you would be looking at a one time fee of about $200, but you don't need all the products to make use of ProfitSite.
---

---
After this initial release, ProfitSite will be converted to a subscription/membership service with a monthly fee of $47. So If you are interested, best get yours today. And, they have a 30-day money back guarantee so if you don't like it you can get all of your investment back.
---
Who is ProfitSite For?
---
ProfitSite is for anyone who does ANY work in the digital space and needs a website, web hosting, or ecommerce store. Anyone who is brand new to online business and is feeling overwhelmed by all the technology and software will do well with ProfitSite.
If you are looking to quickly get a website up and running, for yourself, or for a client, ProfitSite is a quick and inexpensive way to establish a professional looking web presence. Local and online marketers that maybe have never had a website will find it a newbie friendly way to build their own website.
Literally anyone who needs a presence online can benefit from ProfitSite. From bloggers, Vloggers, affiliate marketers, ecommerce stores and local SEO agencies. ProfitSite will save them money on hosting, website design and building, landing page and funnel building software and more.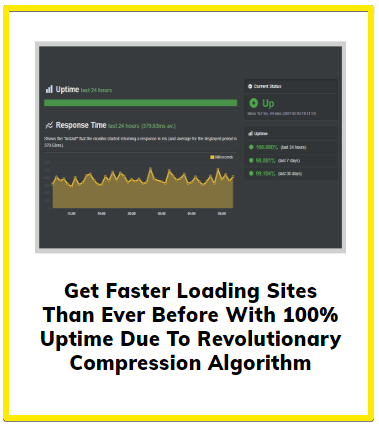 ---
Can You Make Money with ProfitSite?
---
Short answer, absolutely! This is a legitimate, cloud based software, online business opportunity. It simplifies the process of building websites and landing pages. With that, it can save you a ton of money on subscriptions to web hosting services, funnel builders, ecommerce sites.
---

---
I do however, have some reservations. Like all cloud based programs, you are limited to the templates they provide so as more people join, your sites can start to look very similar as you are all using the same templates.You can only host on their server. If you decide to leave, all of your work is lost as it stays with them. You are using their templates after all.
I believe that there are better ways of doing the same things, if you are serious about building a profitable, long-term online business, Wealthy Affiliate for example.That being said, if you are just getting your feet wet in the online business world and are feeling a bit overwhelmed, ProfitSite can help clear up the confusion and get you up and running with your own online business quickly. Very similar to Perpetual Income 365 that I reviewed HERE:
The initial low one time price of $16.93, plus the 100% money back guarantee, make ProfitSite a good way to get started in online marketing with very little to no risk. If you would like to take a look, just click on the button below to get started.
---
ProfitSite the Pros and Cons
---
In the Table below are some Pros and Cons that I can see with the ProfitSite Software. You can take a look for yourself and make your own determination.
| ProfitSite Pros | ProfitSite Cons |
| --- | --- |
| Low initial Price | Limited to templates supplied |
| Easy drag and drop site builder | Training limited to use of ProfitSite |
| save money on hosting and subscriptions | All of your work remains on their servers – non transferable |
---
Beware of the fact that you are using their software, anything you create with it will remain with them on their servers if you ever decide to try something else.
---
ProfitSite VS Wealthy Affiliate
---
Now, full disclosure, I am a Wealthy Affiliate Member and have been for two years. I have found it to be by far, the best online business training platform anywhere. And, I have tried several. At Wealthy Affiliate you will be able to build your own websites, and there are trainings for anything you can imagine when it comes to online business and marketing.
---
---
And, if you ever decide to leave, you simply transfer your websites to another hosting platform. Everything you create belongs to you. With these cloud based services, if you decide it's no longer for you, all of your work stays with them. You can't take it with you, so you have to start all over. The Table below compares the features and benefits of ProfitSite with Wealthy Affiliate.
---
ProfitSite The Final Verdict
---
Overall, ProfitSite is a good software product that can save newbies money and frustration when getting started in the online business market place. It is not, however, the final solution or end all to be all. There are better long term solutions out there, Wealthy Affiliate being the best.
The initial offer price of $16.93 makes it attractive to give it a try, and yes you can make money with the software. But if you ever want to leave, you will have to rebuild everything. All of your work stays on their servers, you can't transfer it to other hosting.
In the graph below, I have rated ProfitSite as a recommended with reservations rating of: 74
---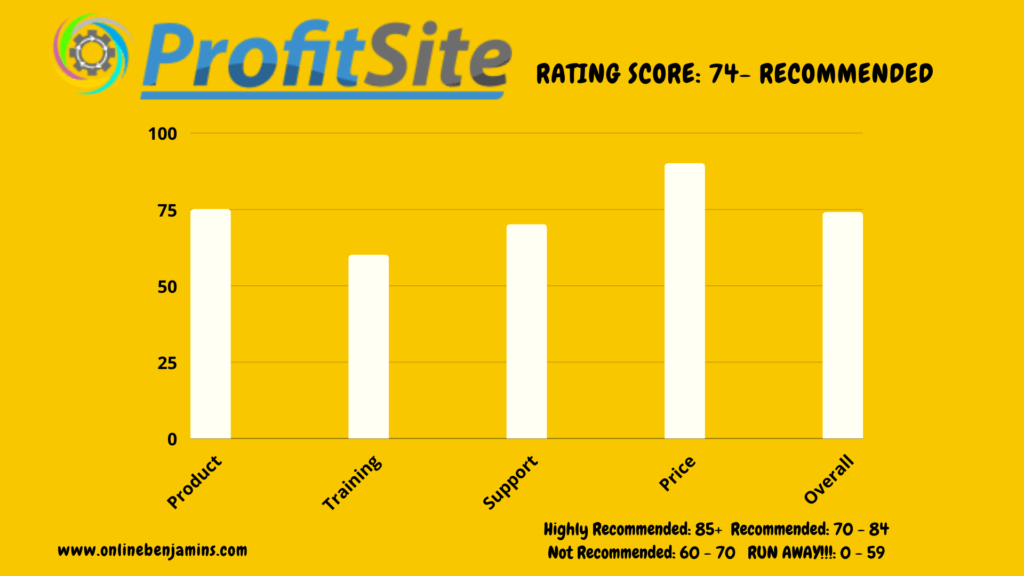 ---
IF you think you might be interested in the Wealthy Affiliate Program, you can click the link below for a free 7-day trial of the platform. You won't even be asked for a credit card, just enter your email and begin your tour of the best online business training platform anywhere.
---
---
---
I'm Looking forward to working with you,


Facebook: Online Benjamins
Twitter: @onlinebenjamin1
Instagram: dotcomdinero
Rex

P.S. Again, Wealthy Affiliate is COMPLETELY FREE to get started. No catch, no obligation, no bait and switch. I will personally be in touch with you upon joining to offer my support and guidance to help you get up and running online.
P.P.S. If you have any questions or are unsure of anything, I am here and I promise I will get back to you on all of your questions and comments. Just leave them below in the comment section. Follow me on Twitter: @onlinebenjamin1, Instagram: dotcomdinero, and Facebook: Online Benjamins
---