When starting a business you are faced with many tasks and decisions, and money can be tight. One of the most important decisions you will make is how to legally structure your business for both asset protection and tax advantages. Rocket Lawyer provides affordable legal documents and services to get you started legally and safely.

According to the American Bar Association, there are 1,327,910 licensed attorneys in the United States as of the latest survey in 2021. And, every one of them thinks they should make at six figures. How do they accomplish that? They sue people. It's called billable hours and or class action settlements, and it's how lawyers get paid.
Unfortunately, lawyers love to sue businesses because they think that is where the most money is. So, if you are going to start a business, be sure to seek legal advice to properly structure and set up your business to protect yourself, your assets and your business from legal entanglements.
Now traditional legal fees can get quite expensive and, for many, simply unaffordable. That is what Rocket Lawyer is all about, providing quality affordable legal documents and services. With a membership at Rocket Lawyer you can have access to legal services for one low monthly fee and keep yourself, your business and your family legally safe and protected.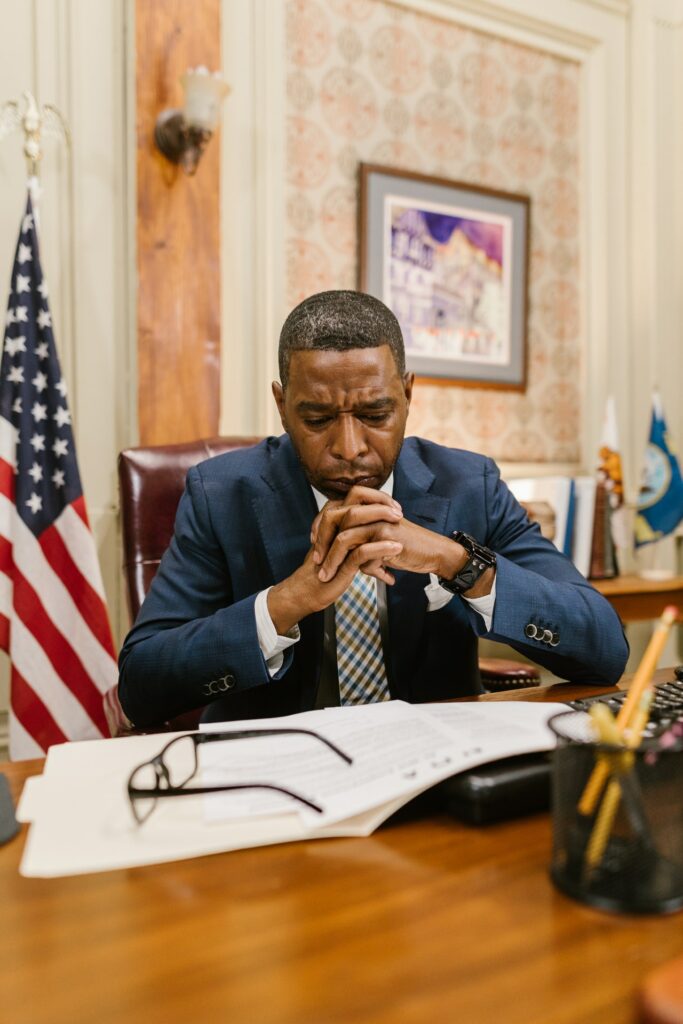 Rocket Lawyer In Summary
Rocket Lawyer is an online legal services company that provides individuals and small to medium-sized businesses with online legal services such as incorporation, estate plans, and legal documents by a fee per service, or at a substantial discount with a monthly membership. They provide 4 services that can protect you, your business and your assets: 1. Business entity formation. 2. Legal Documents for hiring, contracts and more. 3. Document defense by a licensed attorney should issues come up with your contracts. 4. Access to lawyers for consultation and representation if necessary. Rocket lawyer membership is $39.99 per month and they have a 7-day free trial membership as well.
The Pros and Cons of Rocket Lawyer
Rocket Lawyer Pros
First Incorporation Free for members
Members have access to business attorneys
Discount for members on legal services
Free 7-day Trial membership
Customer support via phone, email or live chat
Highly Rated Customer Service
A+ rating by the Better Business Bureau
Rocket Lawyer Cons
Non member prices are higher than some
Must provide Credit Card for Free Trial
Must be a paid member for full access to some services
What is Rocket Lawyer?
---
What is Rocket Lawyer?
Rocket Lawyer is an online legal technology company founded by Charley Moore in 2008, and based in San Francisco, California. It provides individuals and small to medium-sized businesses with online legal services such as incorporation, estate plans, and legal documents by a fee per service, or at a substantial discount with a monthly membership.
The company also provides a network of " On Call" attorneys that consumers and small businesses can consult with on legal issues by submitting their questions via their website. There are similar online legal service companies but Rocket Lawyer is unique in providing free business formation services to it's monthly members.
Company: Rocket Lawyer, Inc.
Industry: Online Legal Services
Founded: August 2008
Headquarters:182 Howard Street #830
San Francisco, California 94105
Founder: Charley Moore
Website: www.rocketlawyer.com
Phone: 877-881-0947
"Our laws were created to protect and empower us—as individuals, families and business owners—but many people don't get the help they need because of costly legal fees and complexity.
At Rocket Lawyer, we want to change things by making legal services affordable, simple and available to more people than ever before. I'm proud to say that we've been able to build a service that millions of people rely upon. Every day we spend our time and resources making it easier for people to get the legal help they need, so they can focus on what's really important—taking care of their families and building strong businesses.
We combine free legal documents and free legal information with access to affordable representation by licensed attorneys. With Rocket Lawyer On Call, you can create a Will for your family for free or incorporate a business free from legal fees. Then, because we know there's no replacement for qualified counsel, local attorneys are here to help when you need more guidance. With Rocket Lawyer you never have to go it alone.
Our commitment to affordable and accessible legal services is at the heart of everything we do. Most attorneys and bar associations agree that much can and should be done to improve access to the law by reducing cost and complexity. We invite you to try our service and see why customers like Sean Reid say they're glad to have Rocket Lawyer On Call®.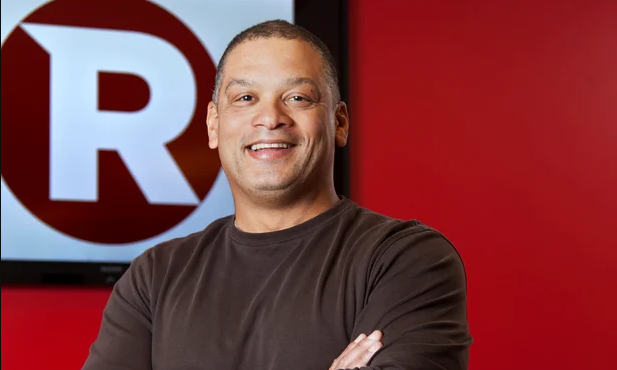 Together, we'll make the law work for you."
Charley
How Does Rocket Lawyer Work?
---
Rocket Lawyer provides individuals and business owners several ways to create legal documents and get legal advice quickly and affordably. As a member, you get quick access to attorneys and their advice through phone, email, or chat—or, if need be, with an actual lawyer to talk to and consult on your matters and all for one low monthly fee.
With Rocket Lawyer you can finally get the legal help you need for your family and business at a price you can afford. Whether you need a quick and simple legal document, or have a more complex legal situation requiring the advice of an attorney, Rocket Lawyer is there to help.
Their simple step-by-step instructions help you customize documents for your specific needs. And, just to be sure it's done right, you can have your documents reviewed by an attorney from their hand-picked "On Call" network, at no extra cost. You don't have to go it alone on, like on some other sites, when you can have the convenience and support of Rocket Lawyer
Rocket Lawyer makes it affordable and simple to consult with a lawyer. When you have questions, you can submit them on their website and get answers from a licensed attorney avoiding the expense of hiring and retaining a local attorney.
If, you find yourself in need of legal representation, membership to Rocket Lawyer provides discounts of up to 40% on attorneys fees. This could save you thousands of dollars when you need legal representation for more complex matters.
Rocket Lawyer is the fast and easy way to incorporate your business. Their small business specialists will give you the personal support you need. And, as a member, the only fees you'll be paying are those for state registration.
You can easily and affordably start your business by using their incorporation services. They can help you form your LLC, obtain your tax ID number (EIN) and designate a registered agent and file your documents.
3 Steps to Incorporate with Rocket Lawyer
1.) Answer a few simple questions about your business.
2.) Rocket Lawyer will reserve your business name and take care of filing your documents.
3.) Stay protected with Rocket Lawyers legal services every step of the way as your grow your business.
Rocket Lawyer focuses on business-related documents and contracts and those that will ensure that you have the right paperwork for submission to the Secretary of State and other state entities. Rocket Lawyer has compiled a comprehensive list of all documents that may be required in your day-to-day business operations which can be selected at the click of a mouse button.
Is Rocket Lawyer a SCAM?
---
Rocket Lawyer is definitely not a SCAM. They have been providing fast, quality, online legal services for over 13 years. And, with over 25 million registered users, Rocket Lawyer is one of the most highly rated online legal services on the market. They pride themselves on easily connecting clients with any form of legal assistance they need from business formation, registered agent services, or general legal advice.
They also offer users access to highly experienced, licensed attorneys for accurate legal guidance. So, Whether you want to get married, buy property, or start a business, you can a trust Rocket Lawyer for reliable and affordable legal assistance. They have an A+ rating with the Better Business Bureau and a 4.7 out of 5 rating on Trustpilot.

Is Rocket Lawyer Legit?
---
Rocket Lawyer is absolutely a legitimate online legal services company with nearly 14 years of providing quality affordable legal services to over 25 million registered members. With over 4900 reviews and a 4.7 out of 5 star rating on Trustpilot, you can feel certain that Rocket Lawyer is legit.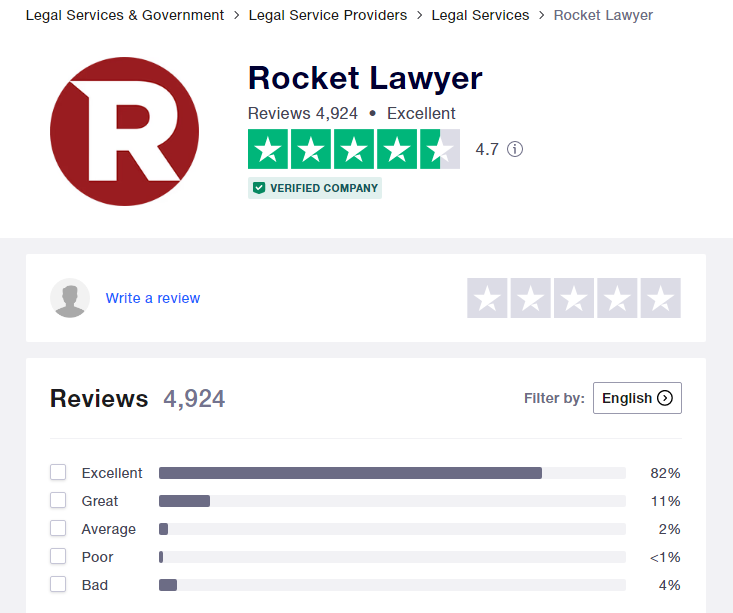 Founded in 2008, Rocket Lawyer has been providing fast, accurate and affordable legal services to individuals, families and small to medium-sized businesses. Whether you want to incorporate a business, make a will, buy a house, or hire an independent contractor, Rocket Lawyer can take care of your needs.
Rocket Lawyer reviews are overwhelmingly positive. One of the main reasons customers give for ranking the online legal company high is the ease of use of the platform and their customer support is quick to respond and resolve any issues. Their customer support is available by phone or live chat from 6 a.m. to 6 p.m. PT Monday through Friday, or you can email them any time.
How Much Does Rocket Lawyer Cost?
---
Rocket Lawyer lets non-members purchase services for a set fee per service. Members receive substantial discounts and even some free services. A Rocket Lawyer membership costs $39.99 per month and you can cancel the service any time. You can rejoin if you have need of additional legal services in the future, or remain a monthly member as a sort of legal insurance policy.
As a Rocket Lawyer member, you get your first LLC (or other corporation) filing for free (you will still have to pay the appropriate state filing fees, However). You will also get access to hundreds of legal forms with no added cost and if, you have a legal question you can submit your question on their website and a licensed attorney will review your question and get back to you with answers within 24 hours usually.
And, if, you would rather to speak with a lawyer in person over the phone, you can get free 30-minute consultations with a lawyer on any new legal issue. In the event you need legal representation, your Rocket Lawyer membership qualifies you for discounts of up to 40% off legal fees.
Non members must purchase services separately, and end up paying significantly more as seen below:
Business formation: $99.99 (plus state fees)
Registered agent service: $149.99
Legal documents: $39.99 (per form)
Ask a Lawyer service: $49.99 (per question)
30-minute consultation: $59.99 (per consultation)
Rocket Lawyer is one of the few online legal services platforms to offer a free trial. During the free 7-day trial, you can create up to three legal documents, ask an attorney a question, and try out their document management and electronic signature tools. You cannot however access the incorporation services for free.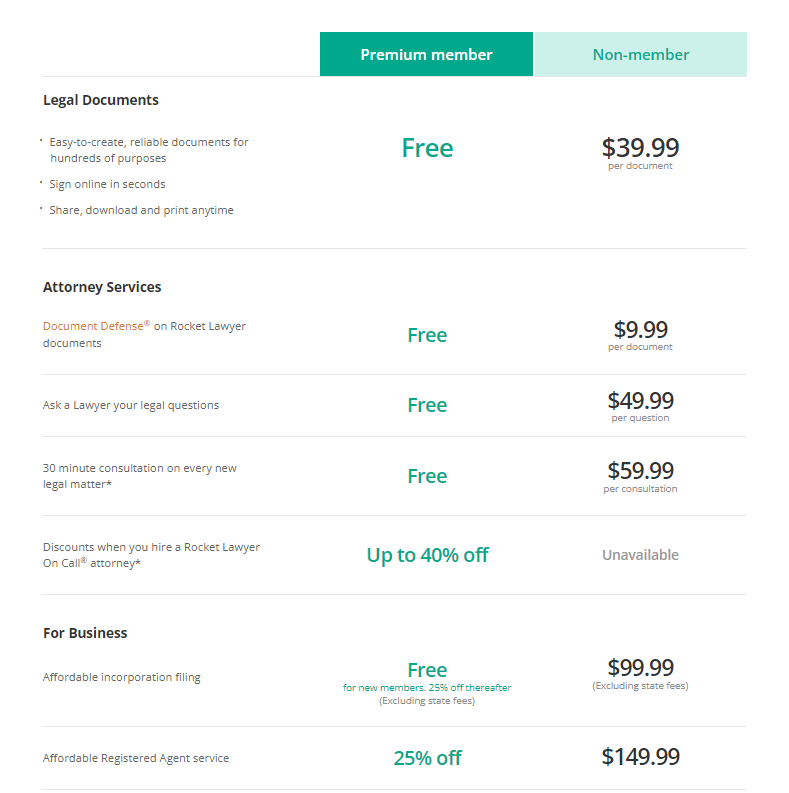 To access the free trial for Rocket Lawyer's legal services you will be required to enter a credit card and contact information. If, you do not cancel your membership before the end of your 7-day trial, they will charge your credit card $39.99 for a full months' membership. So just be aware and keep track of your time.
Is Rocket Lawyer Worth it?
---
For those of us that are strapped for cash, hiring and retaining an attorney is not an option. In that situation, Rocket Lawyer is definitely worth it. If, you are starting a business, using Rocket Lawyer to form your corporation or LLC is free with your membership and if you plan to use its other services, such as legal documents and access to an attorney the $39.99 monthly fee is a bargain.
For non-members, Rocket Lawyer can expensive if you pay for their LLC formation and registered agent services separately. If, you don't think you'll be needing other legal forms or services, then you might be better off with other incorporation services. But, if you think you will be in need of Rocket Lawyers' additional services, then the monthly fee will be well worth the cost to make sure your business is legally sound.
Of course, with their 7-day free trial, you can ask a lawyer a question and access hundreds legal forms at no cost to you. If, you want help formation and filing your LLC paperwork, or you need the services for longer than 7 days, you'll need to pay the $39.99 per month membership fee. You can cancel at anytime and membership is on a month by month basis.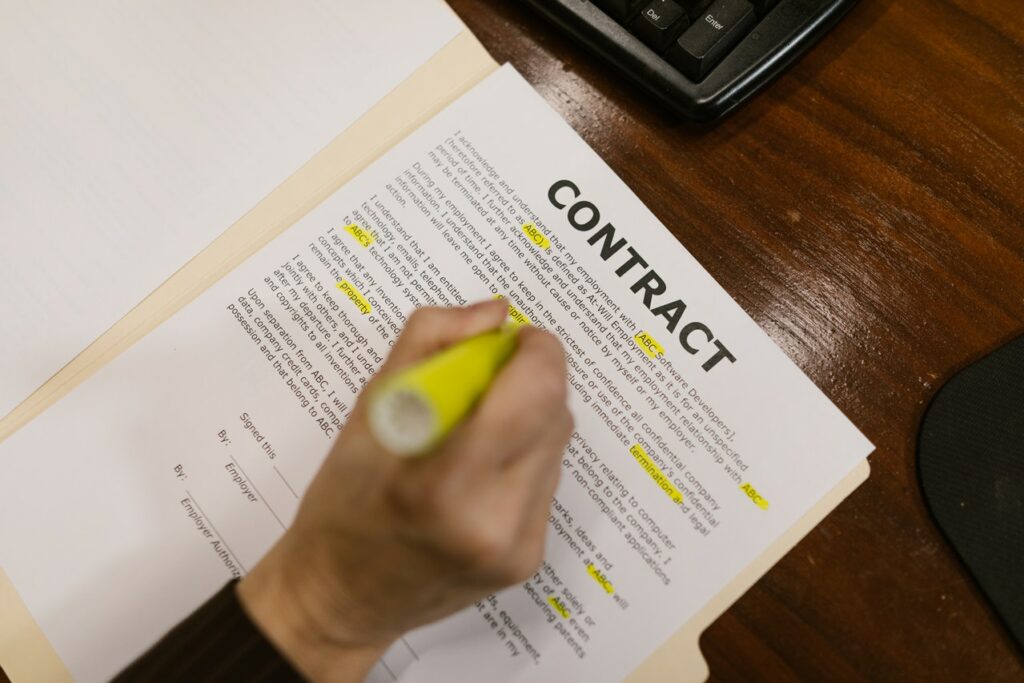 Does Rocket Lawyer have a Refund Policy?
---
Rocket Lawyer does have a refund policy: "We gladly offer refunds for billing mistakes. If you change your mind and want to cancel an account that you paid for upfront, we can give you a prorated refund. Unless you have a good reason, we don't give refunds for services that you've already used".
Also, they do offer unlimited revisions with their document services and their customer service will make every effort to resolve any issues that may arise. The membership is on a month to month basis and can be canceled at anytime before the next billing cycle. If, you should wish to cancel your Rocket Lawyer membership, you can simply follow the steps below: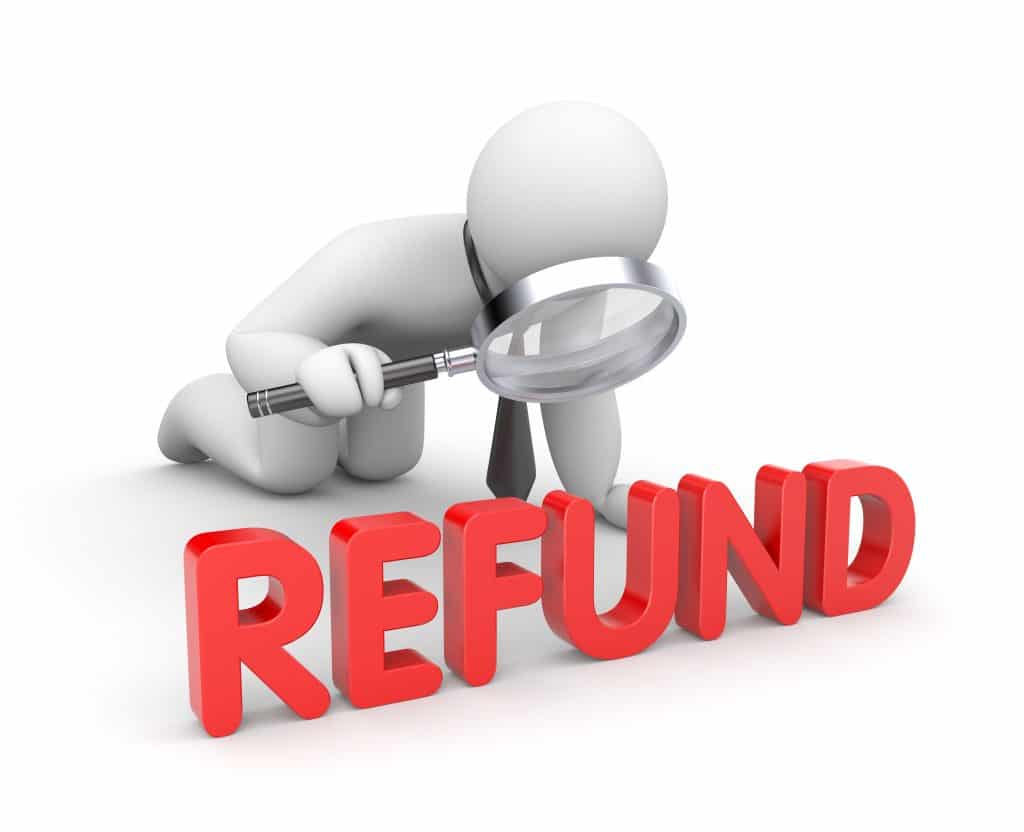 Log into your Rocket Lawyer account.
Navigate to the main dashboard.
Go to your profile in the top right corner.
Select 'Account Settings' from the drop down list.
Scroll down to the 'Current Plan' section.
Click on 'Cancel' next to your subscription to downgrade your account.
If, in the future, you find yourself in the need of legal services, you can rejoin Rocket Lawyer by paying the $39.99 monthly fee and you will again have access to the full line of services and documents.
What do You Get with Rocket Lawyer?
---
With Rocket Lawyer you will have the ability to source, complete, edit, and sign various online legal documents with their assistance. They will help you select the most appropriate documents for your needs and then lead you step-by-step through completing your documents.
Once you choose your relevant document, you select it and follow their simple and easy to follow guide on how to fill it out. As an added bonus, you have access to licensed attorneys to review your documents and assist you if needed. With Rocket Lawyer you get easy legal documents at your fingertips.
Rocket Lawyer has hundreds of documents for everything from business formation, employment, contracts, real estate, estates, wills, trusts and more.
Legal Documents at Rocket Lawyer
Answer a few simple questions to find the appropriate document and complete it in minutes. Your documents are easily customizable and you can make unlimited revisions and copies. You can even sign them online as well as share and print them anytime.
Rocket Lawyers documents are legal, reliable and are vetted by their lawyers and legal staff, so you can use them with confidence. They also come with the added protection of their Document Defense®. If there's a dispute with one of your documents, an On Call attorney will respond on your behalf as part of the services included with premium membership.
And, with Rocket Lawyer you can try it before you by it with their free 7-day trial.
Get Quick Answers from Real Lawyers
Submit your legal questions by phone, email, or chat and get answers from Rocket Lawyers' "On Call" attorneys with in one business day. And, if you need legal representation, you can get discounts of up to 40% off of legal fees as a premium member.
Document Defense is included as a benefit of membership benefit. If a dispute arises with any of your Rocket Lawyer contracts or documents, you can review the situation with an attorney. And, if needed, the attorney will respond on your behalf and will decide the best course of action based on your unique situation.
Try Rocket Lawyer Premium FREE for 7 days
Start your Premium Membership by simply filling in your contact and credit card information and get instant access to affordable legal services you can trust. With your free trial you will get:
All the legal documents you need that you can customize, edit, share, print and more.
Unlimited electronic signatures with RocketSign.
Ask a lawyer questions or have them review your documents.
Get dispute protection for all of your contracts with Document Defense.
A free 30-minute phone consultation with an attorney about any new legal issue.
Discounted legal services
Incorporate for Free.
Hire an attorney for up to 40% off.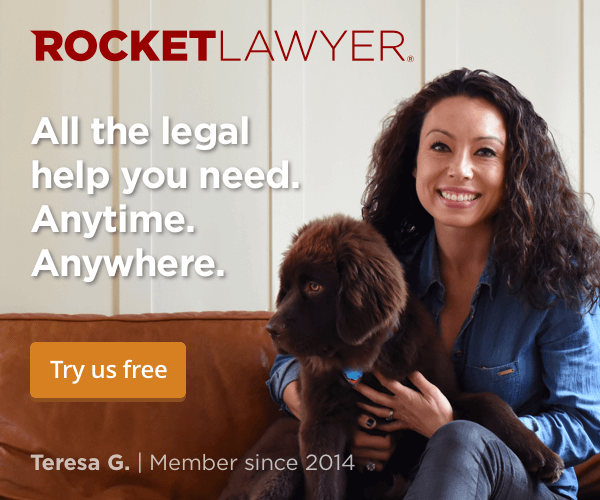 Click the button below and get started with your free 7-day trial of Rocket Lawyer. Try it before you buy it. You really have nothing to lose.
Who is Rocket Lawyer For?
---
Rocket Lawyer is great for those of us who may not have the funds to hire an attorney every time we have a legal issue or question. If, you are starting a business for the first time, you will have many questions and you need good legal advice to set up your business entity for maximum legal protection and to take advantage of the many tax breaks afforded to businesses.
For a small monthly fee you will have access to all the legal documents you will need to form and register your business and run your business. Everything from Articles of Incorporation, business contracts, nondisclosure agreements and more. Rocket Lawyer will save you time and money getting your business up and running.
As a member you can submit legal questions to their "on call" lawyers for no extra charge. If, you need it, you can get free 30 minute consultations to discuss your legal issues. Rocket Lawyer is for anyone who needs good legal advice and documents at an affordable price. Think of it as valuable and cost effective business legal insurance.
Rocket Lawyer Frequently Asked Questions
---
What is Rocket Lawyer used for?
Rocket Lawyer is an online legal technology company founded by Charley Moore in 2008, based in San Francisco, California. It provides individuals and small to medium-sized businesses with online legal services—including incorporation, estate plans, and legal document review.
How long has Rocket Lawyer been in business?
Rocket Lawyer is one of the fastest-growing companies in the legal services space. The company was founded in 2008, and more than 20 million businesses and consumers have used its services.
Are the documents created on Rocket Lawyer legal and enforceable?
Yes. When you complete a document interview, our software will build a document that is tailored to your state and situation. Be sure to review the Next Steps as outlined in the Legal Checklist to get additional information about how to make your document legally binding in your state. Next Steps may include instructions for signing, finding witnesses, filing and notarization.
How soon will I get my document?
All the documents created on Rocket Lawyer are immediately available for you to access online, print or download.
How secure are my documents stored on the site?
To protect your data, Rocket Lawyer uses SSL (Secure Socket Layers) for data transfer, creating a secure tunnel protected by 128-bit or higher AES encryption. To protect your private information from unauthorized access, we have designed policies and controls to safeguard the collection, use, and disclosure of your information.
What can I do with my membership?
You get free access to all of Rocket Lawyer's documents. This means you can make as many contracts and forms as you like, and sign and store documents online. You also get quick answers on legal questions from experienced attorneys.
Are digital signatures legal?
Yes, they are. An eSignature functions just like a traditional, pen and paper signature and is subject to the same laws and regulations that govern signatures, contracts, and legal documents. That said, eSignatures have several advantages over traditional signatures, such as time-stamping and the ability to sign contracts from thousands of miles away.
Can I cancel anytime?
Yes. You can deactivate your Rocket Lawyer membership during your free trial or at anytime thereafter.
Rocket Lawyer: Overview and Final Thoughts
---
Is Rocket Lawyer as good as having your own personal business attorney? Of course not, but it is a good alternative for those of us who can't swing the cost of our own attorney. For business formation, estate planning, real estate documents and for answers to you legal questions, Rocket Lawyer is a simple and affordable solution.
Don't risk everything you own and more. Whatever you do, seek some good legal advice and get your business structured properly to protect your assets from unexpected legal issues. Consult with your accountant as well to make sure you structure your business to maximize your tax savings and advantages. If, you don't have an accountant, you should check out 1800accountant.com.
If, you have any questions, comments, ideas or concerns, please leave them in the comment section below and I will get back to you ASAP. If, you would rather contact me directly, you can send an email to rex@onlinebenjamins.com. Starting your own business can be a great decision. But, there are some legal and financial processes that need to be set up correctly in order to protect you and get you the most benefits of being a business owner.
Wishing you much success and happiness,


Rex
P.S. If, you have any questions or are unsure of anything, I am here and I promise I will get back to you on all of your questions and comments. Just leave them below in the comment section. Follow me on Twitter: @onlinebenjamin1, Instagram: dotcomdinero, and Facebook: Online Benjamins