So, you've heard something about Vasayo. Or, maybe your Aunt Mary called you and started in on this great business opportunity she found, called Vasayo, and wanted to get you in on it. But, what is Vasayo About? What do they do and is it a legitimate business or just another SCAM?
Keep reading and we'll answer those questions and more as we take a closer look at Vasayo and see what all the hype is about, and if it's a real business opportunity or another scheme to part you from your hard-earned money. We won't be reviewing the Vasayo products. We'll leave that for the nutritionists and scientists. We will be looking into business model.
Essentially, Vasayo is a multi level marketing (MLM) company that sells a variety of nutritional products and health supplements through a direct sales network of members or distributors.
Nothing new here, the business model has been around for decades. Think of Avon, MaryKay, Tupperware, Amway, and on and on, all are MLM companies.
Now, an MLM, or Multi-level marketing business is a controversial pyramid shaped marketing strategy where profit is earned not just from product sales, but recruitment of new members.
And, the higher up you are on the pyramid, and the more people under you, the more money you make.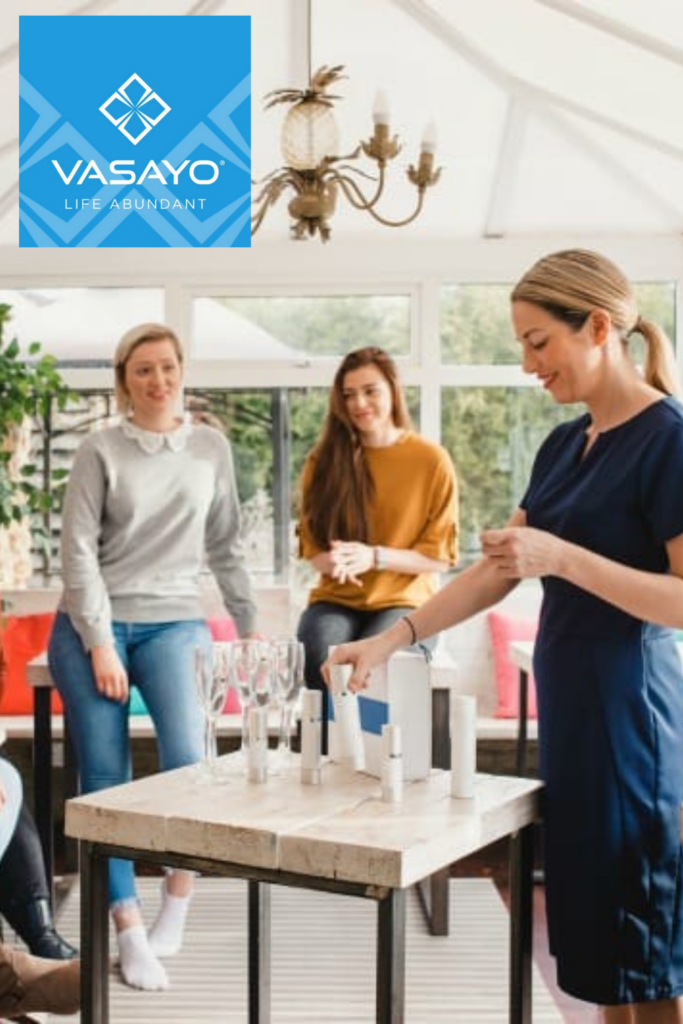 Multi level marketing is a legal business model, the pyramid scheme is not. The problem is it can be hard to distinguish between a legitimate MLM and a pyramid scheme. Some "so-called" MLMs have been labeled as illegal pyramid schemes by the US Federal Trade Commission. Two of the biggest, and most recent, being Herbalife and Advocare.
Now I've been around the block a few times and, like the commercial, I know a thing or two because I've seen a thing or two. That includes multi level marketing. My grandmother and uncle were big into Amway 50 years ago. I even had a swing at Amway in the 1980s.
I've experienced MLMs in insurance with A.L. Williams, Electric providers with Ignite, health and nutrition with the likes of Shaklee and Advocare. And, in housewares with Tupperware and Pampered Chef to name just a few. So, I know what I'm talking about when it comes to multi level marketing, network marketing, direct sales marketing or whatever the latest terminology is.
Quick Summary
Vasayo is a multi level marketing (MLM) company that sells a variety of nutritional products and health supplements through a direct sales network of members or distributors. Those distributors can earn money from direct sales of the Vasayo products and from the sales of other distributors they personally recruit to the company. Paying these "multi level" commissions means that the retail price of Vasayo's products is very high relative to competitive products making them harder to sell. Vasayo is a legitimate multi level marketing company but, like most MLMs, most members make little to no money from the business and some lose money.
So, What Is Vasayo About?
---
What Exactly is Vasayo?
Vasayo MicroLife Nutritionals is a Network Marketing / multi level marketing company that offers a wide range of health and weight loss products.Vasayo stands for, "Vision Action Steadiness Assures Your Outcome."
On their official website, Vasayo indicates they use micro nutrient encapsulation and non-GMO liposomes technology.
They claim their liposomes are "bubbles," which are double-layered or spheres that surround the nutrients in their products, enabling them to pass through the digestive system's harsh environment without being broken down so they can be absorbed by the body.
Just a quick note, they aren't the only company using this technology as we'll see later.
There are basically five main products in the Vasayo product line: (1) Vasayo MicroLife Nutritionals Essentials; (2) Vasayo MicroLife Nutritionals Neuro; (3) Vasayo MicroLife Nutritionals Energy; (4) Vasayo MicroLife Nutritionals Renew; and (5) Vasayo MicroLife Nutritionals Sleep. They add new products frequently so check their website, vasayo.com, for the latest product offerings.
Vasayo was officially launched in January 2016, by founders Dallin and Karree Larsen, a year after their last multi-level marketing (MLM) company, MonaVie shut down and was foreclosed on. More on that later.
Name: Vasayo
Website: www.vasayo.com
Founders: Dallin Larsen & Karree Larsen
Product Type: MLM
Price: $49 per month minimum
Address:2168 W Grove Parkway, Suite 150 Pleasant Grove, UT 84062
Phone: 1-888-882-7296
Vasayo Founder, Dallin Larsen, has extensive experience in the network marketing industry but not necessarily good experience. He founded Monarch Health Sciences in 2003 as a distributor of diet and weight loss supplements after holding senior executive positions with the MLM companies Dynamic Essentials and USANA.
In 2002, during Larsen's tenure, the FDA warned Dynamic Essentials that claims on the company's website that the juice could "treat various diseases such as cancer, arthritis, and attention deficit disorder" were illegal. Dynamic Essentials ceased operating soon after. In 2003, the FDA saw the voluntary destruction of 90,000 bottles of Dynamic Essentials Royal Tongan Limu juice.
Larsen's's company, Monarch Health Sciences, then introduced MonaVie juice in January 2005, and the following year established MonaVie LLC/MonaVie Inc., a privately held MLM company based in South Jordan, Utah. However, by 2015 MonaVie Inc. was out of business.
What Happened To MonaVie, and Why Should You Care?
Dallin Larsen and his wife Karree Larsen were credited with founding Monavie back in 2005. MonaVie grew to $854 million in revenue in 2008 and had recruited 1 million distributors. Undoubtedly, some people made money. But most of their distributors did not.
MonaVie manufactured and distributed products made from blended fruit juice concentrates, powders, and purées. Several controversies surrounded the company including making Health claims about its products had not been scientifically proven or approved by the FDA. Much like the problems at Dynamic Essentials, another of Larsen's MLM projects.
MonaVie's business model resembled a pyramid scheme, according to Forbes magazine. And, in 2008, a Newsweek article found that "fewer than 1 percent (of sellers) qualified for commissions and of those, only 10 percent made more than $100 a week." Not a great return on your investment of time and money.
Add to that, a 2011 article in The Salt Lake Tribune, reported that 85% of MonaVie's distributors earned commission checks in 2009 averaging $35 a week or less, while the company's top seven out of 80,000 distributors (<0.01%) earned an average of $3.4 million a year according to MonaVie's own 2008 Income Disclosure statement. This folks, is how a pyramid scheme works.
By the middle of 2014, founders Dallin Larsen, Randy Larsen and Henry Marsh abandoned ship. Some claim they got out just before the inflated value of the company crashed. Multiple suits were filed by customers and sellers, alike, resulting in class action settlements.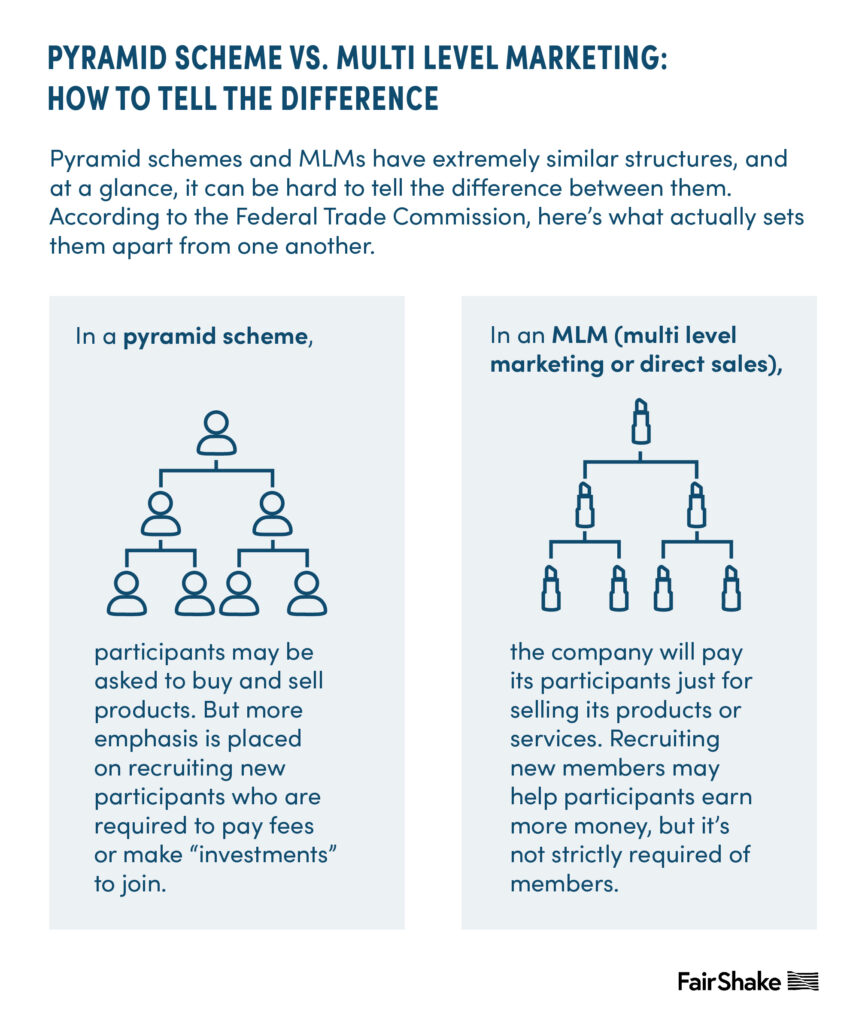 MonaVie's company employees also sued, after the company defaulted on a $186 million loan from its own employee stock ownership plan. Even their insurance company, Torus National Insurance, sought to deny coverage. Simply put, the pyramid scheme collapsed. The company eventually went into foreclosure and ceased operations in 2015.
So, why should you care about what happened to MonaVie? You should care because these are the very same people who less than one year from their MonaVie MLM going under, founded Vasayo as a multi level company. Now, maybe they learned their lesson and the "third time is the charm", time will tell. But at least be aware and do your do diligence with this, or any other, business venture you are considering.
How Does Vasayo Work?
---
We're not going to spend a tremendous amount of time on Vasayo's products. We are concerned here with evaluating the opportunity and legitimacy of the Vasayo multi level business model. There products may be wonderful, but we want to know if you can have a realistic expectation of building a successful business with Vasayo.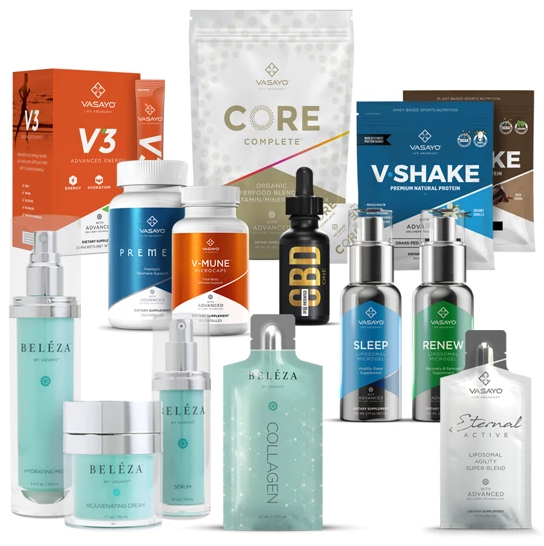 You can find out more about their products on their official website vasayo.com. The folks at dietspotlight.com have also done a review of some of the Vasayo products. Most customer reviews are very good with only a few complaining of minor upset stomach with some of the products and one distributor complaint of a defective product shipment.
But, how does the Vasayo Multi Level Marketing business work? Well, like most MLMs, Vasayo has what is called a binary compensation model. Simply put, that means you buy the products at wholesale from the company and resell to customers at retail and you keep the difference.
You also earn commissions by recruiting new members to the MLM based on their sales. In fact, if you look at the compensation model below, you make the most money from recruiting rather than selling products. That is how multi level marketing works. And, when the focus becomes primarily on recruiting, the MLM risks getting labeled as a pyramid scheme by the Federal Trade Commission (FTC).
The Vasayo Compensation Plan
There are eight ways to earn money with the Vasayo business opportunity.
1. Customer Acquisition Bonus
Earn up to 60%
You can earn money simply by recommending your favorite products to people you know.
You will earn the difference between Customer price and brand partner (member) price.
2. Product Introduction Bonus
Earn 20% of the first commissionable order placed by your newly sponsored (recruited) Brand Partner.
3. Team Commission Bonus
As you build your Vasayo team (generate a lot of new recruits) , you can earn Team Commissions every week when your team meets certain business volume requirements.
This may range from $28 to $28000 per week.
4. Matching Bonus
You will also earn a percentage of your team earnings, i.e., 30% on your 1st generation, 10% on 2nd and 5% on 3rd and so on, up to 7 generations or levels.
5. Rank Advancement Bonus
High-rank achievement is a significant achievement, and they reward it with their Rank Advancement Bonus.
As your team (number of recruits) gets larger and your total team sales volume grows, you move up the pyramid in rank and can earn bonuses up to $1,000,000
6. Global Leadership Bonus
Once you've attained the Paid-As rank of Gold or higher, now you're way up the pyramid, you'll be eligible for the GLB and can receive 3% of the Global CV paid weekly.
7. Lifestyle Trips
Aside from the money, other benefits are Vasayo Lifestyle trips, which include luxury accommodations, exhilarating adventures, new cars, and top-tier education for the top distributors. See again, those with the most recruits.
8. Multiple Business Center
This opportunity allows you to establish additional organizations, start a new team and build it up from scratch, which means you now have two distributorships (or more) to earn commissions and bonuses. Meaning more recruiting.
Typical of most multi level marketing companies, with Vasayo you will need to learn how to recruit new members if you want to make any significant income. The products themselves almost become secondary, and realistically, you won't make any significant income from product sales alone.
If all you want is to buy the products at wholesale, then joining could be a good fit for you but you will have to pay a $49 per month fee to be a distributor. For a more detailed description of the Vasayo Compensation plan click here.
How Much Does it Cost to Join Vasayo?
---
Now with Vasayo, there is not a try it before you buy it option. If you want to join the Vasayo MLM opportunity, you will have to purchase one of several packages of products which vary in price from $329 for the basic Foundation Partner package, to $1399 for the Ambassador Partner Package, In addition, there is the $49 monthly fee to be an active member of Vasayo.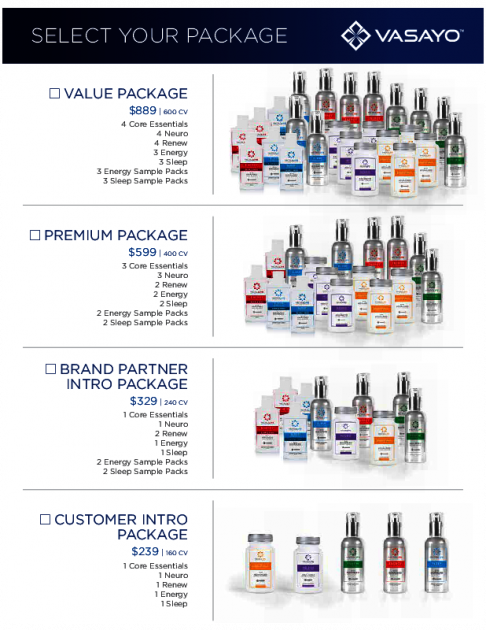 Vasayo is a rather expensive multi level marketing business. And, the products are priced very high which can make them more difficult to sell at retail. Your total start up cost for Vasayo will be the $49 per month membership fee, plus your initial product package cost.
The larger the package you purchase, the greater the discount you get on the products and potentially the more you can make if you sell them. The following are the four Vasayo Partner packages. Check vasayo.com for current package prices and products.
Foundation Partner – It consists of 2 sample products and each sample will have 5 pouches.
Premium Partner – It includes everything in the foundation partner package plus 2 extra samples of renewed energy and sleep.
Executive Partner – It includes three basic product packs, 4 energy sample packs and 2 sleep packs.
Ambassador Partner – The most expensive pack but also the greatest product discount. In the ambassador partner package, you will get 4 basic product packs and some other sleep products. The product mix changes from time to time so check with vasayo.com if you are interested.
Is Vasayo a SCAM or Pyramid Scheme?
---
Technically Vasayo is not a pyramid scheme as there are products being sold to retail customers. A pyramid, is usually defined as paying for membership with no products offered or exchanged. The Federal Trade Commission has started to label companies that focus primarily on recruiting as pyramid schemes even if there are physical products.
In other words, if the focus is on recruiting and the products are mostly sold to new recruits instead of retail customers, it could be a pyramid scheme in disguise. Does Vasayo fit this description of a pyramid scheme in disguise, you will have to decide that on your own. Looking at the compensation plan, it is heavily weighted on recruiting.
Let's put it this way, if you join a pyramid scheme, there is a 99.7% chance you will lose your money. If you join a multi level marketing business, according to the FTC study, there is a 99% chance you will lose money. One is legal, the other is not, but the results are very similar.
Is Vasayo Legit?
---
Yes, Vasayo is a legitimate multi level marketing company. It has a number of health and nutritional products. Like most multi level marketing companies, at Vasayo you need to recruit new members to advance in rank, earnings and to participate in bonuses.
Those who make the most money with Vasayo are those who recruit the most new members. Not those who personally sell the most products. The product technology promoted with Vasayo products has not been scientifically verified nor approved by the US Food and Drug Administration. The products all carry the following disclaimer label.

As with any multi-level marketing company, you should evaluate the opportunity with a healthy dose of skepticism. The compensation plan is heavily weighted to the top and most members make no money or even lose money.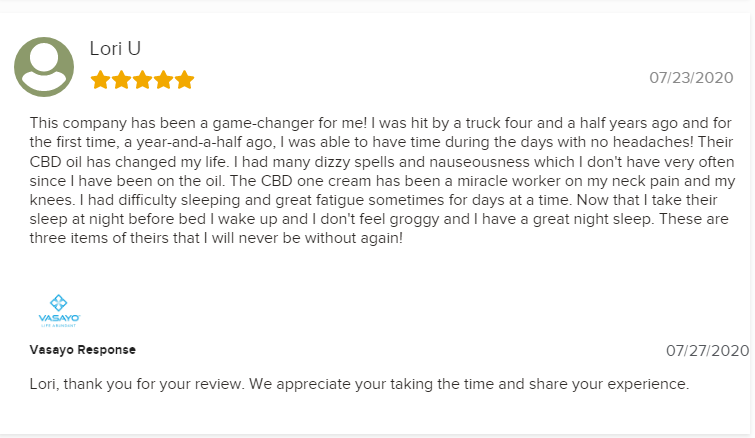 Vasayo is rated A+ by the Better Business Bureau with 9 positive reviews with an average rating of 4.5 out of 5 stars. And 2 complaints listed, one regarding a product being rancid and the other a dispute over patent claims. These are all related to the products, not the business opportunity.
All in all, people seem to be happy with the products and their effectiveness, there are currently no legal actions against Vasayo. So, what about the business opportunity, and can you make any money as a Vasayo distributor?
Can You Make Money with Vasayo?
---
Yes, you can make money with Vasayo, question is: How much and how likely are you to make any significant income? One factor to consider before joining Vasayo, or any multi level marketing opportunity, is whether it sells its products primarily to consumers or to its members who must recruit new members to purchase their products. If sales are mostly to consumers, the company is most likely a legitimate MLM business.
If most of the sales are to members and new recruits, it could be a pyramid scheme in disguise. Now, don't misunderstand, you can make money with multi level marketing, if you're willing to put in a tremendous amount of work, put up with a ton of rejection, and have your family and friends start to avoid you, then you might climb high enough on the "pyramid" to earn some significant money.
Multi level marketing companies can have hundreds or thousands of members worldwide, but only about one percent of them earn any significant income. In fact, most actually lose money. That's not something I just made up, it comes from a Federal Trade Commission study of over 350 MLM companies. Their findings were not pretty:
"Our studies, along with those done by other independent analysts (not connected to the MLM industry), clearly prove that MLM as a business model – with its endless chain of recruitment of participants as primary customers – is flawed, unfair, and deceptive. Worldwide feedback suggests it is also extremely viral, predatory and harmful to many participants.
This conclusion does not apply just to a specific MLM company, but to the entire MLM industry. It is a systemic problem. Of the 350 MLMs I have analyzed for which a complete compensation plan was available, 100% of them are recruitment driven and top-weighted. In other words, the vast majority of commissions paid by MLM companies go to a tiny percentage of TOPPs (top-of-the-pyramid promoters) at the expense of a revolving door of recruits, 99% of whom lose money.
This is after subtracting purchases they must make to qualify for commissions and advancement in the scheme, to say nothing of minimal operating expenses for conducting an aggressive recruitment campaign – which (based on the compensation plans) is essential to get into the profit column."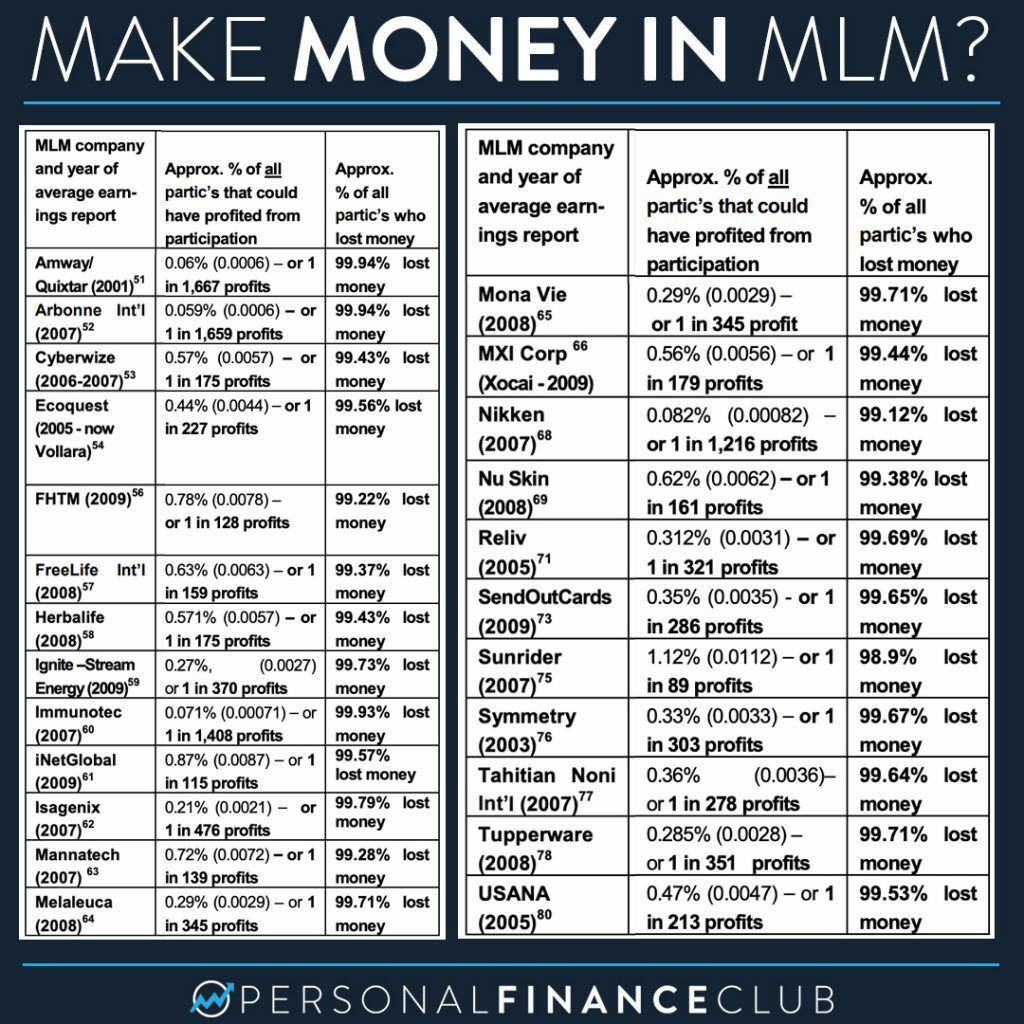 If you are interested in nutritional and health supplements, I can show you how you can build a full time income without having to ever purchase any inventory or ever recruit a single new member. Just click the button below and check out my completely free 10-day home business training. You have absolutely nothing to lose.
The Pros and Cons – Is Vasayo Worth It?
---
Like anything else, there are pluses and minuses to the Vasayo multi level business model. The following tables include what are, in my opinion, the pros and cons of Vasayo as a business opportunity. If you have any others you would like to mention or that I missed, please leave them in the comment section below as we can all learn from each other and I will get back to you ASAP. Again, we're not evaluating the Vasayo products here, that is outside my experience.
The Pros of the Vasayo MLM Opportunity
8 Level Compensation Plan and Bonus Opportunities
Products Have Good Customer Reviews
Been in Business Since 2016
Cutting Edge Liposomal Encapsulation Technology
The Cons of the Vasayo MLM Opportunity
Basic Retail Sales Commission on Low Side at 20%
$49 Monthly Fee to Join and Remain Active
Product Retail Prices Very High Compared to Alternatives
Need to Recruit New Members to Make Significant Income
Very Low Success Rate with MLMs
Founders have Had Past MLM Companies Fail
Multi level marketing is not easy. Yes, some people do make money with multi level marketing but most (99%) don't. In fact, many members of MLMs lose money. There is no reason to believe the Vasayo Multi level marketing opportunity will be any different.
There products are very expensive, and they have to be to pay out all those multiple layers of commissions. There are competitor products that are much more affordable which will make it difficult to generate significant retail sales.
The compensation plan, like most MLMs, is heavily weighted towards recruiting new members and having them recruit new members and so on and so on. If you're looking to replace your 9 to 5 income, or worse, need to make money now, then Vasayo is not a good opportunity for you.
Does Vasayo Have a Refund Policy?
---
Vasayo advertises a no questions asked, 30 day refund policy. The full policy is listed below:
RETURN AND REFUND POLICY Updated: 06-05-19
Product Satisfaction Guarantee* Product may be returned within 30 days after the original date of purchase (order date) for a 90% refund of the purchase price (10% restocking fee).
* Shipping costs associated with returning product are the responsibility of the customer/Brand Partner returning the product. Any commissions and bonuses earned on the returned products will be deducted from the refund amount on all return transactions.
Returned product may impact bonuses and commissions paid to the up line/sponsor. Brand Partner must be in good standing.
A. All returns, whether by a Customer, or Brand Partner, must be made as follows:
I. Obtain Return Merchandise Authorization ("RMA") from Vasayo;

II. Ship items to the address provided by Vasayo Customer service when you are given our RMA.

III. Provide a copy of the invoice with the returned products or service. Such invoice must reference the RMA and include the reason for the return.
B. All returns must be shipped to Vasayo prepaid, as Vasayo does not accept shipping collect packages. Vasayo recommends shipping returned product via UPS or FedEx with tracking and insurance, as risk of loss or damage in shipping of the returned product shall be borne solely by the Customer or Brand Partner. If returned product is not received at the Vasayo Distribution Center, it is the responsibility of the Customer or Brand Partner to trace the shipment, and no credit will be applied.
C. The return of $500 or more of products accompanied by a request for a refund within a calendar year, by a Brand Partner, may constitute grounds for involuntary termination. Cancellation Policy: If a Brand Partner or Customer wishes to cancel an order, please call customer service at 801-415-9888. We can only cancel orders before it ships. If an order has already shipped, please refer to the return policy
What do you get with Vasayo?
---
As a Vasayo Brand Partner (member) you will have access to their entire line of nutritional, health and wellness products at distributor pricing that you may in turn sell to retail customers. You will be able to participate in Vasayo's 8 tiered compensation plan with the potential to earn greater commissions and bonuses as your team grows.
In addition, you will have access to the extensive library of Vasayo training videos on topics from salesmanship to team building and product knowledge. You will also have access to all Vasayo Product informational sheets and brochures, as well as the Vasayo App to help you run your business more efficiently.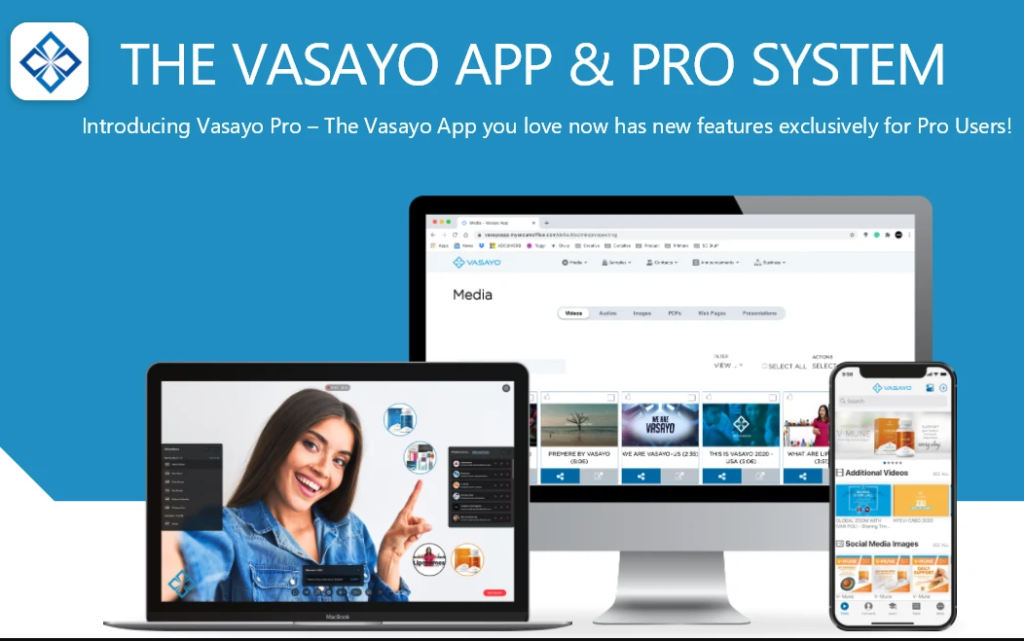 Who is Vasayo For?
---
As you may have gathered, I am not a big fan of Multi level businesses. So, in my opinion, Vasayo is not a good business for anyone. The products may be wonderful, and if you like them and they help you, then becoming a member will save you some money on your personal use of the products at least.
And, you may even make a few extra bucks a month by selling some products to your friends and acquaintances. But, unless you are very outgoing, have no fear of rejection and are very determined, you will not make any significant income from any MLM program.
So, I don't recommend Vasayo or any other MLM program as a business opportunity. There are much better ways to build a real, long-term and profitable home based business without alienating all of your friends and family. Check out my #1 home business recommendation below.
Vasayo Overview and Final Thoughts
---
Currently, Vasayo seems to be a legitimate multi level marketing company. They have products to sell that are enjoying a good deal of customer satisfaction. They are currently Rated A+ by the Better Business Bureau for what that's worth. So, with all that being said, I would say Vasayo is not a SCAM. That doesn't necessarily mean it is a good business opportunity however.
I have several concerns about the Vasayo Multi level marketing business opportunity. The products are expensive relative to competing products which makes retail sales tough to come by. The compensation plan is heavily weighted on recruiting new members instead of product sales.
If you want to have any chance of making a significant income with Vasayo you will have to recruit, recruit, recruit. Business success with multi level marketing in general is not good with 99% of MLM members losing money. I see nothing about the Vasayo business model that would lead me to expect any different results.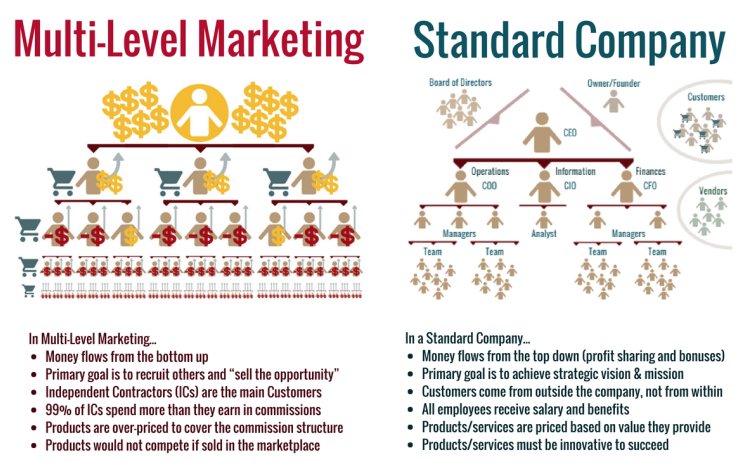 If you are searching for business opportunity that will make you a real full time income, realistically multi level marketing is not the best option for you. I may be biased, I am not a fan of multi level marketing, but the FTC study confirms my suspicions that most members of multi level marketing companies lose money.
In addition, you will alienate family and friends by constantly trying to recruit them and you will face a tremendous amount of rejection. Your family, friends, and coworkers will start to avoid you for fear of having you try to recruit them or sell them products.
Vasayo may have great products, but their compensation plan, like most multi level marketing companies, is heavily weighted to recruiting and the very highest level members. Meaning most members will not make any significant income and may even lose money.
Add to that, the founders of Vasayo have had some failed MLM business operations and run-ins with the FDA in the past. Maybe they have all that behind them and this company will be different. We'll just have to wait and see. Just be aware and do your due diligence.
If you're looking to build a real, long-term profitable business, check out my number #1 recommendation in the next section. You can make money promoting health and nutritional products, or any products you might have an interest in, all without ever having to buy inventory or recruit anyone.
My #1 Recommendation
---
If you're looking for a legitimate way to make some extra money, and build a real, long-term, profitable business from home, then my #1 recommendation would be affiliate marketing.
With affiliate marketing, you don't need to purchase inventory, no recruiting family and friends, no opportunity meetings or parties, No shipping, no collections, no returns, no customer service, just promote and earn commissions.
It really is as simple as that. Now, don't misunderstand, it will take work. Any legitimate business, if it is going to be successful, will take work, time, learning and mentoring or support.
But, you can get started with affiliate marketing for very little money, probably less than most MLMs, and instead of being tied into one company and their product line, you can promote multiple companies if you want.
You get to pick which products and companies you promote. And, what industries you want to build your business in. For example, I love fishing, I have a fishing affiliate website: thebeachangler.com, where I promote fishing gear, camping equipment and more.
You can do the same with whatever interest you. You want to promote nutritional products like Vasayo, check out these alternatives that you can promote as an affiliate without having to ever buy any products yourself. And, these are just a couple of literally hundreds of products you could choose to promote.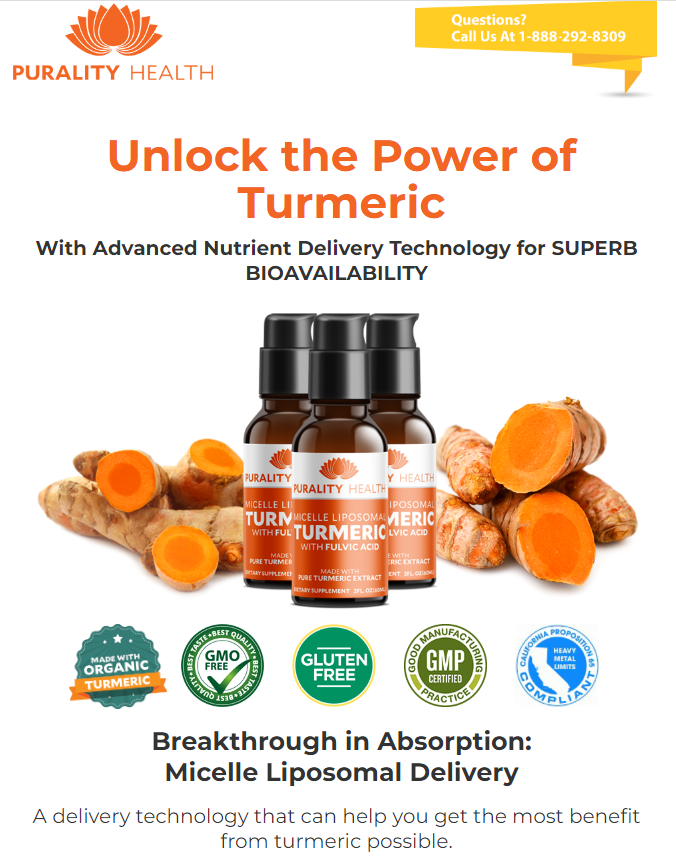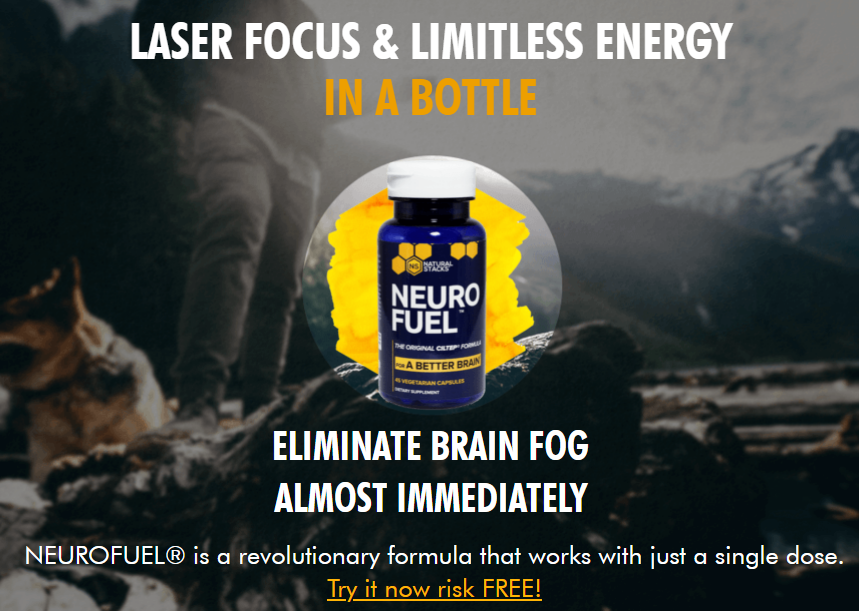 Would you like to learn more about affiliate marketing and how you can have your own online business up and running in just minutes?
Check out my completely free 10-day online home business training and I will take you step by step through the process of building your own online business.
You will learn the same process I, and thousands of others, use to build successful online businesses from home or anywhere we can get internet access. Just click on the picture on the right and get started today.
If you have any questions, comments, ideas or concerns please leave them below in the comment section and I will get back to you ASAP. I hope to see you inside the Online Home Business Training, but whatever you choose to do, I wish you much success and happiness.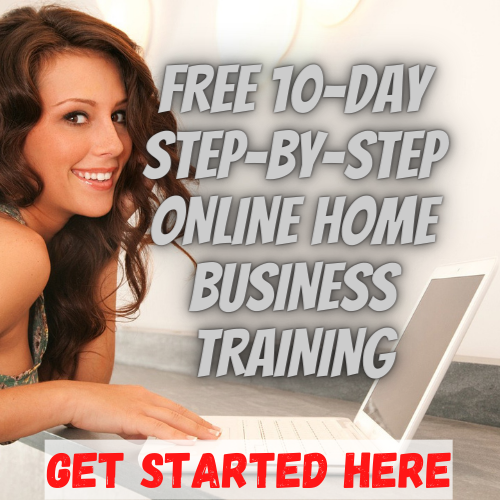 I'm Looking forward to working with you,


Rex
P.S. Again, the 10-day Home Business Training is COMPLETELY FREE to get started. No catch, no obligation, no bait and switch. I will personally be in touch with you upon joining to offer my support and guidance to help you get up and running online.
P.P.S. If you have any questions or are unsure of anything, I am here and I promise I will get back to you on all of your questions and comments. Just leave them below in the comment section. Follow me on Twitter: @onlinebenjamin1, Instagram: dotcomdinero, and Facebook: Online Benjamins