Savage Affiliates is an affiliate marketing course by Franklin Hatchet. Franklin is a Kiwi from New Zealand that has become one of the most successful affiliate marketers on the internet. You can find him on YouTube, on savage affiliates.com or at his e-commerce site, ecomelites.com. Savage Affiliates is a very detailed and in depth training course that will take even a complete newbie and give them the education and tools to start a successful affiliate marketing business.
Now, Full Disclosure, I am a savage affiliate member myself. I am not however, an affiliate for Savage Affiliates, so there is no economic interest in doing this review. I have completed Franklin's course and continue to refer back to it often. It is extremely valuable in my own affiliate marketing business, therefore, I can offer you my firsthand experience to give you a full run down on the course.
---
Who is Franklin Hatchett and Savage Affiliates?
---
Franklin Hatchett | Your Online Coach

Over 5 years ago, Franklin was just like the rest of us chasing his dreams but unsure of how to make them a reality. Over that time, he learned all the secrets of online business. When he first created Savage Affiliates, it was meant to be an informal training center for a small group of his friends who wanted to share their lessons.
Over time, he developed it into one of the top Affiliate Marketing Training Platforms. From humble beginnings to incredible real results! Featured as one of the top Affiliate Experts in the world by Entrepreneur Magazine, his mission continues to be to help others enjoy the same success. So when you join, you'll get your hands on a battle tested, exclusive training that's helping people from all over the world!
---
Affiliate Marketing
If you haven't heard of it before, the concept of affiliate marketing is simple… you simply sell other peoples products. For every item you sell for them, you earn a commission.
If you can build a successful affiliate marketing business online, you could start to generate passive income.
Affiliate marketing has been made popular and extremely profitable by the power of the Internet and has exploded over the past decade. Internet companies like ClickBank, ClickFunnels and Amazon have extremely successful affiliate programs you can join and earn money from. Amazon's affiliate program, for example, has millions of products and get a commission for selling them.
---
Savage Affiliates – The Course
---
Introducing Your Ultimate Affiliate System!
With the wrong training, you will struggle to earn anything online let alone create full passive income. Either way, same result: you try to earn money online and 3 months later you still haven't made a penny.
That's why Franklin built Savage Affiliates so he could show entrepreneurs like us how to set up our own affiliate business. Make no mistake, this is NOT a system where you get a bundle of prepackaged videos and left to fend for yourself.
Joining Savage Affiliates means being part of a community of enthusiastic, single-minded online entrepreneurs. Almost all of them will say that the biggest benefit is the mentoring you get.
Franklin helps and advises members on a 1 on 1 basis. He's in the Facebook group daily replying to questions. He also makes custom videos based on requests (along with his weekly Facebook videos). What's more, you won't have just Franklin along on your journey. The entire savage affiliate community is there to support.
Forget the old ways of making income. They require HUGE amounts of upfront capital! With affiliate marketing you don't need your own product! Take advantage of this new internet era and start your own online affiliate marketing business with the Savage Affiliates training.
---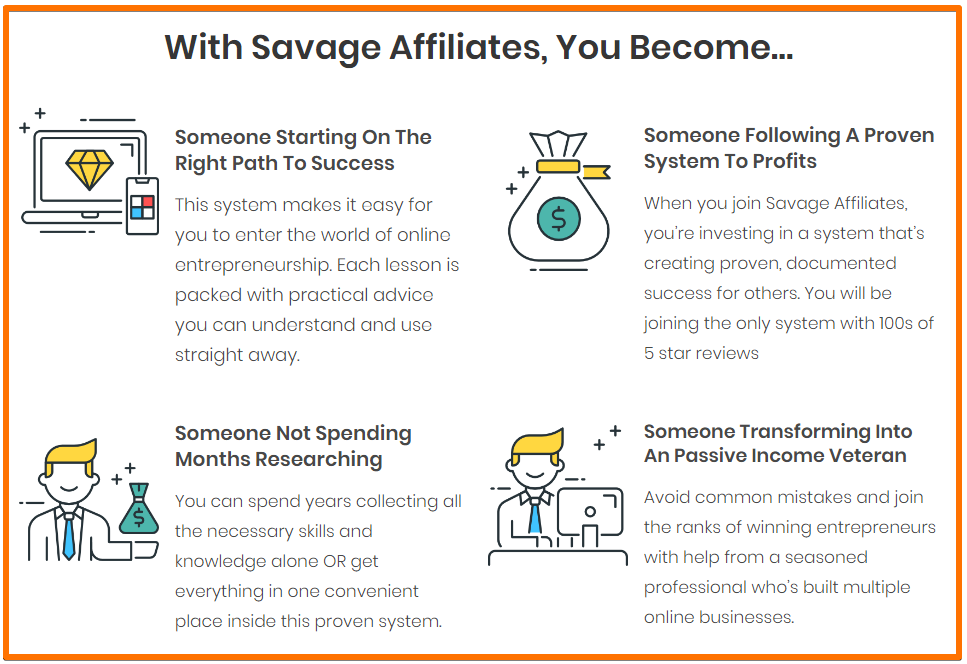 ---
Exclusive Case Studies!
You get access to Franklin's personal case studies! Where he will show you EXACTLY what he's currently doing in his own business and the results! You can see how he earns his passive income. One of the methods no one has ever seen before! he pulls back the curtains on his new ClickFunnels Affiliate Method!
---

---
The ONLY Blueprint You Will EVER Need!
Once inside, you will have everything you need, you will learn everything there is to know about affiliate marketing. Savage affiliates doesn't just cover one affiliate method, it covers them all. Franklin has spent years building up his affiliate marketing knowledge and now you can get access to it all. Years of research and experience packed into an easy to digest blueprint. You can learn how to build your very own online business!
---

---
The Affiliate Methods
---
A Step by Step Blueprint to Creating Passive Income

1.) Starting The Foundation: In this section you will learn how to start building the foundation. You can be introduced to affiliate marketing and have it explained to you in a way that's easy to understand. You can learn EXACTLY how to start affiliate marketing with NO experience even if you're a complete beginner.
2.) Niche Research Academy: In this section you will learn my SECRET strategy to finding winning niches that you can quickly dive into. You can learn how to find niches that will get you high converting Affiliate commissions!
3.) Website Academy: Building the right affiliate marketing website or funnel is the key to success! In this section you will learn EXACTLY what you need to do to build your commission generating website. You can get access to training that shows you EXACTLY how to build your online asset! You don't need a website to make affiliate marketing work, we have still added this in just in case you want to build one.
4.) Funnel Academy: You can lean how to integrate your affiliate marketing business into funnels and create high converting funnels that increase your affiliate sales. If you haven't heard of funnels where have you been? These are the way of the future and you need to learn about them now! Franklin even throws in his best converting funnels for FREE!
5.) Email Marketing Academy: Learn the automated email marketing systems that can literally print you money without your time and effort. You can learn how to set up a system that will allow you to promote specific products to specific buyers automatically! Learn how to build a valuable asset that could be worth millions to you!
6.) ClickBank Academy: What everyone has been waiting for! You get in depth training on how to make money with ClickBank! This section alone is jam packed with quality training that will turn you into a ClickBank Ninja. You can learn the EXACT strategies' Franklin uses to make $1000s on the ClickBank network.
7.) Amazon Affiliates Academy: Maybe jumping into Amazon Associates and learning how to make commission on amazon is your fix? Don't worry Franklin has you covered! Amazon is the biggest e-commerce platform in the world and there are commissions to be made. You can learn EXACTLY how to do this step by step in the Amazon academy.
8.) SEO Academy: Ah the art of ranking websites in Google, well Franklin has years of experience at this! He ranks for some of the best terms on the planet and he will take you through his strategies' set by step. You can master search engine optimization flooding your offers with high converting traffic.
9.) Paid Traffic Mastery: Ever wondered how people make a million dollars online? They use paid traffic. You need to actually understand the value of paid traffic and in savage affiliates you will learn exactly that. You can also learn how to master paid traffic and even the best paid traffic methods online. You will learn to grow you business with predictability!
10.) Free Traffic Academy: Don't want to dive into paid traffic? No problem! Learn how to flood you offers with free traffic that converts like crazy. Understanding the power of free traffic will change your life, it truly is passive income. Savage Affiliates will show you the real strategies' that have generated over a million dollars from free traffic sources online. Not only that, Franklin will teach you how to do these strategies' step by step.
11.) Launch Jacking & Web Hosting Blueprint: Have you heard of Launch Jacking? It's one of the best ways to get into affiliate marketing. You can learn exactly how to tap into Launch Jacking with his step by step blueprint. What about Web Hosting offers? You can learn how to tap into one of my most lucrative niches online. A website gets started every second of the day, you can get a commission from that! You can learn how to do it correctly in this module and create passive income.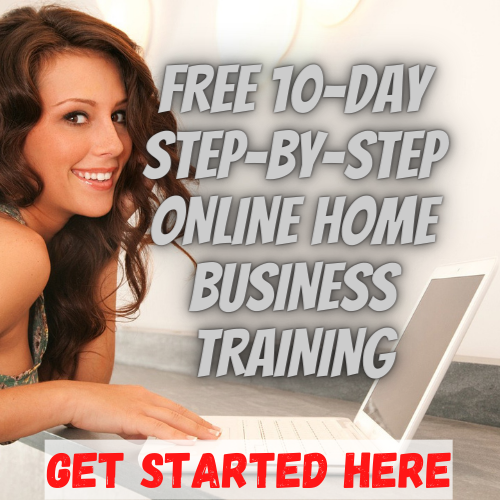 ---
Can You Really Make Money Online?
---
You don't have to take my word for it, here is what some other Savage Affiliate members have to say:
I'm doing over $10k per month!…
I can't recommend Franklin's products enough! After taking his course it helped me understand affiliate marketing better and how to use it in my Instagram business. Since enrolling, I've gone from $0 to over $10,000 per month in passive income! All of this is thanks to what I learn inside Franklin's passive income machine and taking action. Th training opened me up to a new online world! *Results are not typical and we do not guarantee results.
Brent James
---

---

---

---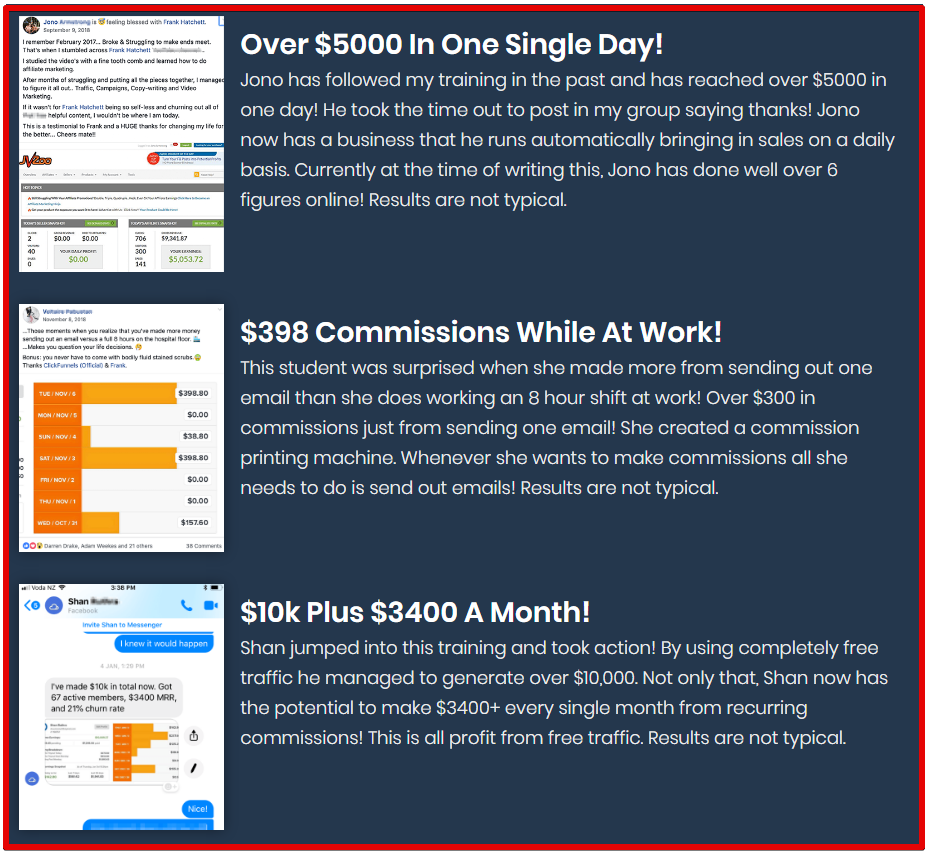 ---
What's the Final Verdict on Savage Affiliates?
---
As I stated previously, I am a Savage Affiliates member and use it daily in my own affiliate marketing business. Franklin's training is very detailed and thorough. He gives you step by step instructions and even shares some of his own techniques he is using to generate online income.
You have access to Franklin through the course, on the private Facebook group, and of course through his extensive YouTube channel. You can learn everything from the ground zero. From building your own website, email list, niche selection, marketing and advertising. You also be part of the Savage Affiliates community in the Facebook group. There are thousands of members eager and willing to help you as well.
---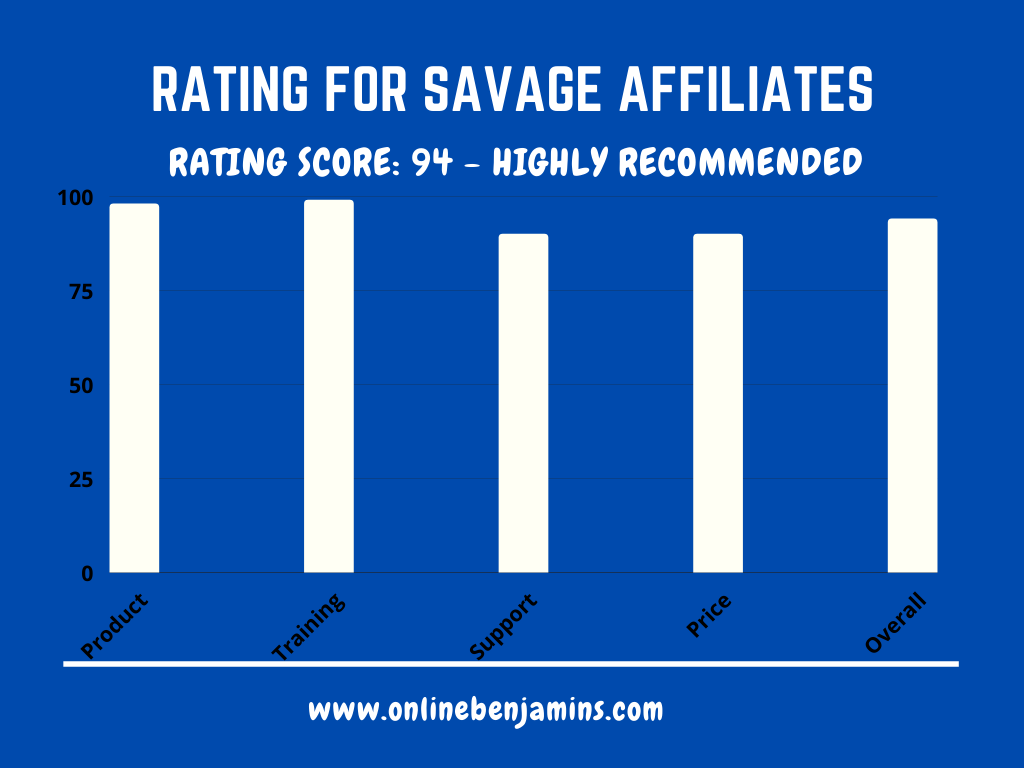 ---
This course is worth many times its current price and a far better value than many of the more expensive courses out there. The only way to get a true feel for the course is to try it out yourself. Head over to savage affiliates.com and sign up. He's currently offering a 60% discount. I don't earn anything from recommending this course, just my honest opinion of an extremely helpful and valuable course. If you are interested in other good affiliate marketing programs, check out my article on Wealthy Affiliate HERE.
---
---

Hi,
Thanks for stopping by and congratulations for taking the first steps to building your own online business. I've been in business both offline and online since 1997. I would consider it an honor to help you build your business. Father of 3, life long outdoorsman with an education in Genetics and Economics. This site is about cutting through the BS and finding the real opportunities in the online world. I look forward to working with you.