If you're in business, you need customers. You need "attention". The greatest product or service in the world does you no good if nobody knows about it or if they can't find you. It doesn't matter if you run a "bricks N Mortar" store, or a web based business, you need eyes on your offer/product. Jaaxy is a tool that can help you with that.
In the online world, we look for ways to get people "Traffic" to our websites or landing pages. One of those ways, is called "Search Engine Optimization" or SEO. It involves structuring our site and offers in such a way as to take advantage of what our customers are already searching for on the internet, through what are called "Keywords". Keywords are the search terms that internet users type into the search bar of places like Google, Bing, and Yahoo when they are looking for something.
There are numerous software programs available that will identify these Keywords and help organize your website content to maximize the traffic to our offers. For some how to ideas for keyword research, check out my article Here. In this article we will be reviewing the Jaaxy (jaaxy.com) program and the services they provide to internet marketers. If you stick around to the end, there is even a free Jaaxy Keyword search for you.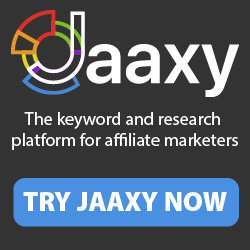 What is Jaaxy?
---
Quick Summary:
Jaaxy is a keyword and SEO research platform that was developed by affiliate marketers FOR affiliate marketers. It is an advanced, and user-friendly platform for managing all aspects of keyword, website, competition, and market/niche research. It is a subscription based service that ranges from $19 to $99 per month. There is a free trial available to try it before you buy it. And, it comes included with membership to the Wealthy Affiliate Platfrom.
There are a number of tasks that are very time-consuming when it comes to running an online business. Keyword and competition research are made easier and faster with the tools available with Jaaxy.
Whether you are an Internet marketer, a local marketing company, an SEO firm, or a fortune 500 firm looking to get access to keywords for your business, Jaaxy produces the keyword data you need in a matter of seconds. Traffic, competition, QSR, ranking and domain data are available for billions of search terms. Not to mention the ability to perform up to FIVE searches at once with multi threaded search functions. With a growing database of 100's of MILLIONS of keywords, Jaaxy is the most powerful, accurate, and robust keyword research platform on the market.
SEO with Jaaxy
---
Keyword Research
There are over 500 million BRAND NEW keywords searched every day in Google alone? That is the reality of the keyword market and to truly leverage the billions of keywords in existence, Jaaxy is a keyword tool that can "dig" as deep as you want. It also offers accurate traffic, competition, and domain insights into those billions of keywords.
With the Keyword Research Tool in Jaaxy, you are able to quickly discover unique, hot and low competition keywords that you will then be able to use to drive your SEO and generate traffic to your websites and offers. This will save you hours per week on your research activities, giving you more time to work on other aspects of your busines
Google, Bing and Yahoo data are pulled directly within Jaaxy, offering you a 99% keyword and associated data coverage for all of your searches. These 3 Search Engines own 99.7% of all search traffic online.
Alphabet Soup Platform
Sometimes when you are doing research it isn't easy and can be very time-consuming. Jaaxy has taken one of the most powerful research techniques and automated it. Take any search term or phrase and quickly build an alphabetized list or search phrase variations from it. From one search, you will literally have 100's of potential keywords that you can then use for your SEO to increase traffic to your site.
Jaaxy offers you the ultimate in Keyword Management. You can save, store, share, export and manage all of your keyword research activities with Jaaxy's state-of-the-art keyword management platform. It has never been more efficient to manage your research activities and leverage this data for your own personal or business insights, but also to hand off to your marketing and content development teams within your organization.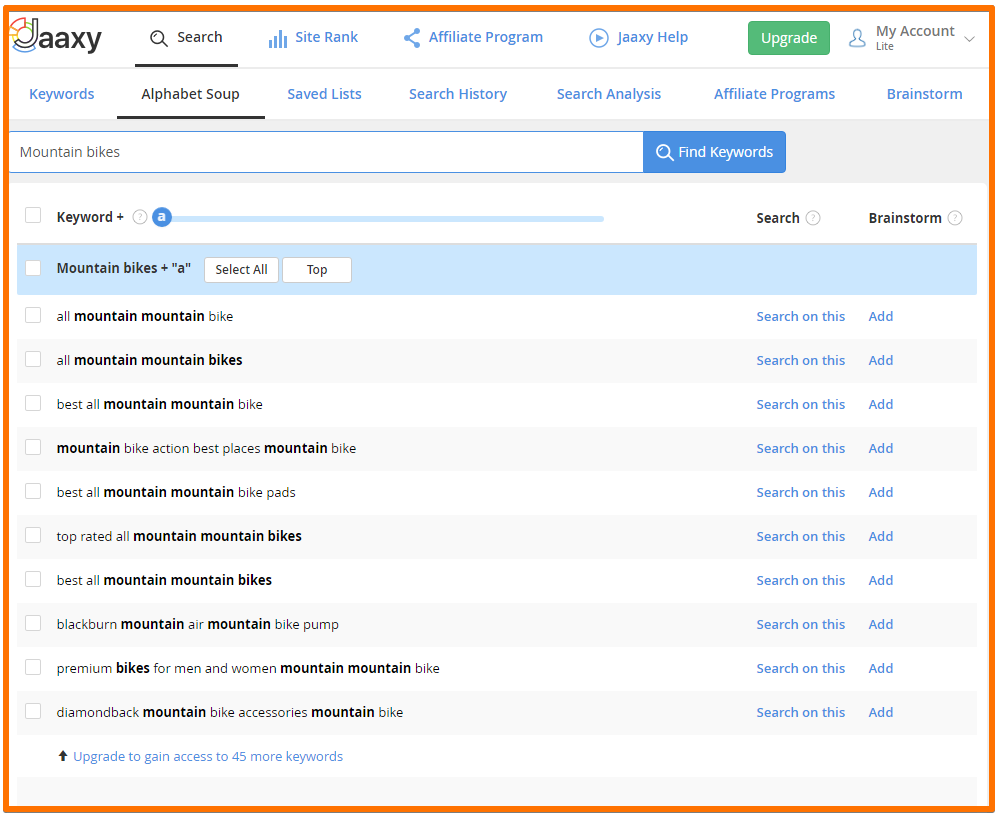 SiteRank, An SEO Dream Feature.
SiteRank is a platform exclusive to Jaaxy that allows you to monitor and track ANY rankings in Google, Yahoo, or Bing for ANY website! Before SiteRank, it was difficult to determine where your website was ranking. Most marketers don't even know what factors contribute to rankings in Google, much less which one's will rank a website in search engines.
With Jaaxy you are able to efficiently analyze rankings across ALL search engines. You will be automatically notified of any changes in your ranking metrics in Google, Yahoo or Bing. It is a true SEO dream tool and is an essential for affiliate/internet marketers, blog owners, local marketers, and merchants.
SiteRank truly bridges the gap between your website and your awareness as to where it is ranked under the keywords that you choose to "track". These insights will allow you to quickly determine what website activities are leading to rankings in search and which one's may not be. Below is a video using Jaaxy for keyword research.
You can efficiently set-up campaigns to track rankings for your websites within Jaaxy SiteRank. You can choose the frequency in which you track your website rankings and it is completely hands free. As your website rankings go up or down, you will be notified within the platform and you will be able to use your historical ranking trends to master SEO.
With SiteRank in Jaaxy, you will be able to track any competitor's website under any keyword and analyze whether they are moving up or down in the rankings. Beating your competition starts by understanding how they are performing.
When you set up your website in SiteRank, you will automatically be able to leverage their historical tracking graphs to track your website rankings over periods of time. This gives you a bird's eye view of all of your ranking and SEO activities which will help you understand your website ranking trends.
If you are just getting started in the world of online business, you will need to determine what area or "Niche" to focus on. Jaaxy has you covered there too.
Niche selection
---
There are literally millions of niches online, many of which have little to no competition. Having access to the Brainstorm, Affiliate Search, and Alphabet Soup platforms within Jaaxy are going to give you true insights into potential niches…without you having to do the dirty work. Whether you are looking for a new business idea or looking to dig into the deepest corners of your existing niche, Jaaxy is your power tool.
Being able to discover niches in intelligent new ways is something that Jaaxy excels at. From the ability to check out the hottest trends to finding "relevant" yet different searches, you will be able to generate numerous potential niche ideas in a matter of seconds using Jaaxy.
Within Jaaxy you also have access to a brainstorm feature that is going to allow you to dissect the hottest product, information, and search trends on the internet TODAY. Having this insight will give you the heads up on new opportunities and the ability to stay up to date with the trends across many different niches.
Domain Search – Find Available Domains in an Instant.
Once you've selected a niche, you will need a website, and for a website you need a name or "Domain" as its called. A simple domain name can fetch $100's, $1,000's and sometimes MILLIONS of dollars. High quality, brandable domain names are in short supply and once a domain is owned nobody else can own it. A domain portfolio is just as valuable as a real estate portfolio. Like real estate, they are not making more .com, .org or .net domains.
Within the Domain search feature of Jaaxy, you will be able to find AMAZING domains. Every search within Jaaxy will reveal which .com, .org and .net domains that are available for the given keyword. Each search will reveal high traffic, high value domains with an average of 90 domains being checked with every search. Jaaxy Domain Search is one of the quickest and most powerful ways to search for valuable web domains.
Have a local bussiness or a local marketing company? If so, the domain search is a great tool for helping you uncover prime local marketing domains. Having control of these domain assets will give you control over local business segments and give you a leg up on your competition in your local market. For an in depth discussion on building a website from scratch, check out my article on building a free website here.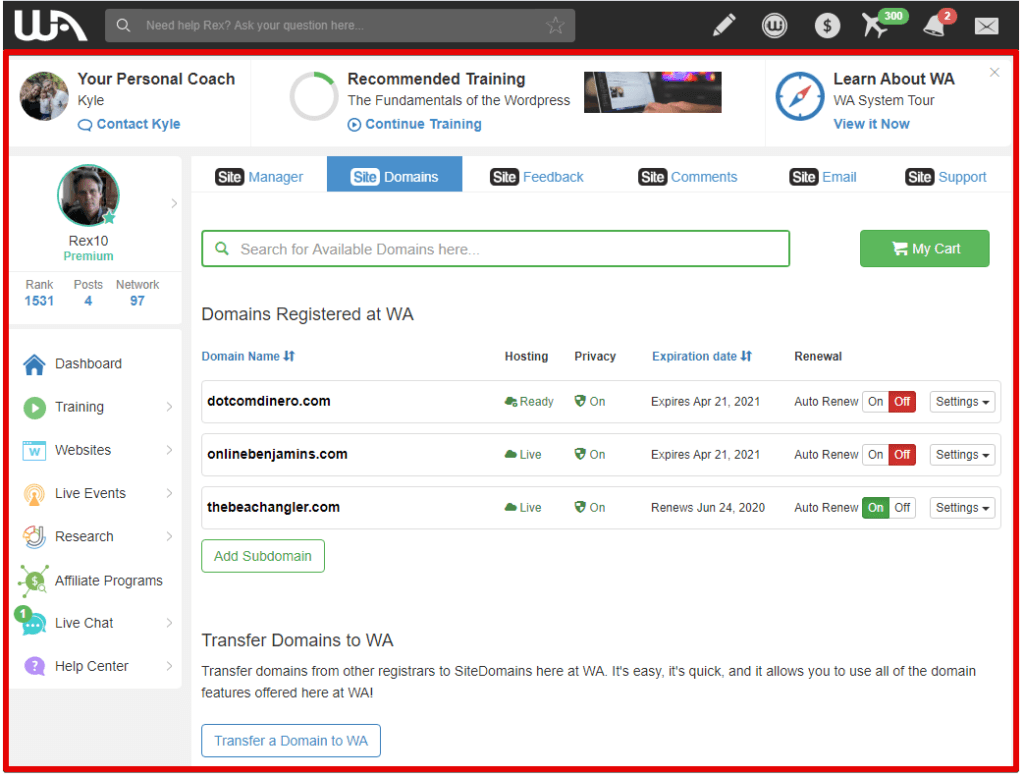 Analyze The Competition
---
To Beat Your Competition, You Need to Know More Than they do.
Sometimes the best way to WIN at SEO is to understand what your competition is doing and determine what "ranking factors" are contributing to their rankings. This can be easily determined through the Search Analysis algorithm in Jaaxy which will take the results from any search and uncover what the top ranked websites are doing.
For a better word, Jaaxy allows you to "spy" on your competition and probe into WHY their websites are ranking, where they are ranking, and you can get data into their website's content structure, meta tags, content quality/length, back links, ad placements, along with other information that the competition simply doesn't want you to have.
With Jaaxy you have access to some of the most critical, yet hardest to discover metrics. The TRUE keyword competition. If you want to master keyword research and rank at will, the competition data revealed at Jaaxy for specific keywords is going to give you the true competitive advantage.
Jaaxy Plans and Pricing
---
Jaaxy offers three different plans listed below, including a free starter plan for you to try and get a feel for the system before you decide.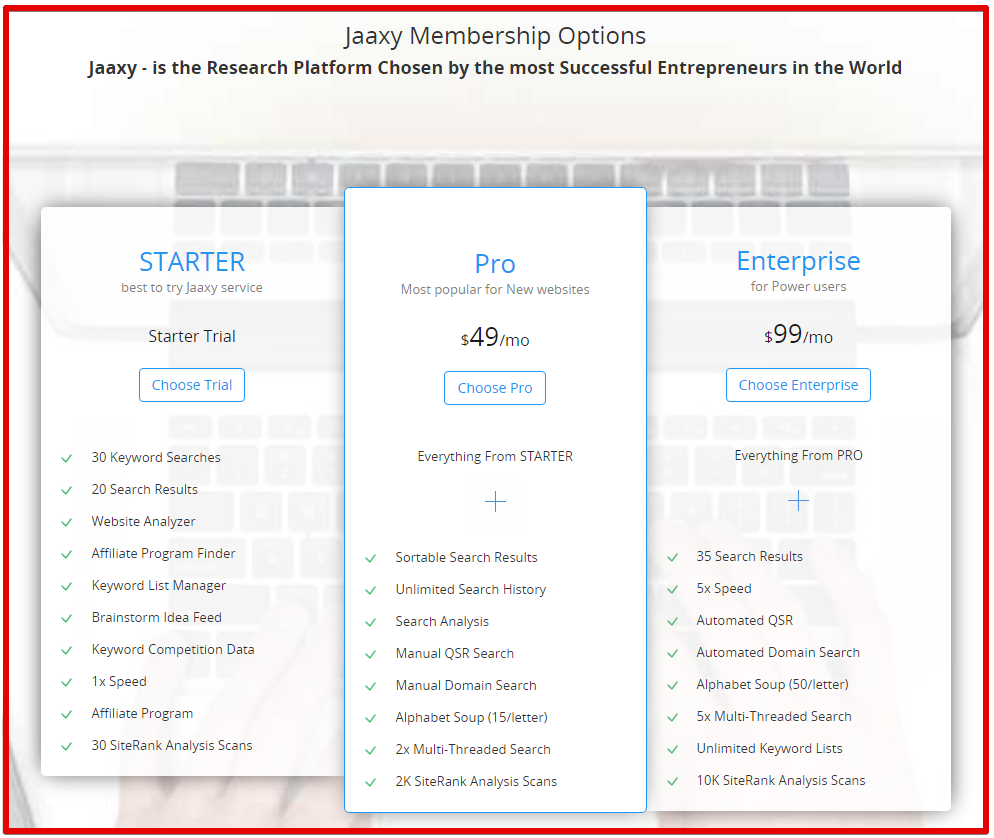 Jaaxy: Final Verdict
---
As you can see, if you are an affiliate marketer, blogger, web developer or in any other online business, Jaaxy can save you time and money. It truly is a great SEO and keyword research tool. Like any business you need Traffic/Customers, and Jaaxy can give you the data to focus your efforts for the best results.
From Keyword research to niche research, to analyzing your potential competition, Jaaxy is one of the most extensive programs available for putting you in the best position for success with your online ventures. I personally use Jaaxy as part to the tools that are included in my Wealthy Affiliate Premium Membership. If you are interested in learning about websites and online marketing from the ground up, check out my Wealthy Affiliate Review.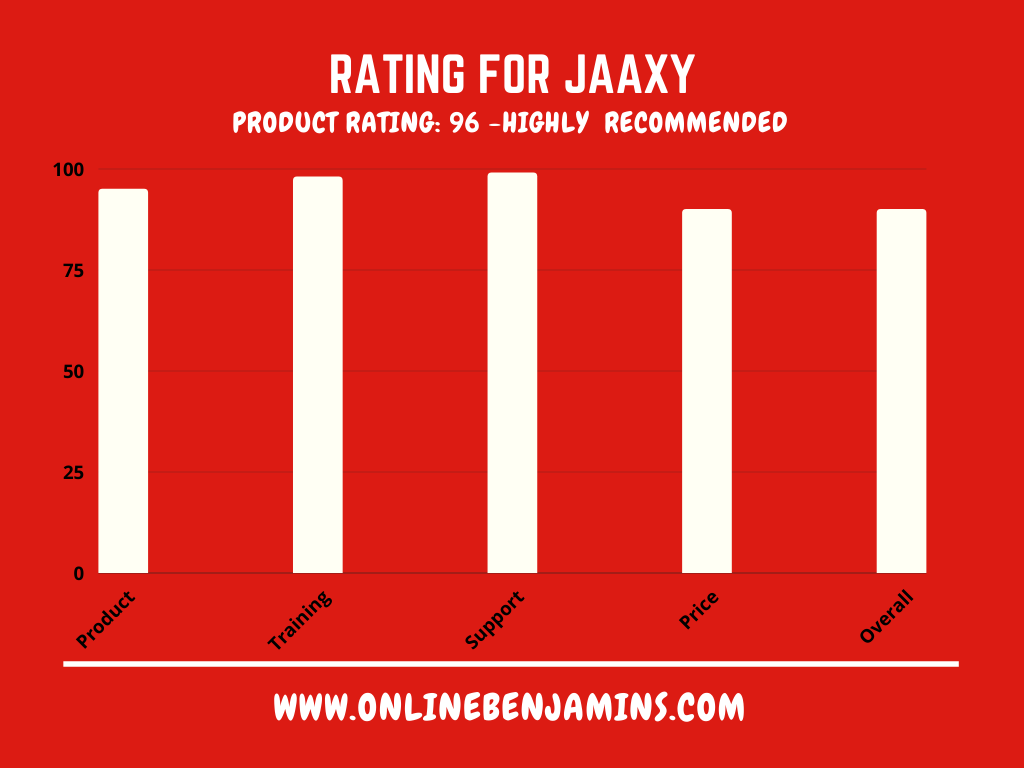 If you want to make a quick test run, check out the free Jaaxy Keyword search below. Check It out, you'll be amazed at what you can do with Jaaxy.
Hi,
Thanks for stopping by and congratulations for taking the first steps to building your own online business. I've been in business both offline and online since 1997. I would consider it an honor to help you build your business. Father of 3, life long outdoorsman with an education in Genetics and Economics. This site is about cutting through the BS and finding the real opportunities in the online world. I look forward to working with you.