If, you use the internet very much, you have no doubt heard of "Keywords". The online age has made finding anything you may be interested in, quick and easy. Just type whatever it is into Google, or Bing, or Yahoo etc, and magically pages of articles, videos, and websites are listed that pertain to your search.
Those words we type into the search are called "Keywords" and they are powerful tools for determining the interests of potential audiences, customers, followers. In business, online or offline, you need attention. Keyword research will help you find potential customers to see your product, service, offer, website. You can have the best product or service in the world, but if nobody knows about your offer, you're out of business. The goal of you're advertising and marketing is to get more attention to your business. In the online world, this "attention" is called traffic.
The Keyword Search
---
If, you know how to use keywords effectively, you can not only bring "traffic" customers to your business, you can target specific customers that are already interested in what you have to offer. This is also known as "Warm Traffic".
The old school forms of attention (advertising) like radio, TV, newspaper, was the shotgun approach. You put you're advertising out to a bunch of people and hoped some one that might be interested in your product would see it.
With Keyword research, you can be more focused and targeted with your marketing efforts. The "Rifle" approach. There are numerous online keyword Search Tools to help you focus you're advertising and marketing efforts for online ads or to direct people to your website. They have different features, advantages, and prices of course.
Keyword Research Tools
---
Keywords are powerful tools for your generating traffic for your business. So, how do we find them? There are variety of methods to find keywords. Some are free to use, others are subscriptions services. Both work, the paid services will have more detailed and comprehensive information.
Free Keyword Research Tools:
You can do some basic keyword research simply by doing a google search for terms related to your business or product and google will give you some suggested keywords in addition to what you type. These are based on what other people have been searching online that is related to your search terms. This will give you some good ideas to start with, and it's free! Google also has a free Keyword Planner in their Google ads platform that is free to use, but you will need to sign up for a google ads account first.
Another good free keyword search tool is the website: answerthepublic.com. On this site, say you sell mountain bikes. You type in Mountain Bike in the search and it gives you all the questions that people have been searching for online related to mountain bikes.
Now you will have a whole list of questions that you know people are interested in, and if you have the answers, there is a good chance you can get their attention and hopefully their business.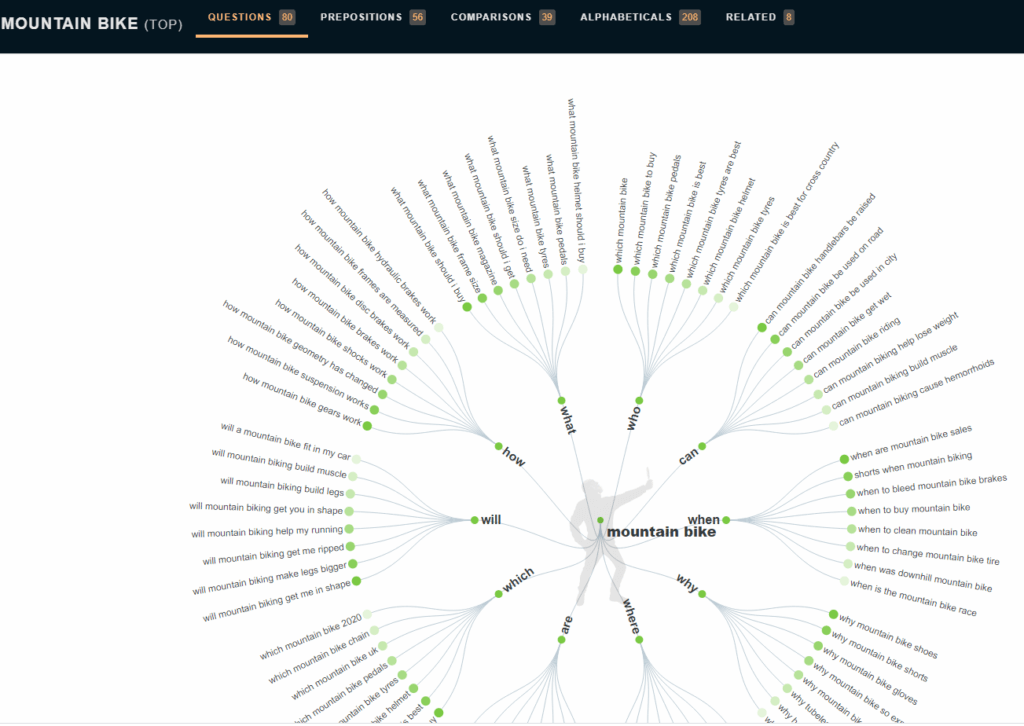 Keyword Surfer, is a free Google Chrome Extension that will generate keywords for free as well and is another good source of information.
It will offer suggested keywords when you do a google search, and it lists the search volume as well so you can see which terms are generating the most interest.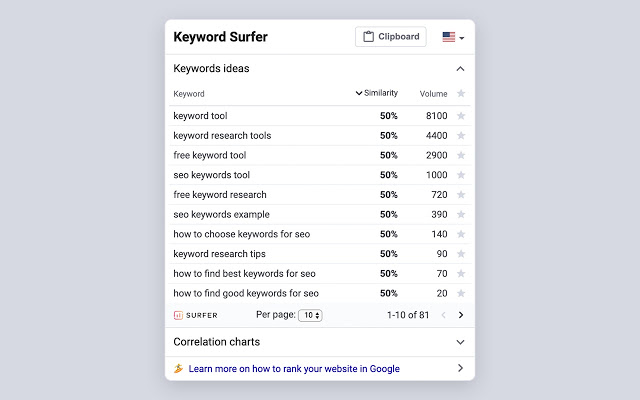 Keyword Sheeter, is a free keyword research tool as well. It will generate a substantial list of keywords related to your topic.
If, you want the data as to search volume etc, you will have to pay for the report. But just to get the keyword ideas, is free.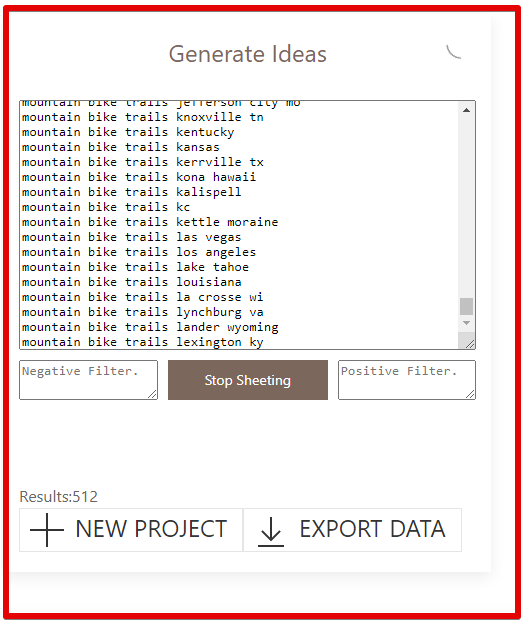 Paid Keyword Research Tools:
There are of course many subscription based Keyword research tools available. The biggest difference between the paid sites and free sites will be amount of relevant data produced. Paid services are much more extensive in the data available so you can do very targeted research. If, you are trying to maximize traffic to your website or business, and particularly if you are doing paid advertising, a subscription to a Keyword research Tool will be a wise choice. They will give you tools for total "Search Engine Optimization" for your websites and advertising as well.
There are others of course, but I have found Jaaxy to provide me the detailed data for not only keywords but overall website health, rankings and competition stats that allow me to laser focus my marketing and traffic generating efforts. Let's take a look at some Keyword research using Jaaxy.
Keywords for a website
---
If, you want to search keywords for your website, you will want to structure the content of your site to attract the most attention from potential customers (traffic). Start with a free tool like google, or Keyword Surfer to get some general ideas. Then go over to "Ask the Public" and you will get hundreds of potential keyword ideas. Now you have a good list of potential keywords to structure your website and or advertising around.
Once you have your list, we can move over to Jaaxy and start sorting them by how much traffic they are generating and by how much competition there is from other websites. If we can find keywords that have a good amount of traffic and very little competition, we've've just hit a home run. You can structure the content of your website and marketing efforts around those keywords to maximize your Traffic.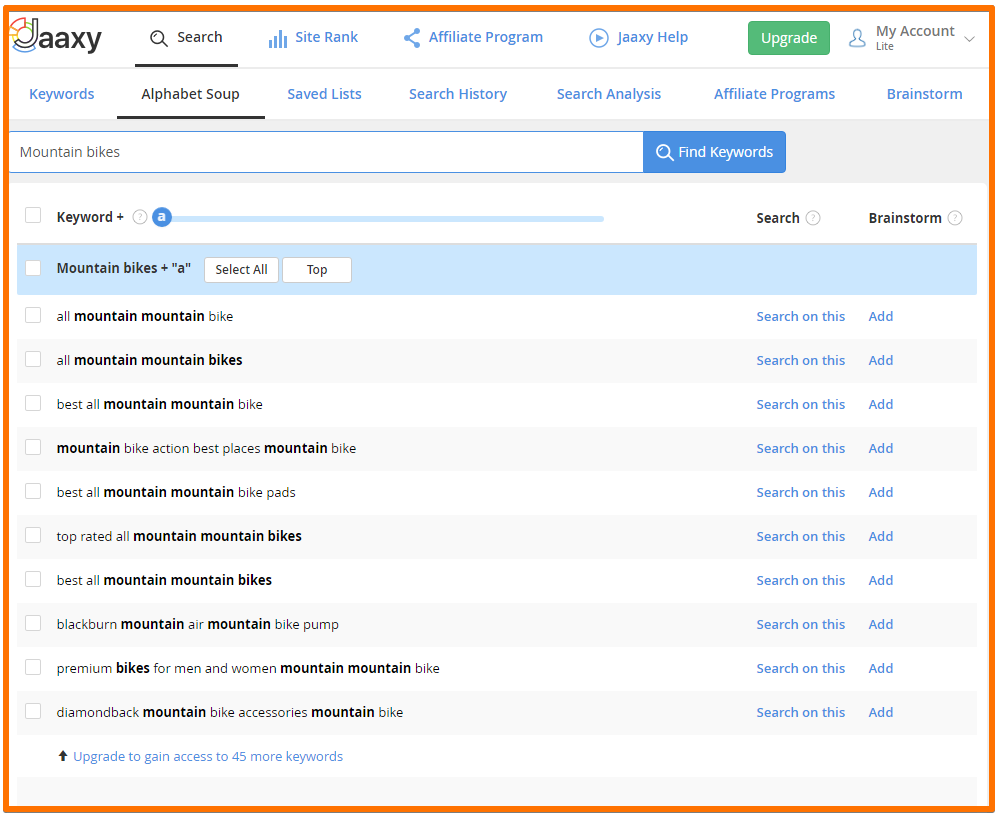 Now with Jaaxy, you can do much more research into "Search Engine Optimization" SEO to not only find keywords but to also analyze your competition to see how and why they are ranking and then you can reverse engineer their sites to adjust yours to out maneuver them. If, you want more information on Jaaxy, Check out my Review of their Service Here: They have a free trial, and at the end of this article there is a free keyword search offer from Jaaxy as well.
Putting it all together
---
The point of Keyword Research is to get attention to our product/service/website etc. It is a very powerful and effective tool for focusing your efforts where they will produce the best results. With keywords, you can find what your potential customers (traffic) is looking for or wanting as it relates to your business. Then you can target those customers and highlight how your product answers their question or solves their problems.
The internet is a wonderful tool, that has changed the way business is done. Even for Bricks and mortar offline stores, you need to harness the power of the internet to drive traffic into your store. The old advertising ways of newspaper, radio, and television are way over priced, not very focused and are going the way of the dinosaur.
Get You Some Traffic!
---
I hope this helps you get a better feel for keyword research and how to start putting together a keyword strategy. Check out some free tools and get a feel for how they work.
If, you would like to try the Jaaxy Keyword Research Tool check out the free search below. You can also check out my youtube video that demonstrates these methods for keyword research.
If, you have any questions or ideas or even complaints 😉 please leave them below in the comments and I'll get back to you ASAP. You can also hit me up on Facebook: Online Benjamins, Instagram: dotcomdinero, or Twitter: @onlinebenjamin1
Hi,
Thanks for stopping by and congratulations for taking the first steps to building your own online business. I've been in business both offline and online since 1997. I would consider it an honor to help you build your business. Father of 3, life long outdoorsman with an education in Genetics and Economics. This site is about cutting through the BS and finding the real opportunities in the online world. I look forward to working with you.