The NeoCommissions App is the latest "make Money Online" app from Glynn Kosky and his team. We will take a look at the hype, claims and testimonial and see if it measures up or if it's just another "shiny object". We'll also compare it, side by side, to my #1 recommended online marketing platform.
Now, making money online is not easy for beginners. If it was, we'd all be millionaires on our own private islands. These days, it's even harder than ever for newbies to make. But many underground experts (gurus) are getting richer than ever. What's The Difference Between Broke & Struggling, and rich & relaxed? Well, It's not hard work. Most of the richest online marketers barely crack a sweat.
The real difference, that no one likes to talk about, is competition. 99% of beginning marketers do things the same way. They promote the same offers, on the same platforms. Which makes it ridiculously hard, If not impossible, to get any consistent results at all. Glynn Kosky's new NeoCommissions app, we are told, is the way the big boys avoid competition and make the big money while the rest of us fight over the scraps.
But, what is NeoCommissions exactly? How does it work? And, most importantly, can you make any real money with it? Let's take a look under the hood and at all of their hype and see if it really delivers on all of its promises, or is just another over-hyped app that wastes your time and money. I've been taken before, I don't want you to be taken.
QUICK SHOT:
NeoCommissions is a cloud based app that is basically a Chat Bot app. You have some basic landing page templates and some built in affiliate offers. You pick a niche, pick an offer, then drag and drop, fill in the blank, to build a chat bot for that landing page. The idea is that visitors, by engaging with the chat bot, you will capture their email and have them click on your affiliate link to take them to the affiliate offer sales page. It's easy to use, but far from any secret AI technology. I give it an overall rating of 70 out of 100 or not recommended.
---
What is NeoCommissions?
---

Product: NeoCommissions App
Website: neocommissions.com
Owner: Glynn Kosky
Niche: Affiliate Marketing
Price: $17 upsells to $197
Rating:

70 out of 100 – NOT RECOMMENDED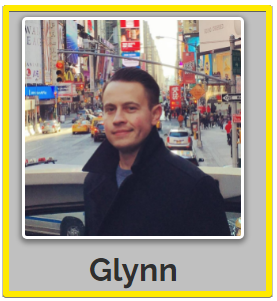 According to their sales propaganda, NeoCommissions is "The World's Best A.I. Powered Traffic & Commission App" In 60 Seconds, Clone Their Push Button System For *FREE BUYER TRAFFIC* That Makes Them $987 In Daily Commissions! With, No Website… No List… No Experience… No Problem! (Great, but you should be a little skeptical at this point. Remember these are always over-hyped to get you in the mood to part with your money)
Thanks to very recent advances in artificial intelligence. Ones they've leveraged to the max with NeoCommissions, It's possible for anyone to skip the learning curve, leapfrog the competition, and jump DIRECTLY to results, With no experience, tech skills or daily time commitment needed!
Sounds great right? But, what is this "AI driven app" and how does it work? And, where are these 300 million built-in buyers? If they had a secret source of 300 million buyers, they wouldn't be hawking apps to the rest of us, they'd be riding a rocket ship with Jeff Bezos. Let's examine their claims further. (My comments are in Red)
They claim NeoCommissions is Everything You Need For Unstoppable Success, and includes:
Next generation marketing automation driven by artificial intelligence
DFY 'market-ready' profit pages in multiple lucrative niches
3-in-1 system includes free buyer traffic, list building & top-converting offers
Zero maintenance, updates or manual integration required
Ultimate 'hands-free' method is perfect for beginners & busy marketers
Duplicate the process of top-earners without worrying about competition
Grow buyer lists in multiple niches
Powerful maintenance-free platform
No experience or tech skills
Viral traffic built-in (over 300 million buyer source)
---
How Does NeoCommissions Work?
---
According to their sales page, NeoCommissions is built for speed. It achieves this by automating what used to be manual steps. Inside the app are DFY profit pages that come pre-loaded with everything you need. So there's nothing to set up, no content to create, and no settings to optimize. You just plug in and go. When it comes to making money online, now you can forget about learning curves, hard work, and even competition.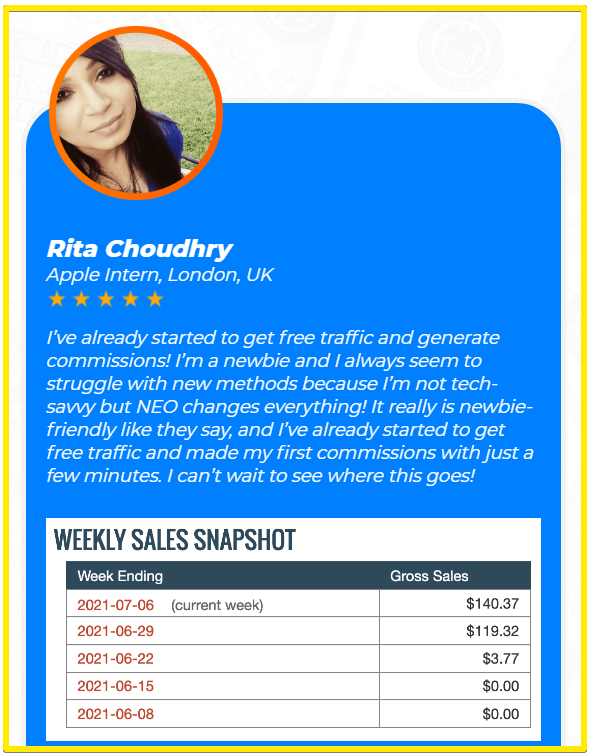 NeoCommissions uses advanced AI to do all the heavy lifting, with powerful done-for-you profit pages, built-in traffic & hands-free automation. It's an ultra-smart A-Z system that's ready to deliver right out of the box. (Sounds familiar right? But, if it was really this easy, we'd all be millionaires)
Now this is where it really gets deep. NeoCommissions claims to use Artificial intelligence that is ADAPTED to online marketing! ( it's a chat bot, you have to put in all the questions, there is no AI involved) Sure there's been a lot of hype around A.I. lately (including here 😉 ) But what we've done is used it to automate an already PROVEN income process. So instead of slapping up a new technology and 'hoping' it works.
We've used a rinse & repeat model of traffic, engagement & conversions. A system developed and battle-tested by Glynn Kosky, 7 figure affiliate marketer. Then used A.I. to automate it so there's absolutely no guessing or hard work. ( OK, they just added a chat bot builder to a landing page template site then have the ability to integrate with an email autoresponder to capture emails and build a list. Nothing that hasn't already been done.)
Of course, like most of these programs, all it takes is 3 easy steps! Man, I wish they would come up with something else. I guess we will buy anything as long as it only takes 3 steps.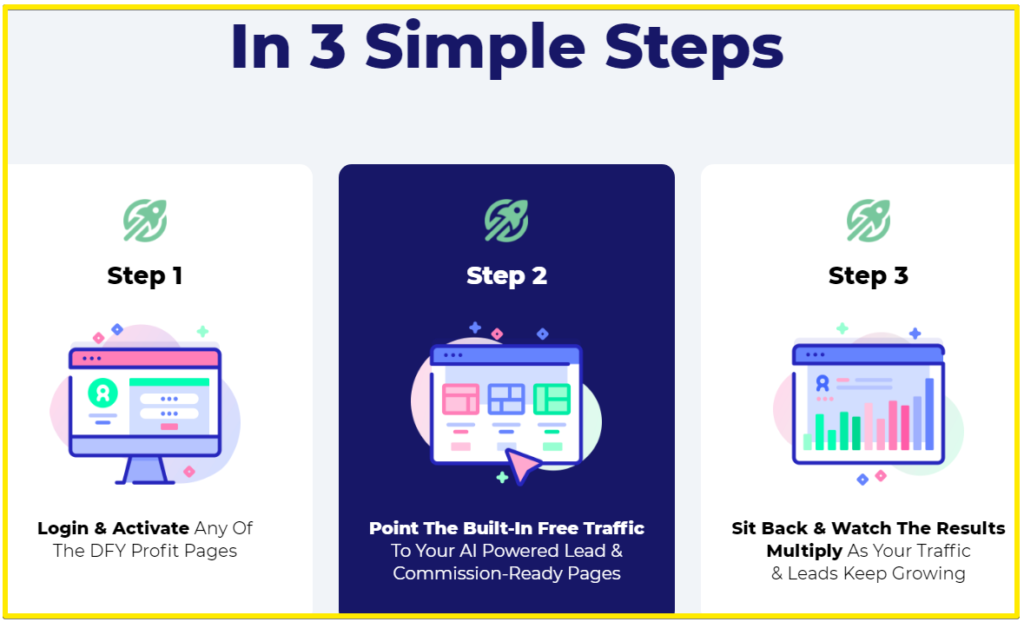 Features of NeoCommissions:
Done For You Profit Pages – You get multiple DFY profit pages fully-loaded and ready to go straight out of the box!
Just activate them ONCE and they run 24/7 converting visitors into leads, customers & sales. ( if you can get traffic)
Done For You Top-Converting Offers – We've sourced multiple under-the-radar, ultra-high converting offers that can generate 3-figure commissions each! Your access gets you automatically approved so you just paste your link where we show you, and that's all it takes! (Just Clickbank offers that anybody can promote)
Directly Integrated FREE Buyer Traffic – The NeoCommissions app integrates directly with our secret source of over 300 million buyers. You'll never need to pay for ads or create content to get traffic again.

(Need a large Social Media following)

Cutting Edge Customer-Generating Incentives – Each DFY profit page includes a high-value incentive Specifically designed to turn more visitors into customers & sales for you.
A.I. Driven – Automated List Building This is list building on steroids! The artificial intelligence inside engages each visitor just like a real person would …Which skyrockets lead conversions to grow lists faster than ever.

( Chat bot software integrated with your email autoresponder)

Artificial Intelligence Driven Consumer-Triggered Conversions – Your NeoCommission DFY profit pages are powered by the ultimate conversion technology. Invisible bots engage your page visitors instantly. For the highest lead & commission conversions we've ever seen.

( Nothing AI about this, been around for years)

Under-The-Radar Top-Paying Offers In Untapped Niches – Another reason NeoCommissions works so well? It's built around Glynn's incredible success finding and promoting offers most marketers never hear of. Competition never has to be your problem again.

( Yeah, not so much)

100% Perfected Automation Technology – We spent months perfecting and battle-testing the app until it was perfect. Activate your profit pages in a single click, and you'll never have to touch them again.
PREMIUM HOSTING INCLUDED – You get the same enterprise-level hosting we use on our money sites. Optimized for conversions at no extra cost to you. ( Cloud based, sub-domain landing pages)
CLOUD-BASED – Nothing to install, download or slow you down! Login, update & track results from anywhere.
POINT & CLICK BRANDING – Easily customize your DFY profit pages with your own colors, logos & banners.
STAND-ALONE PROFIT PAGE CREATOR – Scale up as high as you want with this next-level profit page builder. Leverage the same A.I. tech for incredible conversions on your own custom pages.

( Simple, but they do look nice)

100% BEGINNER FRIENDLY – We've gone above & beyond to make this platform incredibly user-friendly. So anyone can be up and running fast with zero tech skills or experience! ( It is very easy to use)
Scaling With NeoCommissions Is 'Push Button' Easy – Each DFY profit page you activate will grow your business. Attracting more traffic, leads, commissions and even free VIRAL traffic as the smart pages motivate visitors to share your link with their network.

( The "FREE" traffic depends on you having a large social media following)
NeoCommissions includes a series of on-demand video tutorials as well as available private coaching if you get stuck and need help. From the website, you can submit questions via the support tab 24/7/365, and they will get back to you usually within 24 hours.
NeoCommissions Pricing is as follows:
One-time fee of $17 for the initial offer with 6 additional up sells to as much as $197. With the up front offer you get the following:
Brand New NeoCommissions App – Worth $47/Month
Step-By-Step Video Tutorials + Profit Strategies – Worth $397
Built-In FREE Buyer Traffic – Worth $47/Month
AI-Powered DFY Profit Pages – Worth $997
Next Generation Conversion Technologies – Worth $47/Month
24/7 World Class VIP Support – Worth $297
$1,000 PER DAY Live Training – Worth $2,997
VIP SPECIAL BONUS – FREE Traffic Super Bundle – Worth $3,997
GET RESULTS OR WE COACH YOU FOR FREE! – PRICELESS
180 Day Unconditional Money Back Guarantee – PRICELESS (There is some fine print to this guarantee however: The Conditional Guarantee Is Not A Promise Of Payout Whatsoever. It's Merely There To Show You That We're Confident About What We're Offering. To Qualify For The Conditional Guarantee You Must Show Clear Cut Evidence That You've Done The Work And Asked For Help And We Weren't Able To Solve The Problem)
---
Who is NeoCommissions for?
---
NeoCommissions is designed for beginners. It is basically a chat bot builder attached to an affiliate landing page. The landing pages are well done and the Chat Bot itself is good and easy to use. Advanced marketers will most likely already have their own websites complete with fully functioning chat bots already and will therefore have no use for this software app.
To fully take advantage of this app you will need to spend additional funds for an email autoresponder and to run paid ads on platforms like Google and or Facebook. The "Free" traffic sources they offer are just social media sites that you will need to have either a large following already or the skill to build one. Otherwise, this traffic source will be useless.
---
Can You Make Money with NeoCommissions?
---
You should know my answer by now is always, YES, but. And, it's the but that always gets you. If you are willing to spend money to learn and run paid ads to these NeoCommission landing pages, you can make money. If you want to rely on their "so-called" built-in traffic, you will be disappointed unless you already have a large social media following on one of the platforms they promote.
All that being said, the chat bot software itself is fine and can be used to collect emails and build your list for re marketing. Again, if you can get traffic to the pages. So, just be prepared to spend some more money to fully utilize this app. If you are serious about building a long-term and profitable online business, you would be much better checking out my #1 recommended online marketing platform "Wealthy Affiliate".
---
NeoCommissions the Pros and Cons
---
In the table below, I have listed what are, in my opinion, the Pros and Cons of the NeoCommissions app. If you think you might be interested in this app, I recommend that you check it out for yourself, after all, it is your money and your business in the end.
| NeoCommissions Pros | NeoCommission Cons |
| --- | --- |
| Absolutely no content creation | Non-transferrable all your work stays on their site |
| No webhosting required | Traffic sources offered will not work for most |
| Beginner friendly and easy to use | Need additional funds for paid ads |
| Good Chatbot Software | Need additional funds for email autoresponder |
Just Be aware: These are sub-domain landing pages of their website. If you decide to quit the app, all of your work will be lost. You can't take it with you. And, to generate any significant revenue, you will need additional funds for paid ads. Their "FREE" traffic is non-exsistant.
As an added incentive to purchase NeoCommissions, they are offering the following Bonuses:
FREE Bonus #1 – $2,000/DAY From Home Profit Loophole – Worth $1,997


FREE Bonus #2 – Make Commissions In 60 Seconds – Worth $997
FREE Bonus #3 – $500/Hour ClickBank Affiliate System – Worth $497

FREE Bonus #4 – $5,000,000 Underground Internet Blueprint – Worth $497
Also, when you purchase, you Get Access To Their In-House Private Auto FREE Traffic Super Bundle. You'll get this additional bonus absolutely FREE as our way of saying thank you for being our customer.
AND THERE'S MORE – World Famous UNDERGROUNDTRAFFIC MASTERCLASS LIVE Training! On this live call, Glynn will be revealing a BRAND NEW method that has enabled him to generate traffic and commissions every single day for the past 6 months.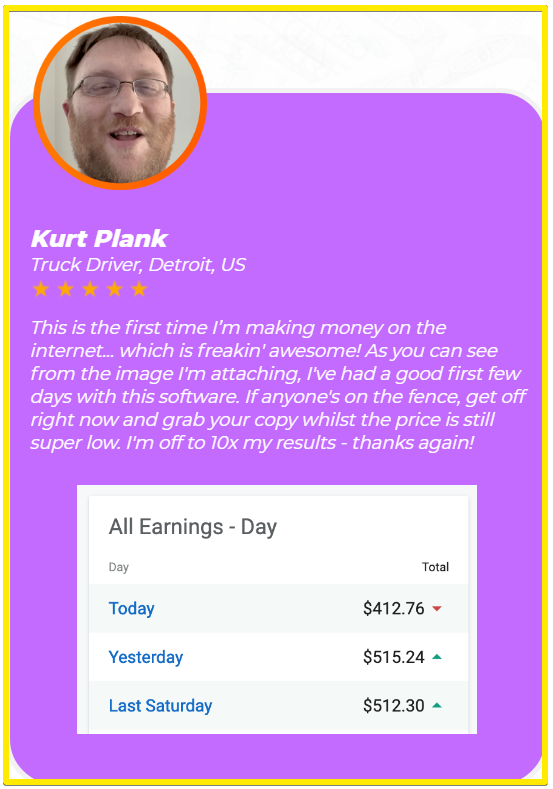 ---
NeoCommissions vs Wealthy Affiliate
---
The table below is a side by side comparison of the features of NeoCommissions App and the Wealthy Affiliate Platform. While NeoCommissions is a sub-domain landing page, at Wealthy Affiliate you will build you own fully functioning website that belongs entirely to you. If you decide to leave Wealthy Affiliate, you simply transfer your site to a new web hosting service and move on. You will be building a real, long-term and profitable online business that you can keep and grow or sell to someone else and then do it again. You can read my full review of the Wealthy Affiliate Platform Here:
---
NeoCommissions: The Final Verdict
---
The chart below is a breakdown of my overall rating of the NeoCommissions App. I rate it a 70 out of 100 only because the chat bot itself is OK and easy to use for the low up front price of $17. The rest of the app is pretty plain and simple. You can build much better pages on your own website and then they will be yours to keep. Anything you build on this app remains on the app even if you decide to quit using it.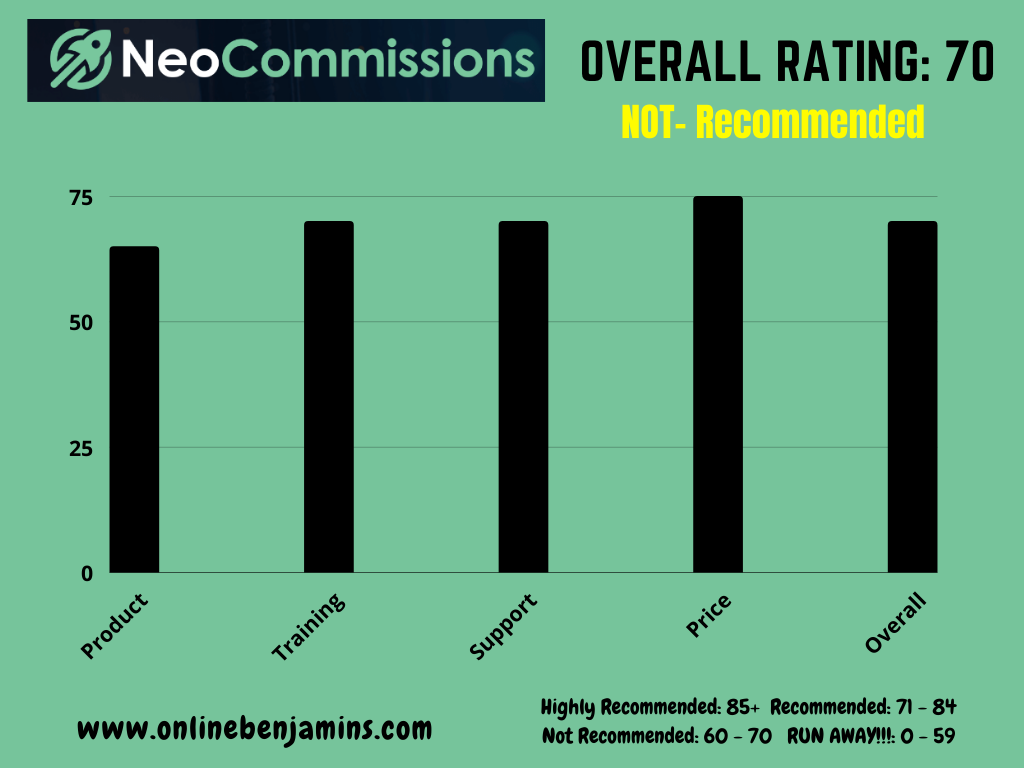 They also have 6 up sells to as much as $197 meaning that the up front price is just to lure you in and then they will follow-up with more and more sales pitches to get you to spend more money. Some very deceptive marketing tactics and It's for these reasons that I do not recommend this app. As you can see by their disclaimer below, the sales page is just the "Hype" or the shiny object. And, they even put a catch on their guarantee in the fine print which is a big RED FLAG.
NeoCommissions Disclaimer: Every Effort Has Been Made To Accurately Represent Our Product And It's Potential. Any Claims Made Of Actual Earnings Or Examples Of Actual Results Can Be Verified Upon Request. The Testimonials And Examples Used Are Exceptional Results, & Don't Apply To The Average Purchaser & Are Not Intended To Represent Or Guarantee That Anyone Will Achieve The Same Or Similar Results. Each Individual's Success Depends On His Or Her Background, Dedication, Desire And Motivation. As With Any Business Endeavor, There Is An Inherent Risk Of Loss Of Capital And There Is No Guarantee That You Will Earn Any Money.

The Conditional Guarantee Is Not A Promise Of Payout Whatsoever. It's Merely There To Show You That We're Confident About What We're Offering. To Qualify For The Conditional Guarantee You Must Show Clear Cut Evidence That You've Done The Work And Asked For Help And We Weren't Able To Solve The Problem.
---
I'm Looking forward to working with you,
Rex
P.S. Again, Wealthy Affiliate is COMPLETELY FREE to get started. No catch, no obligation, no bait and switch. I will personally be in touch with you upon joining to offer my support and guidance to help you get up and running online.
P.P.S. If you have any questions or are unsure of anything, I am here and I promise I will get back to you on all of your questions and comments. Just leave them below in the comment section. Follow me on Twitter: @onlinebenjamin1, Instagram: dotcomdinero, and Facebook: Online Benjamins
Hi,
Thanks for stopping by and congratulations for taking the first steps to building your own online business. I've been in business both offline and online since 1997. I would consider it an honor to help you build your business. Father of 3, life long outdoorsman with an education in Genetics and Economics. This site is about cutting through the BS and finding the real opportunities in the online world. I look forward to working with you.