P2P lending, or crowd-funding, has been around for a number of years. MyConstant is a P2P lender/investment platform where the loans are backed by cryptocurrency collateral. With Cryptocurrencies being the hot topic in the investment world now, we are going to take a look at the MyConstant platform and see if maybe it is something that is worth investing in.
Peer-to-peer lending, also abbreviated as P2P lending, is the practice of lending money to individuals or businesses through online services that match lenders with borrowers. Peer-to-peer lending companies often offer their services online, and attempt to operate with lower overhead and provide their services more cheaply than traditional financial institutions.
P2P lending platform is where one person lends to another in return for interest, without any third party getting in the way. Unlike bank lending, where the bank lends your deposits and keeps the lion's share of interest, P2P lending lets you keep all the profits yourself. In MyConstant's case, the platform acts as a trading hub where borrowers and creditors pick the best deal.
As a result, lenders like MyConstant can earn higher returns compared to savings and investment products offered by banks, while borrowers can borrow money at lower interest rates, even after the P2P lending company has taken a fee for providing the match-making platform and credit checking the borrower. There is the risk of the borrower defaulting on the loans taken out from best P2P lending sites for investors.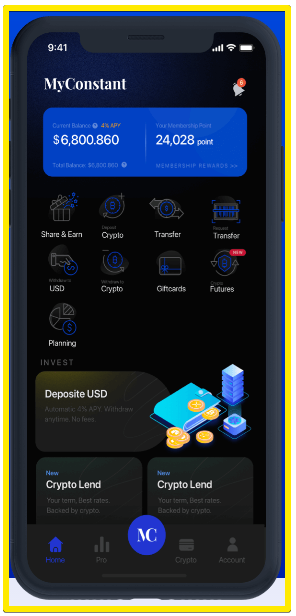 QUICK SHOT:
MyConstant is a P2P investing and lending platform that requires cryptocurrencies as collateral for it's loans. Investors get a higher rate of return with more flexible terms than with traditional banking institutions. Borrowers can get cash for their business needs much quicker, with no credit checks, and with flexible terms that match their needs. They get cash for their cryptocurrencies without having to sell it. P2P lending is, by nature, a riskier form of investing. But, if you have spare cash that you would like to get a better return on, MyConsant may be for you. Overall Rating: 85 out of 100 RECOMMENDED.
What is MyConstant?
---
What is MyConstant?
MyConstant is a multi-market P2P investment platform based in the US. It offers two different investment products with interest ranging from 4% APY to 9% APR. You can lock your money away for 1-6 months for the best rates or choose anytime-withdrawals for flexibility. There are no fees, 24-7 customer support across email, telephone, and social media. MyConstant also provides a free library of resources to achieve your financial goals, fast. 
Our goal is to give you the best financial tools in the world and the expertise to use them. That means continuous development of our technology, making it faster, cheaper, and more secure, and giving you all the helpful content you need to take advantage of it. Our job is to help you do more with your money. To give you great interest rates on compound interest investments and easy access to credit when you need it.
Product: MyConstant
Website: myconstant.com
Owner: CONST LLC a Delaware Corp.
Niche: P2P lending and Investing
Price: 14-day Free $4000 account Trial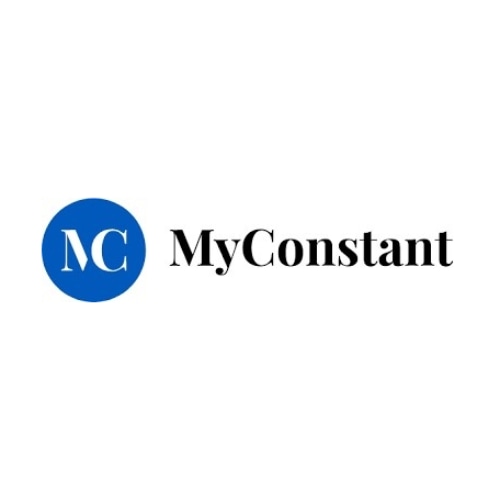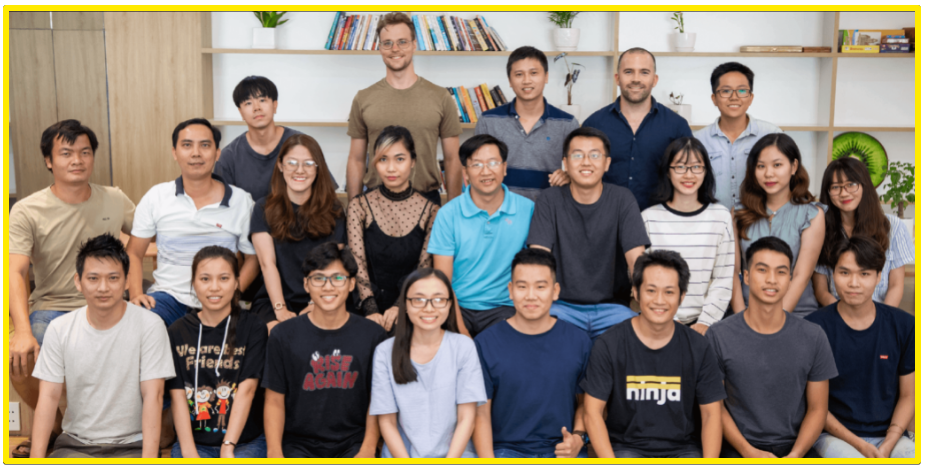 We wanted to help people grow their money. Like the rest of the world, we'd experienced first-hand the problems with traditional banking. The miserable interest rates, the huge fees, the slow, inefficient systems. So, we began thinking about how we could pay a great interest rate on our stablecoin. Digital currencies are versatile. They move quickly, freely, and are protected by the blockchain technology underpinning them – surely we could put those efficiency savings to work?
After a lot of discussion, we set our sights on an industry that – until now – has had a mixed reputation: peer-to-peer (P2P) lending. The problem with P2P lending, as we saw it, was too much centralization and too little use of collateral. P2P lenders were doing what banks did – setting rates, evaluating risk, and so on. Ultimately, this takes control away from you, the customer. So, we built a P2P lending platform that would do two things:
1.) Give you control over amounts, rates, and terms. We're the only P2P lending platform in the world to offer this (as far as we know).
2.) Secure all lending with collateral. This protects your funds and means we never do credit checks. Back then, we were a humble stablecoin project
We had developed an efficient, borderless, and stable digital currency, backed by the US Dollar, which we launched at CES 2019 in Las Vegas. Our stablecoin (CONST) offered stability for people in troubled economies: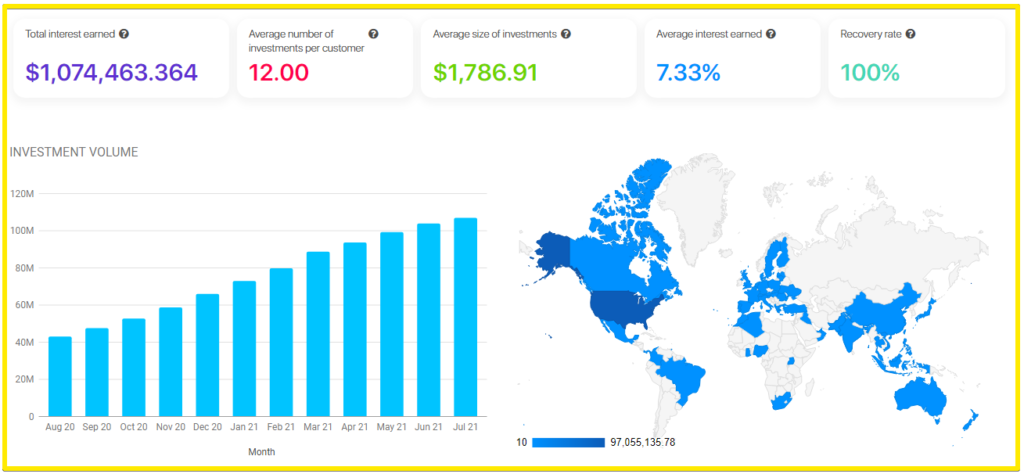 – It cut the cost of international transfers.
– It slashed processing times from days to minutes.
– gave everyone access to a free USD account.
– Fully Secured Peer To Peer Lending.
Unlike traditional P2P platforms that prey on vulnerable borrowers and expect investors to shoulder the risk, MyConstant is designed to protect them both. P2P lending allows you to invest in people and businesses around the world for up to 7% APR. All lending is backed by cryptocurrency collateral.
Earn across multiple markets, spreading risk and maximizing reward. No investing fees. Free USD withdrawals. 24-7 customer support. Or borrow against 71 cryptocurrencies from just 6% APR. Get the cash or crypto you need instantly without having to sell your portfolio. Your crypto is securely stored and returned to you when you repay.
How Does MyConstant Work?
---
MyConstant is a collateral-backed peer-to-peer lending platform. Every crypto-backed loan is backed by collateral of up to 200% of the loan amount, which is sold if borrowers default or if its value falls to a threshold, protecting investors (borrowers keep the loan).Unlike other platforms, MyConstant pools investor funds into a lending pool or reserve.
This means you match instantly, whether you're a borrower or an investor. They don't do credit checks and investors can choose instant access investing or one of three fixed terms for our best rates. As well as providing you with a platform on which to do business, they also believe in giving you the educational resources to reach your financial goals, fast.
MyConstant connects investors with borrowers to do business together. Crypto collateral backs investors' funds while their custodial partner safely manages the movement of funds and collateral. When you invest with them, you first send your funds (either fiat like USD or stablecoins) to their custodial partner Prime Trust, an accredited US financial institution.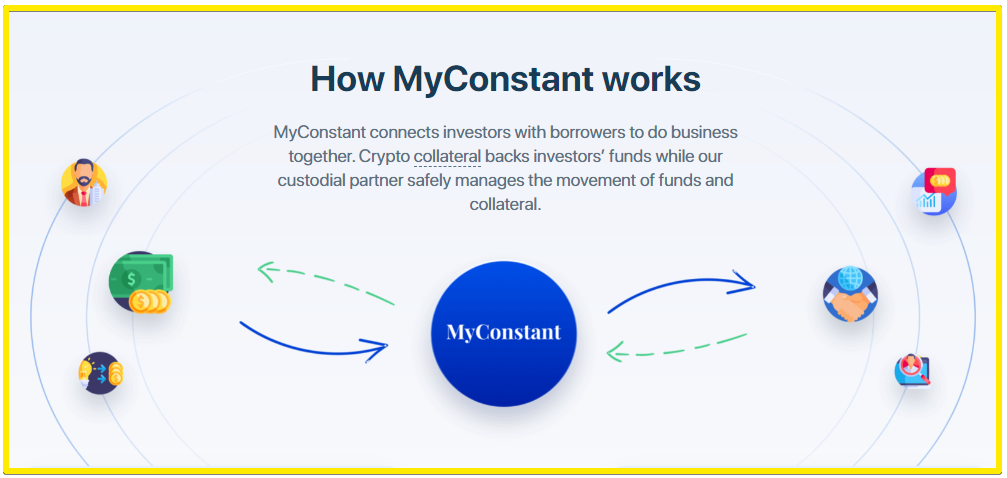 Prime Trust then converts your funds to a relevant stablecoin which they then lend on your behalf to collateralized borrowers, liquidity pools, and decentralized exchanges in return for interest. When you're ready to withdraw, Prime Trust converts your invested stablecoins back to the relevant currency of your withdrawal request. There is no charge or fees for fiat (USD etc) withdrawals. You'll keep the interest you earn up to the moment you withdraw your funds.
You can choose their instant access account or invest for a fixed term. Their instant access account has a 24-hour term that's automatically extended every 24 hours unless you choose to disable the product or withdraw your funds. All account statements for MyConstant investment products are stated in USD equivalent terms at all times. Investors deposit any amount and choose to either Lend USD or Lend Crypto. On MyConstant, you also have full control over the term with a choice of anytime withdrawals or 1, 3, and 6-month fixed terms. Or, you can Borrow against more than 70 different cryptos!
They've added over 40 new cryptocurrencies. With 71 supported cryptos in total, you can now leverage an even bigger credit line against your portfolio. They work with independent third-party financial institutions such as Prime Trust to provide cash management for the fiat deposits (government issued currencies like the US dollar) backing MyConstant tokens, ensuring that all MyConstant tokens in circulation are matched by an equal amount of fiat deposits. To achieve this, the fiat deposits backing MyConstant are held in one or more depository accounts at US banks or trust companies whose deposits may be insured.
Anyone can participate, as long as you have an internet connection (to use their website) and access to a bank account (to receive a loan or repayment).
If you intend to invest fiat (USD), you will also need to pass their KYC (Know Your Customer) checks. In addition, all investing, currency conversion, and fiat (USD etc) withdrawals are free.
They make a slim profit on the difference between the interest rate you earn and the rate charged to the borrower.
What are the Risks Involved in P2P Investing?
There are risks involved, even in the best P2P investing sites for investors, just like all investments. MyConstant has gone to great lengths to minimize and control these risks so you can feel reasonably safe about your investments with MyConstant.
1.) Borrower default – This is the risk someone you've lent to either can't repay or runs off with your money. If the borrower fails to repay the loan originator, you won't receive your share of the payment.
How they manage it. – First, they review how the lending company lends to its borrowers, how it conducts its loan monitoring as well as how it pursues the debt recovery process in the event of default. This forms part of the loan originator's MyConstant Rating, which you can use to assess the quality of their book of borrowers. Every loan also comes with a buy-back guarantee from the loan originator. If borrowers default for 60 days or more, the loan originator will buy back the loan from you, repaying your principal and earned interest. All lending is up to 200% backed by collateral. If borrowers default, collateral is sold to repay you.
2.) Loan originator default – If the loan originator can't honor the buy-back guarantee, you will lose part or all of your investment.
How They manage it. – To ensure they onboard loan originators capable of honoring the buy-back guarantee, they conduct a thorough due diligence process. First, they assess every loan originator's profile, background, corporate documents, lending practice and credit policy, historical loan performance as well as their financial strengths. Then they analyze the key indicators of the lending company's operational control, risk management, and most importantly, its financial health via its audited and interim financial statements.
They also take into account management experience and qualifications and the lending company's transparency and openness. All these assessments go into our rating model and They assign a MyConstant Rating to the lending company. This MyConstant Rating is a guide to the overall quality of that loan originator, and consequently, indicates its potential for default.
3.) Country risk – Loan originators and borrowers may be from different countries with different markets, jurisdictions, economic conditions, regulatory frameworks, or political stability. These factors are outside of the borrower's control and could affect their ability to repay, which might mean you miss out on your share of the repayment.
How They manage it. – While these risks are also outside of MyConstant's control, they take country risk into consideration when calculating the loan originator's MyConstant Rating. They also display the countries in which the loan originator lends, and with Manual Invest, you can select loans by country to manage country risk.
4.) ForeignCurrency risk – Since the loan originator receives payments in foreign currency, if that currency substantially depreciates against the US Dollar, the loan originator might not be able to repay via the MyConstant platform.
5.) Operational risks – All loan originator loans require international transfers that can take several days to process. During this period, you won't generate a return from pending repayment settlements.
How they manage it. – They're exploring ways of cutting down on transfer times, such as net settlement (where amounts owed between you and the loan originator are deducted immediately from amounts received).
6.) Market crashes – A "flash crash" might affect their ability to sell collateral at a price that returns your principal and earned profit.
How they manage it – All non-stablecoin backed lending is minimum overcollateralized at 150-200% of the loan amount. They only accept cryptocurrency collateral that is liquid and backed by the best technology and leadership team. Borrowers are notified three times before they sell collateral, giving them the option to repay or top up their collateral.
7.) Custodial risk – This is the risk of us holding your funds or digital assets, such as theft and loss risk.
How They manage it – Prime Trust, their custodial partner, is an accredited US financial institution and a leading cryptocurrency and fiat custodian. Prime Trust holds all uninvested fiat (USD) in multiple insured bank accounts with an indemnity limit of $100M. Digital assets are either safely stored in a cold wallet with Prime Trust, an Ethereum smart contract, or a password-protected web wallet hosted on a dedicated server (to which only our CEO and CFO have access). Currently, they forward funds and borrower collateral to Prime Trust, but eventually, you will transfer to Prime Trust directly, without them ever touching your funds or cryptocurrencies.
MyConstant Customer Service
In their mission to be the most transparent crypto-backed lender, they launched live chat – a public forum where you can start conversations with us or our customers. Find out what people think of our platform, share investing tips and strategies, or reach out to our customer support team when you need help. MyConstant's customer service team works 24/7, providing round-the-clock support no matter where you live. By phone, email or live chat.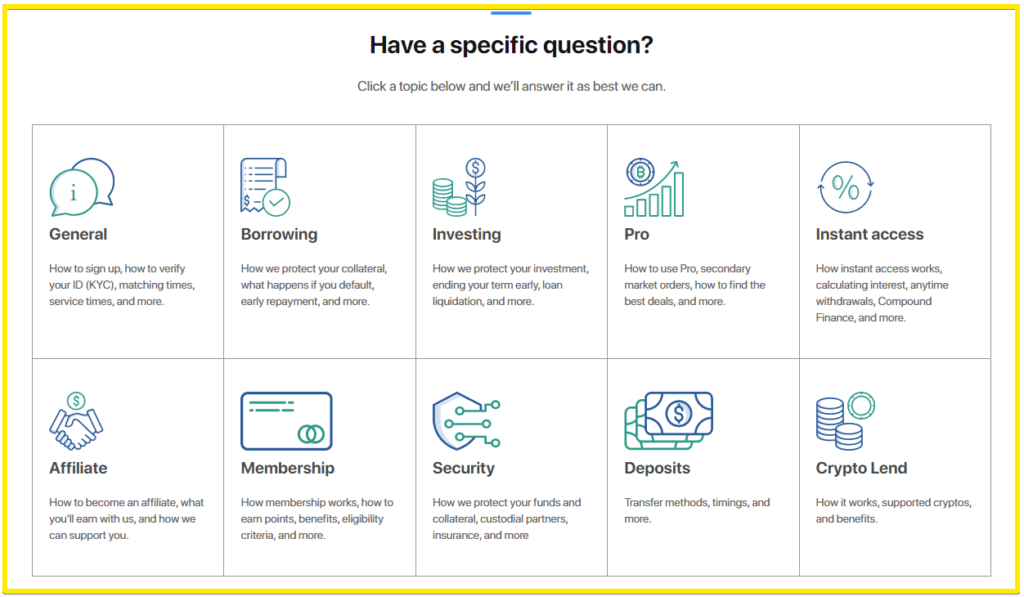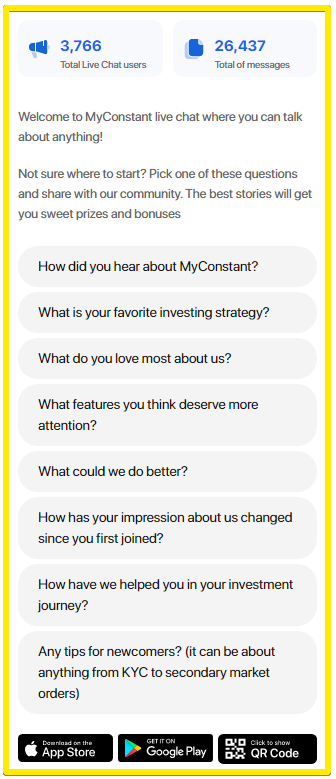 MyConstant Guarantee – Scope of Protection
MyConstant is committed to protecting you from loss or theft of cash and cryptocurrency assets while in our custody or that of third parties. As a result, They have set up the MyConstant Guarantee, a mixed-asset fund (cash and crypto) worth $10 million stored across bank accounts and cold wallets. The MyConstant Guarantee is designed to reimburse some or all losses incurred by you in the following scenarios:
Theft or loss of your cryptocurrency while in our custody or that of third parties, and
Theft or loss of your USD or stablecoins in our custody or that of third parties
Where MyConstant or the third-party is at fault only. The MyConstant guarantee does not cover scenarios in which you have failed to take recommended precautions to safeguard your cash or cryptocurrency assets, nor does it cover the inherent risks associated with investing in crypto-backed lending.
Risks where the MyConstant Guarantee applies include (but are not limited to):
Cyber risk. Should an attack on MyConstant servers result in loss or theft of cash or cryptocurrency assets, you'll be reimbursed some or all of your lost funds.
Loss of private keys. Should MyConstant or a third-party lose the private keys to your assets, you'll be reimbursed some or all of your lost funds.
Custodial risk. Should your cash or cryptocurrency be lost or stolen while in our custody or that of a third party, you'll be reimbursed some or all of your lost funds.
Risks where the MyConstant Guarantee does not apply (include but are not limited to):
Default risk. Such as when borrowers don't repay and the collateral mechanism fails (or if there is no collateral such as in Loan Originator investments).
Market risk. Such as the risk of collateral devaluation resulting in a loss to you.
Personal security risk. Such as identity theft, theft of 2FA devices, theft of login credentials, and so on where the mitigation of such risk is under your control.
Please note the MyConstant Guarantee is not an insurance and all decisions to reimburse you for qualifying losses are ours. Such decisions are non-negotiable and final. If you're concerned about the aforementioned risks please consider whether MyConstant is the right platform for you. All investment involves risk and the MyConstant Guarantee will not cover them all.
Who is MyConstant for?
---

MyConstant is for anyone who has money to invest that is looking to get a better rate of return than offered by traditional banks and savings and loans. As with any investment, never invest money that you can't afford to lose. You can participate in much more flexible term loans as well and earn either dollars ( government currencies) or Crypto currencies. Anyone with an internet connection can participate and their are no transaction or withdrawal fees.
If you have digital currencies and need a business loan, you can borrow against your crypto currencies with no credit check through the MyConstant platform.
No lengthy applications, or board approvals, or tax returns required. You borrow based on the collateral you have to secure the loan.
You pay a higher rate than traditional loans, but you get your cash faster and without all the banking hassles of a traditional business loan.
Can You Make Money with MyConstant?
---
You can make money with MyConstant in several ways. You can invest your extra savings with deposit online at MyConstant where you will Get a better return. Earn an automatic 4% APY on your deposits and you can withdraw at anytime without penalty or fees. Alternately, you could lend your deposits on your terms for an even higher (currently 6% APY) rate of return. The money you loan is backed by crypto currencies.
If you own cryptocurrencies, you can deposit them with MyConstant and earn 4% APY interest on crypto. If you need to borrow and have, or can get, cryptocurrencies for collateral, you can get cash for your business without having to sell your crypto. You can select the terms of the loan that you're most comfortable with and get the cash you need quickly and with no credit checks.
MyConstant the Pros and Cons
---
The table below is what are, in my opinion, the Pros and Cons of the MyConstant platform. P2P lending comes with higher risks than traditional lending, so never risk money you can't afford to lose. You can earn a higher rate of return on your savings and earn it as dollars of cryptocurrencies. If you think MyConstant may be of interest to you, I suggest you check it out for yourself. Click the button below and MyConstant will give you $4000 to invest with them for a 14-day Free trial of the platform. After the 14 days, they will take back the $4000 but you keep all the interest you earned.
| MyConstant Pros | MyConstant Cons |
| --- | --- |
| Higher returns for investors | P2P loans have a higher risk of default |
| Flexible investment terms | Not FDIC insured |
| Cryptocurrency backed loans | Borrowers pay higher rate than bank loans |
| Borrowers get quick cash with no credit check | |
| Free $4000 trial account | |
Just Be aware:
MyConstant is not a bank or deposit account, nor is it a regulated financial institution. MyConstant tokens are not financial instruments. No interest will be paid on any funds or other assets held in your MyConstant account and all assets directly held by us are not insured by us or, except as set forth below, any third party or any government agency.
MyConstant: The Final Verdict
---
MyConstant is a great alternative to traditional lending. They offer higher rates, much more flexible terms and they don't charge all the pesky fees that normal banks charge. If you have cash in a bank account or CD earning next to nothing, MyConstant could be an option for you to earn up to 6% APY currently and choose your own investment terms.

If you are in business and need a loan. MyConstant can offer good rates, quick cash, and no credit checks if you have (or can get) the cryptocurrency for collateral. You can get the cash you need for your business without having to sell your cryptocurrencies and without having to fill out the mountain of paperwork and wait for days or weeks with a traditional loan.
No borrowing limit: You can only borrow up to $50,000 per order, but you can make as many orders as you like. (As long as you have the collateral to back the loans).
Withdraw in USD or crypto: MyConstant allows you to trade your loan for cryptocurrency, searching multiple exchanges for the best prices. We never charge trading fees.
Flexible terms: You can borrow any amount for 1, 3, or 6 months.
Auto top-up: Add a little extra collateral and if the market drops, your loan is automatically topped up to avoid liquidation (the sale of your collateral).
Secure escrow: Your collateral is securely stored in password-protected hot wallets and returned when you repay.
No credit checks: MyConstant simply requires at least 150% to the loan amount in crypto as collateral.
Payment within minutes: Once you pay the required collateral, you will get your USD loan (or its equivalent in a chosen crypto) within minutes.
Right now, MyConstant is offering a 14-day trial account for new investors. They will fund it with $4000 and you can invest it or loan it for the 14-days. At the end of the 14 days, they take back the $4000 but let you keep all the interest you earned on it. Great deal, and better than no-risk, it's not even your money. 😉
I'm Looking forward to working with you,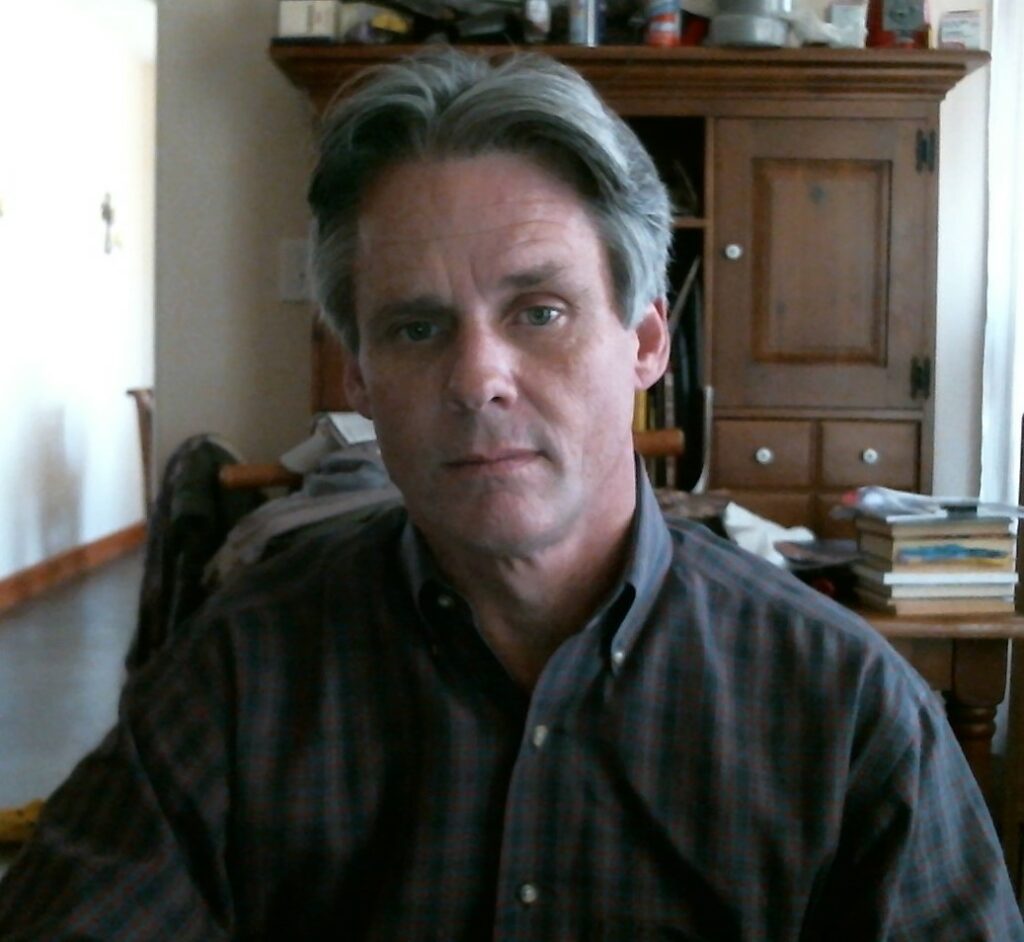 Rex
P.S. If you have any questions or are unsure of anything, I am here and I promise I will get back to you on all of your questions and comments. Just leave them below in the comment section. Follow me on Twitter: @onlinebenjamin1, Instagram: dotcomdinero, and Facebook: Online Benjamins
Hi,
Thanks for stopping by and congratulations for taking the first steps to building your own online business. I've been in business both offline and online since 1997. I would consider it an honor to help you build your business. Father of 3, life long outdoorsman with an education in Genetics and Economics. This site is about cutting through the BS and finding the real opportunities in the online world. I look forward to working with you.