The new CryptoProfit App by Glynn Kosky is promoted as giving affiliate marketers a quick and easy way to establish cryptocurrency affiliate sites and make money from the cryptocurrency craze. By now, everybody has heard of cryptocurrencies like Bitcoin, Dogecoin, Etherium and on and on. As an affiliate marketer, you can make money on cryptocurrencies without ever owning them.
Now, cryptocurrencies are basically digital money. They are produced (mined) and stored on a network of computers spread all over the world. The theory being that they are limited to a maximum number, and by being stored on computers, every transaction can be verified. The important thing for us as affiliate marketers to know, is that people currently are crazy about crypto.
Cryptocurrency, bitcoin & NFTs ( Non-fungible tokens) are making news everyday. They are the latest fad in saving and investing, and yes speculating. And, they are not just for billionaires, everybody seems to jumping on the crypto band wagon. But, as with anything new and growing at this rate, there are potential problems. Cryptocurrencies are volatile and millions are made, and lost, on a daily basis. Recently, one tweet from Elon Musk caused a huge drop in the price of Bitcoin overnight.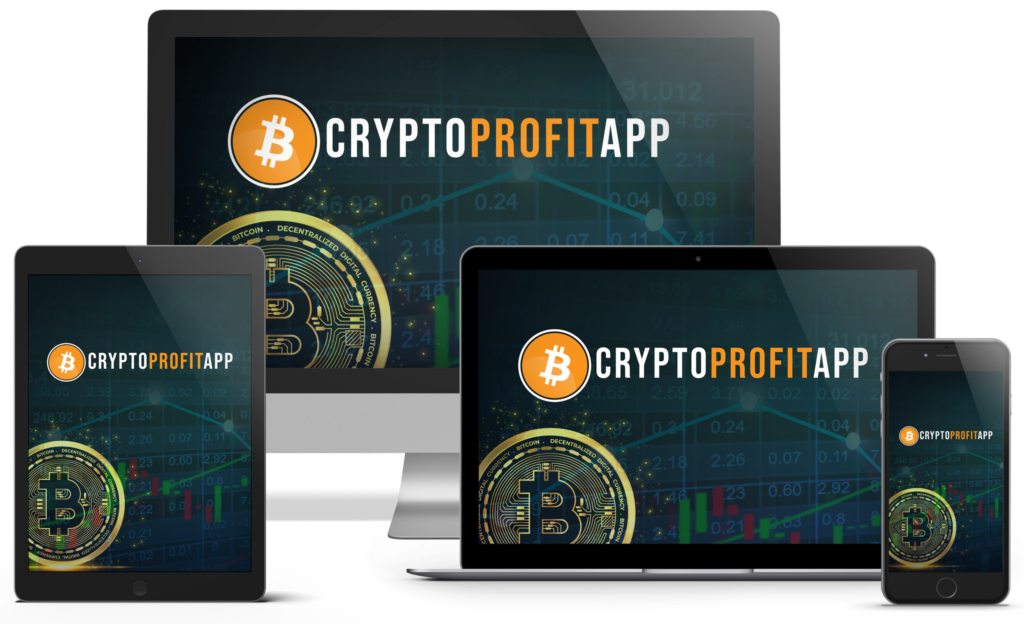 ---
The CryptoProfit App is promoted by it's developer, Glynn Kosky, as a quick and easy way to tap into this cryptocurrency craze and make affiliate commisions. So, let's take a look and see if it lives up to all the claims and hype. And, if you can actually make money with this app or not. Then we'll compare it to my #1 recommended affiliate marketing platform side by side.
QUICK SHOT:
CryptoProfit App is another cloud-based, drag and drop, done-for-you, affiliate marketing app. This one is focused on the current cryptocurrency craze. Very similar to the CryptoCommissions App we reviewed previously, these sites will have a difficult time getting ranked in the search engines being sub-domain sites. The practice of scraping video content from other creators is less than optimum, and you most likely will need to invest additional funds for paid ads to generate any significant revenue from this app. Therefore I give it a rating of 63 out of 100, NOT RECOMMENDED.
---
What is CryptoProfit App?
---
The CryptoProfit App is the latest, cloud based, affiliate marketing app by 7-figure internet marketer Glynn Kosky and his team. The App is a beginner freindly DFY (done-for-you) cryptocurrency affiliate site builder. Similar to their CryptoCommissions App we reviewed previously. It has been designed to "scrape" (copy) cryptocurrency content from YouTube and post it on your afiliate site.
The app includes connections to many of the most popular cryptocurrency trading platforms where you can sign up as an affiliate. The theroy is that someone comes to your site to check out a video or article, clicks on a link to one of these trading platforms and you earn a commission for each new sign up. In other words, you make money from cryptocurrencies without any of the risk of owning them yourself.
CryptoProfit APP
Product: CryptoProfit App
Website: cryptoprofitapp.com
Owner: Glen Kosky
Niche: Crypto Currency Affiliate Marketing
Price: $17 plus 5 upsells to $197
Overall Rating:

63 out of 100 NOT Recommended
The World's First App For DFY Auto-Updating Crypto-Affiliate Sites. Most crypto-affiliate sites use "static" content … so it's up to you to update content manually, if at all. What they've done is developed AUTO-UPDATING, done-for-you crypto-affiliate sites. In a single click, your site updates with the latest cryptocurrency video content. This 1st-of-its kind DFY platform plugs you right into the profitable cryptocurrency niche.
The Auto-updating technology built into your sites means you can be profit-ready in minutes without knowing anything about crypto, bitcoin or NFTs. Without Creating content, Recording or uploading videos, Building websites or finding offers to promote. Ok, so how does it work? Let's check out their sales material and see if we can cut through the hype and get down to the brass tacks, so to speak. My comments are in RED.
---
How Does CryptoProfit App Work?
---
AGAIN, Just THREE Super Simple Steps. Geez, where have we heard this before? Only three steps must be the magical marketing tip of the century. Evidently we will buy anything if you can do it in 3 steps. 😉 The following are the key features of CryptoProfit App.
STEP 1 – Click The Red Buy Button To Secure Your Copy Now
STEP 2 – Login & Enter Your Details Into The System
STEP 3 – Switch On The Built-In Traffic & Watch Continuous Crypto Traffic Flood Your Brand New Sites!
CLOUD-BASED – Nothing to install, download or slow you down, just Login, update & track results from anywhere.
POINT & CLICK BRANDING – Easily customize colors, logos, banners & even upload your own content for sites visitors remember. The app is easy to use and allows for quick and easy customization. With CryptoProfit App You're Set For Success. Your stunning new crypto sites are optimized to convert by a leading crypto super affiliate!
These monetized DFY sites – come loaded & ready-to-go with: FREE crypto traffic from secret source of 300 million buyers (Not really, just a bunch of social media sites you can go and post your link. unless you already have a big social media following, or know how to create one, this traffic will never materialize.)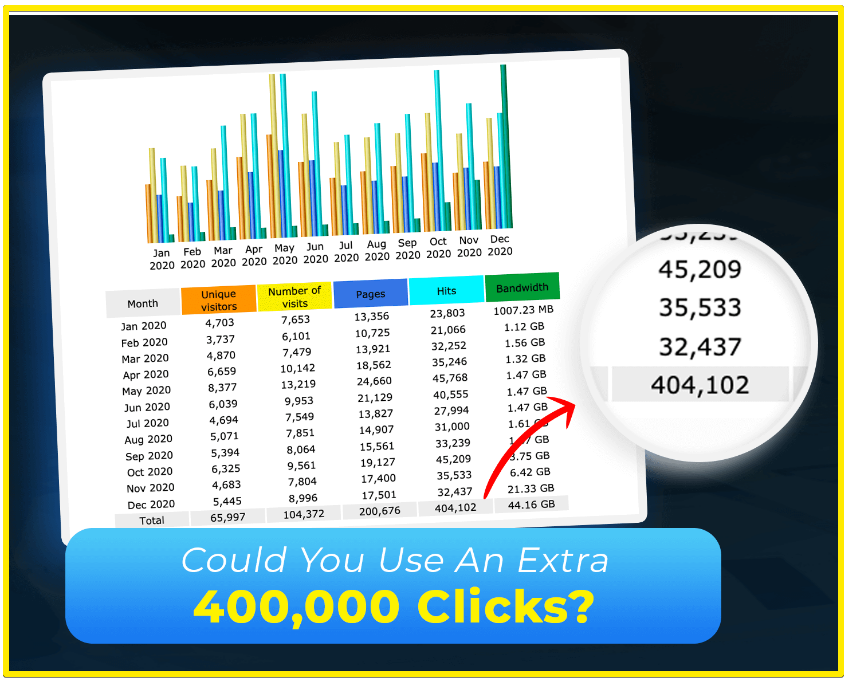 AUTO-UPDATING – content buyers come back for day after day. (Copying and pasting other peoples video content to your site will eventually get you in trouble, with google, and potentially with the video creators)
Top-converting offers for earning commissions & free crypto! (Links to various crypto currency trading platforms are included. You still have to go and sign up yourself and Glen gets a commsiion when you do 😉 )

Here's some of the claims of CryptoProtit App.
✅ Automated, free & perpetual crypto buyer traffic built in

(again, nothing but a list of social media sites some of which have nothing to do with crypto or investing.)

✅ Earn free crypto & bitcoin

( you can choose to get any commissions earned paid in crypto currency)

✅ All-in-one profit solution

( they say that about every app they produce)

✅ High ticket & recurring commission offers included

( but you still need traffic to see those offers and click on your links)

✅ No experience or tech skills

( it is a point and click app)

✅ Auto-updating sites on today's hottest crypto & NFT topics

( again, just copy others work)

✅ Hands-free list-building

(if you can get any traffic, you can collect emails)

✅ Exclusive one-time price *while it lasts*

( don't fall for it, the price is the same and lasts as long as they support the app)
The $10k Per Month Affiliate System and FREE Training
A Proven Business Plan
Hi, I'm Rex McMahon, Affiliate Marketer and Entrepreneur.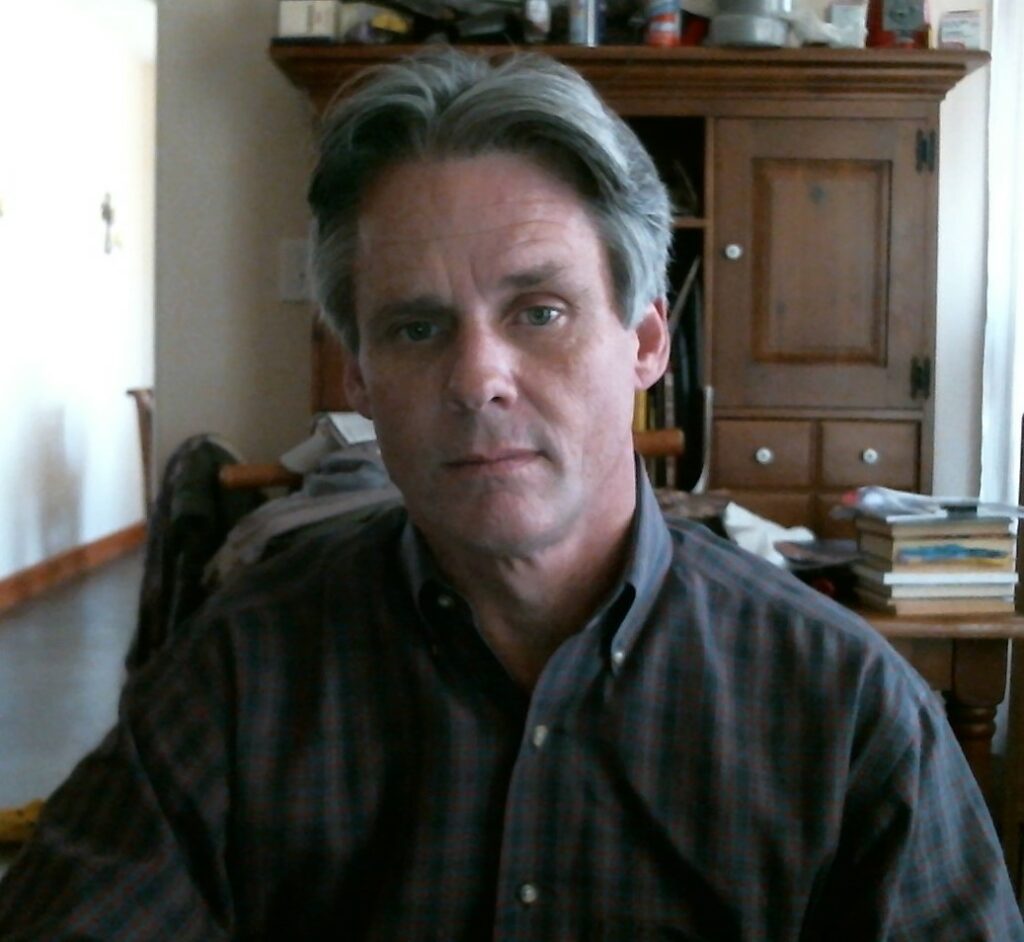 Join me and over 75,000 Others and Follow The Super-Simple Four Step System we Use To Sell Products Online Each and Every Day Like Clockwork! Best of all, It's FREE and it Works!
Let's take a closer look at some of these features they list for CryptoProfit App:
High Ticket And Recurring Crypto Affiliate Offers Included with recurring commissions. CryptoProfit App sets you up with both right out of the gate. Your site will feature recurring offers from some of the industry-leading crypto platforms. These are top-converting crypto offers that can generate up to 3-figure commissions.
Built-In Continuous Crypto Buyer Traffic 100% Free. ( just social media sites, no real traffic source)
AUTO-UPDATING content that gives people the real time info they need To act on your offers before anyone else's. (copying other creators work, eventually will get flagged as duplicate content making it even harder to rank and get search traffic.)
BUILT-IN LEAD GENERATION So you can grow lists of targeted crypto customers to maximize your results today AND tomorrow. ( Sure, if you can get traffic to your site you may be able to get them to give you their email address)
Cutting Edge, 1st-Of-Its-Kind App, does it all for you, DFY sites, traffic and more! There's literally NOTHING for you to learn or apply with this!
Content >> Done For You

( copied, plagerized, stolen)

Affiliate offers >> Done For You
Free buyer traffic >> Done For You

( well, not so much)

You'll never need to pay for traffic

( you will if you want to make any significant money)

You'll never need to learn a thing about crypto unless you want
You'll never have to wait to get approved for offers
You've Got An All-In-One Crypto Affiliate System Ready For Success!

(if it was, it wouldn't be $17)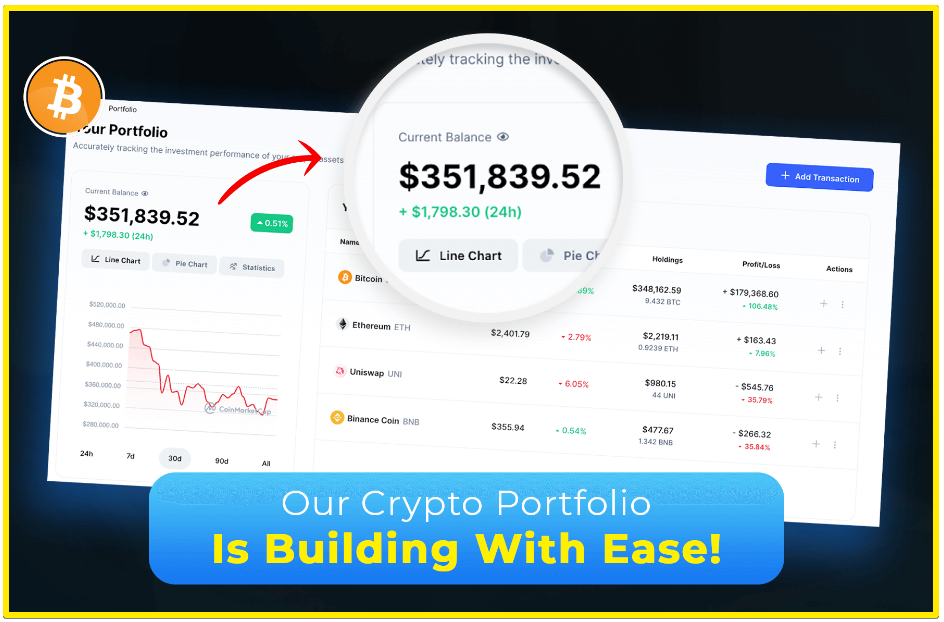 CryptoProfit App Tools and Training
There are several on demand video trainings to walk you through the set up process and customization of the app. And, for a limited time, you can get MULTIPLE done-for-you sites included for one low price. There is a support tab on the CryptoProfit app website if you have any problems or questions you can submit them there and someone will get back with you.
CryptoProfit App Pricing
CryptoProfit App is offered for a one time fee of $17. The list to the right is what comes with your initial purchase. Of course, there are 5 additional upsells to $197 that will be offered to you as well. They do offer a full 180 Day Money Back Guarantee. Try CryptoProfit App for up to six months and if not satisfied, you can get a full refund. (make sure you purchase through WarriorPlus, just my tip to you if you want to make sure you get your money back)
Brand New CryptoProfit App Software – Worth $47/Month
Step-By-Step Video Tutorials + Profit Strategies – Worth $397
Built In Buyer Traffic – Worth $47/Month
Done For You Affiliate Crypto Sites – Worth $997
24/7 VIP Support – Worth $297
$1,000+ PER DAY LIVE Training – Worth $2,997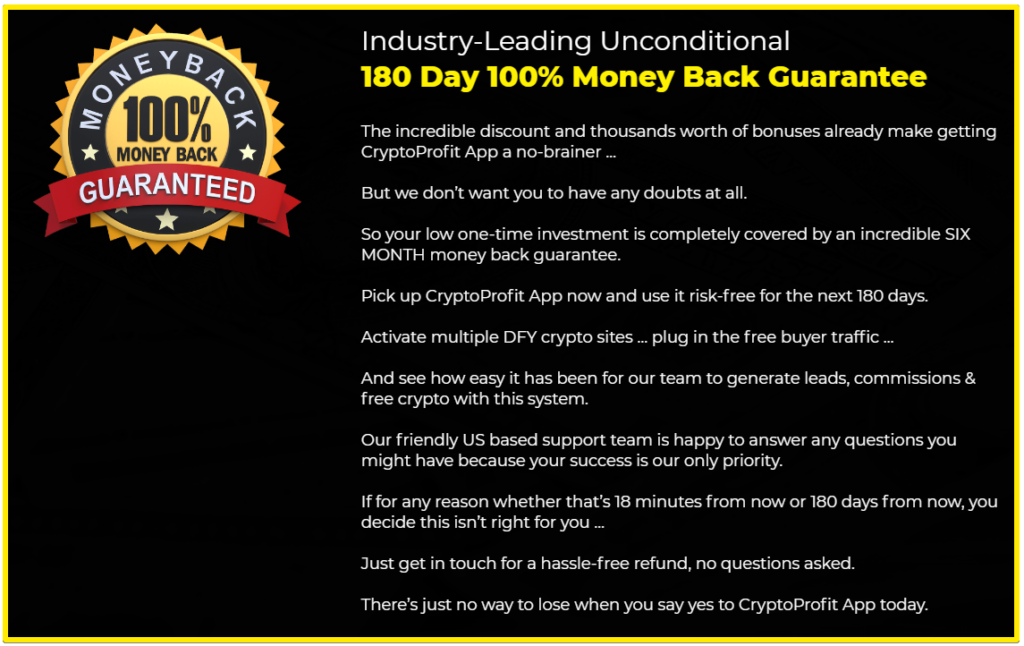 ---
Who is CryptoProfit App for?
---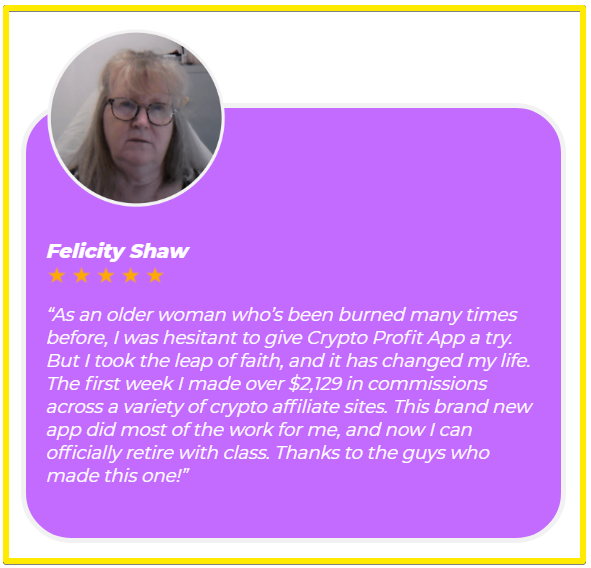 The CryptoProfit App is for the beginner internet marketer or someone who knows absolutely nothing about cryptocurrency and wants to capitalize on the current crypto craze. Advanced marketers will find this over simplified and will shy away from the "auto-updating" content copying feature. Also the more advanced marketers will already know how to build a real cryptocurrency affiliate site, generate original content, and build site authority for SEO "Free" Traffic.
These apps all have the same problems. You are building a sub-domain site of their website. These sub-domain sites are extremely hard to get ranked on the search engines and therefore will not generate much if any "free" traffic. And, if you decide to leave the app, or they decide to no longer support it, your site goes away along with all of your work.
Face it, nobody is going to give you the secrets to becoming the next cryptocurrency millionaire for $17. So, buyer beware. The sites do look nice and professional and it is an easy point and click, drag and drop app. But to produce any significant revenue you will need to spend money on ads to drive traffic to your site.
---
---
Can You Make Money with CryptoProtit App?
---
I get this question about everything I review and it's a legitimate question. And, my answer is almost always the same. Yes, you can, BUT! It's the but that always gets you. If you put in the work and spend some money on paid ads to drive traffic to your site, you can potentially make some money with the CryptoProfit App. Otherwise you are going to be disappointed. Be careful with these "customer testimonials" many are fake.
Their claims of 300 million buyers and free traffic sources are not realistic. There are no quick and easy, or get-rich-quick systems in the online business world. Just like any business, you will have to put in the work, time, effort and money to see any results, If you are serious about cryptocurrency affiliate marketing check out my recommended platform, Wealthy Affiliate, below. You will get the tools, training and support you need to build a real, long-term and profitable online business. In cryptocurrency or anything of interest to you.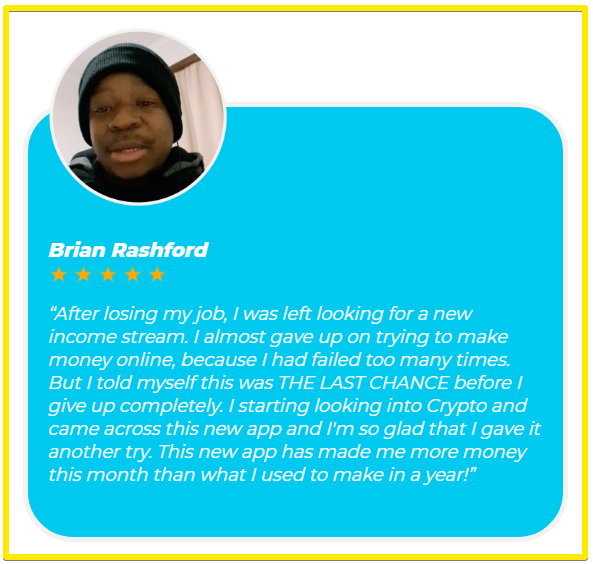 ---
CryptoProfit App the Pros and Cons
---
The table below lists some of what, are in my opinion, the pros and cons of the CryptoProfit App. As always, if you think the app might be something of interest to you, I recommend you check it out for yourself. I have a button below that will take you to the CryptoProfit App site where you can get more information and see it first hand. Also, it is through WarriorPlus, so if you do purchase and then later want a refund, you will get a prompt, no questions asked return of your money
| CryptoProfit App Pros | CryptoProfit App Cons |
| --- | --- |
| Easy to use Beginner Friendly | Non-transferrable sub-domain sites |
| No web hosting costs | Near impossible to rank on search engines |
| No experience or tech skills needed | 5 expensive upsells |
| | Will need additional funds for ads to fully utilize |
CryptoProfit App Bonus offers.
If you purchase the CryptoProfit App, they will add the following bonuses at no extra charge.

FREE Bonus #1 – EXTRA Daily Commission System – Worth $1,997

FREE Bonus #2 – Generate Traffic In 60 Seconds – Worth $497


FREE Bonus #3 – Bitcoin 100X Advanced Strategies – Worth $297

FREE Bonus #4 – Glynn's $5,000,000 Digi Blueprint – Worth $997


In addition, if you purchase CryptoProfit App, they are including the following extra bonuses:
VIP Bonus – Crypto & NFT BUYER TRAFFIC APP! – Worth $3,997
UNDERGROUND TRAFFIC MASTERCLASS LIVE Training!
180 Day Unconditional Money Back Guarantee – PRICELESS
---
CryptoProfit App vs Wealthy Affiliate
---
The following is a side by side comparison of the features of the CryptoProfit App and the Wealthy Affiliate Platform. At Wealthy Affliliate you will learn to build your own website with its own domain. A website that will belong to you and if you want to leave you simply transfer it to another hosting service. With CryptoProfit app you have a sub-domain of their website that belongs to them and if you leave, you will lose all of your work.
---
CryptoProfit App: The Final Verdict
---
If you've read any of my other reviews, you probably know that I am not a fan of these types of apps. You don't own the site, you can't transfer it, you can't sell it, and it will be nearly impossible to rank the site and get any SEO or "free" traffic. The claims of 300 million buyer "free" traffic are bogus and misleading. There are several expensive upsells that they hit you with, and you will be copying other peoples work to your site.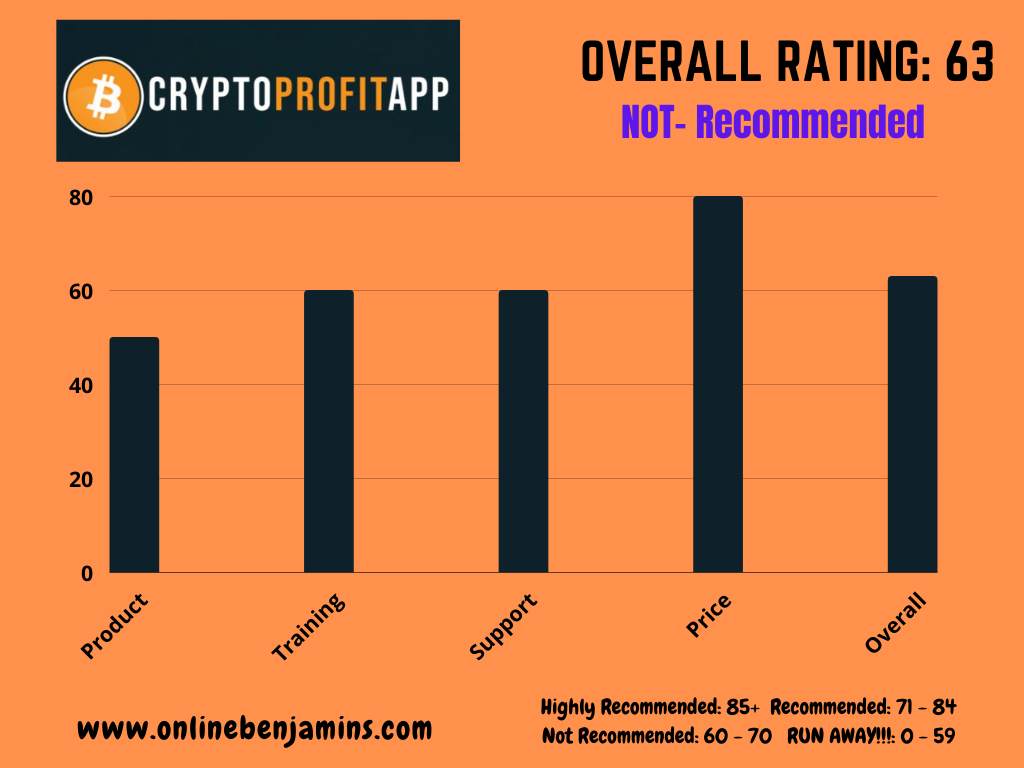 For these reasons, I rate CrypoProfit App at 63 out of 100 or NOT-RECOMMENDED. But, if you think you want to try it for yourself, it is your money and your decision after all, click on the red button below. Then you can check it out for yourself, and if it's not for you, you will be able to easily get your money back through WarriorPlus. If you're serious about affiliate marketing and online business, I recommend you click on the blue button below and check out the Wealthy Affiliate platform. It's completely free to try. No credit card needed, just an email address and an internet connection and you will have a full 7-day free trial of the best internet marketing training platform, bar none.
I'm Looking forward to working with you,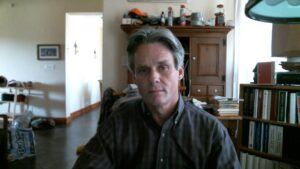 Rex
P.S. Again, Wealthy Affiliate is COMPLETELY FREE to get started. No catch, no obligation, no bait and switch. I will personally be in touch with you upon joining to offer my support and guidance to help you get up and running online.
P.P.S. If you have any questions or are unsure of anything, I am here and I promise I will get back to you on all of your questions and comments. Just leave them below in the comment section. Follow me on Twitter: @onlinebenjamin1, Instagram: dotcomdinero, and Facebook: Online Benjamins
Hi,
Thanks for stopping by and congratulations for taking the first steps to building your own online business. I've been in business both offline and online since 1997. I would consider it an honor to help you build your business. Father of 3, life long outdoorsman with an education in Genetics and Economics. This site is about cutting through the BS and finding the real opportunities in the online world. I look forward to working with you.