The new GetResponse website builder, is the latest development in website design and online marketing tools available at GetResponse. Everything is done online these days. If you are in business, any business, you need to have an online presence or you will soon be left behind. If you don't have a website, you are losing potential customers to your competitors. You've, do doubt, heard the phrase "just Google it". There are over five billion google searches every day. 24 hours a day, someone is searching the internet for something. I know I do it all the time.
In fact, according to studies, 70-80% of people look up a business and research the company online before making a purchase. Usually this means visiting their website, to see what they offer, where they're located, what their story is, and much more. Now, these studies were pre-COVID. Just imagine how much larger that number has become over the past year of lock downs from the pandemic.
Yet still, a recent study showed that nearly half of small businesses in the US don't have a website. Now there are other ways to build your online presence, like setting up a Facebook page or Google My Business page, Instagram account, Twitter, Linkedin, Pinterest and others, the only online option that gives you complete control over how your brand appears, and speaks to your customers is to have a website for your business.
Not only that, a well-designed website will increase your business' credibility, visibility and help you acquire more customers. Plus, if you're planning on advertising your business through Google Ads or Facebook Ads it's better to drive people to a website that you control. But building a website has always been difficult at best and down right confusing for most. We don't have time to run a business and be a website designer/builder. Well, good news, there is a solution. The folks at GeResponse, have developed a new website builder as part of their email and online marketing platform.
GetResponse is one of the best and most advanced email autoresponders available. You can read more about the GetResonse platform in my article on "Small Business Email Marketing". Packed with features to streamline your online marketing efforts. And, they continue to add to and improving the platform. Their new website builder is just the latest such improvement. So, let's take a look at this new feature of the GetResponse platform and how it fully integrates with their other features, such as email autoresponder and sales funnel builder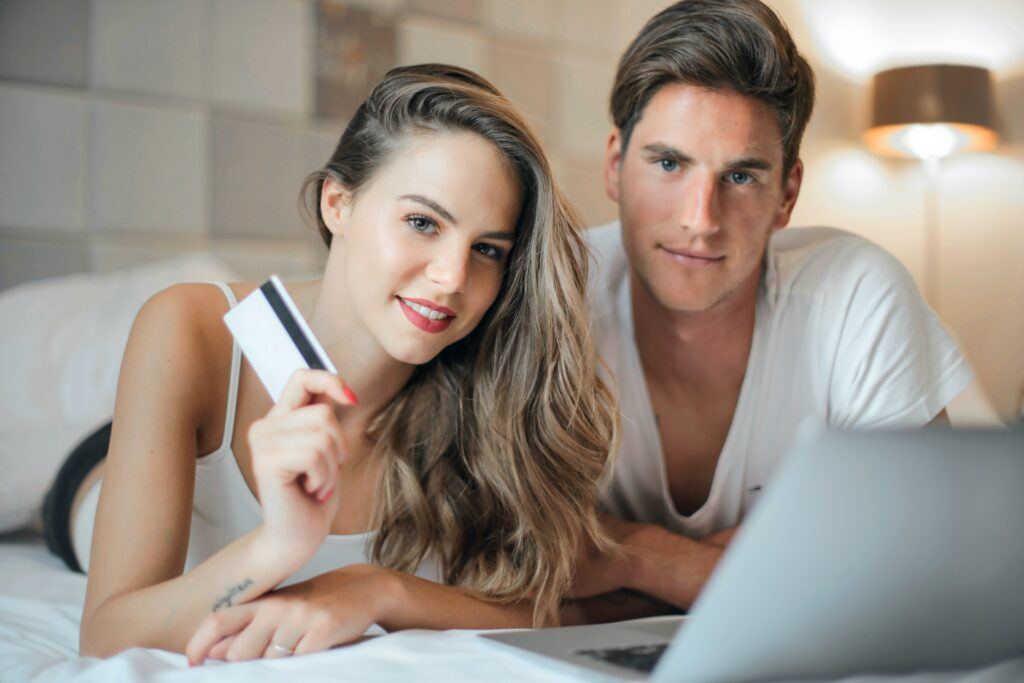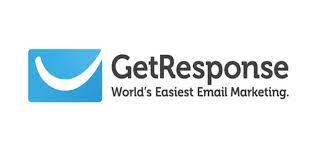 Product: GetResponse Website Builder
Website: https://www.getresponse.com/
Niche/Market: Website building online marketing
Price: $0 Free Trial
Rating: 90 out of 100 – RECOMMENDED
What is the GetResponse Website Builder?
---
What is the GetResponse Website Builder?
The new GetResponse website builder is an AI-driven, code-free website building tool. It comes with a variety of ready-made templates, intuitive UI, and uses artificial intelligence to help you automatically build a website from scratch. Simply describe your business and design preferences to get personalized website templates for you business or you can create your own custom design from scratch using the drag and drop feature of the website builder. With the new GetResponse Website Builder you can make a website for you business in just minutes.
And, with the new website builder right inside of your GetResponse account, you are able to connect your automated email marketing campaigns, sign up forms, popups, chats, social media ads, and sales funnels all in one spot. The revolutionary part of GetResponse's new website builder is that it comes with an AI-driven component that builds your website from scratch using the best UX practices. Better yet, it's available with all GetResponse paid plans.
How Does the GetResponse Website Builder Work?
---
Your website, communicates your brand to your customers and potential customers. Building your own website used to be a daunting task, with seemingly endless decisions to make, learning coding, and finding hosting. Now, with the new GetResponse Website builder, you can have a fully functioning, eye-catching website for your business in just a few minutes. You can easily create a fully functional website with no coding, or any technical experience. There are two ways to build a website using GetResponse Website Builder:
Their AI can prepare the whole site for you based on your answers to a few short questions. You then get three premade websites to choose from, which can be later customized with their easy drag-and-drop editor.
Or, you can use one of the predesigned templates and customize it with their simple drag-and-drop editor.

The GetResponse Website Builder, has improved the process of building websites and your online presence with the following features: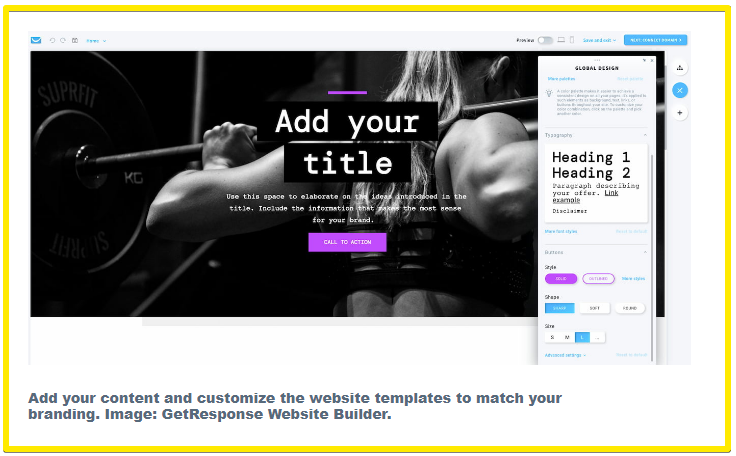 Using AI to build the perfect website to match your business goals and needs
Give you access to thousands of free high-resolution images you can use on your pages
Automatically connect your website with the other GetResponse marketing solutions to run email marketing campaigns, connect with your audience through live chats, or run paid ads through Facebook or Google
Automatically make your pages mobile-friendly and secure with free SSL
Give you free web hosting and let you register your own domain right inside the GetResponse dashboard
In the GetResponse website builder, you have three options:
Pick a ready-made template and customize it to your liking
Use an AI tool to create a website based on the information you provide, like your website goal and industry
Build the entire website from scratch using their drag and drop editor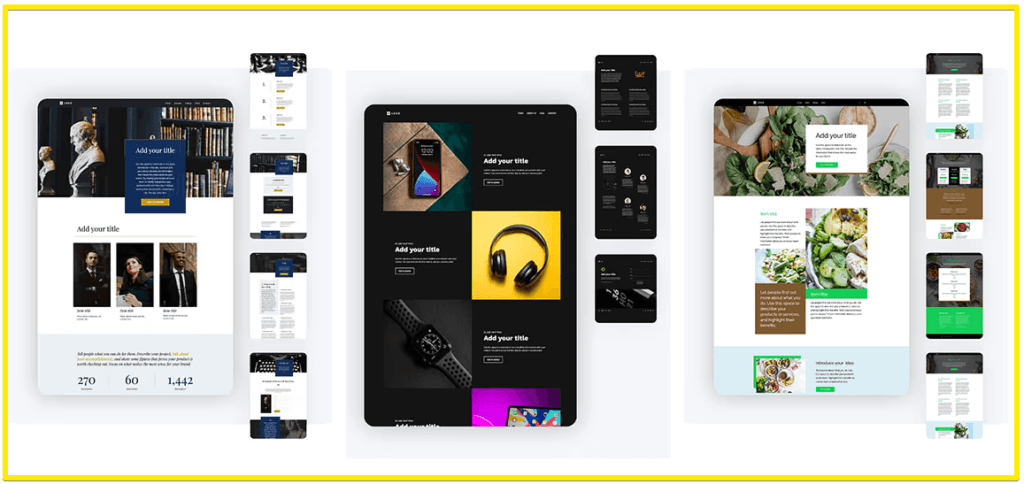 For the beginner trying for the first time to build a website, one of the first two options will be your best and easiest options. They'll help you get your website up and running more quickly and the GetResponse drag-and-drop editor will give you the flexibility to adjust the website design and pages to your style and preferences. Within the website builder, you are also able to:
Add new pages and remove the ones you don't want to see
Fill in your own content (text, buttons, images, links, videos, etc.)
Add contact forms and subscription forms
Add social media icons
Customize what goes into your navigation menu
Manage the website and individual page settings (title, description, favicon)
Integrate external tools, like Google Analytics or Facebook Pixel
Add an online store and payment processors (coming soon in GetResponse)
Create membership sites and limited-access pages
With the new AI website builder, you just answer a few questions, choose your design style, and at least three professionally designed templates will be produced for you to choose from. In addition, you can edit your website and web pages with just a few clicks of your mouse. The AI technology will continue to survey and research similar brands and business in your industry, so it learns as time goes on giving you better insights and information to keep your website and brand fresh, relevant and ahead of your competitors.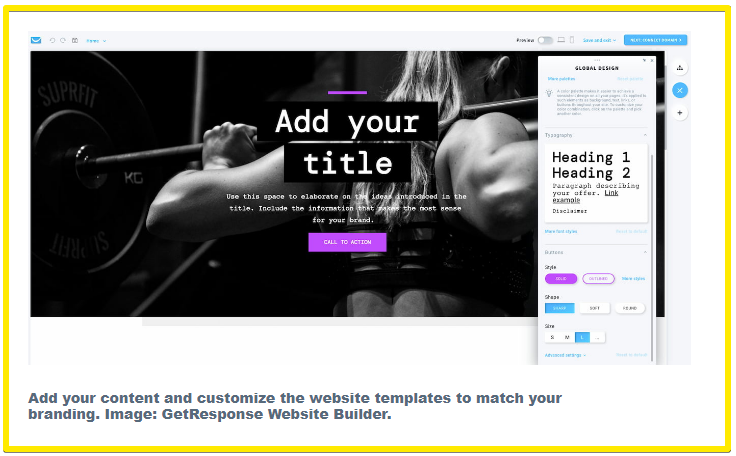 The online landscape continues to change, and many of these changes become long-term, and some become permanent, one thing is for sure the use and prevalence of online shopping will only continue to grow. As the world of online shopping and marketing continues to evolve, the folks at GetResponse continue to do the same as well.
The GetResponse platform has grown well beyond its original core email marketing feature as they strive to meet and exceed the needs of their clients and customers. For example, the new GetResponse website builder comes fully integrated with all the following tools. This saves you time and money and streamlines your whole online marketing effort.
Marketing automation
Popups and sign up forms
Web push notifications
Transactional emails
Live chats
SMS
Landing pages
Webinars
Facebook & Instagram Ads
Google Ads
These tools help marketers build brand awareness and generate revenue, but to fully realize their potential you need a website. GetResponse is one of the first companies to offer an AI-driven website builder. Now, you can use their AI feature to build anything from a simple website to a full-fledged ecommerce website. With the GetResponse website builder you can establish your brand, web presence and fully integrate your marketing campaigns.
Increase your website conversions with the built-in popups featured at GetResponse. Grab your website visitors attention with updates, special offers and deals using pop ups and forms that you can set up to be automatically triggered by specific actions of your web visitors. With GetResponse you get all the essential marketing tools you need to build, manage, and grow your business and online presence.
Your contacts are added to your email list automatically so you can send emails and web push notifications to them, and integrate everything with your GetResponse marketing automations. And, you're able to collect data on your website visitors, so you can use that information to maximize your marketing efforts. Everyone from beginners and advanced marketers are able to build their website and then integrate it with these marketing tools for seamless online campaigns.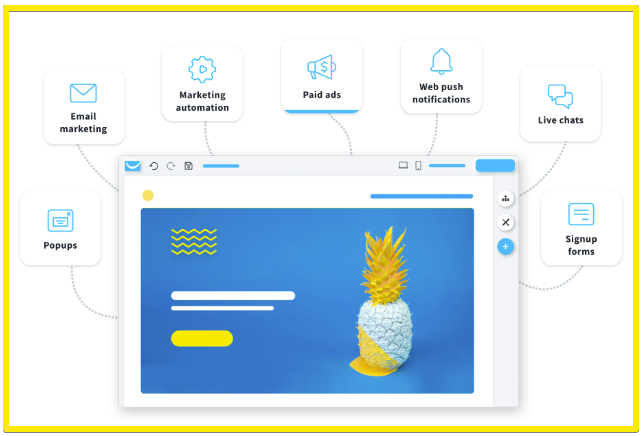 The GetResponse Website builder in action
---
The new GetResponse website builder makes building you own website easier than ever. Whether it's a simple business page, event website, or ecommerce store, within a few minutes you can create a beautiful professional looking website that looks and works perfectly. No matter what you do, or what your business is, you can create a website of your own. Check out the video below to see just how easy it is to use the new GetResponse Website Builder. You can build your very own website in just minutes in one of two ways with the new website builder feature:
1.) Use an AI wizard
Generate a personalized website in an instant by answering a few simple questions about your business needs. Build your website in less than 15 minutes with the easy to use AI feature of the new website creator, by simply inputting some basic information.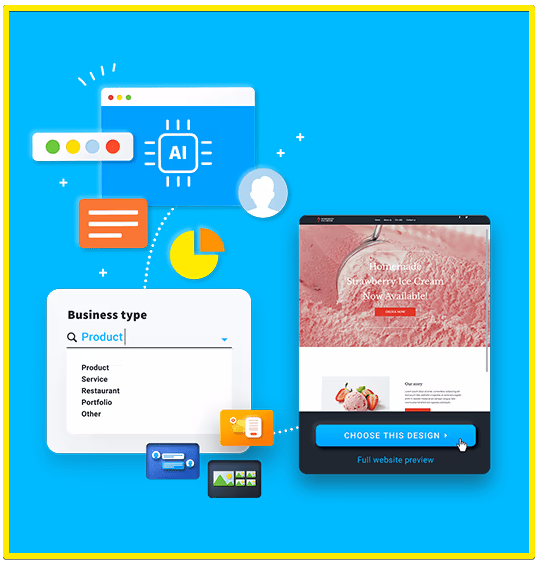 2.) Create it yourself – Pick a template and use the drag-and-drop editor to customize your design.
Build a website designed for your specific business or industry. Don't know how to start? Explore the website builder's ready-made solutions. Save time with the professionally predesigned templates that are automatically adjusted and optimized to be mobile friendly. And, you can change your web design with one click. Change your fonts, colors or styles with one click and apply it to the entire website using the Global Design tool featured in the GetResponse Website Builder.
Once you have you website ready, you can choose you website domain name right inside the website builder and establish you online brand and presence by using the following hassle-free options inside the Website Builder.
Use one of the available free domains
Connect your own domain for brand consistency
Buy a new domain directly via GetResponse
Ensure maximum security with SSL certificates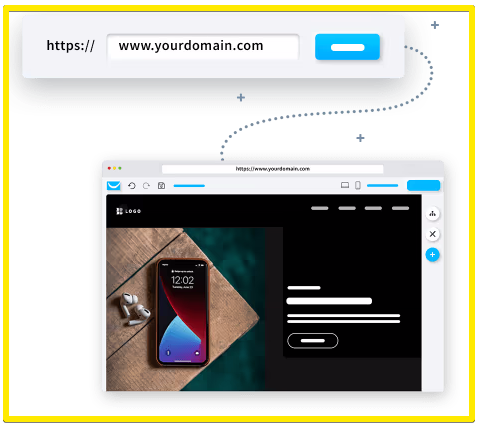 When you have your website built and up and running online, you can use SEO-optimization tools in the GetResponse Website Builder to attract organic traffic to your website and analyze you sites performance by tracking the numbers of visits and interactions of your wesite visitors to determine the success of your marketing efforts. Even better, you can try the new GetResponse Website Builder free for 30 days. After that period, you can have it along with many other features, all for less than $15 a month. Check out the pricing page for more details.
Who is the GetResponse Website Builder for?
---
The NEW GetResponse Website Builder is literally for anyone who wants to establish and online presence and build a website. Everyone from bricks and mortar businesses to full fledged ecommerce stores will find the website builder at GetResponse both easy to use making the GetResponse platform a one stop shop for all of your online marketing needs.
Already one of the premier email marketing platforms, the new website builder just further enhances the tools and features you have available to you at GetResponse. The builder is beginner friendly, and with it's built in AI functions, anyone can quickly and easily build a professional looking website that is fully integrated with all the online marketing features of the platform.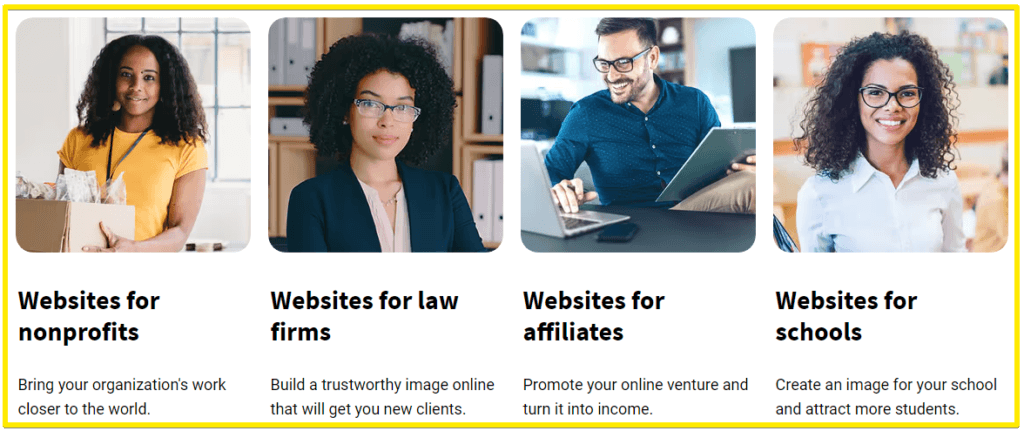 Affiliate marketers will find the combination of website building, email autoresponder, and sales funnel builder to be time and money saving, and more importantly, maximize sales and revenue from their online efforts. Agency owners can now build fully functioning online marketing campaigns for clients right on the GetResponse platform without the hassles of finding and securing hosting and security certificates.
GetResponse Plans Pricing: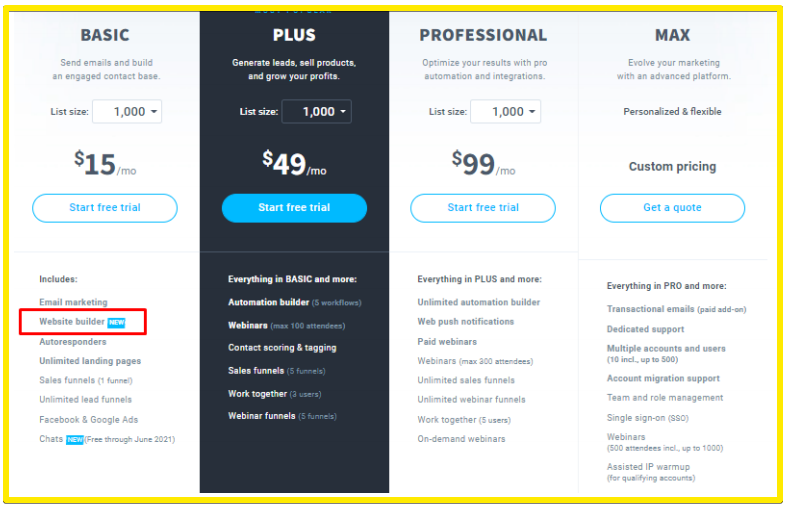 GetResponse Website Builder Pros and Cons
---
The table below is a list of what are, in my opinion, some Pros and Cons of the new GetRespone Website Builder. These are based on my experience as an online marketer who has built several websites of my own and use email autoresponder in my online marketing campaigns on a daily basis. If you think you might be interested in trying the GetRespose website builder, I suggest you click on the button below and check it out for yourself. You can try it for free and after all, only you know what is best for you and your business.
| GetResponse Website Builder Pros | GetResponse Website Builder Cons |
| --- | --- |
| Available AI technology to design website | Nontransferable website stays with GetResponse |
| Professionally designed templates | Must remain a GetResponse Client |
| Domain and Hosting included | |
| Free with all GetResponse paid plans | |
GetResponse Website Builder: The Final Verdict
---
The new Website builder at GetResponse is a great tool for anyone needing to build a website and or establish an online presence. Combined with their complete suite of email and online marketing tools, the Get Response platform is second to none. You can now build a beautiful professional looking website in just minutes with their AI technology or with their drag and drop feature and control all of your online marketing efforts from one platform. Your site will remain on the GetResponse servers so, if you ever decide to quit GetResponse you will lose your website and have to start over elsewhere.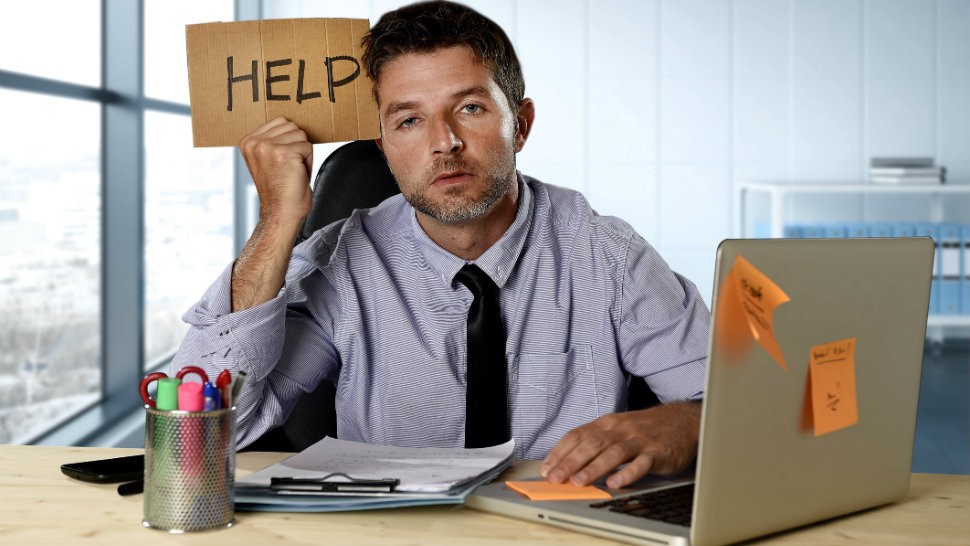 Head over to GetResponse now, and check out the new website builder and all the other features of the GetResponse platform. I think you'll be impressed at just how much you can do and how much time and money you can save by teaming up with GetResponse. Just click the button below. It's free to try so you have absolutely nothing to lose.
I'm Looking forward to working with you,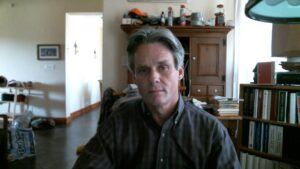 Rex
P.S. If you have any questions or are unsure of anything, I am here and I promise I will get back to you on all of your questions and comments. Just leave them below in the comment section. Follow me on Twitter: @onlinebenjamin1, Instagram: dotcomdinero, and Facebook: Online Benjamins
Hi,
Thanks for stopping by and congratulations for taking the first steps to building your own online business. I've been in business both offline and online since 1997. I would consider it an honor to help you build your business. Father of 3, life long outdoorsman with an education in Genetics and Economics. This site is about cutting through the BS and finding the real opportunities in the online world. I look forward to working with you.