What is Web Hosting? Well, basically, web hosting is where your website actually lives. In order to have a website live on the internet, you will need both web hosting and a domain name. Web hosting is the actual server space where your website files are stored, and a domain name is the address visitors need in order to view these files as your website.
Your domain name, in a manner of speaking, the street address for your website. When you combine the website files with the hosting server and a proper domain name, you have all the ingredients necessary for a website to be visible online. And that, in a nutshell, is web hosting.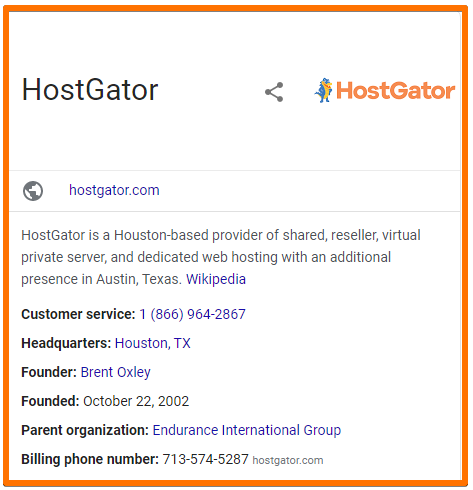 HostGator is a Web Hosting Service company that has been around since 2002 and, similar to BlueHost which I reviewed HERE, has a tremendous following and track record in the industry. They have very many stellar reviews and satisfied customers. In this article, we will go over some features and benefits of HostGator web hosting.
HostGator Hosting
---
HostGator is one of the world's top 10 largest web hosting companies, with over 8,000,000 hosted domains. They have over 850 employees that provide superior around-the-clock support. They are a very good choice whether you are looking for business or personal hosting. All of their shared web hosting plans include a 45-day money-back and 99.9% up time guarantees.
HostGator web hosting provides an array of tools to get your business or blog online. From site building tools and templates, to their one-click application installer, you'll find everything you need to launch your new website.
HostGator's Website Builder provides a convenient drag-and-drop website building platform. It comes with a wide selection of themes, and even pre-built sections, that can help you build your website and get it published in a short time.
With their QuickInstall tool, available on all the included Web Hosting plans, you can create any type of website: blog, forum, CMS, wiki, photo gallery, E-commerce store, and more. HostGator is very versatile and runs on Linux, Apache, MySQL, and PHP, and compatible with thousands of existing applications and software.
To get started with HostGator, you simply type in your desired domain name in the search box of their domain finder tool. Once you find an available name, you can purchase the domain name and then proceed through the process of registering that domain name and assigning it to your hosting account.
Web hosting with HostGator features a flexible easy to use Control Panel, unlimited sub domains and email accounts with a 99.9% Uptime Guarantee. Plans include SSL Certification and a no contract, 45-day Money Back Guarantee, so there is no risk to give them a try.
HostGator Plans
---
There are three Shared Hosting Plans at HostGator. They do offer dedicated hosting and other hosting services for larger users, but for most websites the shared plans are more than adequate, and much less costly as well.
With each of the above "shared plans":
You get the first year of your domain name registration included.
Free HostGator Website Builder which includes over 100+ Mobile-Friendly Templates and an Image Library
Free Website Transfer, Domain Transfer, MYSQL Transfer, ScriptTransfer (Details)
52 Free scripts can be instantly installed on your account with a fewclicks
$100 Google Adwords Offer
$100 Bing Ads Credit
Free SSL Certification ensuring that your website is secure.
HostGator hosting comes with the Latest cPanel Web Hosting Control Panel and Website Statistics: AWStats, Webalizer, Raw Log Manager, Referrer and Error Logs. They also have added features such as, Instant Shopping Carts, Blogs, Portals, Forums and Counters. Password Protected Directories and Custom Error Pages. Web Based File Manager, Hotlink Protection, IP Deny Manager, and URL Redirect service.The included email features unlimited email accounts and the ability to receive your emails via phone. You can have up to 25 email lists and unlimited autoresponders and mail forwards. The service also includes SpamAssasin spam prevention.
In addition, HostGator includes the following services:
WordPress Hosting – Host your very own WordPress blog
Joomla Hosting & Drupal Hosting – Professional CMS Solutions
Magento Hosting – Free E-commerce platform for your own store
Wiki Hosting – Start a Wiki website with MediaWiki
As you can see, HostGator is a very extensive web hosting platform and they can handle most any website hosting needs you may have from beginner to large Multinational Corporation.
HostGator Support
---
If problems arise, and eventually they do, HostGator's support staff is available to assist via Telephone, LiveChat, or Email 24/7/365. With the Premium Plans you not only have access to Support via Phone and Live Chat, but additionally, priority support is included allowing for even faster access to support by jumping to the head of the line.
In addition, all plans get Automatic Weekly Off-Site Data Backups, 24/7/365 Hosting Server Monitoring and access to their Online Support Portal with over 500+ Video Tutorials and 680+ Help Articles. There is also "Priority Support" available for an additional $5.99 per month.
HostGator Website Builder
---
A website builder is a software or tool that allows you to create personal, business, and eCommerce websites without needing to code. The most popular types of website builders are drag and drop website builders that allow you to select a feature and drag it to your web page. You can have a new website up and running live in just minutes.
Website builders are the right choice for you if you have limited programming or coding knowledge or limited time. With a website builder, you don't need any special software or prior experience designing a website. It's a great solution for anyone looking to quickly get a website live and get new customers to your business.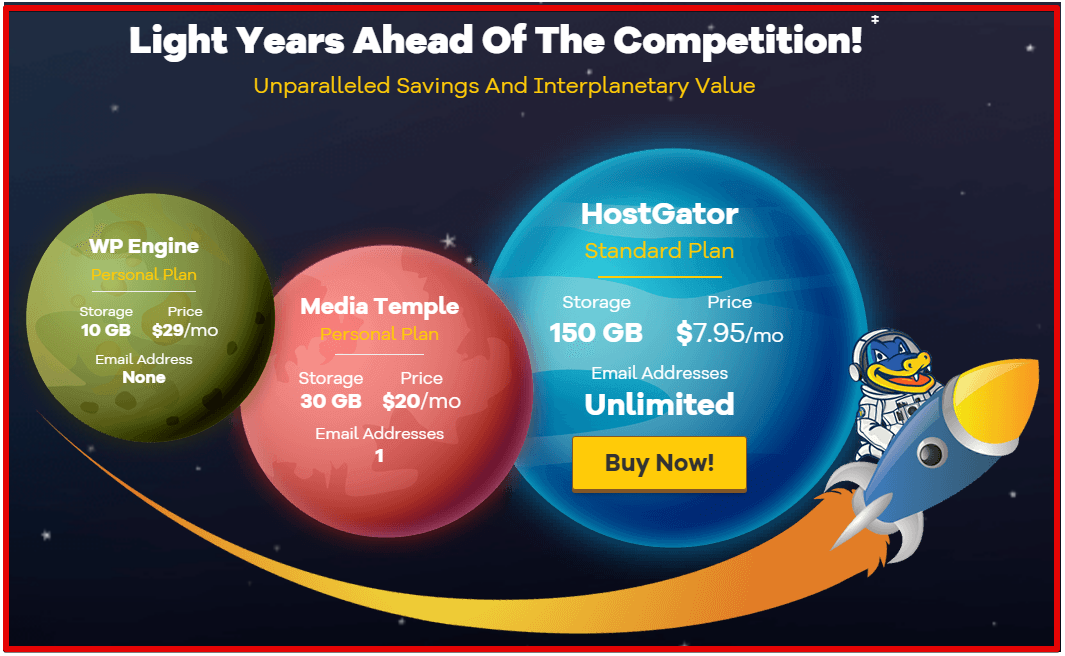 If you already have a domain, it's easy to transfer it to HostGator. If you don't have a domain yet, don't worry! Gator Website Builder comes with one free domain address during your first term.
Gator Website Builder has more than 200 professionally designed templates included for free, and all of them are mobile compatible. Gator Website Builder allows you to edit the content in your mobile version without affecting the desktop version. Also included is a library of high-quality pre-loaded stock photos included free to use on your website.
To get your website up and running, simply select one of their pre-built templates and drag and drop the elements you want on your website. If you want to have an eCommerce site or online store, Gator Website Builder features a built-in shopping cart functionality; simply add the shopping cart and products, and your site is ready for business.
Gator Website Builder's simple social media tools and drag-and-drop functionality, allow you to seamlessly add social media feeds such as Facebook, Instagram, and Twitter to your website in order to stay engaged. Their easy-to-understand analytics allow you to see at a glance exactly how well your website is performing.
HostGator Reviews
---
Some of the most prestigious publications in the industry have awarded HostGator as the top pick for web hosting. Whether it's their Shared, Dedicated, Re seller, or Managed WordPress web hosting plans, HostGator is one of the best in the world of web hosting.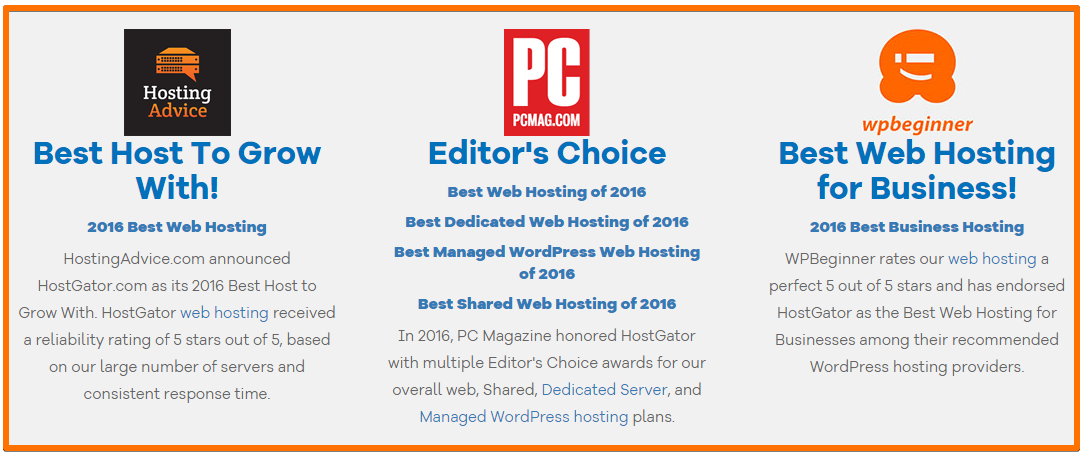 HostGator has helped countless people get online. Below are a few of their website hosting reviews from their affiliates and industry experts.
HostGator Final Verdict
---
Hostgator has been around since 2002 and are by far one of the best web hosting services available. They have a variety of plans and services to meet most anyone's needs. A Built in web builder and domain purchase feature make it a one stop shop for building your website. They are one of my 3 best Web Hosting Services for 2020. You can read about my recommended web hosting services HERE:
There are some additional costs for more advanced security and support features and if you are brand new to the online world, you will need to get some training in internet marketing. Advanced bloggers, marketers, and ecommerce operators will do well with the features, benefits and services of Hostgator.
If you would like to get the best training and support in the online marketing industry, I recommend you check out the Wealthy Affiliate Community. The Wealthy Affiliate platform would be better for a beginner as it comes with all the features of web hosting plus full training in all areas of online business and marketing. For a full review of Wealthy Affiliate, you can read my article HERE:
If you would like to try Hostgator for 60% off with a full 45-day money back guarantee,click on the link HERE, and sign up now.