If you are interested in starting your own website or blog or even an ecommerce store, you will eventually need to consider Website Hosting for your online store or website. There are literally dozens of Web Hosting Services out there and some very good ones.
I have sorted through the major players and trimmed it down to what I think are the 3 Best Website Hosting Services. This article should help you sift through some clutter and make the best choice for your web hosting needs.
What is Web Hosting Service?
---
What is Web Hosting? Well, basically, web hosting is where your website actually lives. In order to have a website live on the internet, you will need both web hosting and a domain name. Web hosting is the actual server space where your website files are stored, and a domain name is the address visitors need in order to view these files as your website.
Your domain name, in a manner of speaking, the street address for your website. When you combine the website files with the hosting server and a proper domain name, you have all the ingredients necessary for a website to be visible online. And that, in a nutshell, is web hosting.
A more technical definition is: Web hosting is a service that allows organizations and individuals to post a website or web page onto the Internet. A web host, or web hosting service provider, is a business that provides the technologies and services needed for the website or web page to be viewed in the Internet. Websites are hosted, or stored, on special computers called servers. When Internet users want to view your website, all they need to do is type your website address or domain into their browser. Their computer will then connect to your server and your web pages will be delivered to them through the browser.
3 of the Best Web Hosting Services
---
Like I mentioned previously, there are just tons of Web Hosting Services out there and trying to go through them all and determine what's good and what isn't as well as how much it will all cost can be tiring and frustrating. I 've been there done that, and I have narrowed it down for you to what I consider the best 3 for whatever Web Hosting you may need.
Whether its, blogging, ecommerce small business websites or big multi-national corporation website, these three hosting services can handle it and will do you a great job. The Big three are, HostGator, BlueHost, and Wealthy Affiliate's SiteRubix Web Hosting platform.
HostGator Website Hosting Reviews
---
HostGator is one of the biggest and oldest web hosting companies in the industry with over 8 million hosted domains worldwide.
Their basic shared hosting plans come with unlimited storage, bandwidth, free domain (for the first year), and a free SSL certificate.
Additional services, like website backups and securityLock, are extra and will add to your charges. Their plan pricing is quoted for a 3-year term (paid up front) and after the initial term the price increases.
HostGator Support
HostGator provides 24/7/365 support via, phone, email, and live chat. Their higher priced "Premium Plans" come with priority support, meaning you get to jump to the head of the line when you need help. You can purchase priority support with any plan, for an extra fee of course.
You can try HostGator risk free, as they give you a 45-day money back guarantee.Basically a month and a half to try them out and see if they are a fit for you and your web hosting needs.
Beginner Friendly
If you are new to website building and design, HostGator has their Gator Website Builder. It comes with free web hosting and includes domain name. It features drag and drop customization and has large selection of modern templates to choose from.
The Gator Website Builder plans come with help from their expert support staff that has many years of experience in website building and design.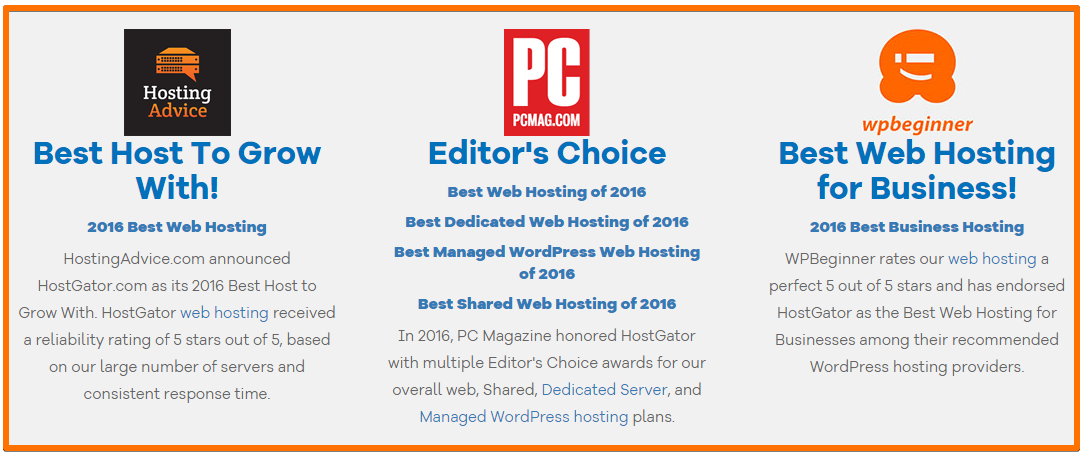 HostGator Summation
With their low introductory prices for their shared hosting plans starting at only $2.75/month (for 36 months) HostGator is a very economical choice, and include a single domain name, one-click installations of popular apps like WordPress, unmetered bandwidth, unlimited storage, a free SSL certificate and 24/7/365 Support.
So, for one low fee, you get all the basics needed for one fully functional website up running and live on the internet. If you need a website builder, extra security features to guard against spam etc, ecommerce functionality or site backups you will be charged extra.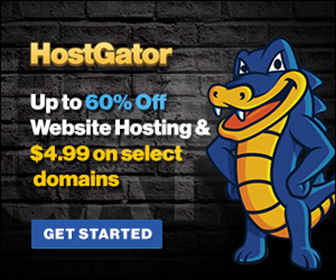 I have a complete review of HostGator HERE if you would like more information on their services. You can also check out their official website at www.hostgator.com.
BlueHost Website Hosting Review
---
BlueHost has been around for years and years and stood the test of time. And they are still around at the top of the charts when it comes to customer popularity and service and are the number one recommended hosting service by WordPress.org.
BlueHost web hosting currently hosts over 2 Million Websites Worldwide. They are also one of the top recommended WordPress providers by WordPress.org. They offer everything from shared hosting to dedicated servers and a multitude of web building, design, and marketing services.
Why WordPress?
WordPress powers over 25% of the internet. It is trusted by millions of website users and developers worldwide. WordPress websites offer the freedom to move your website to any hosting provider or platform, whether you need Shared, Cloud, VPS, or Dedicated hosting.
In addition, there are literally thousands of free themes and plugins for WordPress websites. Themes help simplify the design process while plugins can add powerful features with just a few clicks to create a professional looking and working website without needing to hire a web developer.
BlueHost Plans
Similar to HostGator, all the plans at BlueHost include hosting, SSL certificate, and one domain name. They have many extra features and add-ons, again, with additional cost. The basic shared hosting plan is just $3.95 per month, so it is a very economical choice.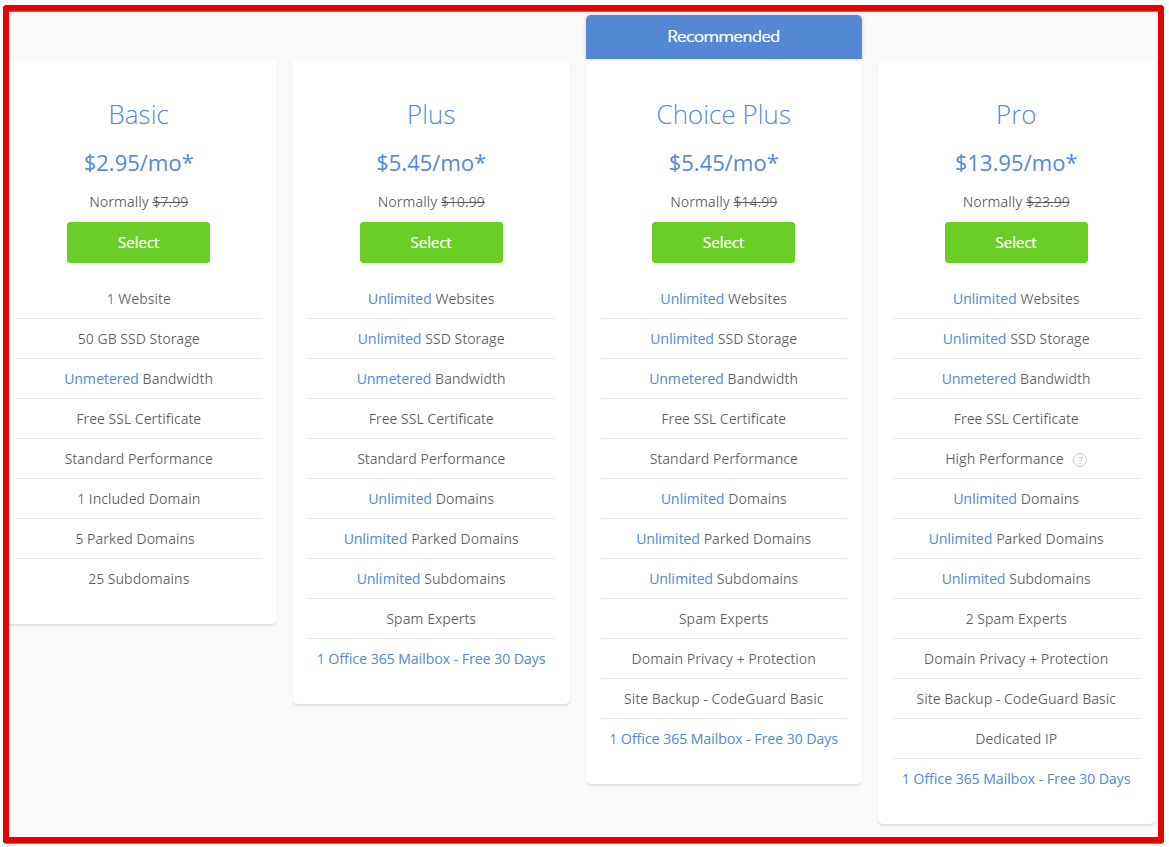 BlueHost Support
Support is available 24/7/365 via email, phone or live chat. The Blue Sky support option is available for an additional fee ($29.00 per month) and gives you access to their website design and building experts. In fact, you can pay them to build your site for you. You pick the design and lay out and they will do all the work.
With their more expensive plans you can get assistance with marketing and advertising as well. Again, there is an added fee for that service.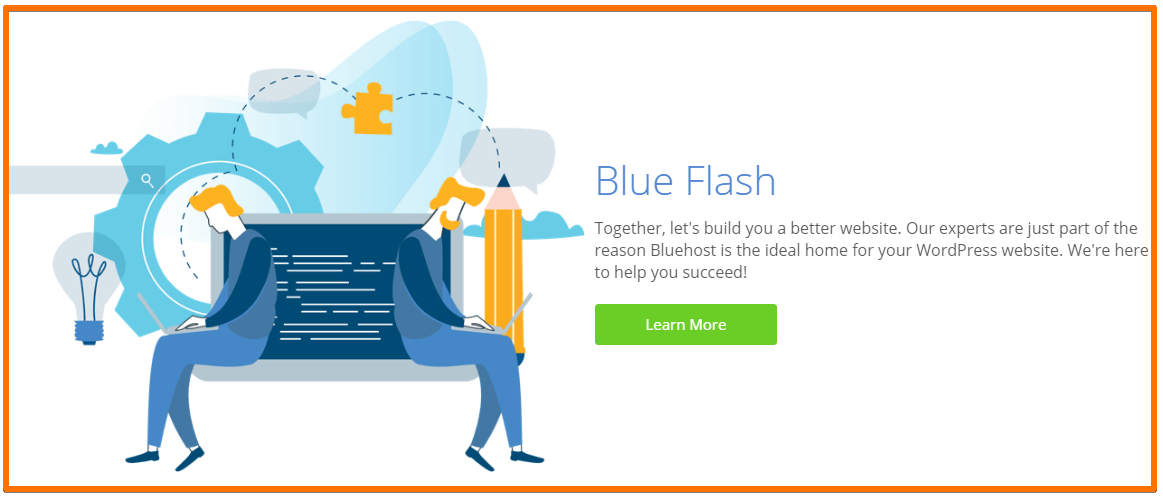 BlueHost Summary
BlueHost can handle all of your Website Hosting needs from basic beginner to advanced web designer. They have a great WordPress platform and are the recommended hosting service by WordPress.org.
Their basic plans will get you a fully functional website and have it live on the internet. If you need help, they have experts to help you with design, marketing, and advertising. They will even completely build your site for you. All at an extra charge of course.
If you need email service, extra security, design help etc, it can run up your bill considerably. Bottom line is they are a very good option for Website Hosting particularly WordPress Web Hosting. If you would like more information on BlueHost, read my review of their service HERE, or you can check them out at www.bluehost.com.
Wealthy Affiliate Website Hosting With SiteRubix
---
Wealthy Affiliate is an all inclusive worldwide community of internet entrepreneurs that includes training, support, live chat, Web Hosting, and SEO and keyword research tools. SiteRubix is the WebHosting service at Wealthy Affiliate and is included with your membership to WA.
As a member of Wealthy Affiliate and the included SiteRubix Website Hosting, you can have up to 10 websites hosted. They come will site email, site support, SSL, site backup, and security monitoring. All services that are an extra fee at HostGator and BlueHost. You have access to over 3000 WordPress themes to design and build your site, and access to the Jaaxy SEO and keyword research tool.
Wealthy Affiliate Support
SiteRubix hosting comes with 24/7/365 site support and in addition, you have over 1.2 million members worldwide who are all happy and willing to help you when you need assistance. Being worldwide, there is always somebody available 24 hours a day.
There are members from all backgrounds and experience levels everywhere from 15 minutes to 15 years or more. Somebody will have the answer and help you need. In addition to all the support and help from the community, there are hundreds of hours of trainings for all aspects of online business and marketing.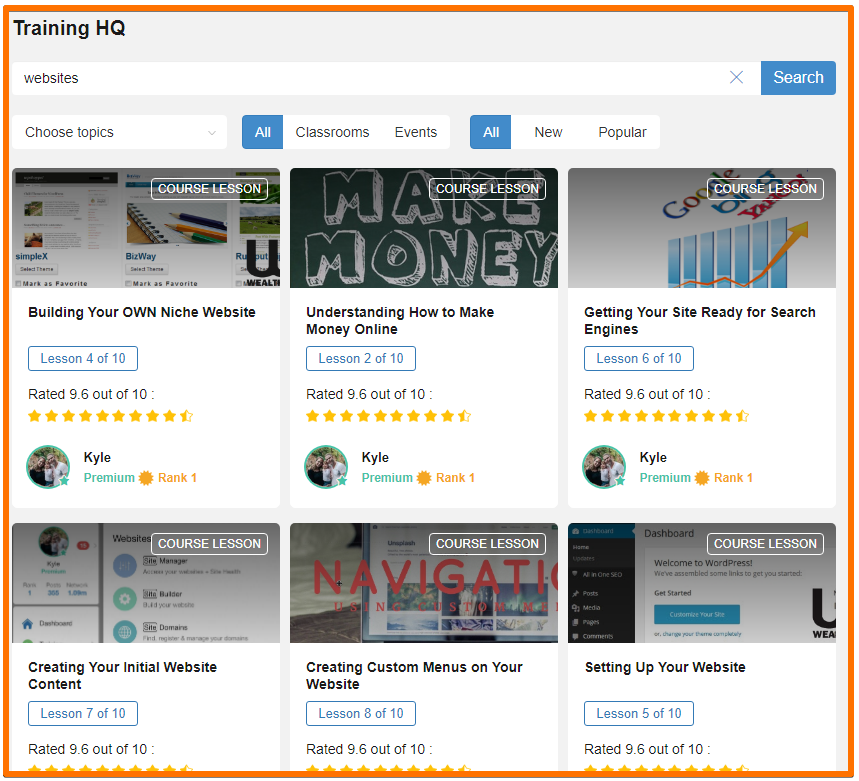 Wealthy Affiliate Plans
There are two plans available on SiteRubix at Wealthy Affiliate. The FREE starter membership which gives you an opportunity to set up a single website for 7 days for free and get a feel for the platform, training and community.
The premium plan is $49 per month or $495 for a year, and includes full access to the entire wealthy Affiliate platform and community. Hosting for up to 10 websites. Web email services, SSL, site back up, Site security, Site support and the Jaaxy SEO tool.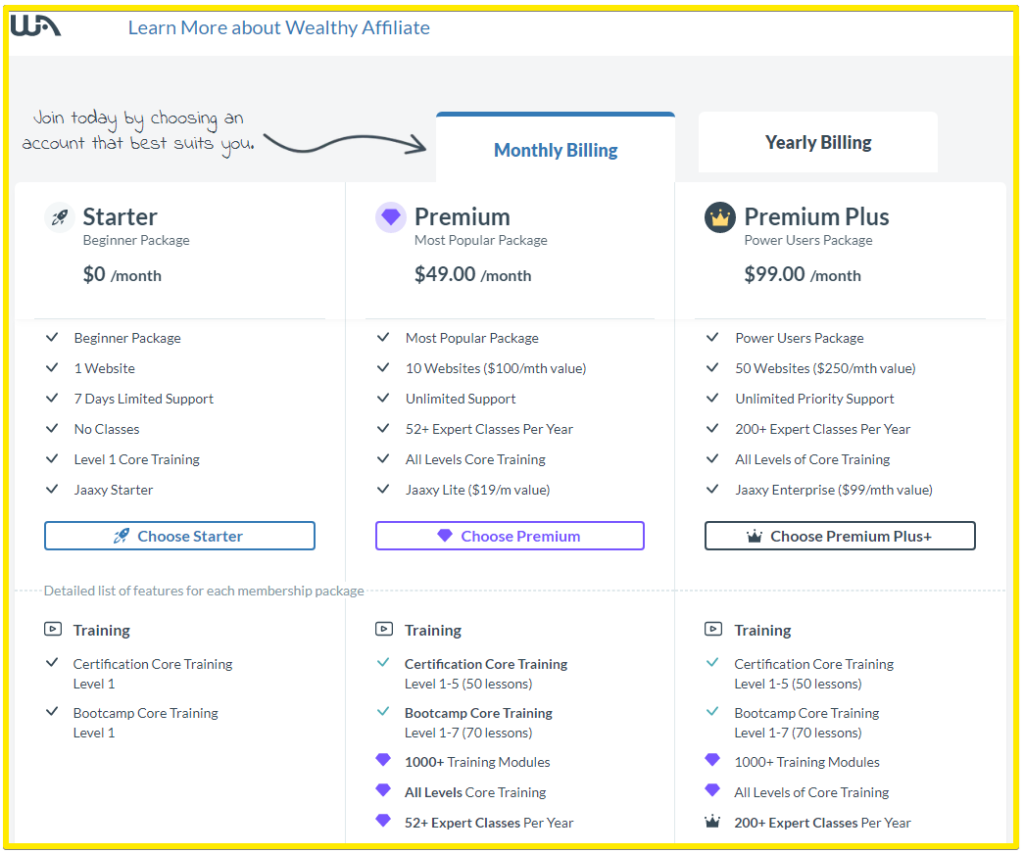 In addition, you have access to hundreds of trainings on everything related to online business, marketing, web design, SEO, social media and much more. Of course, access to the other 1.2 million members and their collective experiences is priceless.
SiteRubix at Wealthy Affiliate in Summary
The SiteRubix Web Hosting service offers all the features of HostGator and BlueHost without all their added fees. Plus you can have up to 10 websites hosted for the one membership. A Premier Web Hosting Service that has the added benefit of and extensive training library and supportive community of members.
You can test drive their service completely free for 7 days before you have to spend any money what so ever. The others have money back guarantees, so they could be free, but you have to pay up front first.
You have access to over 3000 website themes to build any type of website you may be looking for. If you would like to see just how quick and easy it is to build a website at SiteRubix, just enter a domain name in the box below for a free trial.
Best Free Web Hosting
---
HostGator and BlueHost have been around for years and each have their dedicated followers. They couldn't last this long if they weren't doing a good job of Website Hosting. Both offer money back guarantees Hostgator (45 days) BlueHost (30 days), but you must pay first. SiteRubix offers a completely FREE 7-day trial where you pay nothing unless you decide to stick around after the 14-day trial and become a premium member.
They do this because they know that if you try out their services and the Wealthy Affiliate Community for 7days, you'll see just how great a value it is and want to become a premium member. So, for best FREE Website Hosting its hands down SiteRubix. If you would like more information on the Wealthy Affiliate membership and services, you can read my review of the platform HERE:
Hi,
Thanks for stopping by and congratulations for taking the first steps to building your own online business. I've been in business both offline and online since 1997. I would consider it an honor to help you build your business. Father of 3, life long outdoorsman with an education in Genetics and Economics. This site is about cutting through the BS and finding the real opportunities in the online world. I look forward to working with you.