Email marketing has been around, well almost as long as there has been email. You probably get several emails a day offering something that, according to the email, you just can't live without. They can be annoying, I know, but guess what? They work, or marketers wouldn't keep sending them out.
There is a saying in sales and marketing that: "The money is in the list." Your customer list, contact list, phone number list, and in this case, your email list. People rarely buy from someone they don't know or the first time they are introduced to a product or offer. With an email list, you can re market to them with the same offer and or additional offers in the future.
Matt Bacak has been a very successful email and affiliate marketer for many years. He has recently released an e book "Secret Email System". It has already sold over 15000 copies so not so secret anymore. 😉 Let's take a look at the book and his system and see if it's something you might be interested in for your business or not.
What is the Secret Email System? How does it work? Who is it for? Is it legit, and can you make money with it?
Matt Bacak's Secret Email System
Product: Secret Email System
Website: secretemailsystem.com
Price: $5.60 plus two upsells to $228
Owner: Matt Bacak
Niche: Email Marketing & Affiliate Marketing
Overall Rating: 80 out of 100 – Recommended
---
What is the Secret Email System?
---
Secret Email System is an email marketing e book claiming to teach you how to build a 7-figure online business. In addition the an e book download, there are 90 minutes of video training where Matt shows you some Email marketing tactics that made him successful. In the e book, you'll get step by step details on building an ethical email marketing campaign for your business, and hopefully, generate more sales and revenue.
In the book, Matt goes over how he has earned millions by through his Secret Email System methods without the requirement of creating a product, no running ads, no fulfilling services, and working only two hours a day. OK, time out! What is he doing right now! Creating a product, running ads, hmmmm maybe it's not much of a secret after all.
---
How Does the Secret Email System Work?
---
The Secret Email System claims to succeed by being the new way of making money online. The old way was to create a product, create a landing page, a sales page, up sells, place ads, deliver product, customer support and then get paid. Funny, because that is exactly what he is doing by selling this "system".
The New Way – according to the Secret Email System
The Secret Email System is a 3-step money-making formula: OMG where have I heard that before!!!
Step 1: Learn to build an email list
Step 2: Promote relevant products and services to that list.
Step 3: Continue to market to your list by following Matt's email marketing strategies.
Everything is 3-steps, some marketing GURU has determined that we aren't interested if it takes more that 3 steps. Remember, he is trying to sell you something so there will be a lot of hype to stir your emotions and get you to purchase. But, really, all he is promoting is affiliate marketing via email marketing. Every Affiliate marketing course out there will have some email marketing training. It is what separates the successful from the unsuccessful.
The interesting thing about Matt's offer, is he is using some of these very techniques to sell the Secret Email System. He will show you the "self-funding subscriber formula". Guess what, the e book he is selling, is just that. I mean at $5.60 he is not making any money, it pays for his advertising ( which he said earlier we were going to make money without ads) but even better, for him, he gets your email address and can market products to you until the day you die, or you find the unsubscribe button. He's betting that even if you get a refund, that eventually he will sell you something and make money from you.
---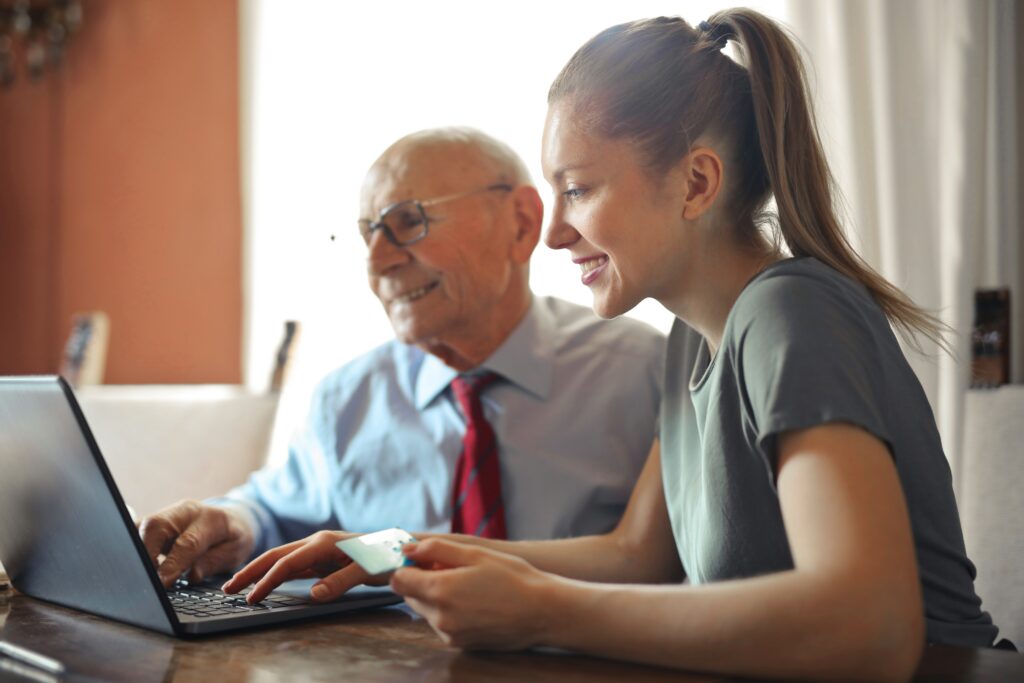 ---
The Secret Email System will teach you how to select high converting affiliate products, and how to write an irresistible offer to capture emails. Once you have built an email list Matt includes a swipe file of pre written emails that you can copy and paste to market products and services to you list for hopefully many years to come. Now, any business that has a customer list of emails can use this system. But, it is textbook online marketing and affiliate marketing. You can check out my article on email marketing for more in depth information.
To Matt's credit, he's done it himself. And, he's trained people like Russell Brunson of Clickfunnels fame. Devon Brown creator of the 12 minute Affiliate system, and many more.If, you want a good primer on email marketing, $5.60 is a safe investment here. Plus he offers a 30-day money back guarantee. I'll let you in on a secret, and I am in no way promoting this behavior, but since it's a downloaded ebook, you get to keep the book even if you get a refund.
Tools and Training
Along with the e book, you will get access to 90 minutes of online video training plus one 45 minute session with Mattt's team to answer any questions and help you implement the system. Access to his private Facebook group is also included where you can share ideas and ask questions.
Pricing Plan
The price of the Secret Email System is $5.60. Now nobody is going to sell you the secrets to becoming a millionaire marketer for 5 bucks. It ain' happinin'. There are two up sells for up to $141 and a $228 subscriptions to an email software. They do offer a 30-day money back guarantee. And, you get to keep the book.
---
Who is the Secret Email System for?
---
The Secret Email System is for anyone who needs a good solid foundation in email marketing. It is very beginner friendly but is also a good choice for anyone who may be struggling with their email marketing efforts. Some of the most successful marketers have paid Matt thousands of dollars to learn his methods. Here are just some people and businesses that can benefit from the Secret Email System.
Affiliate Marketers
Marketers
Ecommerce, EBay, Walmart and Amazon sellers
Bloggers
Social Media Marketers
Local bricks and mortar businesses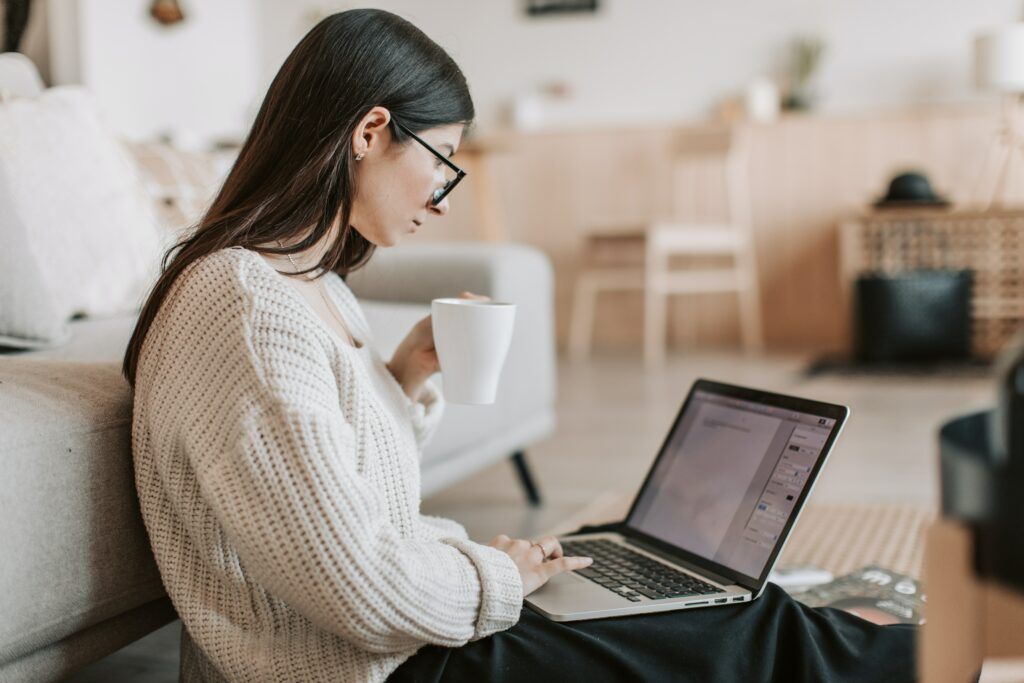 Particularly if you are just starting out with email marketing and don't know where to begin, this e book will help clear things up for you and get you started on the right path to a profitable email marketing campaign. Along with the included bonuses you will have a good solid foundation in email marketing. Even advanced marketers will learn a thing or two from Matt's Secret Email System.
This is definitely not for those looking for a get-rich-quick or easy money solution. Don't think this is a complete business solution however. Email marketing is just one ingredient, you will need other tools and training to build a business. A platform like Wealthy Affiliate will provide you with all the tools, training and support for building a complete, profitable and long term business. Including email marketing training.
---
Can You Make Money with Secret Email System?
---
Matt Bacak has been a successful online marketer for many years and taught many of the so called gurus how to use this very system. But, like any of the rest of these programs, it only works if you do. Don't expect to become an overnight millionaire by spending $5.60 to learn how to set up an email campaign. There is much more to it than that. The sales hype is a bit over board, but it always is.
That being said, you absolutely can make money with the system, but you will need more tools to go with it. Namely, an email auto responder, a lead magnet and most probably you will need to run ads of some kind to generate your email list. All of these costs additional monies so just be prepared. If you have all of that set up already, and just need some pointers from a proven expert, then by all means you can make more money with what you can learn with Matt's System.
---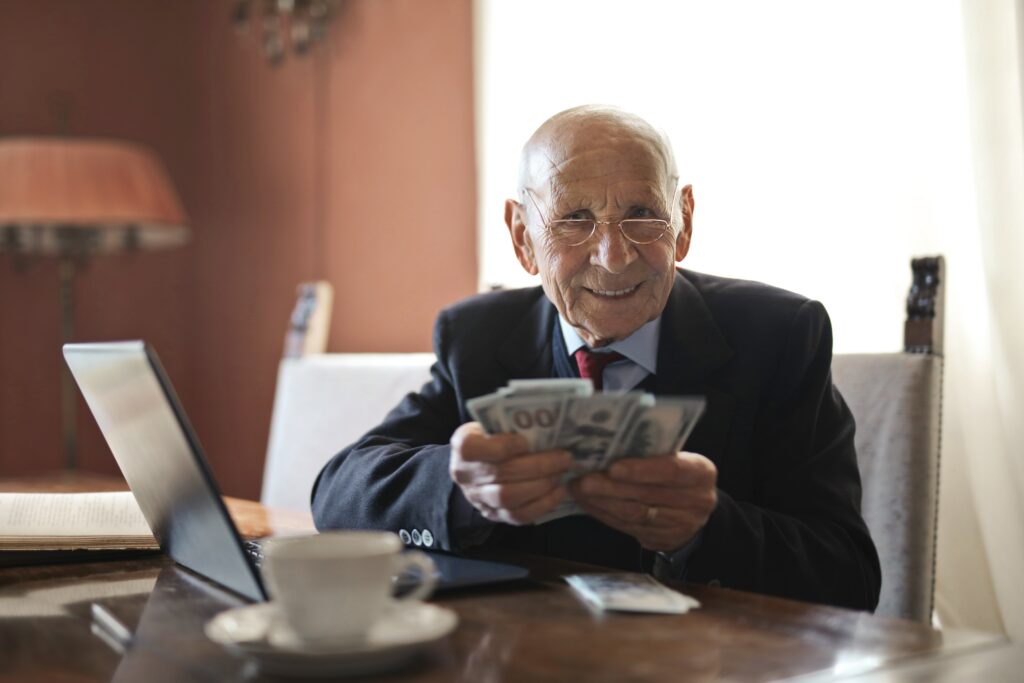 ---
Also, everybody that buys the e book gets the same 1000 pre written emails to use. You will need to edit them to make them unique and your own. You want to build trust with your list, there is a chance they could see the same email from someone else, then you just look like a spammer and your emails could end up in the spam box.
---
Secret Email System the Pros and Cons
---
The table below is what, in my opinion, is the Pros and Cons of the Secret Email System. As always, I recommend that if you think you might be interested in the product, check it out for yourself. After all, only you know what will work for you and your business and how knowledgeable and successful you are or aren't at email marketing.
| Secret Email System Pros | Secret Email System Cons |
| --- | --- |
| Proven system from expert marketer | expensive upsells to get more info |
| copy and paste email file | everyone gets same email file – spam file? |
| low up front cost | additional tools and expenses needed to implement |
| 30 day money back guarantee | |
| | |
Just Be Aware
Let's face it, the low front-end e book is just to peak your interest and get you to buy the more expensive up sells. To his credit, this is one of the techniques you will learn with his system. He practices what he preaches, so to speak. With everyone getting the same email file, you could end up sending duplicate emails to people, which could end your campaign in the SPAM folder.
You can't build trust and a connection with your list by simply sending generic emails. You will need to edit the emails to make them your own and more personal to your subscribers. Learning successful email marketing will take more than just reading an e book. You will need tools, training and support.
That is why I recommend a platform like Wealthy Affiliate that has over 1000's of hours of lessons and training, as well as weekly live classes and a world wide community of experts to help you with your email marketing and much much more. The Secret Email System claims you only need 30 minutes a day.
This is a common claim by product developers. Like the 3-step system, it is designed to grab your interest. But, in realtiy, you will need to devote much more time and energy if you want to build a successful buisness. Email or otherwise.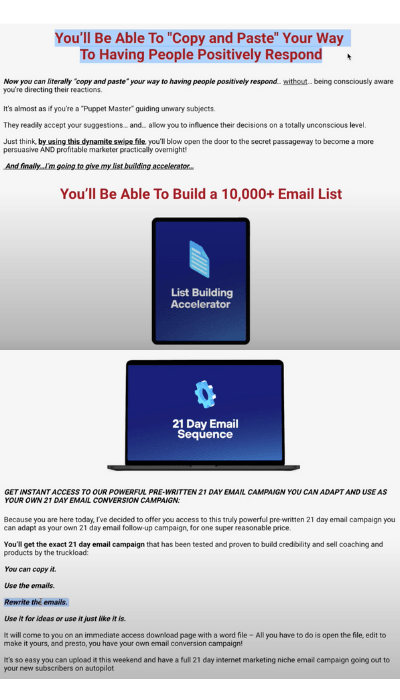 ---
Secret Email System Bonuses
---
If you purchase the Secret Email System they will include the following bonues with your ebook:
1.) Irresistible Offer Video Guide learn how to find high-converting affiliate offers that you can market to your email list. Valued at $97.
2.) Secret Email System Checklist a step-by-step checklist that helps you implement the Secret Email System in the proper sequence. Valued at $47.
3.) 3x Formula Calculator How to use the number of subscribers, clicks, and EPC ( earnings per click) to evaluate your email campaigns. Valued at $97.
4.) $2.1Million Email Swipe File – 1000 Emails Matt Bacak's own private email swipe files of 1000 emails that you can copy and paste to use as your own. Valued at $497.
5.) Matt's Secret 357,582 Lead Gen Template This guide teaches you everything you need to know to build a lead generation funnel and build your email list. Valued at $297.
---
---
6.) 10,978 New Leads – Daily Masterclass a masterclass on how to generate high-quality leads each and every day. Valued at $197.
7.) Secret Of Millionaire Mind Book nine characteristics of internet millionaires and how you too can adopt those characteristics for success. Valued at $19
8.) Gigantic Swipe File Book Phrases, words, sentences, and attention grabbing headlines for your emails. A copy writing guides. Valued at $297.
9.) Free Breakthrough Session A free 45 minutes strategy session with Matt's team to help you implement the Secret Email System. Valued at $97.
10.) Matt's Private Facebook Community access to a private group of 20,000+ email marketers. You can learn, share, ask questions and network with some top email marketers in the world.
---
Secret Email System vs Wealthy Affiliate
---
The table below will give you a side by side comparison between the Secret Email System and the Wealthy Affiliate Platform. As you can see, the Wealthy Affiliate is a much more complete online business platform. Everything you can learn from the Secret Email System you can learn at Wealthy Affiliate plus a whole lot more.If, you just want to learn how to set up an effective email marketing system, then the $5.60 for the Secret Email System would be a good choice.If, you want to build a real, long term, and profitable online business then I suggest you take advantage of the Wealthy Affiliate's 7 day free trial.
---
Secret Email System: The Final Verdict
---
Let's face it, Matt Bacak knows online marketing and you no doubt can learn a few things from him. The $5.60 price is probably a good investment. The up sells may be a bit much, but if you are interested, I'm going to let you in on a little secret. Always turn down the upsell. Why? Because either in a pop up as you try to leave the offer, or in another email the will offer you the same thing for about half price. It's called a down sell. Don't tell anybody I told you, I just cut their revenue in half. 😉
Email marketing has been around a long time and shows no signs of going away. You will need to learn how to set up effective and profitable email campaigns whether you are an online marketer or a bricks and mortar business. The Secret Email System is proven to produce results. Just remember you will need other tools and to spend some more money to fully implement the system. As you can see in the chart below I rate the Secret Email System at 80 out of 100 and give it a "recommended" rating.
---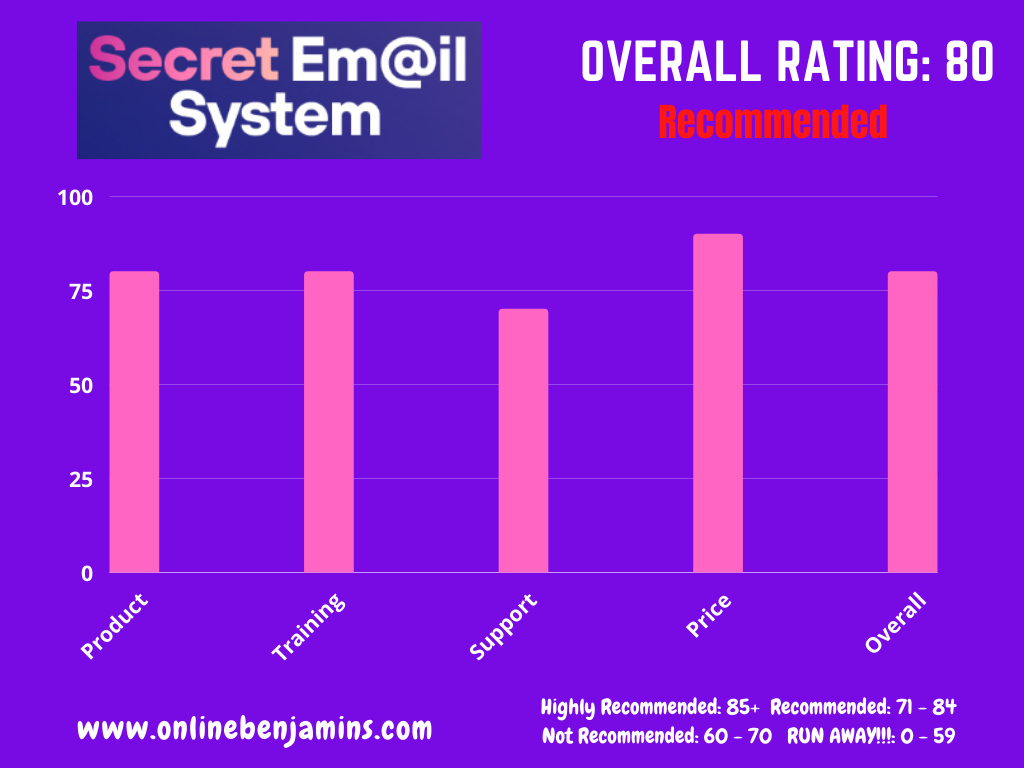 ---
If, you would like to check out Matt Bacak's Secret Email System just click the blue button below.If, you decide it's not for you, it comes with a 30-day money back guarantee, but remember, you will be on his email list and be getting other offers sent to you unless and until you unsubscribe.
If, you are serious about learning to build a real, profitable and long term online business, check out the Wealthy Affiliate Platform. Just click on the green button below to get your free 7 day trial, and don't forget to look me up when you get there.
---
I'm Looking forward to working with you,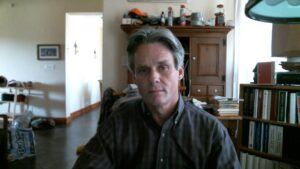 Rex
---
P.S. Again, Wealthy Affiliate is COMPLETELY FREE to get started. No catch, no obligation, no bait and switch. I will personally be in touch with you upon joining to offer my support and guidance to help you get up and running online.
P.P.S. If you have any questions, or are unsure of anything, I am here and I promise I will get back to you on all of your questions and comments. Just leave them below in the comment section. Follow me on Twitter: @onlinebenjamin1, Instagram: dotcomdinero, and Facebook: Online Benjamins